Freshman quarterback Dante Moore powers UCLA football's win over San Diego State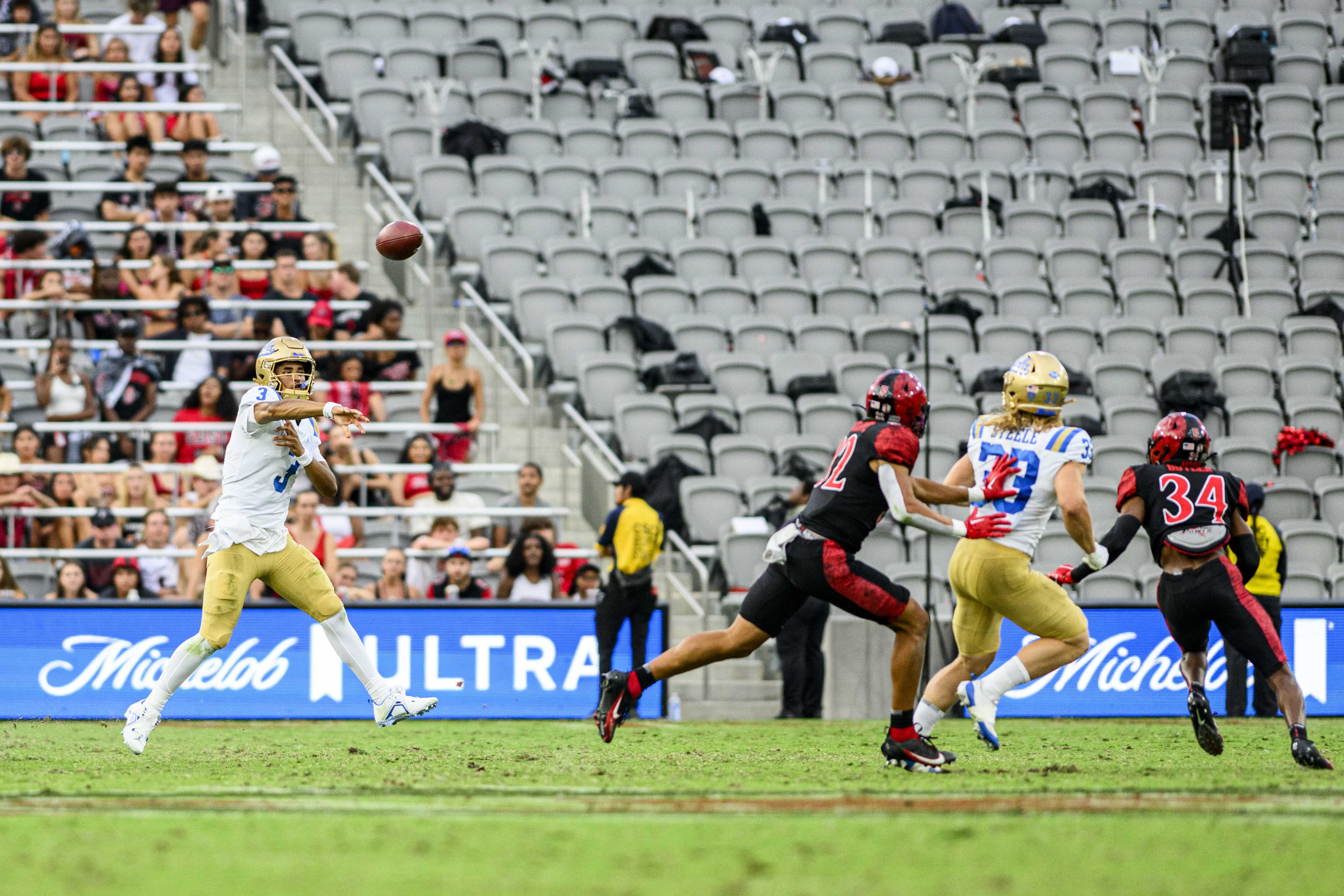 Freshman quarterback Dante Moore makes a throw on the run. Moore finished his first career start with 290 passing yards and three touchdown passes. (Christine Kao/Daily Bruin staff)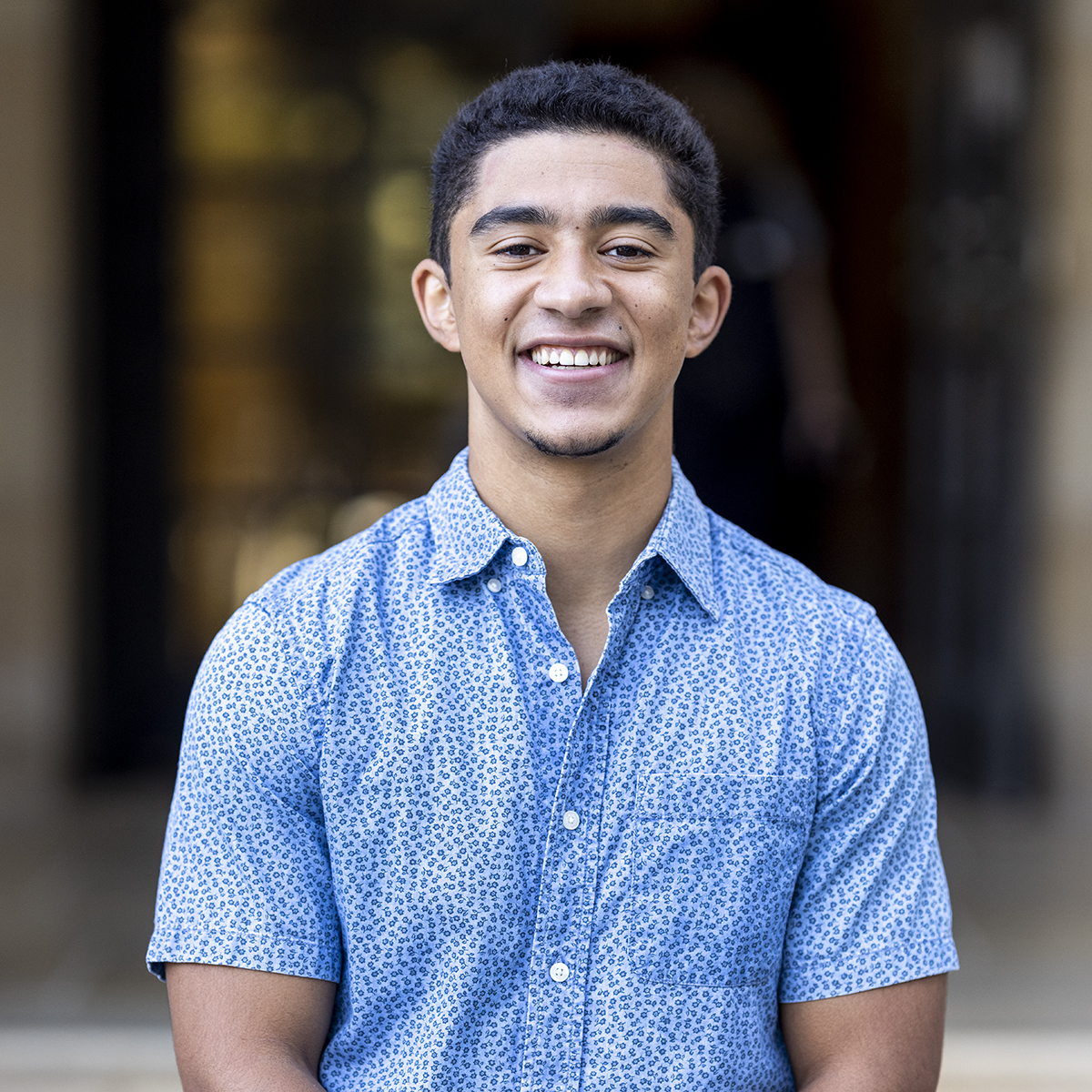 This post was updated Sept. 9 at 10:36 p.m.
Coach Chip Kelly didn't announce a starting quarterback the entire week.
Instead, he gave freshman quarterback Dante Moore the keys to the offense from the opening snap and let his team do the talking.
With some help from his weapons, Moore left little doubt about the Bruins' scoring capabilities with him under center.
Moore led four first-half touchdown drives in a five-drive span as UCLA football (2-0) never trailed San Diego State (2-1) in a 35-10 win Saturday night at Snapdragon Stadium. The Bruins outscored the Aztecs 28-10 and outgained them 358-to-152 in the first half to earn the 25-point victory and avenge their 2019 loss against the nonconference foe.
Kelly said he wasn't surprised by the performance of his freshman quarterback in his first start.
"There's a maturity to Dante. He doesn't get overwhelmed by whatever the situation is," Kelly said. "What people saw today is what we've seen for a while from him, and he obviously did some really nice things for us today."
Like last week, UCLA used a one-play touchdown drive to spark the offense.
On his third drive of the game, Moore's play action caused both SDSU safeties to bite before he threw a laser across the middle to an open Josiah Norwood.
The pass traveled less than 25 yards in the air, but nobody was in front of the redshirt senior wide receiver after the catch, allowing Norwood to race more than 60 yards uncontested to the end zone for an 81-yard touchdown.
The drive lasted 11 seconds.
Moore said he felt more comfortable early on as the starter after entering mid-game last week.
"When I came in, took the first snap of this game, I felt more calm … that I had a lot of control to show what I can do," Moore said. "It's different from when you're getting your number called in the second quarter than going out for the first snap."
Following the big play, the Aztecs responded with a more methodical scoring drive and used nine plays and almost five minutes to eventually connect on a 31-yard touchdown pass to even the score at seven.
But the Bruins' rapid scoring drives were just getting started.
Aided by two separate pass interference calls drawn by redshirt sophomore wide receiver J.Michael Sturdivant, UCLA needed just over 2 1/2 minutes to drive 75 yards. Faced with a fourth-and-1, junior running back Carson Steele took the seventh play 13 yards on the ground to give the Bruins a 14-7 lead.
Three plays into the next offensive drive, Steele's running back partner – sophomore T.J. Harden – took an inside zone handoff and burst through a large hole for a 59-yard touchdown rush.
UCLA's third consecutive touchdown drive lasted just over one minute.
After 24 total yards on its first two drives, the Bruins strung together three drives of at least 65 yards in 3:49 of time with the ball.
But Moore and UCLA had one more first-half touchdown drive in them.
To cap off the opening half of his first start, the true freshman signal-caller evaded rushers for a third-and-4 first-down scramble before completing back-to-back throws up the seam. The latter – a 17-yard touchdown pass to senior wide receiver Logan Loya – put the Bruins up 28-10 and silenced the home crowd.
Moore said he prefers performing in front of opposing fans on the road.
"I love playing away… I like to see how the fans are, the chatting, screaming names, all types of stuff like that," Moore said. "When you walk to somebody else's house and get the win there, it's a better feeling."
Moore finished his first career start 17-of-27 for 290 yards and three touchdowns in just three quarters of play, but he received help up and down UCLA's roster.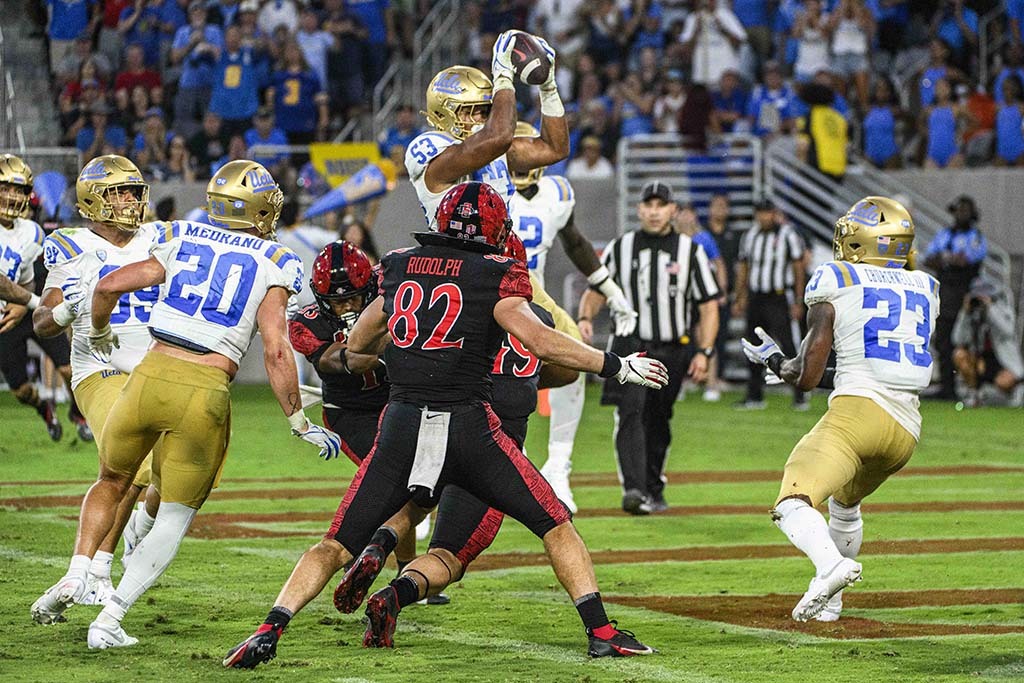 Harden and Steele combined for 185 yards on the ground as the Bruins outgained a top-30 SDSU run game 254-to-63.
A week after forcing Coastal Carolina quarterback Grayson McCall to throw two interceptions in a game for the first time in his career, the secondary bested that performance with three picks off San Diego State quarterback Jalen Mayden.
Redshirt senior defensive back Alex Johnson caught a pair of interceptions in the third quarter, but it was redshirt senior linebacker Darius Muasau's end zone takeaway that sealed the Aztecs' fate and kept them off the scoreboard.
SDSU looked primed to cut the lead to two scores after recovering a Moore fumble inside the Bruins' 1-yard line, but UCLA's defense stuffed two runs before Muasau picked off a tipped third-down pass to complete the goal line stand.
Moore stamped his start with a touchdown pass on the ensuing drive before being pulled with the Bruins leading by 25.
While both Moore and Kelly didn't directly answer questions about the first-string quarterback spot moving forward, Loya said UCLA's Week 2 starter will reach his five-star potential.
"Super young kid, but he knows what he's doing and he's going to be a star, 100%," Loya said. "I mean, already is, but he's going to continue to grow."
Carlson is currently a staff writer on the football, men's basketball and women's basketball beats. He was previously a reporter on the softball and men's golf beats.
Carlson is currently a staff writer on the football, men's basketball and women's basketball beats. He was previously a reporter on the softball and men's golf beats.