Weekend preview: Sept. 8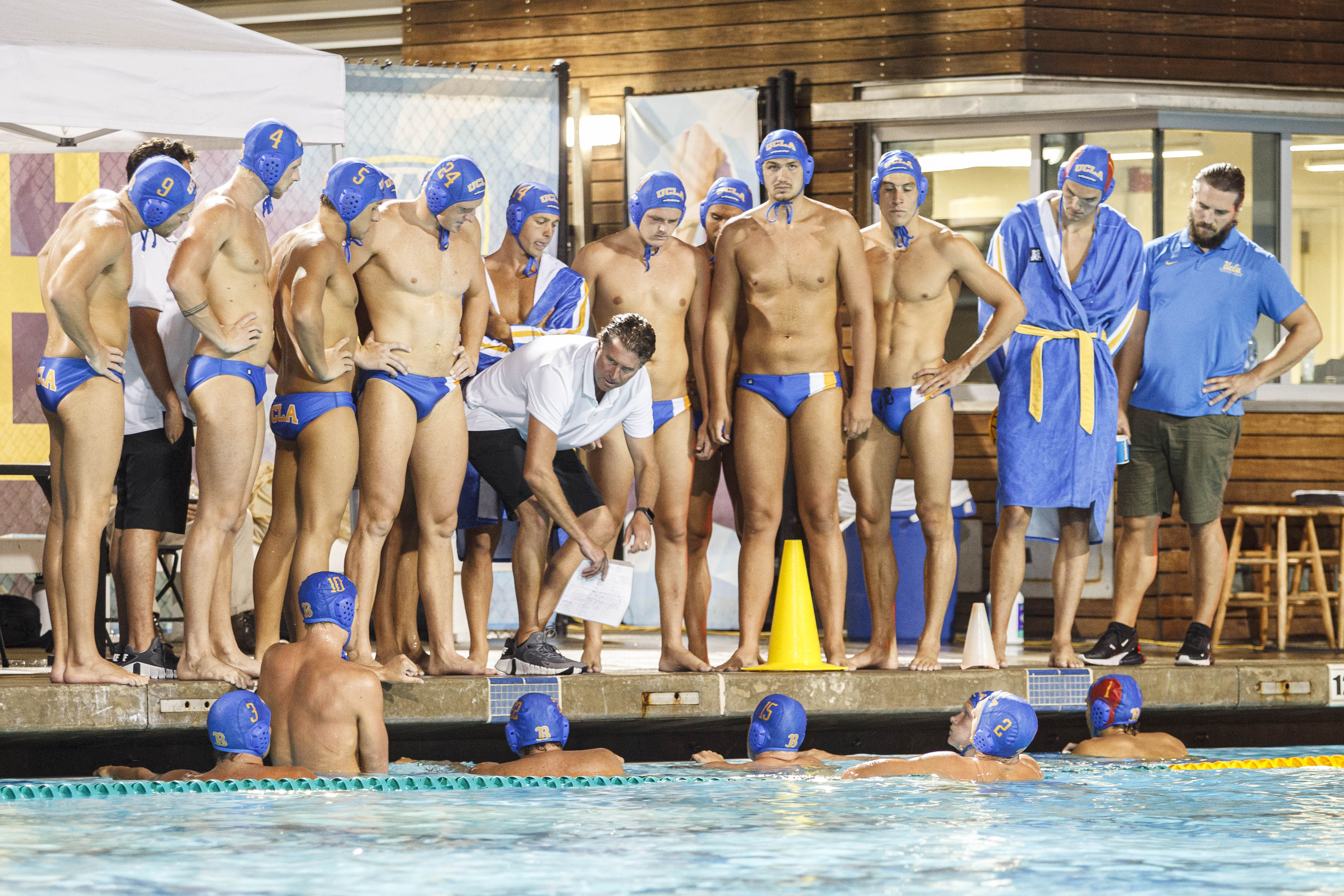 Coach Adam Wright gives instructions to the UCLA men's water polo team during a game in 2022. (Joseph Jimenez/Photo editor)
Men's water polo
Lamar Tuker, Daily Bruin contributor
The Bruins are heading back to Westwood to kick off MPSF action against one of their rivals.
No. 3 UCLA men's water polo (4-0) is competing against No. 6 Stanford (3-1) earlier than usual, with the Bruins hosting the Cardinal on Saturday at Spieker Aquatics Center before playing a return game next month.
UCLA and Stanford had a chance to watch each other play over the weekend at the Triton Invitational, where the Cardinal began their campaign with a loss before winning their final three games of the tournament.
Redshirt senior attacker Jack Larsen said despite it being the earliest the squad has faced Stanford since 2010, the team treats every upcoming game the same.
"We're going to game plan all week, and we don't like to let external pressures get to us," Larsen said.
Last season, the Bruins fell short to the Cardinal in September only to rally for a redemption victory at their rematch at the MPSF opener, beating them while Stanford was ranked No. 1 in the nation.
Following victories over ranked foes – now-No. 11 UC Santa Barbara and No. 8 UC Irvine – last week, UCLA has to apply what it learned before facing Stanford, coach Adam Wright said.
"There's a lot of great lessons from those games that we're going to need to improve on before next weekend with Stanford," Wright said.
With the season still in its early stages and UCLA on an early four-game winning streak, one of its players has earned recognition at the conference level.
Freshman utility Ben Liechty was named MPSF West/S&R Sport Newcomer of the Week after tallying a team-leading 10 goals during the Triton Invitational.
Wright said, however, that on the team level, the Bruins are focused on recovering and committing to their level of play.
"The biggest thing this time of year is getting the team to buy into our standards and to our standard of play," Wright said. "And if we do those things, we're going to have our chance to be successful."
Men's soccer
Matthew Royer, Daily Bruin senior staff
The Bruins will cap off their first homestand by taking on a future Big Ten foe.
UCLA men's soccer (1-1-1) will host Rutgers (1-2-1) on Saturday, marking a rematch from last season, which saw the Bruins defeat the Scarlet Knights 1-0 in October.
Despite the future implications of the match, coach Ryan Jorden said he is focusing on this season rather than what lies ahead for the two programs.
"It's just a good college soccer game," Jorden said. "We're just excited to have a good team coming to play us."
Rutgers – fresh off its first NCAA tournament appearance since 2015 – upended fellow New Jersey program Saint Peter's on Monday for its first win of the season. The Bruins have gone winless in their last two games despite outshooting opponent Cal State Northridge by a combined 18-8.
Monday's draw with CSUN marked UCLA's first tie at Wallis Annenberg Stadium since February 2021.
Jorden said while the goal-scoring opportunities created by the Bruins have produced fantastic soccer, he is looking for his players to finish their chances in order to reenter the win column.
Graduate student forward Jack Sarkos – who converted three of his seven shots this season – said lessons from the television show "Ted Lasso" provide a message for the team when their shots are not landing as they want.
"Ted Lasso used to say 'be a goldfish' all the time," Sarkos said. "Goldfish have short-term memories – like 10 seconds. I tell them to keep their heads up, because the game is 90 minutes long, and there's plenty of opportunity to come in the rest of the game, especially when you miss early."
Sarkos added the team views this campaign's start as a positive beginning for an attack with many new pieces – including himself – in the mix.
"It's a beautiful game," Sarkos said. "It doesn't go your way always. You may be perfect on your game, and the ball just won't go into the back of the net."
Royer is a senior staff reporter for the News and Sports sections of the Bruin. He was previously the 2022-2023 assistant News editor for the city and crime beat.
Royer is a senior staff reporter for the News and Sports sections of the Bruin. He was previously the 2022-2023 assistant News editor for the city and crime beat.