UCLA students awarded Obama-Chesky Scholarship for Public Service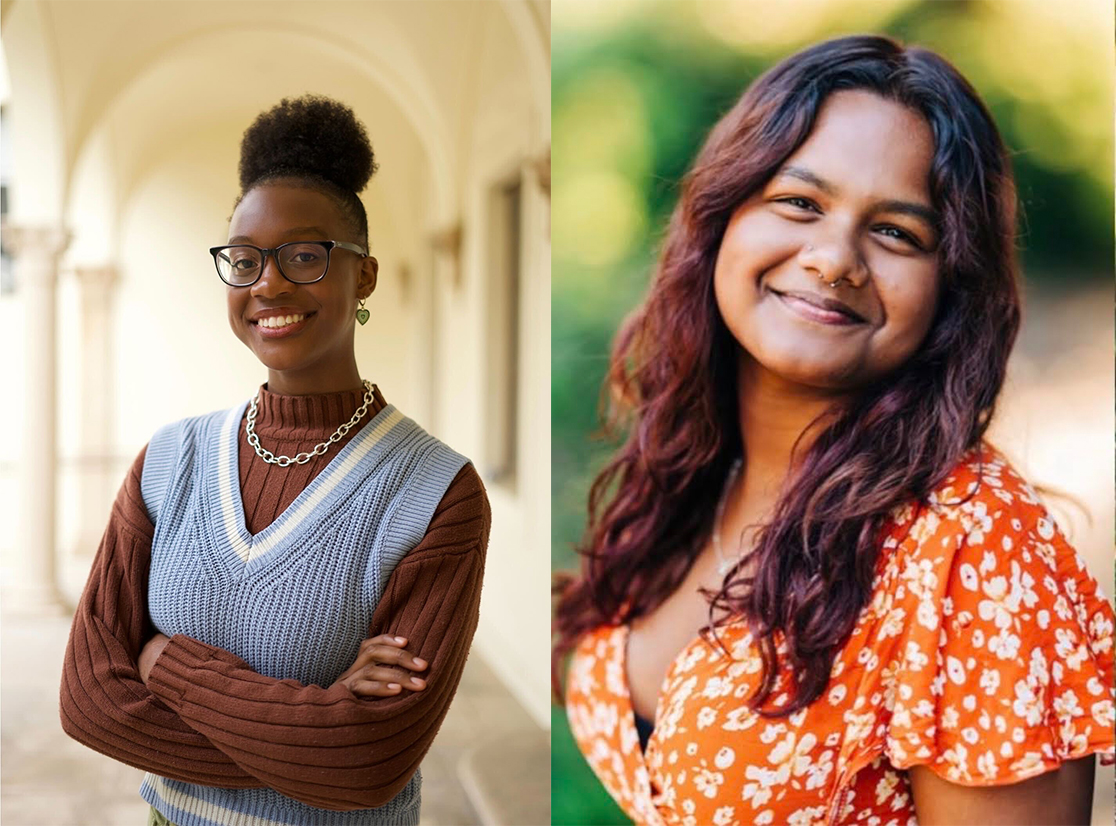 Laila Wheeler (left) and Durriya Ahmed (right) are pictured. Wheeler and Ahmed, who are both rising third-year students, both won Obama-Chesky scholarships this year. (From left to right: Courtesy of Laila Wheeler and Courtesy of Durriya Ahmed)
This post was updated Sept. 4 at 10:48 p.m.
Two UCLA students earned a scholarship for excellence in public service and leadership.
The Obama-Chesky Scholarship for Public Service, also called the Voyager Scholarship, was founded by former President Barack Obama's family and Airbnb CEO Brian Chesky to support third-year college students who demonstrate exceptional intellectual curiosity and commitment toward careers in public service, according to the scholarship's website. Started in 2022, the scholarship annually selects 100 "Voyagers" to receive financial aid, funded work-travel experiences and other resources for a two-year period.
The scholarship aims to help young leaders from different backgrounds gain exposure to new places and experiences, building their empathy and cooperation to create meaningful change, according to the scholarship website.
In an emailed statement, the Obama Foundation said the scholarship targets students with academic distinction and demonstrated financial need from across the United States. It added in the statement that the cohort of scholars represents students from 33 states and territories and 75 colleges and universities.
This summer, two Bruins received the Obama-Chesky Scholarship for Public Service, which will give them exclusive networking and traveling opportunities.
Durriya Ahmed, a rising third-year geography and history student and one of the scholarship recipients, said being a grandchild of an educator and the child of immigrant parents helped develop their passion toward social change and social justice at an early age.
Ahmed's experience growing up in a conservative town in Orange County and overcoming challenges in high school has inspired them to more actively engage in educational advocacy, they said.
"I've always wanted to make education more suitable for students like me who were failed by the public education system, and that includes other Black and brown students as well as queer or other marginalized students," Ahmed said.
With the scholarship, Ahmed said they will have more time to conduct research in the public affairs department on how to improve and increase equitable educational opportunities, such as working on the school-to-prison pipeline. They added that they want to get more involved in public education activism in Los Angeles, Oakland and New York.
Ashlyn Bautista, a communications director at Generation Up – a student-led education advocacy organization based in California that Ahmed has been a member of for the past three years – said they are a dedicated co-worker and thoughtful friend.
She also said it was Ahmed who had introduced her to the organization and work in the advocacy realm. Outside of work, Bautista said they are always there to support her, ask about her day and listen.
Ahmed's former high school English teacher Desi St. Amant said in an emailed statement that she is proud to witness Ahmed grow into a true community leader and is certain they will put action behind words.
"Just as President Obama strived to solve problems in communities, Durriya aspires to lead change that will improve people's lives," St. Amant said in the statement. "I am confident that this scholarship will support Durriya's endeavors in transforming our communities for the better."
The other UCLA recipient of the scholarship is Laila Wheeler, a rising third-year education, public affairs and sociology student. Wheeler, who is also the Opinion editor at Daily Bruin, said she wants to travel the world to experience diverse cultures and acquire broader perspectives. After returning from an internship at a human rights organization in Cape Town, South Africa, she said connecting more with her African descent solidified her career aspiration to serve Black communities.
"I'm really the only one in my family that's had the opportunity to go outside of the country," Wheeler said. "What motivated my experience was the ability to not only travel and see the world but also get to do public service and make a difference in whatever way I can."
Wheeler said she believes her authenticity, experience in different fields and dedication to her commitments earned her the scholarship. She added that she wants to use it to go to Africa again.
She also said she hopes to initiate a public service mission focusing on intersectionality. More specifically, Wheeler said she wants to evaluate the multi-dimensionality and diversity of Black representation across different countries and cultural environments.
Domonique Henderson, a social welfare doctoral student and leader of a research study Wheeler assists, said in an emailed statement that she sees Wheeler as intentional, transparent and down-to-earth.
"Although we have known each other in academic settings, our relationship has evolved to where we are more like family," Henderson said. "She has taught me just as much as I have taught her, and I am grateful to be a part of her journey."
Both Ahmed and Wheeler said they feel honored and excited to advance their social advocacy with the Obama-Chesky Scholarship.
"I'm beyond grateful for the opportunity to widen my influence," Wheeler said. "I know that it'll open so many doors academically with networking and just having the opportunity to interact with so many intelligent people in my cohort."