Behind deep serves, UCLA women's volleyball defeats Northwestern State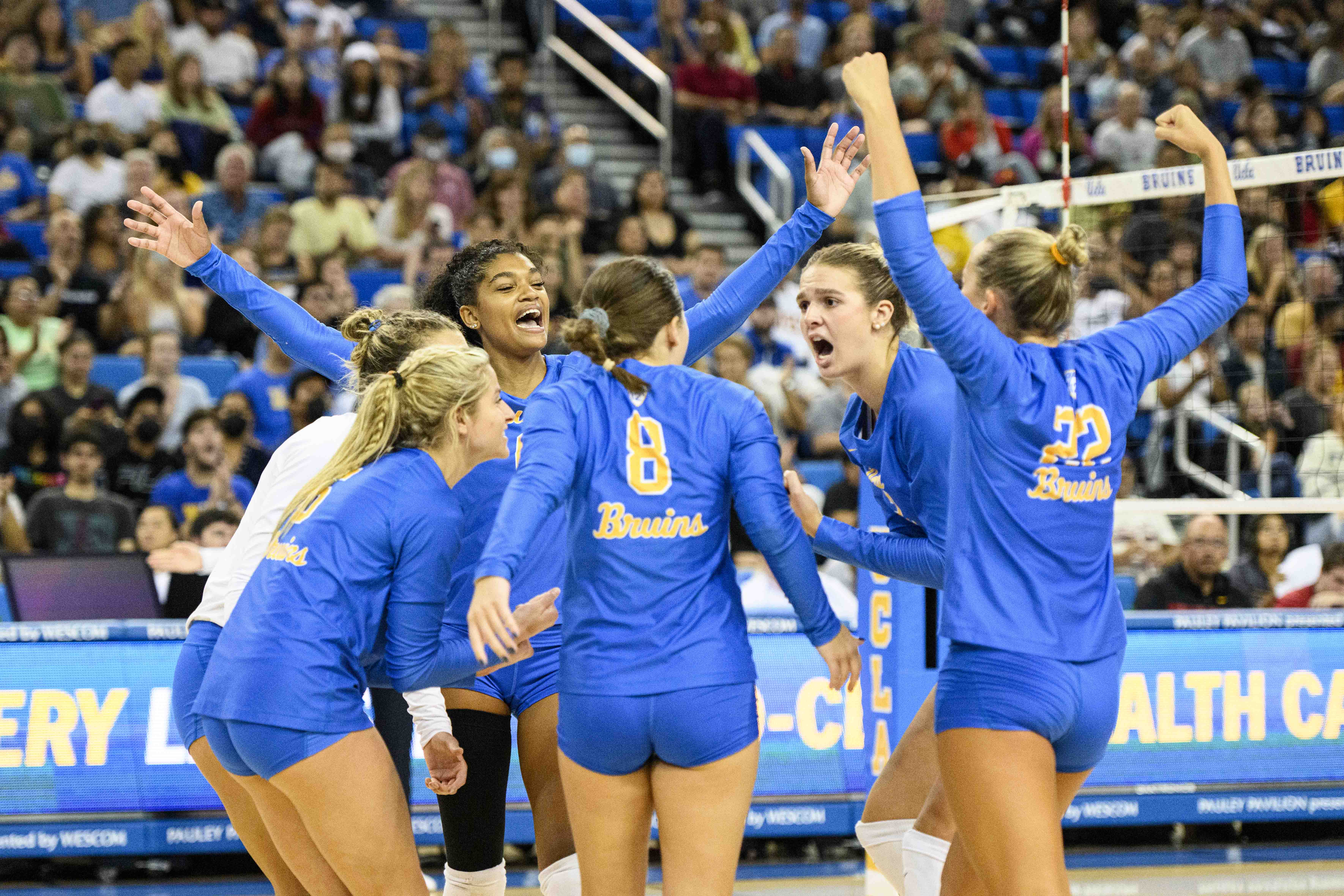 UCLA women's volleyball celebrates after a point. Four Bruins notched double-digit kills in the team's first-ever matchup against the Lady Demons, guiding them to their second win of the season. (Joseph Jimenez/Photo editor)
Women's Volleyball
---
| | |
| --- | --- |
| UCLA | 3 |
| Northwestern State | 0 |
The Bruins closed their Louisiana trip with a first-of-its-kind victory.
UCLA women's volleyball (2-1) clinched a three-set victory over Northwestern State (0-4) on Monday. The Bruins managed a start-to-finish domination against the Lady Demons in the squads' inaugural matchup.
"The team chemistry was there, and energy was better and higher," said associate head coach Jen Malcom, who is filling in for head coach Alfee Reft while he serves as an assistant coach for Team USA.
The Bruins started hot with a 6-3 run, setting the tone and forcing the Lady Demons to call an early timeout. Bookending the set was sophomore outside/opposite hitter Grayce Olson, who not only initiated the run but also delivered the final kill to lock the first set in the Bruins' favor, 25-23.
UCLA didn't let up, as another Olson kill provided a seven-point lead in the second frame. The Bruins kept the Lady Demons at bay, maintaining momentum to jump out to a 20-11 lead. A pair of kills by redshirt senior middle blocker Anna Dodson sealed the deal on the second set, delivering the final two points to claim with a 25-17 margin.
Graduate student middle blocker Desiree Becker had five blocks in the game and reflected on the difference between this match and the LSU contests Friday and Saturday.
"I think a big takeaway is focusing on our side of the net rather than paying attention to what the other team is doing," Becker said.
All that was left for UCLA to leave the South with a winning record was a third-set victory.
And that third set was neck and neck.
Despite opening the frame with a seven-point lead at 9-2, the Bruins squandered their cushion and allowed the Lady Demons to inch back into the contest. With just a two-point lead at 23-21, Northwestern State took a strategic timeout to strategize its next points.
But the timeout was for naught. An attack error from the Lady Demons brought the Bruins to the brink of victory, and a kill by senior outside/opposite hitter Iman Ndiaye handed the Bruins their second win of the season.
And with that, UCLA handed Northwestern State its fourth consecutive loss of the season.
Ndiaye was among four Bruins to reach double-digit kills, notching 14 on a .429% clip. Spurring her on was senior setter Audrey Pak, who totaled 33 assists in Monday's matchup.
"I think it shows how good our team is at serving and serving deep," Ndiaye said.
UCLA will gear up to participate in the Long Beach State Tournament on Sept. 1.