Scouting report: UCLA football vs. Coastal Carolina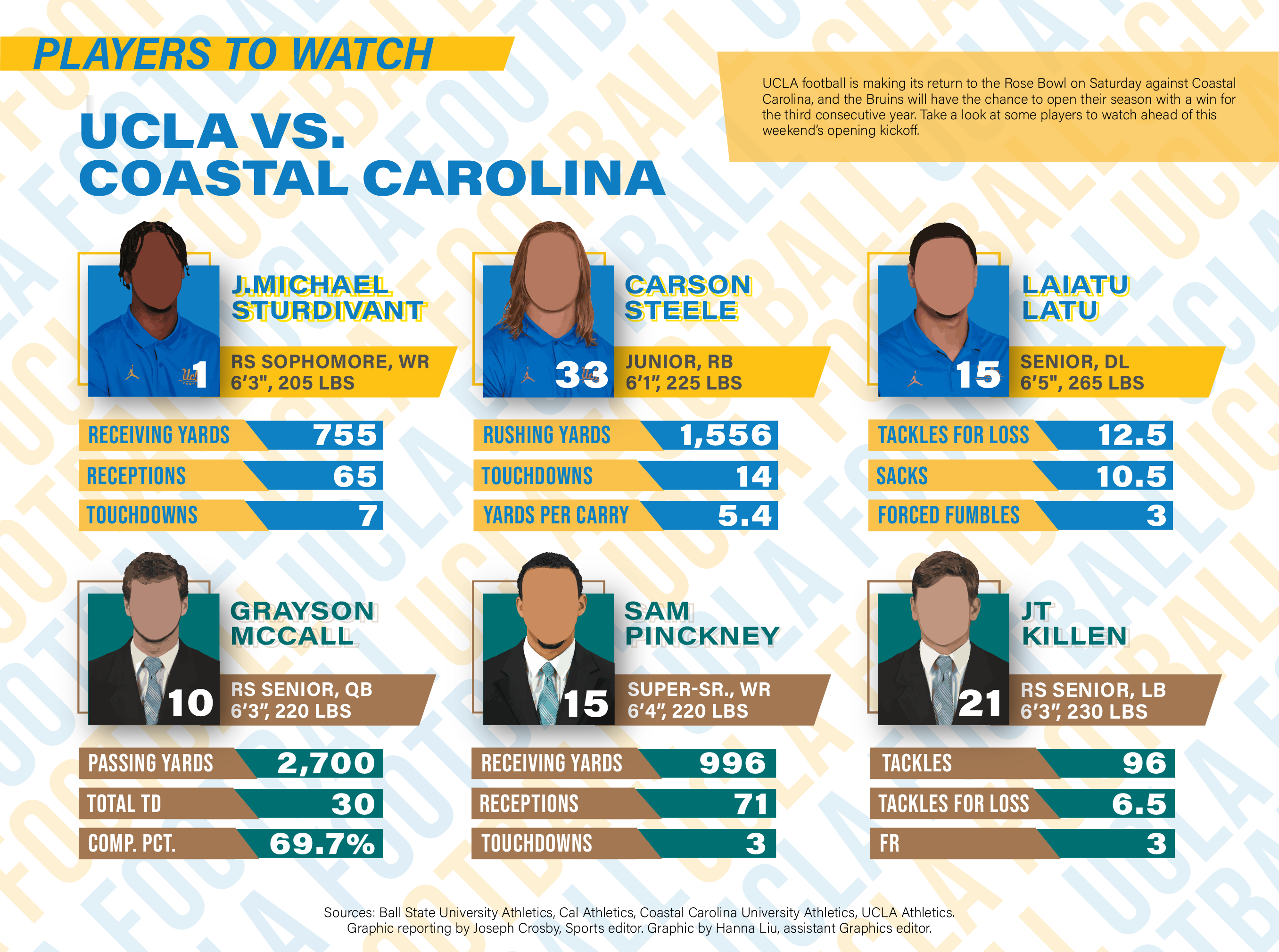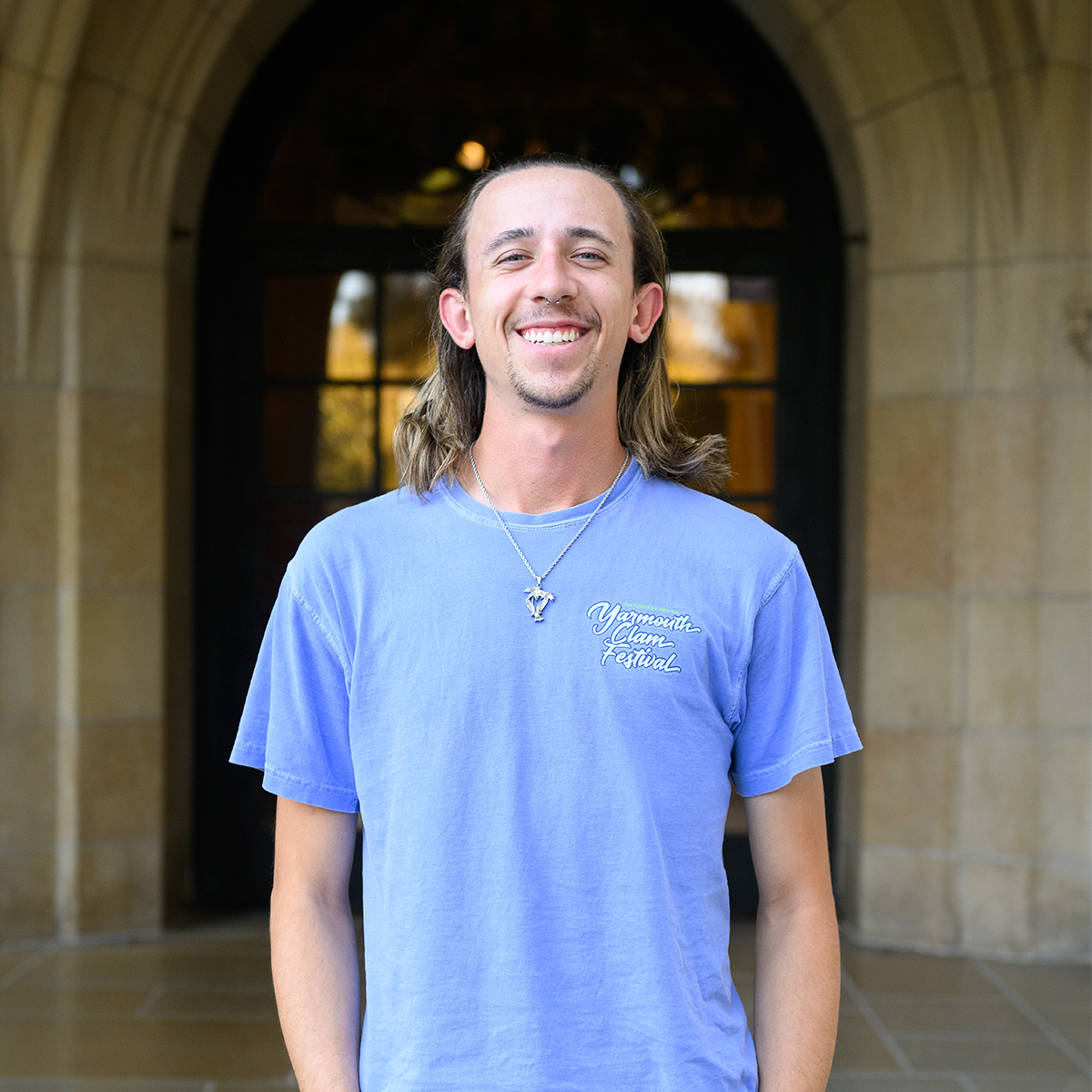 UCLA football will open its season against Coastal Carolina at the Rose Bowl on Saturday. Both the Bruins and the Chanticleers finished the 2022 campaign at 9-4, and both ended on a bowl game loss. Here is this week's scouting report from senior staff writer Jack Nelson – who gleefully enters the belly of the beast by taking on this assignment for the first time.
Coastal Carolina's offense
Offensive scheme: Spread option
Run-pass percentage: 57% run, 43% pass
Strength: Passing efficiency
Weakness: Tight ends
X-Factor: QB Grayson McCall
It was three seasons ago when the Chanticleers fell one win shy of perfection.
The man then under center still is now, and he'll visit Pasadena as one of the most accomplished players in college football.
Carrying a resume that drips with consistency, quarterback Grayson McCall once again leads Coastal Carolina's offense. In each of the previous three seasons, he's passed for at least 24 touchdowns and surrendered no more than three interceptions while also ranking as the country's third-most efficient passer last year. Only a pair of former Heisman candidates – Ohio State's C.J. Stroud and Tennessee's Hendon Hooker – surpassed him.
The fifth-year signal caller executes a low-mistake, high-accuracy air attack, reflected in his 9.75-to-1 career touchdown-to-interception ratio. Though also featured as the team's No. 3 rusher in 2022, McCall is a lesser threat with his legs – his yards per carry fell to 2.1 last season.
He lost his top three targets heading into last year, but McCall can sit much more comfortably in the pocket now, having established chemistry with the weapons around him. With their top four rushers and receivers all back in the fold, the Chanticleers have lost virtually no offensive production.
Five-year coach Jamey Chadwell may be gone, but the goal on offense won't change under Tim Beck – spread the defense to create options for McCall, and trust him to make the right decisions.
Coastal Carolina heavily uses shotgun and pistol formations, often alongside sets of four or five wide receivers. It spaces out defenders and opens up lanes for running backs CJ Beasley and Reese White to exploit, but that hasn't necessarily led to a highly productive run game. Neither of the two cracked 800 rushing yards last season despite the Chanticleers running the ball more often than 80% of teams in the FBS.
When the opposing defense clogs the lanes or penetrates the offensive front, McCall doesn't hesitate to utilize the receivers at his disposal.
In addition to the talent disparity compared to UCLA, tight end is an immediate area of concern for Coastal Carolina. Three Power Five transfers join the position following the departure of the squad's top two options from 2022, and that could create dysfunction for McCall.
Then again, because the Chanticleers lean so heavily on wideouts, tight-end play isn't all that critical to their offensive success.
The McCall-led veteran offense isn't high-powered, but its consistency could be difficult to stop.
Coastal Carolina's defense
Defensive scheme: Multiple
Strength: Linebackers
Weakness: Pass defense
X-Factor: LB JT Killen
For all the efficiency the Chanticleers boast on offense, their defense is not nearly as inspired.
Coastal Carolina's defense was the least efficient unit against the pass in the Sun Belt Conference last season. It allowed more touchdowns than any other conference member except one, and its 418 yards surrendered per contest placed No. 102 among 131 FBS programs.
The Chanticleers regularly gave up big yardage through the air and were especially vulnerable against quality quarterbacks. To cap off a season in which they were the seventh-worst passing defense in college football, they allowed 145 points against their final three opponents, each of which possessed top-half passing offenses in the FBS.
In simpler terms, Coastal Carolina couldn't buy a stop near the end of 2022.
That defensive inefficiency was glaring against East Carolina's No. 16-ranked unit in the Birmingham Bowl. The Pirates were able to scale the length of the field at will, accumulating 314 passing yards and converting seven of seven scoring chances in the red zone.
Coastal Carolina showcased a variety of looks on defense for the opposing offense to handle, but rarely did multiple fronts confuse opponents as intended. Craig Naivar now leads the defense under Beck's new regime, and his game plan may look far different than his predecessor's when first tested against the Bruins.
Multiple did work when defending the ground game, largely thanks to a well-knit bunch of linemen and linebackers. All of the projected starters on Coastal Carolina's defensive front are upperclassmen, and five are returners.
The unit's leading tackler from 2022 – by a whopping margin of 38 – was linebacker JT Killen, who easily highlights one of the Chanticleers' better positions. He gravitates towards the ball and posted a team-high 69 assisted tackles, good for fourth-most in the conference.
Though not often forcing his way into the pocket, Killen makes his presence known in other areas, having led his team in fumble recoveries and tied for third in pass breakups.
But regardless of Killen's impact up front, the Coastal Carolina secondary remains porous. New defensive coordinator or not, that much is certain.
If the Bruins can capitalize in the passing game and disrupt McCall's flow, the Saturday Night Lights will shine down kindly upon them.
Nelson is currently an assistant Sports editor on the softball, men's tennis and women's tennis beats. He was previously a contributor on the men's tennis and women's tennis beats.
Nelson is currently an assistant Sports editor on the softball, men's tennis and women's tennis beats. He was previously a contributor on the men's tennis and women's tennis beats.