UCLA career resources help Bruins network, plan their futures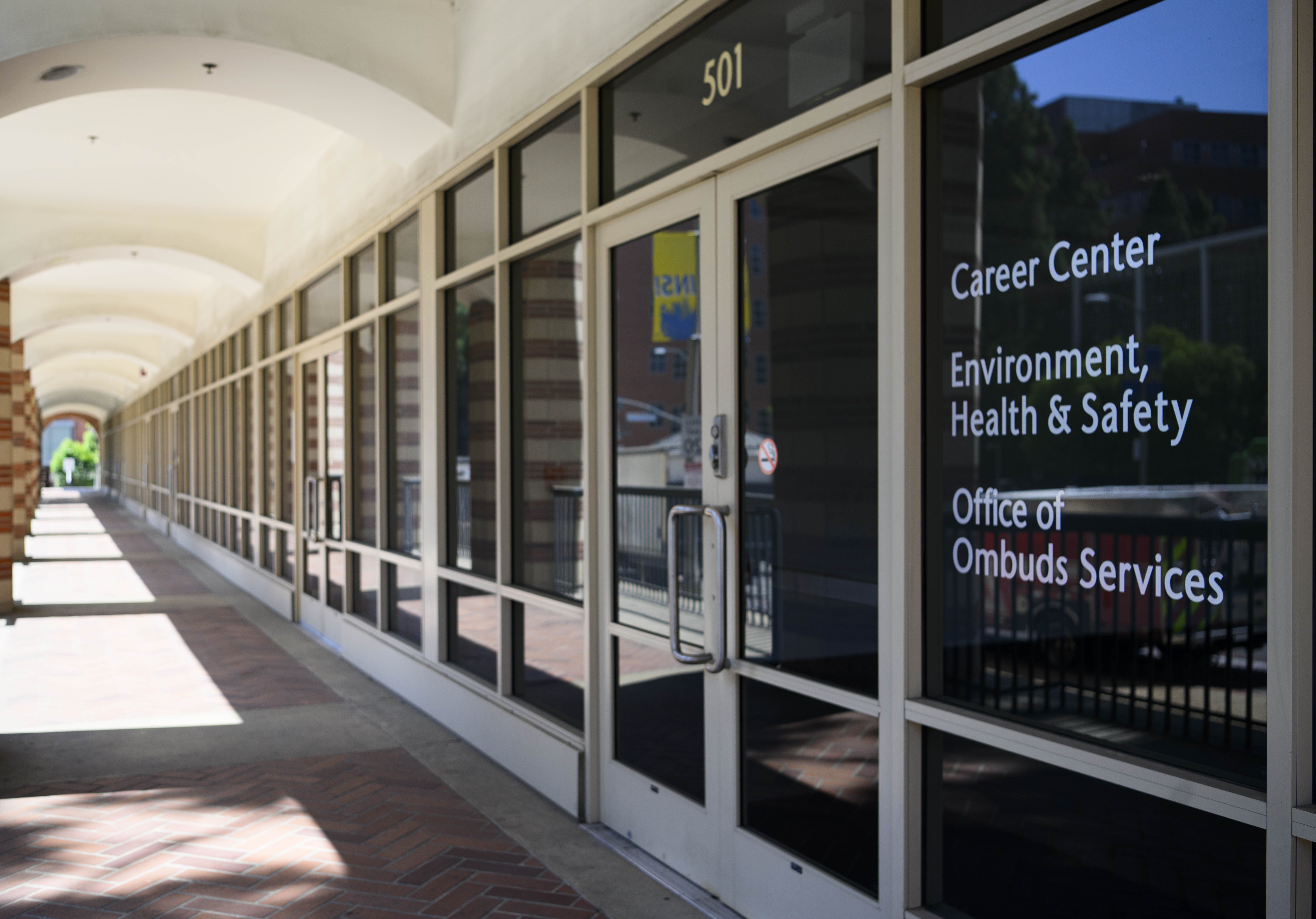 The entrance to UCLA's Career Center in the Strathmore Building is pictured. (Christine Kao/Daily Bruin staff)
Minds alert and ambitions itching, many Bruins are ready to shake hands with a new job or internship as the start of another school year nears.
As students search for opportunities, UCLA's Career Center and other platforms can help Bruins navigate the process.
The Career Center, located in the Strathmore Building next to the Luskin Center, is UCLA's primary career resource for students, employers, alumni and staff. The Career Center Leadership Team said in an emailed statement that the center provides one-on-one appointments, workshops, events and online resources for career development for both undergraduate and graduate Bruins.
The Career Center Leadership Team also said they use Handshake, an online career-building and networking community for students to connect with employers, to inform students of upcoming events.
"Career Fairs, networking events and info sessions are held every quarter with employers who want to hire UCLA students," the Career Center Leadership Team said. "Interacting with employers frequently and early on will help students grow confidence when interviewing for internships and full-time jobs."
The majority of colleges and universities nationwide have a career services department, according to Indeed. According to the National Association of Colleges and Employers, graduating college seniors who used any career service received an average of 0.24 more job offers than those who did not use any career center resources.
Jasmine Miranda, Student Services Advisor at the Career Center, said in an emailed statement that the Career Center offers varying services for different groups of students including job fairs, career summits and networking events. Miranda also said the center provides targeted services for transfer students, students with disabilities, international students and foster youth, as well as for students pursuing different educational tracks such as pre-law and pre-med.
"Not all services and resources are exactly the same for both undergrads and Grad/PhDs/Postdoc students," Miranda said. "For example, additional services that undergraduate students receive is Drop-In Advising sessions … Grad/PhDs/Postdoc students are equipped with career development and exploration tools such as 'Imagine PhD' and 'MyIDP.'"
The Career Center is not the only planning resource Bruins can benefit from. Rising third-year psychology student Jessica Lam said she uses UCLA ONE for career mentoring.
"I honestly haven't used a lot of the UCLA resources, but I have used UCLA ONE," Lam said. "I actually have a mentor who's a UCLA alumni, and I've been meeting with her once a month, just asking her questions about my resume, what the working world is like, any advice I want or anything I need help on."
UCLA ONE, which stands for opportunity, network and experience, is UCLA's largest alumni networking platform for current and graduated Bruins to connect.
Lam also said she has experience using internship and job finders such as Intern Queen, Glassdoor and WayUp. She said she found herself getting more internship opportunities through these resources than through the Career Center for brand ambassadorship work she does, but added that UCLA's resources are good for making new connections.
The upcoming school year presents an opportunity for students to further explore, plan and advance their careers at UCLA. Miranda said she encourages students to maximize the amount of support and opportunities they can get.
"If you are unsure of what career path you want to take or simply what to talk about during your first trip at the center, our staff is here to support and guide you through every step of your career-readiness journey," Miranda said.
The Career Center Leadership Team said Bruins should begin applying to internships and jobs before the start of the school year and actively utilize campus resources.
"Students' time at UCLA goes quickly and preparing for the next step starts the moment students arrive at UCLA," the Career Center Leadership Team said. "Many large firms and certain industries like to be completely done with their recruiting before the fall quarter starts, so if you don't submit applications in the summer, you might miss out on certain opportunities."
Lam said one piece of advice she has for incoming and returning students is to participate in professional clubs on campus.
"For one, I think it's great for networking, and two, you learn a bit more about the recruitment process," Lam said. "I feel like I learned a lot through just the application process and the interviewing process."
Lam said another tip for students is to step out of their comfort zones, to be open to new opportunities and to talk to different people.
"When you put yourself out there to get to know what people do and show interest, you're going to learn a lot, learn things that you didn't expect to learn," Lam said.