UCLA students and faculty discuss room for improvement in diversity requirement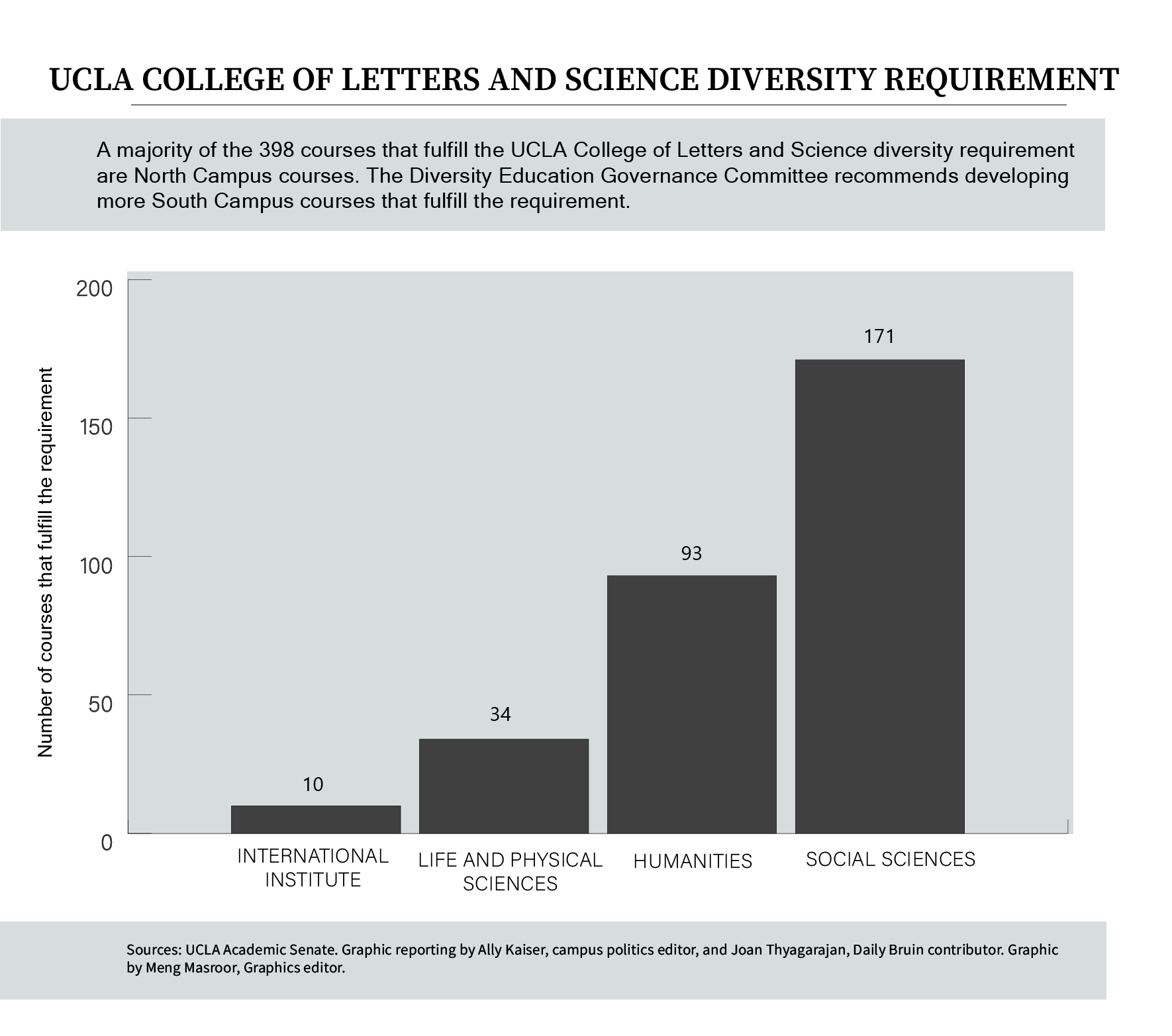 This post was updated Aug. 20 at 9:38 p.m.
Students and faculty said they believe there are areas for improvement in the UCLA College of Letters and Science diversity requirement, which can be supported by the UCLA Academic Senate report on this requirement that was released in May.
Under the diversity requirement, students in the College of Letters and Science must take one class from the approved list to gain a better understanding of perspectives from different backgrounds, ethnicities and cultures, according to the UCLA Registrar's Office.
Since the requirement only mandates that students take one class, which often overlaps with multiple other requirements, many students fulfill it automatically, said Jennifer Jung-Kim, a professor in the Asian languages and cultures department who teaches multiple classes that fulfill the diversity requirement.
Kathlyn Cooney, the chair of the Department of Near Eastern Languages and Cultures and a professor of Egyptian art and architecture, said professors must apply for their classes to be listed under the diversity requirement. Cooney, who also teaches diversity requirement classes, added that she felt the requirements were overly lenient since professors can apply for any class to satisfy the requirement, and it seems like most applications are accepted.
"What this requirement ends up doing is allowing white-facing programs to continue at the same level with the same funding without any sort of critical look because they're doing 'diverse' work," Cooney said. "Those kinds of decisions, in my opinion, are not helped by a diversity requirement that is led by professors applying for it themselves."
Cooney added that she felt implementing diversity at the university is only attainable when leaders, including the deans of these departments, make the conscious decision to shift resources from popular, Eurocentric areas of research to more diverse topics of study.
Sujana Sridhar, the Undergraduate Students Association Council academic affairs commissioner, said that diverse perspectives are often best taught by the underrepresented communities themselves.
"Diversity isn't something that is limited or should only be celebrated within these underrepresented communities, but I believe that they know how to tell their stories best," she added.
There are also too few science classes that meet the diversity requirement, said Sridhar, a rising third-year international development studies and political science student.
"There's so much that can be interwoven through life sciences, physical sciences, and so on," Sridhar said. "If you really focused on that, I could see it becoming a situation where students are happy to go seeking these diversity classes."
While there are 171 social science classes and 93 humanities classes that fulfill the diversity requirement, only 30 life science classes and three physical science classes fulfill it, according to the report.
The Academic Senate Undergraduate Council and Diversity Education Governance Committee hope to encourage the certification of more diversity courses from the sciences, said Jessica Cattelino, the UCLA Academic Senate chair, in an emailed statement.
Another potential change to the diversity requirement could be increasing the requirement from one class in four years, to one class per year, Sridhar said.
"I think the idea that you only have to take one diversity class out of the 48 to 50 classes that you're going to be taking while at UCLA is absurd," Sridhar said.
Jung-Kim said that she feels the diversity requirement classes have effectively helped students learn more about cultures that vary from their own in spite of its issue.
"I think it's important for students to be able to get a variety of different viewpoints in the course of their college career," she said. "We see a lot of diversity, and I think we're all just richer for trying to understand each other more."