Visiting scholar finds hidden treasures in little details of manuscripts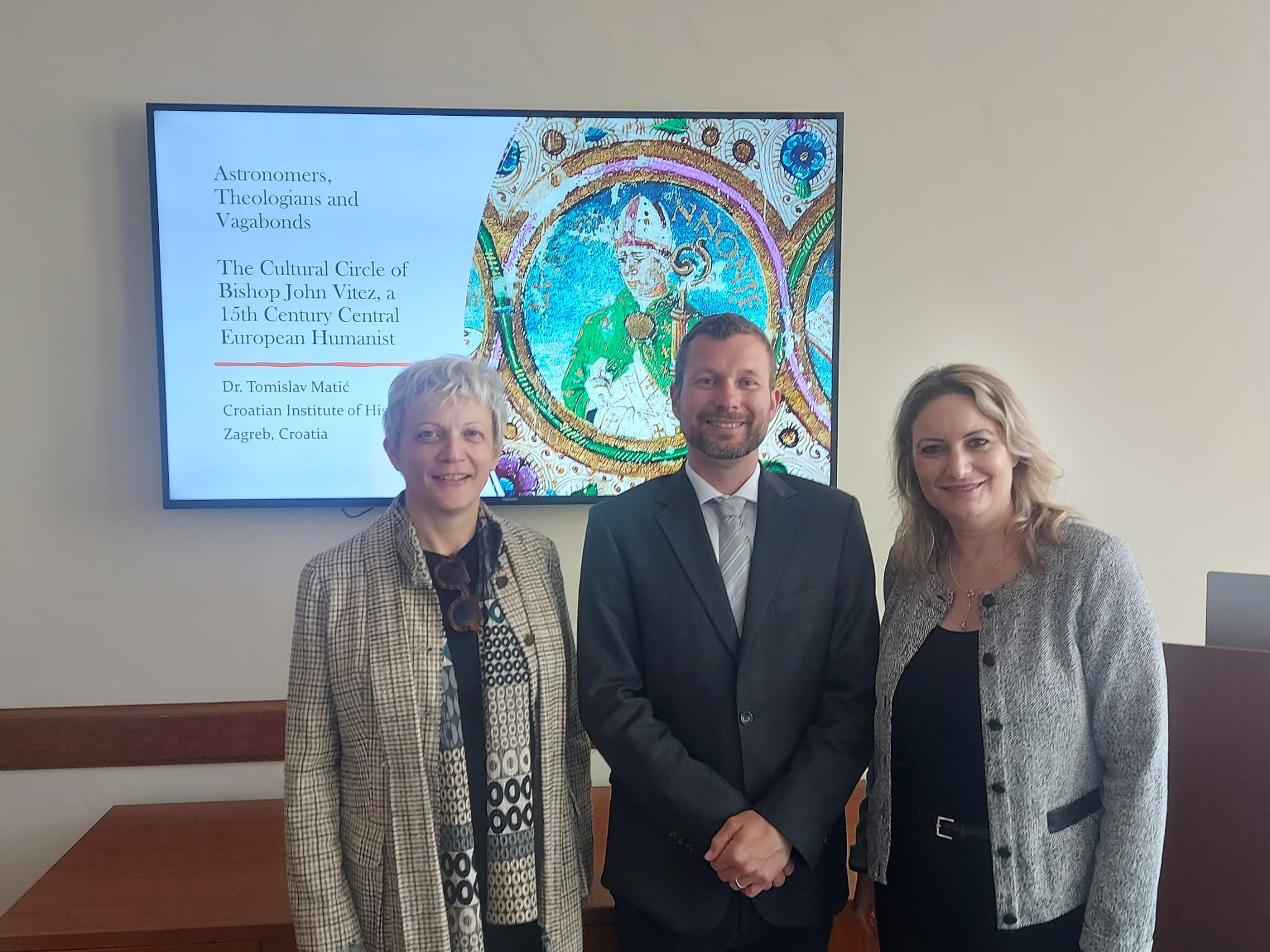 Visiting scholar Tomislav Matic (center) presents about Bishop John Vitez at UCLA. Also pictured is Director of the Center for Early Global Studies Zrinka Stahuljak (left) and Consul General of the Republic of Croatia in Los Angeles Renee Pea. (Courtesy of Tomislav Matic)
Correction: The original version of this article incorrectly stated that Tomislav Matic is a visiting scholar from the Catholic University of Croatia. In fact, he is a visiting scholar from the Croatian Institute of History. Also, the original version of this article's feature photo caption incorrectly stated that the photo was taken at the Huntington Library. In fact, it was taken at UCLA.
This post was updated Sept. 21 at 1:17 p.m.
For many medieval and early Renaissance scholars, manuscripts serve as the gospel for research and learning.
Tomislav Matic, a visiting scholar at UCLA, finds that scribbles in the margins are also interesting.
"Medieval manuscripts are a wealth of knowledge," he said. "Basically, we have a lot of people reading the same books, and they – while reading them – they communicate with the books. They leave their own writings in the books. This is called marginalia."
Matic said his studies were important in understanding the level of knowledge that medieval scholars and figures had about the texts they were reading, especially classical documents.
Matic first arrived at UCLA as a visiting scholar from the Croatian Institute of History, beginning his research at the UCLA Center for Early Global Studies, he said.
"I was working on a project called 'Reflections of Knowledge,' and I studied the transfer of knowledge from the ancient times and the Middle Ages to the Renaissance from Western Europe to central and southeastern Europe," Matic said.
Zrinka Stahuljak, the director of the Center for Early Global Studies, said Matic's work is important in diversifying perceptions of the Renaissance beyond just Italy.
Matic added that Renaissance studies are particularly interesting to him because the period was one of the largest instances of the historical recovery of knowledge.
"During the Renaissance, you have this knowledge spreading all over Europe," he said. "You have many people learning how to read, how to be people interested in reading … specific books from ancient times."
Matic also said he first got interested in marginalia when studying the writings of a bishop of Sredna for his doctorate in Croatia. He added that marginalia could potentially be particularly significant in studying the history of scientific discovery in fields like astronomy, because they have changed the consensus viewpoint on who developed certain ideas.
While in Los Angeles, Matic also got the opportunity to present his research through public lectures and conferences, including at the Huntington Library.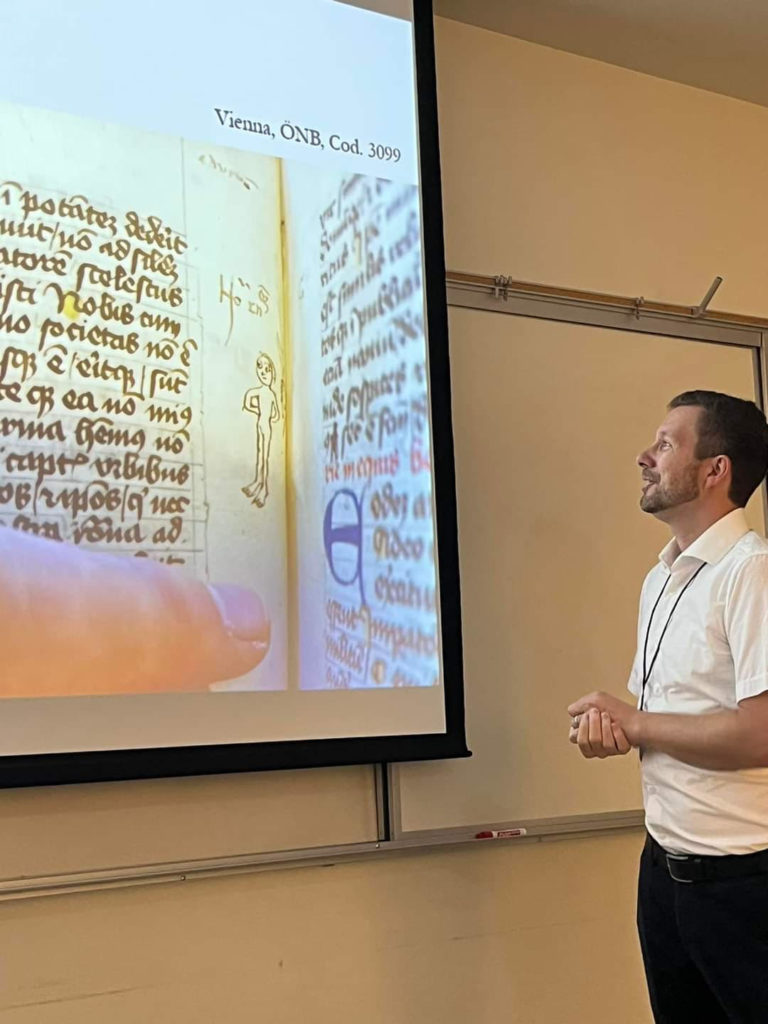 Daniel Smith, the founder and former president of the Bruin Historical Association, said the talk was an important opportunity for students to learn about material not covered within their regular studies.
"Medieval manuscripts are something that I've always been fascinated by," he said. "He (Matic) brought with him plenty of immediate examples to explain his particular field of interest, that being the marginalia of medieval manuscripts."
Smith, who graduated with a double degree in history and statistics earlier this year, also said Matic's talk was important in highlighting the significance of manuscripts and writing as interactive artifacts, rather than as one-way forms of communication.
He added that he felt open lectures like these help expose undergraduate students to future areas of advanced potential research.
"I have an understanding of medieval history, but I would not have thought to investigate, specifically, the marginalia of medieval manuscripts," Smith said. "Now it gives me ideas for, potentially, my own research interests."
Matic received a Fulbright Scholarship – a grant award that helps foreign researchers study and work at universities in the United States – from the U.S. Bureau of Educational and Cultural Affairs to fund his research at UCLA.
Stahuljak, who is also a professor of comparative literature, said foreign scholars are particularly important to the Center of Early Global Studies because they allow for the exchange of ideas with other universities across the world. She added that she is not aware of any other scholars at UCLA who are doing similar research to Matic, which further increases his importance to the university.
"It (the program) really enlarges our vision of the world and the things that we do and of course, the research methods that we applied," she said. "In any case of any visiting scholar, it would be hugely important to bring more of them in because it really enhances what we do."
Stahuljak also said the program is beneficial for visiting scholars because it exposes them to research and methods from UCLA.
Matic said one key advantage of studying at UCLA has also been the ability to access resources from its libraries.
"When you study such international topics, you really need access to a wide array of books, to really rich libraries and access to literature," he said. "Back in my country, it's kind of difficult to access a lot of this literature, particularly American editions."
He added that prior to arriving at UCLA, he had to request for friends and colleagues in the U.S. to scan and email photocopies of books to him, a process that took significantly more time.
Matic said that while his work is rewarding, it can also be difficult to study marginalia because of discrepancies in handwriting and the types of notes different medieval scholars made.
"Basically you have to be a bit of a detective, because the readers weren't interested in making things clear for you," he said.