Opinion: Understanding the effects of extreme heat in a warming world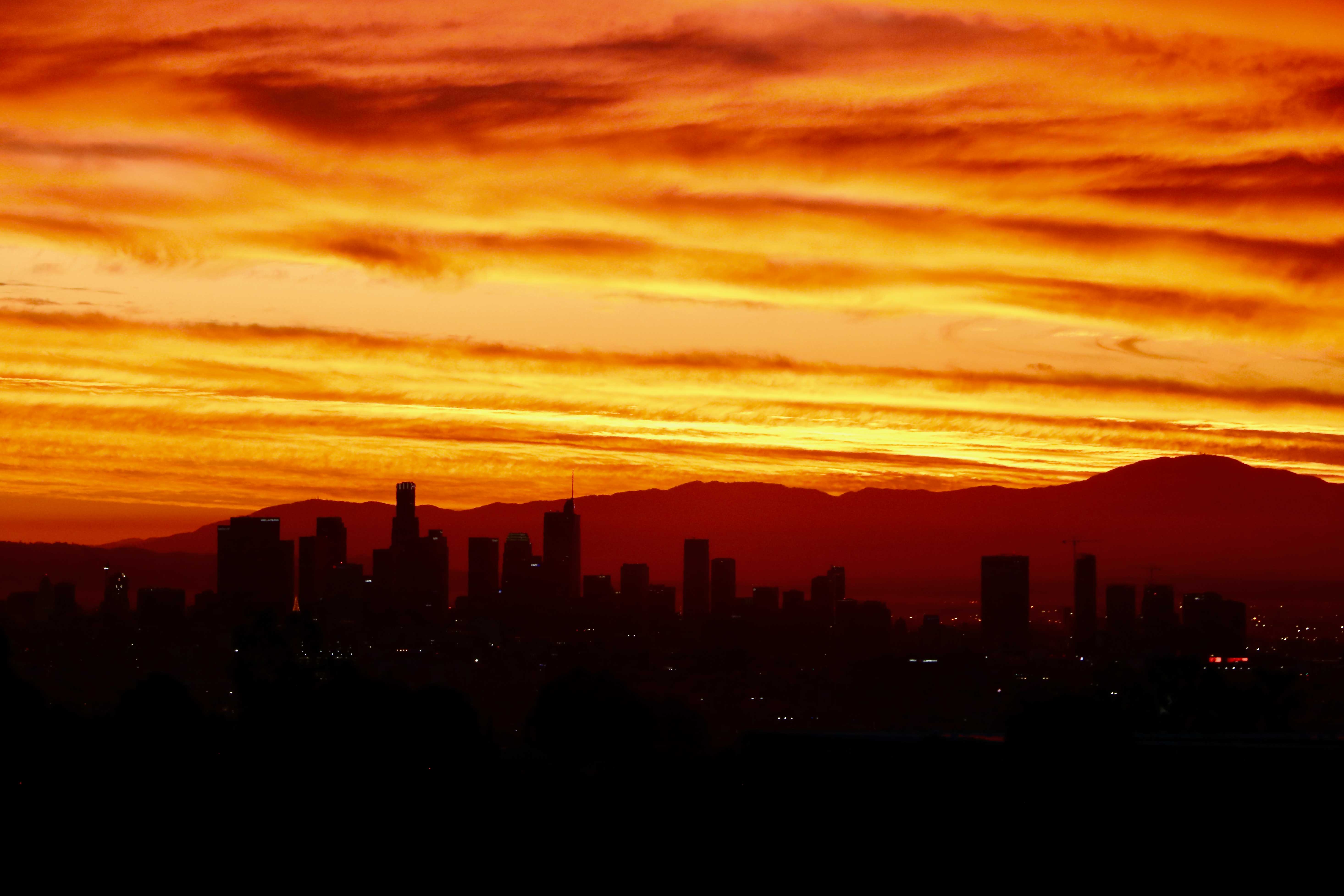 The skyline of downtown Los Angeles at sunrise is pictured. As climate change continues to produce rising temperatures, more must be done to address the unequal and disproportionate consequences of our heating planet, argues columnist Tabitha Hiyane. (Daily Bruin file photo)
Record-breaking temperatures and pervasive heat have been a universal theme this summer as extraordinary heat waves persist across the southern United States, Europe and Asia.
The human-driven acceleration of climate change has transformed heat into a global issue. This summer, the National Oceanic and Atmospheric Administration documented the hottest June in its 174-year climate record. Phoenix, Arizona, hit an all-time high in July, with 31 consecutive days of warmth exceeding 110 F.
Temperatures often surpass those of surrounding areas in urban heat islands, the urbanized spaces of the modern day, with limited natural landscapes and concentrated structures like roads and buildings. The material properties of this infrastructure and the nature of its design collectively focus and intensify heat. This is just a singular example of the many ways that heat can pass throughout a community.
Thus, the universal heat experience is felt differently, varying across society, culture and context.
The UCLA Heat Lab, spearheaded by Bharat Venkat, an associate professor at the Institute for Society and Genetics and the departments of anthropology and history, focuses on the interdisciplinary study of thermal inequality.
"The negative effects of extreme heat are distributed in really unequal ways," Venkat said. "Some folks are made to suffer the heat more than others."
These disparities can be attributed to the positioning of bodies throughout society, especially within the home and workplace environment. Other heat vulnerability determinants include age, preexisting medical conditions, housing status, income and access to cooling systems.
"This is a really complicated thing because it has everything to do with race, class, gender and disability," Venkat said. "It has to do with who's asked to do what kinds of work – who's working in the Amazon warehouse? Who's working in the field? Who's incarcerated? And how those things can be very racialized and classed."
Heat is not a bilateral issue. It's an affliction that increasingly entrenches the human condition, changing the way that we live and experience the world. It's our moral obligation to understand not only its aggressive nature but how heat stress manifests in our bodies and in the greater body of humanity.
The Centers for Disease Control and Prevention recognizes outdoor workers as a "disproportionately heat-affected population." From 2011 to 2021, the Bureau of Labor Statistics reported 436 deaths due to high heat exposure. In July, the White House released a statement urging the Department of Labor to issue the first-ever Hazard Alert for heat, identifying it as the leading cause of weather-related deaths.
Mass incarceration also plays a significant role in exacerbating social and economic disenfranchisement while increasing heat vulnerability. The inhumane conditions, including lack of air conditioning and limited mobility in cramped units, can exacerbate medical comorbidities for incarcerated people and prison staff, leading to heat-related injury.
A 2022 case-crossover study of Texas state prisons from 2001 to 2019 concluded that approximately 13% of deaths may have been attributed to extreme heat during warm months. While Texas does not have full air conditioning in 70% of its state prisons, temperatures in the units can climb up to an excruciating 110 F, with highs reaching 149 F.
It goes without question that this should not be tolerated. No human being should be subject to these potentially fatal living conditions. The issue of heat demands us to consider vulnerable populations and take legitimate action to empower them.
The experiences people undergo with rising temperatures parallel varying forms of existing inequality. Therefore, heat research calls upon real stories to deepen our understanding of what heat is and what it means for different people.
In 2022, the Heat Lab conducted an investigation analyzing the heat experiences of food truck workers who served the student population on the Hill as a mechanism to bring lived experiences to the academic discourse on thermal inequality.
"Some days, it could get up to 120 degrees," said Sofia Sabra, a Heat Lab researcher and rising fourth-year human biology and society student. "Heat to that magnitude can cause physiological effects, so there were reports of throwing up, dehydration, nausea and heat-related illness."
The adverse health outcomes of heat, however, can become even more dire, especially as temperatures become increasingly violent.
In August, Maricopa County in Arizona announced a total of 39 lives lost to the heat, with 312 cases still under investigation. The county's 2022 Heat Deaths Report revealed 425 heat-related deaths, which is a 25% increase from 2021.
During the heat wave that tore through Europe in 2022, researchers found that 18,000 Italians died from heat-related morbidities. This year, hospitals in Italy have seen a 20% increase in emergency room visits because of the extreme temperatures.
While the gravity of this loss can never be conveyed by mere statistics, the conclusion remains clear. Heat is an unprecedented, unsparing killer in our rapidly changing environment. It affects quality-of-life outcomes, deeply infiltrating facets of physiological and mental health and well-being.
"Heat is something we normalize because we live with it and it's chronic," said Jason Sutedja, a Heat Lab researcher and rising fourth-year public affairs and sociology student. "It's (important) both to have these policy recommendations but also to have people more aware of the issues of heat and more aware of the need for heat-equitable policy."
The growing attention that governmental bodies across the world are directing toward this issue is a hopeful sign that budding heat literacy can go beyond mere acknowledgment and toward tangible institutional action.
On July 27, the Occupational Safety and Health Administration issued a hazard alert because of record-breaking temperatures affecting workers nationwide. The alert reminded employers of their duty to protect workers from the heat and announced increased inspections for high-risk industries, including construction and agriculture.
This reflects ongoing efforts to address and adapt federal labor laws to extreme heat conditions. Clearly, the dynamic problem of heat encompasses spheres of public health, infrastructure and urban social dynamics.
"There's no public service or institution that will remain untouched by climate change," said Kelly Turner, an associate professor of urban planning and associate director of the Luskin Center for Innovation. "Thinking about environment and climate as a government issue and centering equity in any policy considerations is the future of governing cities."
It is essential to ask ourselves, what is the narrative that we tell of heat? Certainly, the plot encircles stories of the biosphere, from the worst coral bleaching in the Florida Keys and the collapsing heat-resilient plant species in Arizona to the drying of Lake Titicaca in South America.
But heat, a story of beating hearts and working bodies, is an urgent tale of our existence. This will be the coolest summer of the rest of our lives. For the sake of ourselves, each other and the natural world, we must face the heat.