Opinion: Banish bad luck circles and embrace positivity rather than negative superstitions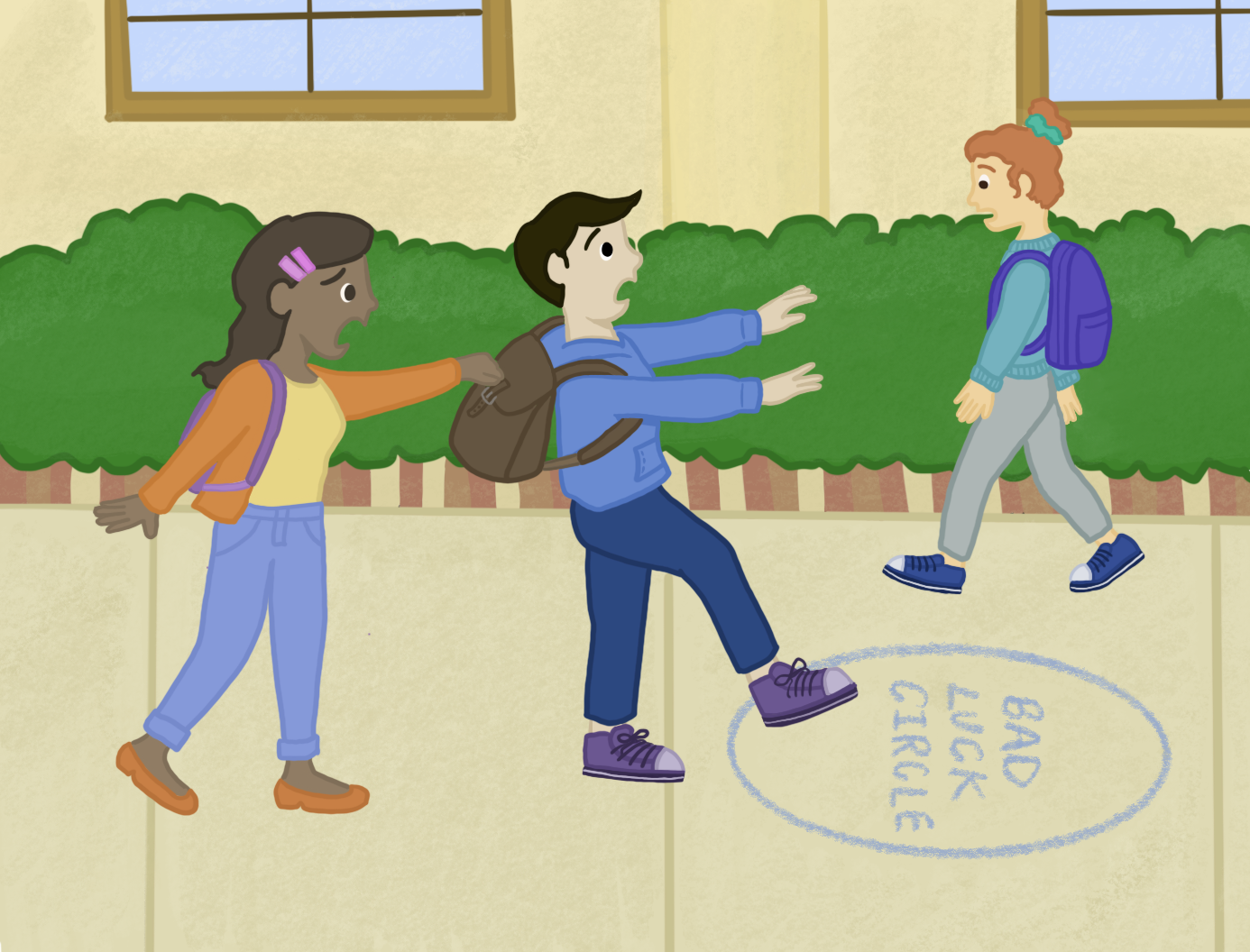 (Ashley Ko/Illustrations Director)
This post was updated July 30 at 3:52 p.m.
UCLA students know that hard work and effort are the true determinants of success. But Bruins also have a tendency to believe that their accomplishments are due to luck or that they can expect better results with luck on their side.
Students have embraced many superstitious campus traditions. Some believe in rubbing the Bruin Bear statue's paw for good luck before exams, while others avoid dipping their hand in the Inverted Fountain to ensure they graduate on time. Recently, a new superstition in the form of avoiding bad luck circles has made an appearance on campus.
As finals approached during spring quarter, a plethora of these chalk-drawn circles began popping up on different parts of Bruin Walk. These circles foretold an ominous prophecy: that whoever stepped into them would face bad luck. In the context of finals week, many likely feared for their upcoming exams.
Although it may have started as a joke, the fact that so many students believed in the chalk circles points to a larger issue of students not being able to decipher between real and false information and believing in the power of "bad luck."
While trivial, the circles gained a bad reputation and resulted in the discomfort and anxiety of many "unlucky" students who stepped into their circumferences by accident.
For instance, a student going by u/delusional_clod on Reddit posted about an incident where a student pulled on another student's backpack and screamed at them after they accidentally walked into one of the circles.
Clearly, many took the circles as more than a joke and sincerely believed in their prophecies of misfortune.
Even if most students were skeptical of the powers of chalk circles, the possible negative consequences of bad luck may have overridden their logical reasoning in such a situation.
"I don't need any extra negative factors working against me," said Elijah Weller, a rising third-year design media arts student and co-president of Random Acts of Kindness at UCLA. "I don't consider myself to be a superstitious person, but I'm also not a super risk taker, and I think it's pretty easy to avoid a chalk circle on the ground."
This thought process was likely shared by many students at UCLA, who were faced with the choice between risking bad luck for eternity – especially during finals – or simply stepping two feet to the side to avoid a drawing on the ground.
Daniel Fessler, professor of anthropology and director of the UCLA Bedari Kindness Institute, said a psychological phenomenon known as negatively biased credulity may help explain why students reacted to circles in this way.
"The basic idea is (that) people are more likely to believe information about dangers than they are information about opportunities or benefits," Fessler said.
Fessler said that this is exemplified by a theoretical situation: encountering a snake-resembling twig versus a twig-resembling snake. He explained that most people would assume they saw a snake in both situations, as the act of jumping unnecessarily outweighs the risk of potentially being bitten. This is the same decision-making process some students experienced with the bad luck circles.
Jennifer Ye, a rising third-year psychology student and co-president of Random Acts of Kindness, explained what she believes students should do in the situation.
"If you see (the circles), you should do your best to not let them affect you," Ye said. "It's our job as kind and positive people to ignore them, maybe splash water to wash them away, or even bring our own chalk to draw good luck circles around them."
While students did draw good luck circles and even additional good luck triangles, Fessler said these could never take off in the same way. Students would still make more of an effort to avoid the bad luck circles than to step inside the good luck circles.
"People believe false information about bad things more easily than they believe false information about good things," Fessler said.
Fessler also said that UCLA students believing in these chalk circles could be a potential indicator of a larger issue. Specifically, these circles may point to the spread of misinformation and the ways students internalize messages given to them instead of thinking for themselves.
"It is exactly the kind of thinking that puts the world in danger, and not the kind of thinking that can save it," Fessler said. "UCLA students ought to know better, and if they don't, then we, the faculty, are failing in our jobs to teach people to be logical, scientifically-minded, rational consumers of information."
If students at the top public university in the United States are taking instructions from messages on the ground, maybe it does pose a larger question about the dangers of herd mentality. The key to avoiding this alarming future is understanding our own psyche. Fessler said he feels that knowledge is what gives us power in our lives.
Ultimately, by understanding concepts like negatively biased credulity, students can evaluate the motivations behind their thinking and decide if it is legitimate or not. Further, by avoiding surrendering to confirmation bias, such negative messages lose their power. If students internalize these messages, they will naturally chalk up every unfortunate consequence of the day to stepping into the circle – but this is simply not how the real world works.
Though, that doesn't mean spreading positive messages should be entirely ruled out. Whether it be holding a door, sharing class notes or even just wishing someone "good luck" for their finals, there are many small acts students can take to brighten each other's days.
"I also think that (for) UCLA, one of the most special things about it is the community and how nice and safe it can feel. So for our club, I don't feel like it's an uphill battle," Weller said.
By working with the human psyche, students can gain awareness of their decision-making processes. They can direct their focus away from negativity by understanding their own thought processes, learning and spreading positivity instead.
So, the next time you read an ominous message on the ground while walking to class, question whether you really ought to heed it. Being driven, dedicated and kind is worth more good luck than any circle or campus tradition.