Op-ed: Barrington Plaza fights Ellis Act; injustice could spark mass evictions in LA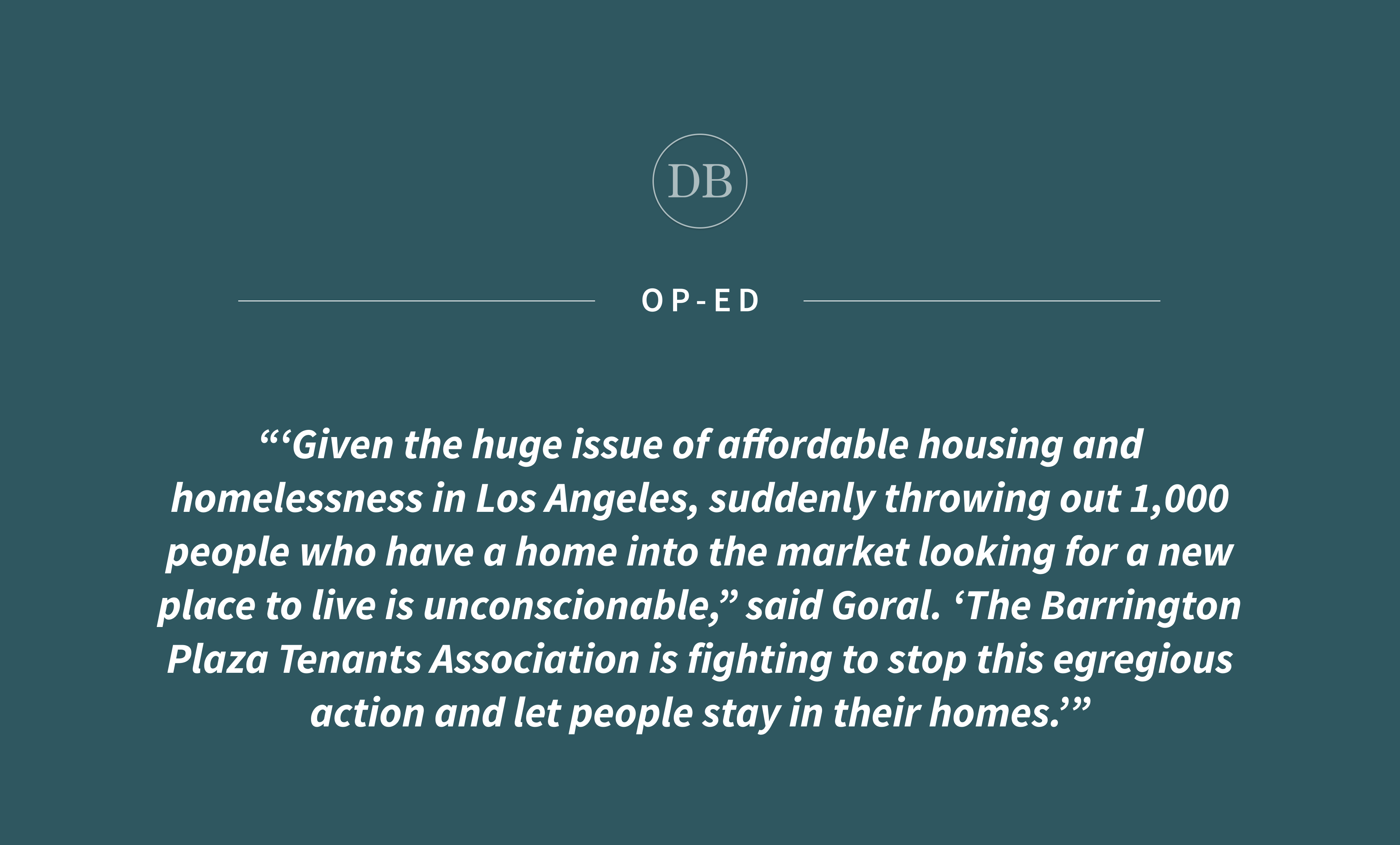 This post was updated July 23 at 7:55 p.m.
The history of Barrington Plaza begins with its completion in 1962 when the median cost to rent an apartment in Los Angeles was under $107. That would convert to $825 per month today.
However, the 2023 fair market rent prices consider a 1-bedroom worth $1,747 and a 2-bedroom, $2,222. Still, these prices aren't easily found, and those who find them may ultimately become rent-burdened or at the mercy of corporate landlords prioritizing profit.
In 1998, the property consisting of three high-rise buildings on Wilshire Boulevard was purchased by Douglas Emmett, who is currently being sued by residents alleging misuse of state law for mass evictions, according to the Los Angeles Times. The 712-unit, rent-controlled apartment complex in the Sawtelle community of LA has provided tenants like UCLA's longest-serving librarian, Miki Goral, an affordable place to live.
Goral has been a librarian on campus for 52 years and a resident at Barrington Plaza for 34 years. The convenient location allows her to utilize public transportation to commute to work.
Over the past decade, two fires caused extensive damage to the Barrington Plaza, which was not required to install fire sprinklers when constructed. Eleven reported injuries and the death of a 19-year old occurred on Jan. 29, 2020.
The owners of the high-rises initially agreed to make the safety updates with one stipulation. Emmett at first claimed they were willing to install sprinklers. This was contingent upon if the city would give them a special exemption from rent-control laws, which would allow a massive eviction and even the largest in LA since Chávez Ravine, according to former LA City Councilmember Mike Bonin.
"The possibility of being evicted never crossed my mind. It was a total shock," Goral said in an emailed statement.
Since the requirements to provide temporary relocation assistance and guarantee that tenants could return to their rent-controlled units after the safety updates were upheld, the owners decided to attempt to use the Ellis Act to authorize the evictions.
Passed in 1985, the Ellis Act was originally intended to allow non-corporate landlords to take units off the rental market when they wished to exit the rental business. This state law has been misused by developers attempting to circumvent tenant protections and convert properties rented by working and lower-income individuals into luxury apartments and condominiums.
"They clearly do not intend to go out of the rental business – they are just looking for a way to get out of having a rent-controlled building," Goral said in an emailed statement.
Tenants from over 28,000 units in LA have already been evicted through the Ellis Act since 2001, according to the Housing Department by the Coalition for Economic Survival as quoted in the LA Times.
It goes without question that these injustices only continue to exacerbate the city's affordable housing crisis.
On June 20 at the LA City Council meeting, Barrington Plaza residents maintained that the safety upgrades can be made without permanently displacing people.
"This is a kind of treatment that's symptomatic of their mass eviction and their perception that their tenants exist solely for the exploitation in the name of corporate greed," tenant Robert Lawrence said.
Many of the residents facing eviction who have called the Barrington Plaza a home for years have disabilities and are senior residents. Not only are these tenants at increased risk of losing their shelter, but thousands of other tenants in rent-controlled units in LA could also be placed at risk of misuse of the Ellis Act.
"If the owner of this place gets their way, it will set a precedent that could spark a tremendous wave of evictions in buildings all around Los Angeles," Bonin said.
While the City Council unanimously passed the motion introduced by the 11th Council District representative, Tracy Park, regulating Ellis Act evictions at Barrington Plaza, it is our collective responsibility to act to protect tenants, preserve affordable housing and prevent homelessness.
"I just do not want to move," Goral said in the emailed statement.
And she shouldn't have to. The removal of three predominantly Mexican American communities within Chávez Ravine during the 1950s, where Dodger Stadium was ultimately built, affected so many and had long-lasting effects.
The city of LA forcefully evicted 300 families then, and has since failed to enforce consequences on corporate landlords abusing their power now.
"Given the huge issue of affordable housing and homelessness in Los Angeles, suddenly throwing out 1,000 people who have a home into the market looking for a new place to live is unconscionable," Goral said. "The Barrington Plaza Tenants Association is fighting to stop this egregious action and let people stay in their homes."
They need our help, and we have to do better this time. We can.
Goral said their urgent goal is to collect funds for their legal fees. Financial support in this fight to protect their homes can be made through their fundraising platforms.
Gonzalez-Torres is a rising fourth year Chicana/o and Central American studies student.