Pro Bruin Rundown: Softball pitchers make professional debut; Hall of Fame names class of 2023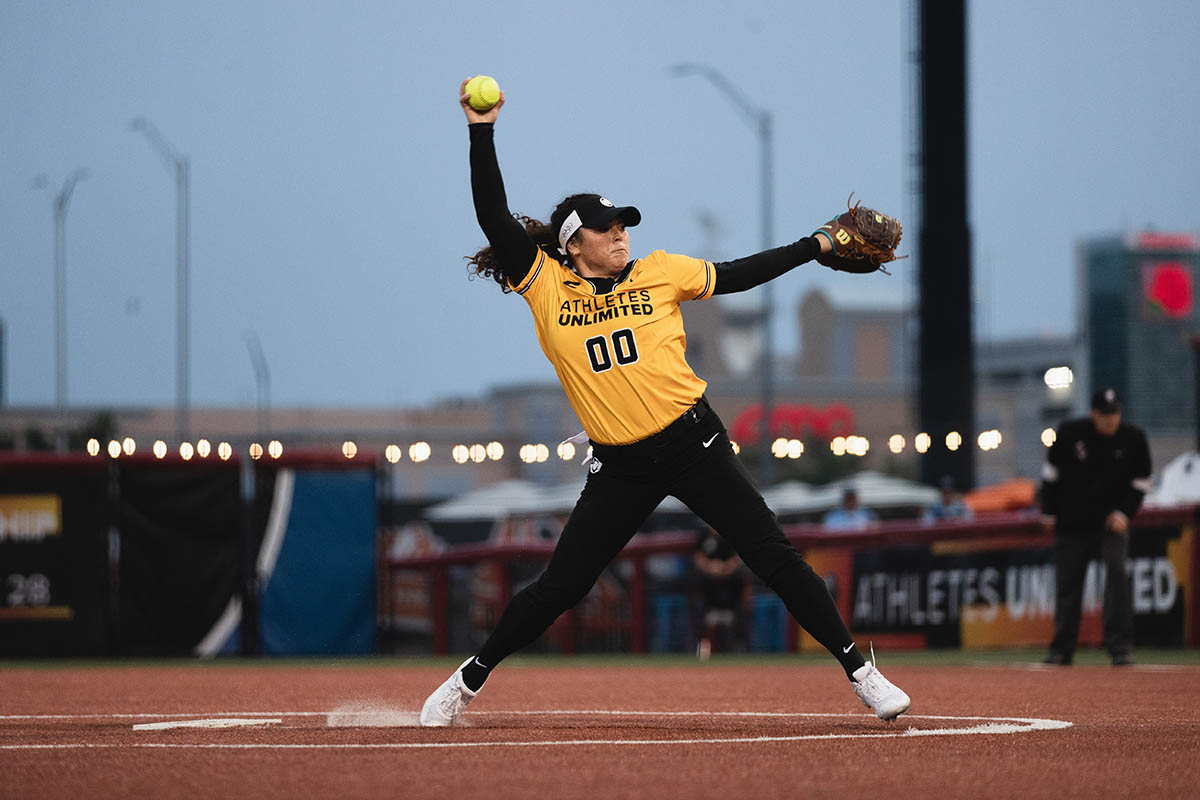 Former UCLA softball pitcher/first baseman Rachel Garcia delivers a pitch during a game at the Athletes Unlimited AUX series. (Courtesy of Jade Hewitt/Athletes Unlimited)
This post was updated July 2 at 7:12 p.m.
As UCLA Athletics takes a break for the summer, professional sports are still in full swing, with many Bruin alumni representing. Each Friday during the summer, Daily Bruin Sports will take a look at the standout performances of former UCLA greats from the past week as we count down the days until fall.
Softball: Rachel Garcia, Megan Faraimo, Brooke Yanez, Athletes Unlimited
A pair of Bruin alumni reunited with a UCLA softball legend on the professional circuit in June.
Former pitchers Megan Faraimo and Brooke Yanez both made their professional debuts on June 12 in the Athletes Unlimited AUX series – a league focused on expanding playing opportunities and compensation for softball players through its nontraditional point collecting model, which incentivizes individual play.
The duo in the circle joined a pool of players, which included former pitcher/first baseman Rachel Garcia. Garcia was named one of three team captains for the first and third series of games.
Over the three series of play, Garcia collected 1,392 points – the most of any athlete competing in the league. The two-time Collegiate Woman Athlete of the Year collected 34 strikeouts and held a 3.19 ERA in 37.1 innings in the circle. At the plate, she notched a .313 batting average, while collecting eight RBIs in 10 games played.
The effort from Garcia earned her the honor of 2023 AUX Champion – the equivalent of the most valuable player award in other professional sports leagues.
Yanez, however, struggled in her first professional season, sporting an ERA of 6.30 after holding her NCAA opposition at bay with a mark of 1.99 this past season.
Faraimo fared slightly better than Yanez but still pitched an uncharacteristic 4.41 ERA in her 27 innings in the circle.
The triad of Bruins will face off once again when the Athletes Unlimited Championship season begins July 24. But before then, Faraimo will head to Dublin to compete for the United States Women's National Team in the World Baseball Softball Confederation World Cup, joining former teammate rising redshirt senior utility Maya Brady, as well as former Bruin pitcher/utility Ally Carda.
Baseball: Brandon Crawford, San Francisco Giants
After three All-Star appearances and two World Series rings, sometimes a slump is inevitable.
However, not every position player gets a chance to break that cold streak on the mound.
Former Bruin Brandon Crawford – batting .192 up until early June – got an opportunity to take a break from his usual position between second and third base and take a step on the rubber 90 feet from home plate.
On June 11 against the Chicago Cubs, the former All-Pac-10 shortstop made his MLB pitching debut and threw a scoreless inning en route to a 13-3 Giants victory while sporting a high-80s fastball.
Crawford played three years at UCLA and started 177 of 179 games at shortstop during his time in Westwood from 2006-2008. Crawford took the mound three times for the Bruins during his junior season, pitching 4.1 innings and striking out five, but held an ERA of 10.38.
On the back of his .327 batting average, the current big leaguer took home team Most Valuable Player honors in both 2006 and 2007.
Since his pitching appearance, Crawford has broken out of his early-season slump, hitting .302, as the Giants are also 12-2 in games that he has played.
UCLA Athletics Hall of Fame Class of 2023
UCLA announced its incoming Athletics Hall of Fame Class of 2023 on June 8.
Among eight honorees was Carrie Forsyth – the Bruins' recently departed women's golf coach who retired after 24 years at the helm of the program. She also played for UCLA from 1990-1993.
During her time in Westwood, Forsyth led the Bruins to two national championships in 2004 and 2011.
[Related: 'I feel very lucky': Carrie Forsyth reflects on her UCLA women's golf legacy]
Also selected was Kelly Rulon, who spent 2003 and 2005-2007 with UCLA women's water polo, winning a national championship in every season she played as a Bruin. In her final season, Rulon earned the Peter J. Cutino Award, which is awarded to the top collegiate water polo player each season.
After her time in Westwood, Rulon took home a gold medal for Team USA at the 2012 Olympic Games and was also inducted into the USA Water Polo Hall of Fame in 2020, in addition to the bronze medal she won at the 2004 Olympic Games during her redshirt season.
The rest of the athletes joining the UCLA Athletics Hall of Fame include three-time national champion men's water polo goalkeeper Kevin Craig, two-time gymnastics national champion Heidi Moneymaker, former baseball and football player Randy Schwartz, three-time national champion men's basketball player Lynn Shackelford and two-time national champion men's volleyball player Erik Sullivan.
The eight recipients of the honor will be inducted the weekend of Oct. 7 when UCLA football takes on Washington State at the Rose Bowl.
Royer is a senior staff reporter for the News and Sports sections of the Bruin. He was previously the 2022-2023 assistant News editor for the city and crime beat.
Royer is a senior staff reporter for the News and Sports sections of the Bruin. He was previously the 2022-2023 assistant News editor for the city and crime beat.