Three Bruins join NBA teams as Jaquez, Bailey and Clark are drafted Thursday night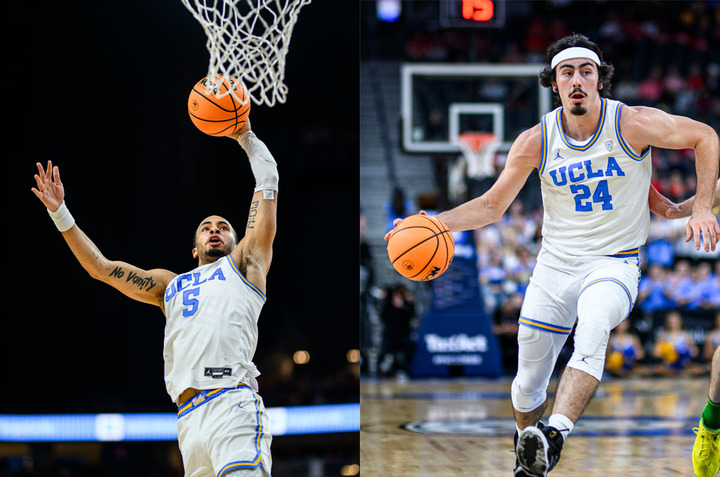 UCLA men's basketball guard Amari Bailey (left) rises for a dunk while guard/forward Jaime Jaquez Jr. (right) drives to the basket. Jaquez was chosen by the Miami Heat at No. 18, while Bailey was selected No. 41 by the Charlotte Hornets. (Joseph Jimenez/Photo editor)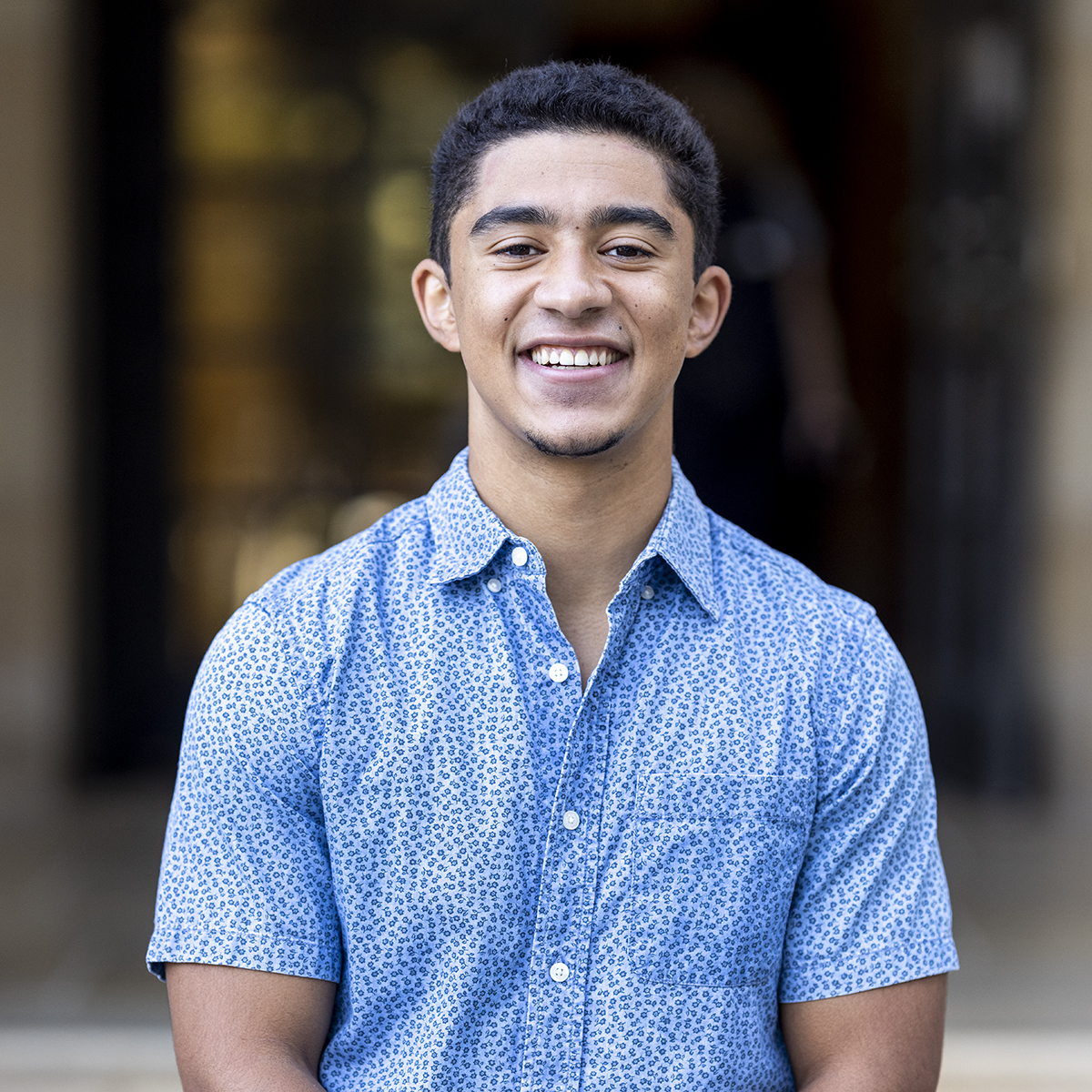 This post was updated June 23 at 2:17 p.m.
For the first time since 2017, three Bruins were selected in the NBA Draft.
UCLA men's basketball guard/forward Jaime Jaquez Jr. was selected No. 18 by the Miami Heat on Thursday night, becoming the highest Bruin selected since forward T.J. Leaf was taken No. 18 overall by the Indiana Pacers in 2017. Guards Amari Bailey and Jaylen Clark were selected in the second round, with Bailey going No. 41 to the Charlotte Hornets and Clark getting picked No. 53 by the Minnesota Timberwolves.
Jaquez joins the NBA after four seasons and 1,802 points – which ranks eighth in program history – with UCLA. Jaquez helped lead the Bruins to a Final Four appearance in 2021 before winning the Pac-12 Player of the Year award and Pac-12 regular-season title during his senior season.
The Camarillo, California, local will now take his talents to South Beach to join a Heat team that came just three wins short of an NBA championship this past season. Miami has made it to two of the last four NBA Finals behind All-Stars Jimmy Butler and Bam Adebayo, and Jaquez will now join the team under the leadership of championship coach Erik Spoelstra and executive Pat Riley.
Bailey became the second Bruin selected Thursday night when the Hornets used their No. 41 pick to take the one-and-done prospect.
The former class of 2022 five-star recruit – who ranked No. 1 in California and No. 3 in the country – starred at Sierra Canyon High School in Southern California before committing to UCLA. He went on to average 11.2 points per game on 49.5% shooting from the field for UCLA, including a postseason stretch where he averaged 17.3 points per game on 56.1% shooting in his final six games as a Bruin.
Bailey joins a Charlotte franchise that added forward Brandon Miller with the No. 2 pick earlier in the evening and continues to build around guard LaMelo Ball. The Hornets – who haven't made the playoffs since the 2015-2016 season – will be under new leadership next season after longtime majority owner Michael Jordan announced his intentions to sell the team last week.
Clark rounded out the night for UCLA prospects after being selected by the Timberwolves with pick No. 53.
The Naismith Defensive Player of the Year this past season sustained an Achilles injury during the Bruins' final regular-season game against Arizona on March 4. Clark is not expected to return to basketball activity until 2024, but he will now rehab with a Minnesota franchise that selected former UCLA guard Zach LaVine in 2014 and traded for former Bruins Shabazz Muhammad and Kevin Love on draft night in 2013 and 2008, respectively.
While he wasn't drafted Thursday night, guard David Singleton officially became a professional Friday morning when he signed an Exhibit 10 contract with the Atlanta Hawks. An Exhibit 10 is a one-year minimum-salary contract that can be converted to a two-way NBA G-League contract by the franchise prior to the beginning of the regular season.
Singleton's 164 games with the Bruins is a program record, and his 43.4% career 3-point percentage shows the shooting ability he'll bring to Atlanta. After averaging no more than 5.2 points per game in any of his first four seasons as a Bruin, Singleton averaged nine points per game while making 73 shots from behind the arc as a fifth-year.
Guard Tyger Campbell became the final player of UCLA's five-man group to find an NBA home by signing a Summer League contract with the Orlando Magic on Friday afternoon. The Iowa local earned All-Pac-12 First Team honors, for the third consecutive season, to end his career and ranks second on the Bruins' all-time assists list with 655.
Campbell will have an opportunity to impress his new franchise – and others – during the NBA Summer League with the hopes of securing a contract for the upcoming NBA and G-League seasons.
Carlson is currently a staff writer on the football, men's basketball and women's basketball beats. He was previously a reporter on the softball and men's golf beats.
Carlson is currently a staff writer on the football, men's basketball and women's basketball beats. He was previously a reporter on the softball and men's golf beats.