LA Metro to open new downtown stations, improving accessibility for students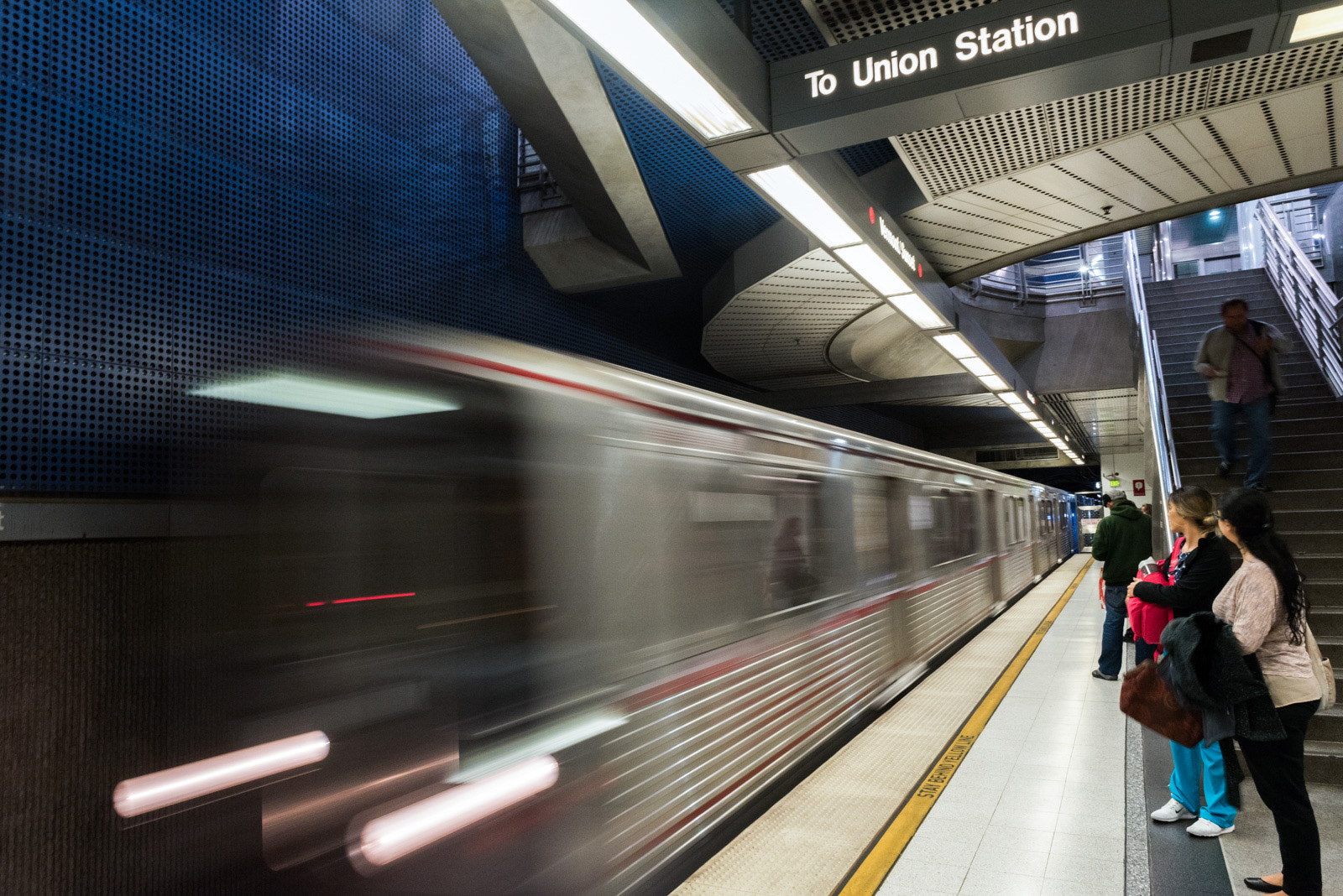 Pictured is the train to Union Station. Three new light rail Metro stations will open in Los Angeles on Friday. (Daily Bruin file photo)
The Regional Connector Transit Project, a series of new stops along a light rail Metro line, will open Friday.
Two new routes are opening – one running from East Los Angeles through downtown LA to Santa Monica and the other from Azusa to Long Beach. The routes are accompanied by three new stations: Little Tokyo/Arts District, Historic Broadway and Grand Avenue Arts/Bunker Hill.
The new regional connector project will make commuting to campus by public transportation more accessible for students living in downtown and East LA, according to an emailed statement from the LA Metro. While prior to the project UCLA students commuting from East LA would have had to make a number of transfers, students along the route of the new downtown connector line can now commute with only one transfer.
Many commuter students said they have to plan extra time in the morning to sit in traffic or wait for multiple buses when commuting to campus.
Ashlee Salas, a third-year psychology student, said she has to wait 20 minutes to board some of her buses.
"I have to wake up twice as early as most people," Salas said. "I had an 8 a.m. class last quarter and had to wake up at 5 a.m. just to make sure that I didn't miss my bus."
Satyen Subramaniam, a second-year computer science and engineering student, said he carpools to campus every day.
"The commute takes 20 minutes or so, if the traffic is light," Subramaniam said. "When traffic is heavy, it will probably take an hour or so."
Subramaniam said that although he has tried taking public transportation to campus before, he chooses to carpool out of convenience and efficiency.
"The times that I have tried to take public transportation, I had to wait a while for the bus to come, and the actual routes were not super conducive to where I wanted to go," Subramaniam said. "I definitely think that this new transit line will be helpful for traveling around the city."
Salas said that commuting to and from campus often takes multiple hours out of students' days. She added that she needs to transfer bus routes multiple times in order to get to school every day.
"I have to make two buses line up with each other, … and so sometimes, when the bus comes late, I have to wait, then wait again," she said.
Salas added that the inaccessibility of public transport makes students favor traveling by car instead of using public transportation, increasing the cost it takes to get to campus.
With the new light rail line, students will be able to commute faster to campus than they would have been able to commute by bus.
The regional connector lines are part of the larger goal of the city government to make public transportation in LA more accessible, according to an LA Metro press release. The LA County Metropolitan Transportation Authority has been working with the city to achieve this goal for a long time, according to an emailed statement from LA Metro.
U.S. Rep. Jimmy Gomez said in a Metro news release that he thinks the new lines will save commuters money, ease traffic congestion and decrease their carbon footprints.
"The 1.9-mile Metro rail extension is a great asset to our constituents in the Eastside of Los Angeles," he said in the news release. "Many more people will now have the ability to travel across L.A. County to get to work and explore the city using public transportation."
In a recent Undergraduate Students Association Council referendum, UCLA students also approved a $3.30 fee that will be charged to students' BruinBills every quarter to fund unlimited-use transit passes for LA public transportation for all undergraduate students.
[Related: Bruins oust USAC President, pass transit referendum]
UCLA Transportation said in an emailed statement that it hopes the new Metro connector will make the commute easier for students who live at home or farther from campus and shorten the time that this commute takes.
"Now that this rail line exists, the shortened travel time reduces the need to live on the expensive Westside to attend UCLA," UCLA Transportation said in the statement.
The regional connector project will also allow students living on campus and in Westwood to explore different parts of the city that were previously less accessible to them. The new Metro routes may also provide students who commute by car with an opportunity to try commuting by light rail subway.
In celebration of the new Metro connection, the LA Metro will offer passengers free rides throughout the opening weekend from Friday to Sunday, according to an emailed press release from Metro.
"I'm glad the line is being built. Hopefully it makes the commute easier for people living in East LA," Subramaniam said.