The Sex Lives of Bruins: Hookups and Respect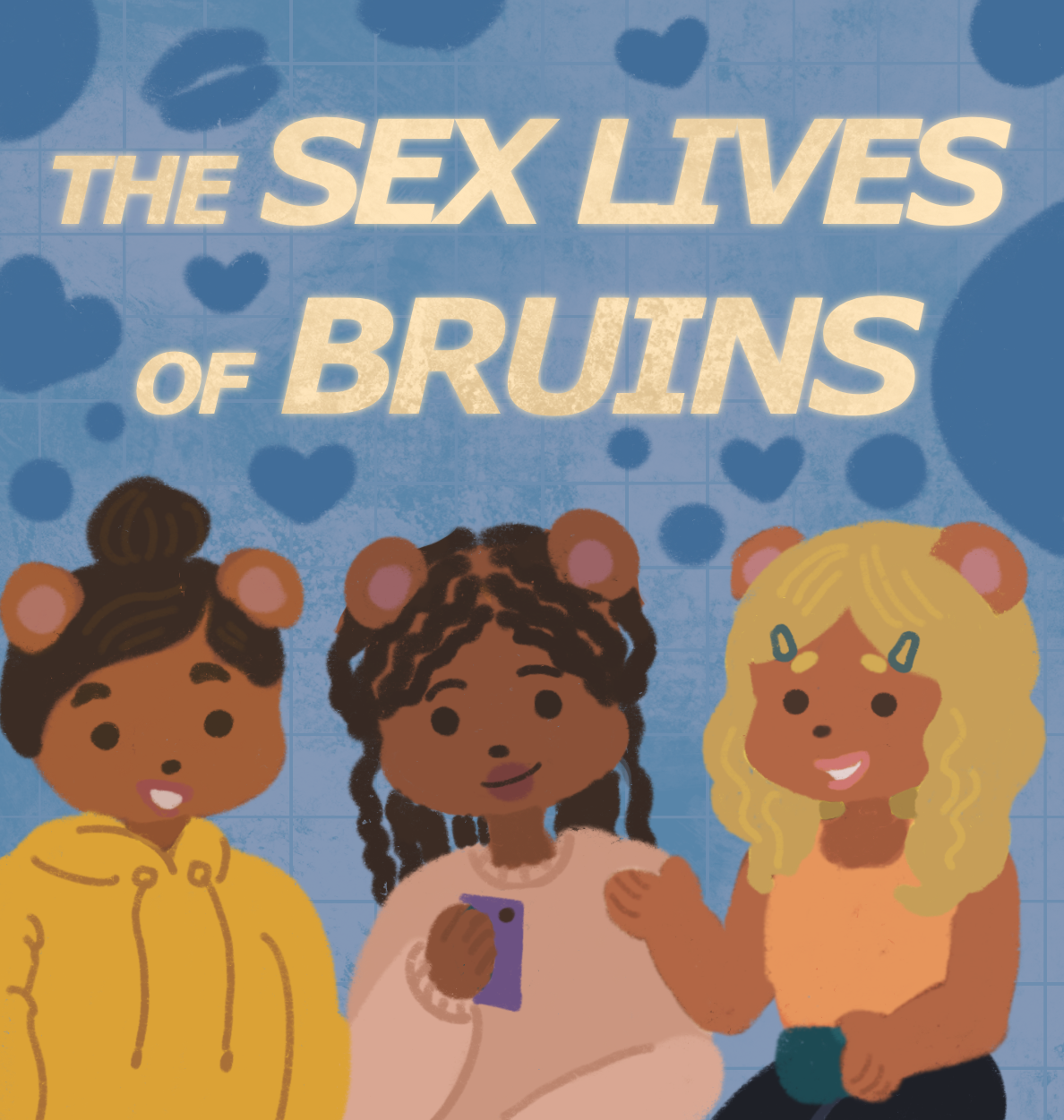 (Maleeha Zaman/Daily Bruin)
In this episode of "The Sex Lives of Bruins," a Daily Bruin podcast about sex and relationships at UCLA, Podcasts contributor Sonia Wong talks to Bella Garcia about how her perspective on relationships and sex changed from high school to college.
https://drive.google.com/file/d/1N7yey0kvUPZOB-D_4NMAVHsK2g-P6oUX/view?usp=sharing
Sonia Wong: Hey y'all, and welcome to "The Sex Lives of Bruins." I'm Sonia, a Podcasts contributor for the Daily Bruin. This series explores how sex and relationships in college impact our growth and understanding of self. We talk to a whole host of Bruins on different issues, but most importantly, we're trying to understand how we can better advocate for ourselves, especially as it relates to safe sex, consent and communication. Today, I'm with Bella. We talked about experimenting with different types of relationships, both sexual and romantic, experiences with dating apps as well as how previous relationships shape our selfhood. This episode discusses sensitive material such as mentions of sexual assault and sexual abuse in relationships. If these topics appear uncomfortable or hard to hear, or are sensitive, please feel free to click off of this episode and we'll see you in the next one. Hope you enjoy.
Bella Garcia: I'm Bella Garcia, my pronouns are she/her. I'm a communications and sociology double major. And I'm a third year.
SW: Could you really briefly talk about your own experiences with relationships or when it comes to romantic love?
BG: Yeah, so not good. But yeah, I had a two-year-long relationship from high school to the beginning of my sophomore year that just wasn't, you know, good for me. And so I broke it off with him last December, and then started going on Tinder, about a couple of months after that— and just dating apps, and then dated someone else over the summer, that also wasn't good. I think I'm still hopeful to find a romantic interest. I'm so open to it, and I'm in therapy and stuff, just kind of like, prepare for my you know, just to ensure that I'm like a good partner and able to show up in a relationship.
SW: I heard that you briefly mentioned that it wasn't necessarily the best for you. So in your own words, what would you consider to be a healthy relationship?
BG: Yeah, I would say like open communication, that you're still kind of an individual in a relationship. I think that was kind of like a big issue in both of those, was just that it kind of grew to be codependent, especially my two-year one, because it was over quarantine, and we saw each other every day. So being able to still be your own self, and being able to communicate when your feelings are hurt, and also having a partner that's willing to work with you through these kinds of problems. Because, you know, it's not you versus them. It's like a problem that is in the relationship, and it's an "us" thing.
SW: You were talking about one relationship that was over the course of summer, which was after you entered college. So how would you say your views towards relationships have changed from high school to college? Do you think being out of a relationship has changed your idea of the things you're looking for in a relationship?
BG: In high school I was just really insecure. And I feel like it's probably relatable to a lot of people who are just at that age. So being in a relationship was really hard because you kind of start to rely on that person for validation in a way that's just like you need to figure that out within yourself. When I started having relationships in college, that wasn't necessarily an issue. I think it ended up being the partner I ended up dating. I think there were a lot of red flags in the beginning that I just didn't see or I ignored because there was just a part of me that really wanted to be in a relationship versus feeling like I could be in a relationship with that person. I don't know if that makes sense. And I think now kind of going forward, I'm a lot more particular about how I'm spending my time because now that I'm single, I'm spending a lot more time with myself and reading and writing in a way that, over the summer, dating someone really took away from that. So I enjoy having that a long time and kind of hoping that in whatever relationship I get next that it's not taking away from that kind of introspective time.
SW: So since we were talking about wanting to be more of yourself, apart from that, are there certain things you would say that you would be looking for as it relates to or moving on to other relationships?
BG: Just honesty and maturity. The hard thing with dating men is that the way they've been socialized, they're on such a different emotional intelligence level. And I feel like with my high school boyfriend and the boyfriend over the summer, I kind of ended up being like a caretaker to them because a lot of times they didn't have the ability to communicate their own emotions. When you're trying to understand a problem, we'd be like, "OK, well like what's going on here?" So kind of going forward, being with someone who's, you know, able to do that emotional labor by themselves and doesn't rely on me to do that.
SW: And another thing that relates slightly to the social culture of dating as well, I remember you talked a little bit about being in high school, and a lot of people just didn't feel good about themselves. But did you ever feel like there was pressure coming from other people?
BG: Yeah, I would say in high school, I don't think it was like an intentional thing, but watching people be coupled up, I was like, "Dang, I want that." And also in high school, I think a lot of people just enjoyed performing the relational aspects instead of just like actually being in a good relationship. So kind of what I saw was just like, kind of this idealized form of, you know, being with someone and I was like, "I want that." I was in college, not so much. I think I kind of pressured myself. And I would say the media more kind of put that on me than anything like watching teen romance films and stuff like that.
SW: And as it relates to you, how important do you think both sex and relationship is important to you in college right now?
BG: Yeah, I think it's really important. Coming out of my first relationship, it was like, sexually abusive. So there's a lot of things that beforehand, I wasn't so, I don't know, cognizant of. But now I'm like, I want to be with a partner who's able to communicate with me about their needs, and I feel safe enough to communicate to them and also that they're, it's a very consensual relationship. And who are able to understand kind of where my experiences are coming from. I think that was really hard, kind of the guy that I dated over the summer, he just couldn't understand that things that would happen that were being triggered, just by being in a relationship again. It didn't have anything to do with him. But he didn't really understand that. So that was really hard. So I like having a partner who's able to understand that. And I think sexual compatibility is very important, not so much that it should be like replacing any form of romance or, you know, vulnerability and intimacy. But being able to have that moment was something that is really important. Especially with, I don't know, I wouldn't necessarily say this was like queer relationships, but I know there's a really big orgasm gap with male and female, you know, heterosexual relationships. And so ensuring that the way you're showing up in these sexual relationships isn't just like being there for him. But he's also ensuring that you're having a good time.
SW: And so going back alone to that, how would you say, or what would you say, your relationship to sex would be? Whether it's casually, intimately or exclusively, you could touch on, like, all of them or choose whichever aspect you want to focus on?
BG: Yeah, I would say definitely casually, since I came into college. I grew up in a really like, conservative religious household. And it was so crazy to my mom that I had sex while I was in high school with my two-year boyfriend. So coming to college, I was like, "OK, I'm trying to figure out who I am and what I want separate from that." And I felt like those kind of casual relationships are a good way to do it. And honestly, I think now, being able to understand boundaries, as another person who also understands the relationship is casual is very important. Because I feel like sometimes, especially dating using dating apps and stuff, it can be very unclear whether or not the person you're with actually wants a relationship, or if they just want to have sex with you.
SW: And when you were talking about the boundaries being clear, would you ever say you felt like sex was like transactional?
BG: I don't know, if it was like, I don't know, I would just really be worried about sex being transactional when I was hooking up with guys. Because they'd buy me dinner and want to go out and do stuff when knowing that this was just a casual thing. And I'm like, I don't know if they expect, what they expect from me here when we're doing stuff like this and also hooking up. Now I really don't like when guys pay for me or anything like that, because I just have this feeling that it is going to end up being transactional, or they're like, "Why I'm spending so much of this quality time and money on you?" And it's not even, I feel like, since it's such a socialized thing, I don't even think it's a conscious process in a lot of men, but I definitely feel they can come out of those situations feeling like you owe them something. But I don't know if I really experienced that so much directly. I feel like the issue more is guys doing this thing where they kind of dangle the potential of a relationship with you, and then in that process just have sex with you, while they know that they're not going to take this into a more committed relationship.
SW: What do you think contributed to this mismatch and expectations? Do you think it's a lack of communication like setting clear boundaries from the get go? Or what other things you think, cause this whole, like, "Oh, I thought this was going to be maybe possibly something more." But then they were like, "No, I did this because we are hooking up".
BG: I would say, definitely lack of communication, and not any sort of clear boundaries. I will say, with some guys that have hooked up with, once we get to that point where I usually ask, "What is this," they can really communicate that in a roundabout way where, again, they're like, "Well, you know, I like hooking up with you. But I'm not ready for a relationship right now. But you know, that could change in the future, but I don't know". And I'm like, "Well, that's not a very clear answer to me."
SW: And another thing that I was curious about was, how do you think sex culture – not just college – in general, affects monogamy.
BG: From my experience, I feel more comfortable, kind of sleeping with other people when it is just a casual thing. But when something's more exclusive, it's just like, "Oh, I'm working towards a relationship with that person and that's not necessarily going to include other people." But again, I feel like it's a pretty heteronormative perspective. But I really don't know, kind of the relationships outside of that other than my own experience. I would say, though, I feel like a lot of times to kind of this uneven expectations, there's a lot of men who in casual relationships will hook up with other women, but then the woman doesn't necessarily have the opportunity, or is necessarily wanting to do that. So I feel like I see that discrepancy a lot.
SW: And since you also touched upon heteronormativity, do you think sex has reinforced or helped you with ideas like heteronormativity, fatphobia, look-ism or even slut shaming? And has it impacted the way you see yourself and or how you view your relationships with other people?
BG: Yeah I think it really helped me kind of get over that kind of internalized misogyny of feeling that people who sleep with a lot of people are sluts because I felt like, I remember the first time I had sex, I was like, "I'm not a virgin anymore." And I was like, "I'm going to feel so different." And I just didn't feel any different. And I would say, even as I've had sex with more people I, again, don't feel like that's radically changed me at all. But I feel like a lot of people who are pretty sex negative have this kind of narrative that you give pieces of yourself to every person you have sex with and that's just not been my experience. As long as it's a consensual and fulfilling experience for me, then it's like, I have no regrets.
SW: I think a lot of times people have this misconception that having sex devalues you as a person, which is a really dumb idea. Because a lot of times, people actually figure out more about themselves through having sex, because it's also a very, not only vulnerable process, but it requires a lot of understanding and communication that happens, whether explicit or implicit, as well. And so I just think it's both. It could be dangerous, but it's also great that hookup culture is more of a thing in college because people are more willing to explore and or know their sexual boundaries, their needs and explore their desires as well, which is really—
BG: Yeah.
SW: And so another thing that you previously talked about was dating apps. So could you go a little more into detail about how you decided to start using a dating app and how your general experience has been? And lastly, a little on how you feel towards it?
BG: I have such a big love-hate relationship with dating apps. I had downloaded Tinder just because it was the only one I really kind of, most talked about, like culturally aware of. And for a long time, me and my friends would just go through my Tinder and just match with guys and just do stupid shit, which was really fun. I felt like it kind of helped me get over this— like I was taking it so seriously, especially because after I had got out of my long-term relationship, it was really hard to get out of that mindset that not everything has to be a serious relationship. And so that was really fun. But then it was just really hard because I felt like meeting someone online didn't necessarily give me a good perception of who the person was until I met them in person and either hooked up with them or went on a date that wasn't fun, and I had to leave. So that can be difficult. I feel like a lot of the men, a lot of the people I matched with on Tinder weren't very clear about what they wanted. They'd ask me what I want, and I'd be like, "Well, I just had a relationship, so I'm kind of just looking for things casually." And they'd be like, "Same, but I could see this, maybe it depends on like, it could go anywhere." I'm like, "Sure." But now I don't use Tinder anymore, just because of that. I feel like it did just start not to work with me anymore. And I'm more on like Hinge now, which I feel like gives me a much better perspective on who the person is. And like, I can feel like I have a lot more autonomy on who I'm matching with and talking with.
SW: What would you say the main differences between the more, like you said, Hinge gives you a better perspective. Why would you say that's the case?
BG: I think Hinge, there was just more of an emphasis on, because you can do like prompts and stuff and so you can do like little writing whatever. And then they could either reveal very true things about themselves or also just be funny, which I personally like, just when people are funny on their Hinge. I'm like, "Oh, that's cute." I think on Tinder there is much more of an emphasis on appearance, and it can be, it ended up just feeling very superficial to me because I felt like a lot of the guys that just ended up matching with me were just because I was pretty and had nothing to do with who, what my personality was. Which you know, is like, to each their own, but I still want some level of respect, even if I'm hooking up with them casually.
SW: Moving forward, how have you been able to strike a healthy balance between looking for relationships, whether it's casual or serious?
BG: Yeah, I would say just making sure that when I'm kind of entering those relationships that are either casual or even just something that I see more long term, that I'm not, I'm still like, being considerate of like my own boundaries and what I want out of the relationship. I think when I first started hooking up with men, it was really hard for me to not think about the other party. And in that way, it was really hard to end certain relationships that weren't good for me. So I feel like now I'm really good at just making sure that I'm protecting my peace. Just dating and hooking up in college is such a learning process.
SW: "The Sex Lives of Bruins" is brought to you by the Daily Bruin, UCLA's student newspaper. You can listen to the show and others by The Daily Bruin on Spotify, Apple Podcasts and SoundCloud, and the transcript for this show is available at dailybruin.com. Thanks, everyone. See you next time.