USAC officers discuss lessons learned from their positions ahead of graduation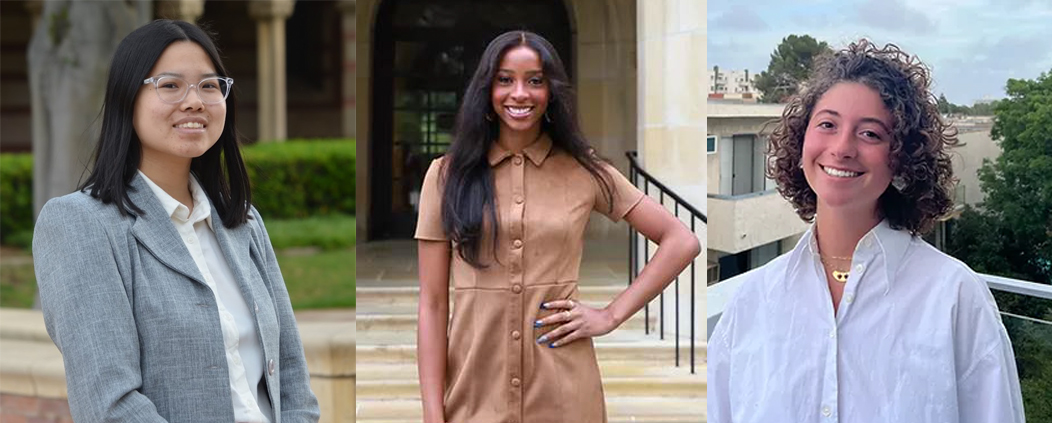 Pictured (left to right) are Phoebe Chiu, Divine-Faith Johnson and Giovanna Boffa. All three graduating seniors served as USAC officers for the 2022-2023 school year. (Courtesy of Undergraduate Students Association Council)
Most graduating students take the last few weeks of spring to take graduation photos, wrap up their classes and spend time with friends.
In addition to these activities, graduating Undergraduate Students Association Council members are in a different period of transition: welcoming incoming staffers and finishing up their last student government duties. As they pack up their offices and say goodbye to their positions of leadership at UCLA, they are also reflecting on how USAC has impacted their student experience and their thoughts on the organization as a whole.
USAC is the governing body of the Undergraduate Students Association, which includes all UCLA undergraduate students. The Undergraduate Students Association is housed under Associated Students UCLA, the largest student association in the United States. ASUCLA also includes the Graduate Students Association, Student Media and Services & Enterprises.
Phoebe Chiu, a fourth-year psychology and economics student, was the 2022-2023 USAC Facilities commissioner, one of 15 officer positions elected by the undergraduate student body. In an emailed statement, Chiu said USAC acts as a direct liaison between the local, state and federal governments, campus leadership and UCLA students.
"USAC meetings also help strategize on addressing different areas pertinent to the student body, such as transfer and international student relations/support, student wellness, academic accessibility, campus sustainability and accessibility, etc," Chiu said in the statement.
As the head of the Facilities commission, Chiu said she was in charge of maintaining and creating sustainable, accessible and representative facilities throughout campus. This included advocating to extend the Sepulveda Transit Corridor to UCLA, which would give Bruins transportation to neighborhoods throughout the west side of LA and the San Fernando Valley.
"I joined (FAC) in my sophomore year of college, and the intention for me was to understand more about the broader UCLA community, " Chiu said in an interview. "I just realized how much UCLA is built upon student labor and how much, if we want to see campus change, … we have a say on what that might look like."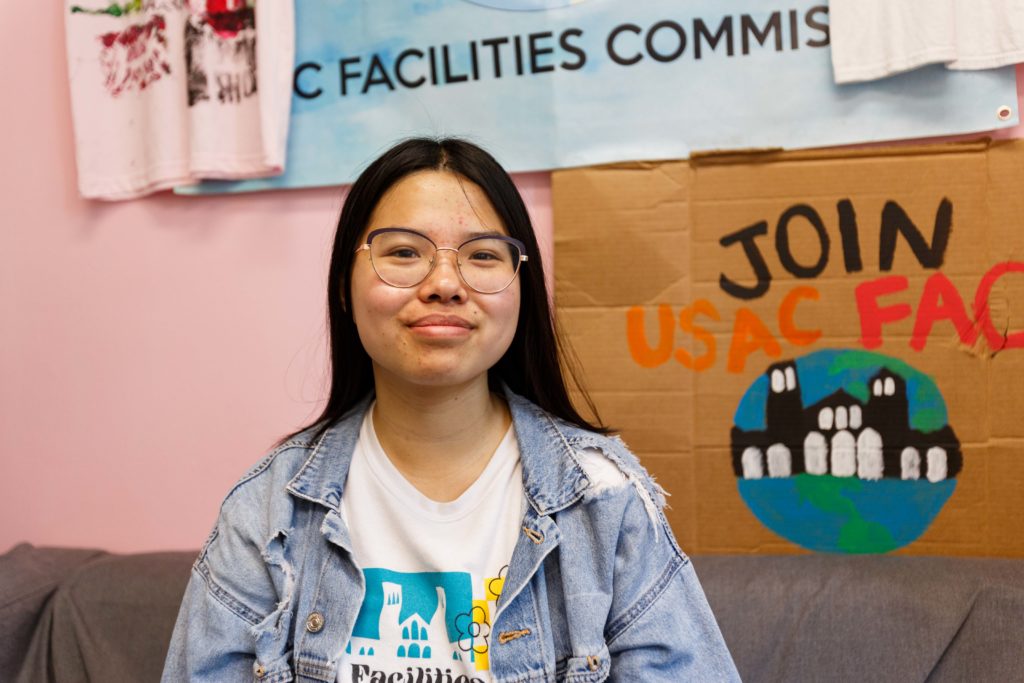 Giovanna Boffa is a fourth-year mathematics/economics student and the 2022-2023 Campus Events commissioner. According to the Campus Events commission website, the organization is in charge of coordinating free events across campus, including concerts, movie screenings and speakers. As CEC commissioner, Boffa and her team organized UCLA's annual Bruin Bash, the Hammer Arts Party and the Shorttakes student film festival.
"We're constantly promoting and marketing our events as well as programming stuff and constantly communicating with agents, managers, various contracting people to get all of these events happening within the standards of UCLA," Boffa said.
For Chiu, USAC was a mode through which she could not only represent her peers' opinions at a higher level but also be able to give back to the UCLA community to benefit both current and incoming students.
"I think that's really important that while we're here as college students, that we not only impact all the future Bruins that come after us but … that we have a responsibility to be involved civically," Chiu said.
Divine-Faith Johnson, the 2022-2023 USAC external vice president and a fourth-year political science student, said her work within USAC led her to develop skills that will support her future as she pursues a career in international development.
The EVP office works to ensure that UCLA student voices are represented in local, state and federal government affairs by attending conferences, lobbying on behalf of students and summarizing propositions that affect student life on their social media accounts.
"My passion for helping people definitely did heighten because of my role as EVP," Johnson said. "Just being able to hear people's issues and listen to them and then also being able to advocate for them, … that definitely heightened my passion for helping others."
While Johnson expressed her gratitude for USAC, the lessons she learned and the connections she made, she said she felt there was a disjointed relationship between USAC and the student body.
"I blame USAC for that because of the disconnect that we have with the student body – I think that partly is our fault," Johnson said. "We are the people that communicate and represent the student body, and so it is extremely important for us to have strong communications."
Boffa said she found that there was a lack of knowledge regarding the duties of student government among Bruins. It wasn't until Boffa ran for CEC commissioner and took on a leadership role that she gained a better understanding of USAC's specific functions.
"Until I ran for it, I had really no clue what it did," Boffa said. "I don't know if the work – like the importance of the work coming out of USAC – is diminished because USAC as a whole isn't recognized. Because I do think the work of each individual office is pretty well known across campus."
Despite these observations, Boffa, Chiu and Johnson all said the experiences they gained from serving in USAC will benefit them as they forge ahead toward their lives beyond UCLA.
"Looking back, that was just a really unique experience," Boffa said. "And I don't think anything can prepare me for graduating more than this."