Senior signoff: David Singleton reflects on the pressure, joys of being a Bruin athlete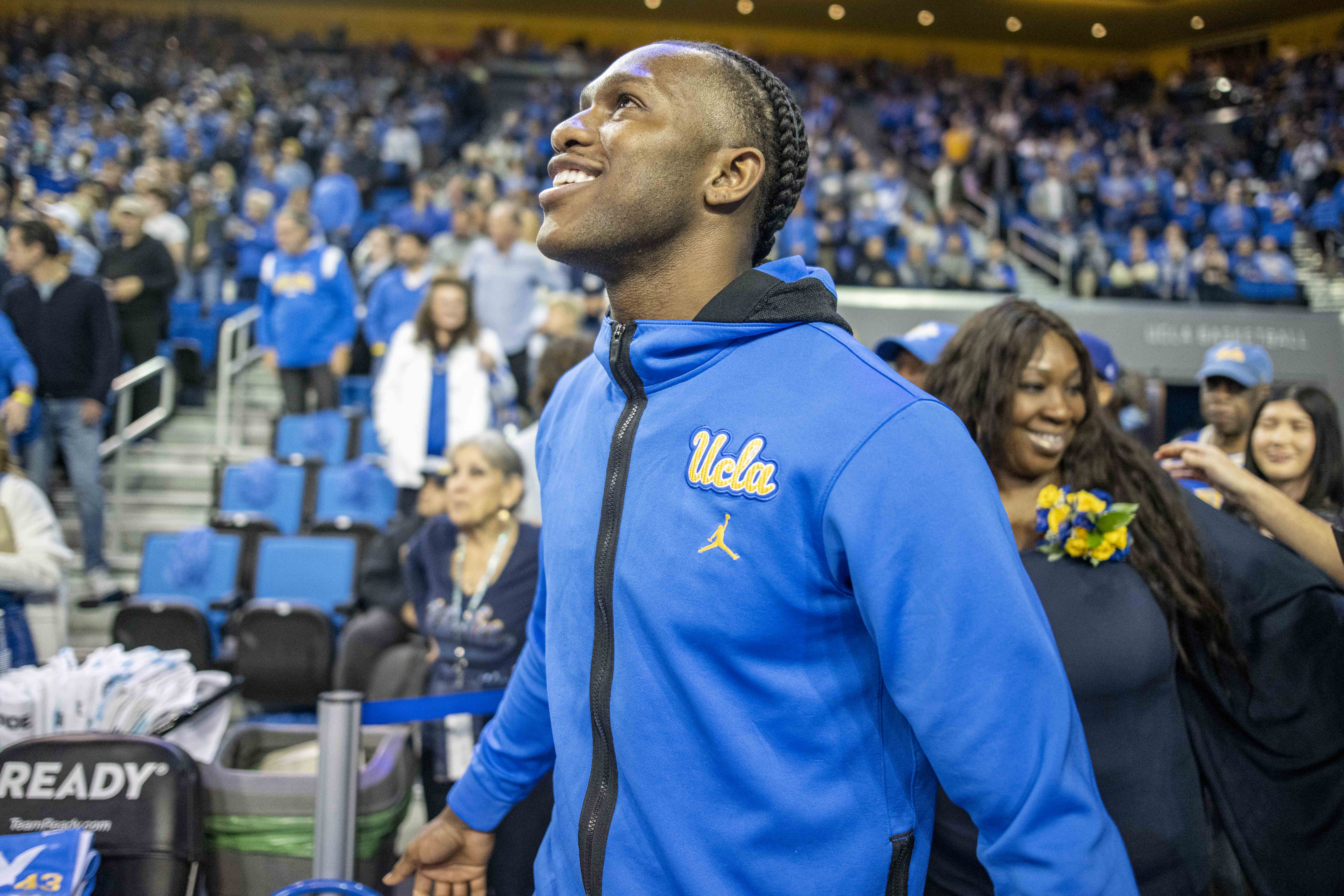 Fifth-year guard David Singleton smiles in front of the crowd on Senior Night. (Jeremy Chen/Daily Bruin senior staff)
There were so many memorable moments and emotions during my time at UCLA. I was filled with so much excitement and joy, having officially been part of something as special as being in the Bruin community.
Reflecting back on my time, I loved the pressures, struggles and demands of excellence that came with being a part of such a great school. Getting my BruinCard when I first arrived and filling up those move-in carts with my belongings up at Hedrick Hall for the summer was one of my most vivid and exciting memories from my time at UCLA. I met new friends, made memories with my teammates and formed bonds that will last a lifetime. On the basketball court as a Bruin, there were all sorts of memories and thrilling games. One of the most memorable moments I had was our team making it into the Final Four in 2021. That year, COVID-19 was a huge issue that really changed the dynamics. While playing in the NCAA Tournament in Indianapolis, our whole team had to stay on the same floor. But when we were in that hotel, we bonded and became one unit that had only one goal.
Another memorable game for me took place this season in my final home game as a fifth-year senior. That night was my last time playing in Pauley Pavilion, and our team put together one of our best wins of the season. The emotions felt like a roller coaster that night, as I also had one of my best games. Before the game, I had one of my best friends, Russell Stong IV, serving as a starting guard right next to me. I was so happy that he was part of our starting lineup, but in the back of my head, I was sad, knowing that it would be my final game as a Bruin in Pauley Pavilion with him. After the game, I thanked the crowd not only for supporting the team this season, but also for watching me and helping me along my college journey. I loved hearing our fans cheer me on, as I became a better player on the court and a better man and person off the court.
I am proudly from Los Angeles, and I have earned my degree from UCLA while playing the game of basketball. These past five years have been the best time of my life, both the good and the bad. The only thing I regret is that it's coming to an end. I will always love the memories, the emotions, the fans, my teammates and the UCLA community. Go Bruins!
David Singleton
Singleton played for UCLA men's basketball from 2018-2023.