J.R. Norris IV bids farewell to UCLA men's volleyball after 6-year success story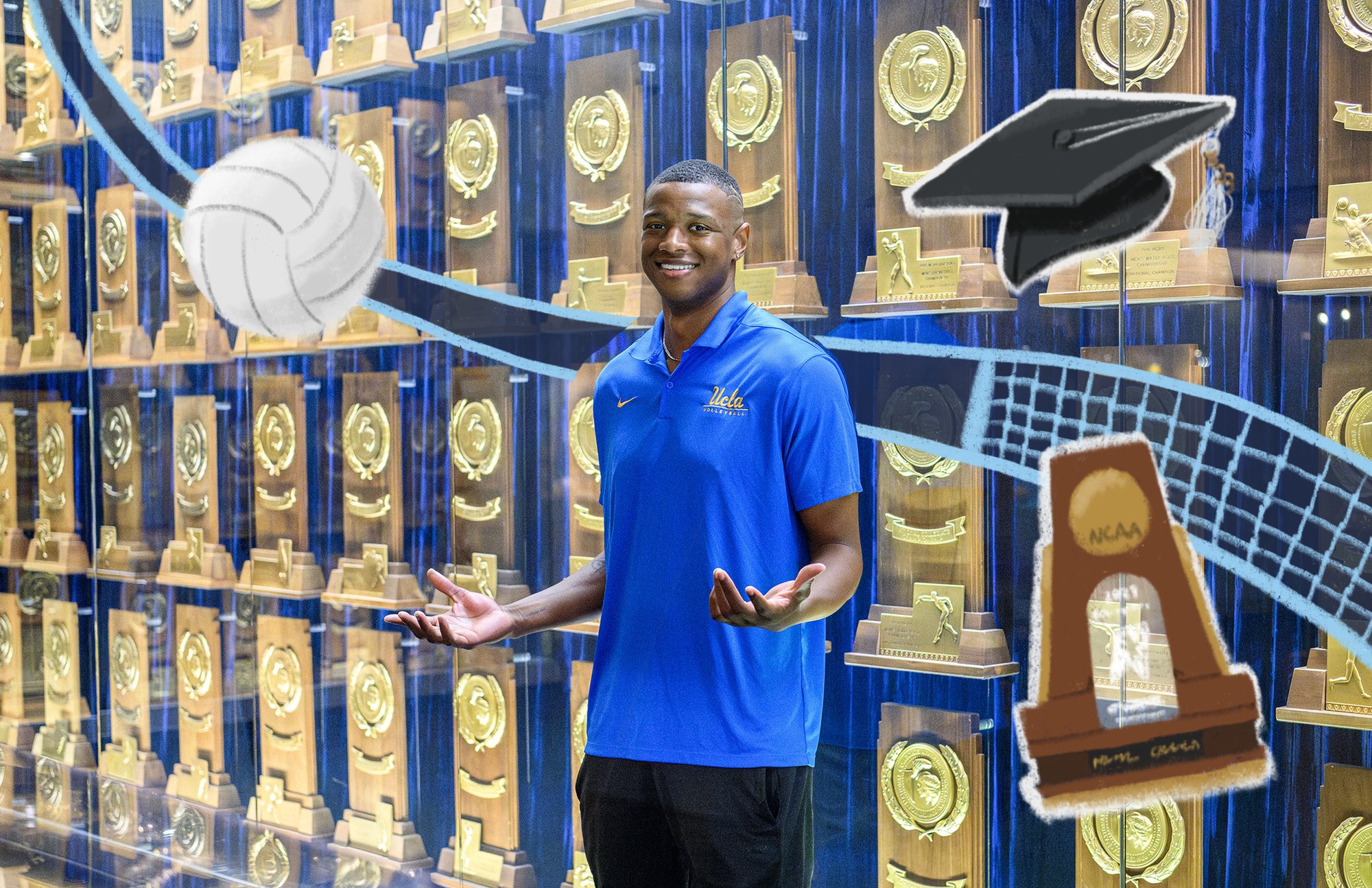 Redshirt senior middle blocker J.R. Norris IV stands in front of the UCLA Athletic Hall of Fame trophy wall. The Bruins won their 20th national championship in program history after beating Hawai'i on May 6. (Photo by Amelie Ionescu/Daily Bruin senior staff. Photo illustration by Nathan Koketsu/Daily Bruin)
This post was updated June 13 at 12:06 a.m.
Whether on the court, in the classroom or leading his peers, middle blocker J.R. Norris IV's six-year tenure at UCLA culminated in success.
Posting clutch performances with service aces and crucial kills in the MPSF and NCAA championship finals, Norris delivered when coach John Speraw and UCLA men's volleyball needed an extra spark.
But how Norris entered the world of volleyball is more unorthodox than most.
"There's two stories of how I got into volleyball," Norris said. "The first one is that me and my friends wanted to see who could play every sport at the school. The second story is there was this girl in my English class – she was trying out for the women's volleyball team, so, of course, I started playing volleyball."
Whatever his reasons for joining, the high school freshman quickly ingratiated himself with the intricacies of the sport, eventually earning a spot with the Legacy Volleyball Club – a club based in Santa Clarita, California – his junior year.
As a Black athlete in a traditionally white-dominated sport, Norris said he naturally stood out. Growing up, he said he differentiated himself from his peers in other ways.
"I enjoyed doing things out of the box in high school," Norris said. "I started the Quidditch Club. I was part of the Spanish dancing club. I did ballroom dance. Volleyball was one of those things that challenged me mentally and physically."
Norris credited his multifaceted background in dance, soccer and basketball with giving him the footwork, balance and tempo necessary to succeed in volleyball.
Hailing from Southern California, the Lancaster local garnered the attention of Speraw and UCLA before ultimately committing in 2018 to stay close to family.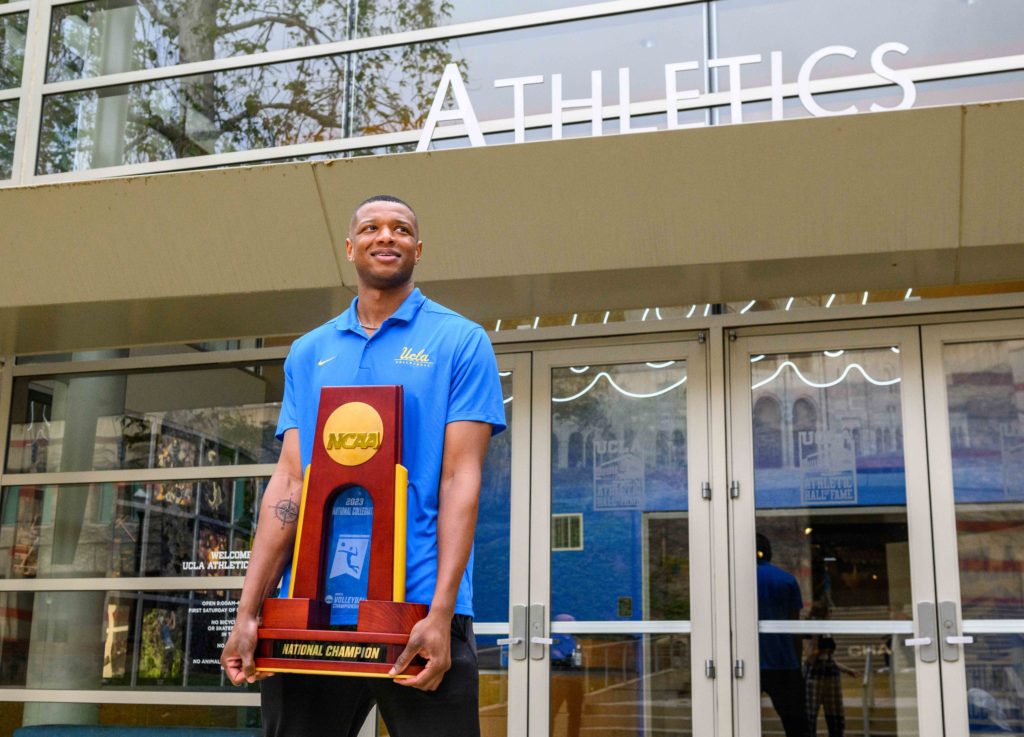 James Norris III, J.R.'s father, attributed a visit to a UCLA game with the club team to cementing his son's desire to be a Bruin.
"I remember Ryan (J.R.) saying, 'I'm going to play for them one day,'" James said. "His team laughed and said, 'You're not even the best guy on our team, you'll never play for UCLA,' so that was fuel for him to go for it."
J.R. did not see much in-game action during his first four years with the Bruins, appearing in just 11 matches with three starts, including a redshirt junior year hiatus and COVID-impacted redshirt sophomore season.
But amid the COVID-19 pandemic, J.R. said he discovered the value of community and perseverance.
"During my junior year, with everything that happened over COVID with George Floyd, everything kind of came to the forefront," J.R. said. "I began having tough conversations. It was like being put under a spotlight with what it felt to be an African American, especially an African American male."
As a co-founder of UCLA's Black Student-Athlete Alliance, J.R. embraced a community leadership role and aimed to bring more minority athletes to volleyball, which is something he continues to be passionate about, he said.
Yolanda Norris, J.R.'s mother, expressed pride in her son for becoming a leader and developing his character and personality over the years.
"When Ryan (J.R.) left to go to college, he was 17, so we still had to sign all of his forms for him," Yolanda said. "He might have gone in as a young man, but he's come out as a young adult. I've seen him develop his leadership skills, and that was a challenge for him. It's always a challenge to rise up and lead your peers."
Despite the lack of playing time in previous years, 2022 would prove to be J.R.'s breakout year. During his fifth-year senior season, J.R. had a perfect game against Morehouse College, executing 10 hits for 10 kills.
The 2023 season, J.R.'s sixth and final on the squad, proved to be his best.
In UCLA's Jan. 27 match against Cal State Northridge, he notched nine kills and registered a crucial service ace in the final frame.
While contributing on occasion during the regular season, J.R. elevated his game in the postseason. In the MPSF final against Stanford, he earned five kills with zero errors on a .833 clip, winning the conference title in the process.
J.R. cemented his legacy at UCLA in the NCAA championship game. His four service aces in the fourth set complemented his eight kills in the match. With his contributions, the Bruins cut the net in Fairfax, Virginia, capping off J.R.'s six-year career in Westwood with a national championship.
For J.R., however, the memories came not from the win itself, but from the team's camaraderie.
"What I remember most from Fairfax were the bus rides to and from the gym," J.R. said. "We would have these karaoke moments where we just broke into early 2000s R&B songs and rap songs. We would have gaming tournaments in somebody's room and just get connected outside of volleyball."
As the curtain falls on J.R.'s academic and athletic career, the graduate student will continue to pursue his volleyball career in Geneva.
"My ultimate goal is, by 2028, to be able to represent the U.S. in the Olympics and hopefully see some fellow Bruins there as well," J.R. said.