Getting involved in UCLA's wide range of research opportunities
(Isabella Lee/Daily Bruin senior staff)
You may have seen flyers around campus recruiting students to participate in studies about nutrition, smoking or social experiences at UCLA. What are these studies, who conducts them and who participates?
UCLA offers a variety of options for students and faculty to engage in research in various disciplines, such as psychology, communication and linguistics. Participation in these studies can be as an experimental subject, facilitator or principal investigator. Students in particular have the chance to earn monetary compensation or even earn course credit for their involvement.
According to the UCLA Department of Psychology, professors may incorporate research studies into their curricula to expose students to science experiments in the real world. Some professors may require participation in a study, while others may offer extra credit for students' involvement.
UCLA's Department of Psychology, Department of Communication and Department of Linguistics use the Sona Experiment Management System to track and recruit students' participation. Sona Systems arranges online appointment scheduling and participant prescreening services for researchers, which can increase the efficiency of data collection, according to Sona Systems.
Ladan Shams, a psychology, bioengineering and neuroscience professor and director of the Multisensory Processing Lab at UCLA, said in an emailed statement that most studies recruit participants through the Sona subject pool or advertising flyers around campus. Shams added in the emailed statement that some studies offer paid compensation in order to motivate students to participate.
"Recruiting subjects from the subject pool is very effective," Shams said in the emailed statement. "Recruiting subjects by flyers is more effortful, and not as effective sometimes."
Many universities use the Sona System for sampling because it is expected to increase participation rates by up to 50% and decrease no-show rates to 5%, according to Sona Systems.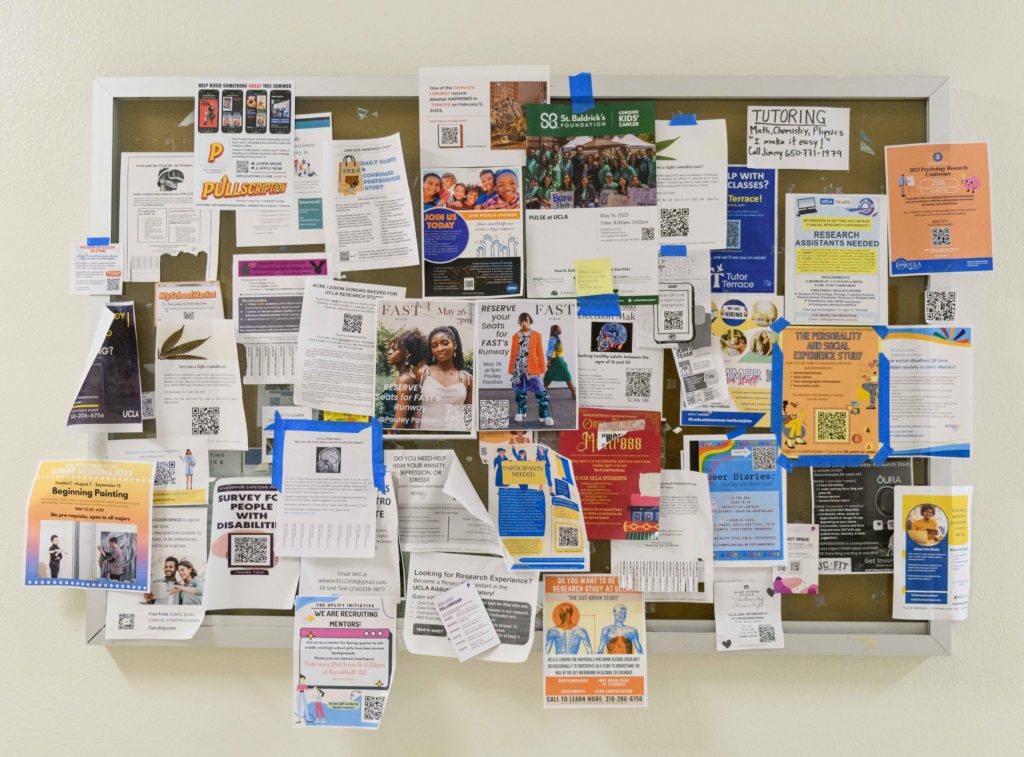 Megan Imundo, a doctoral student in psychology and research associate for the Bjork Learning and Forgetting Lab, said on-campus studies are integral to investigation and innovation at research institutions such as UCLA.
"We're an R1 university, which means that a big component of professors, grad students, postdocs, etcetera, a big part of our role is doing research," Imundo said. "Having research occur on campus is a natural extension of the expectation to do research and the opportunity to do research at a university like UCLA."
R1 status indicates the category of highest research activity, according to Carnegie Classification of Institutions of Higher Education. The active and abundant research studies done at UCLA give it the R1 status, according to the same source.
However, research opportunities at UCLA can be difficult to access. Skylar Tsai, a second-year psychobiology student and research assistant for the Multisensory Processing Lab, said she had to actively search for studies to get involved.
"I was looking at the faculty listing and clicking on all the hyperlinks with the professors' CVs," Tsai said. "I got really interested in the Multisensory Processing Lab, which is the lab that I'm currently in."
Tsai's role in the Multisensory Processing Lab is data collection, which she does by tracking each participant's progress over the multiday study and checking them into the laboratory for in-person sessions.
Tsai said her experience thus far has been rewarding.
"I'm definitely learning a lot, not just in the logistical side, … but also really learning about the very niche topics in the realm of cognitive psychology," Tsai said. "I feel like it is such an amazing way to expose yourself to a completely new discipline that you did not engage before."
Imundo's main role, on the other hand, is to develop research questions and ways to test them before data collection and analysis.
"I do everything from the development of the research question to developing the materials and the procedure of the study, to training the folks who ultimately run the studies," Imundo said.
Imundo also said the subject pool of interest varies across studies, as some studies don't have specific criteria and other studies only recruit participants with prior relevant knowledge. This information usually appears on the sign-up website or recruitment flyers.
Through conducting studies, Imundo said researchers can boost their self-esteem, build on their academic aptitude and further scientific development.
"I'm very proud of the research that I've conducted at UCLA," Imundo said. "The ability to conduct studies on campus has been an important part of discovering the kind of knowledge that I'm particularly interested in, in furthering the research areas in my field."