Gallery: Through our lens 2022-2023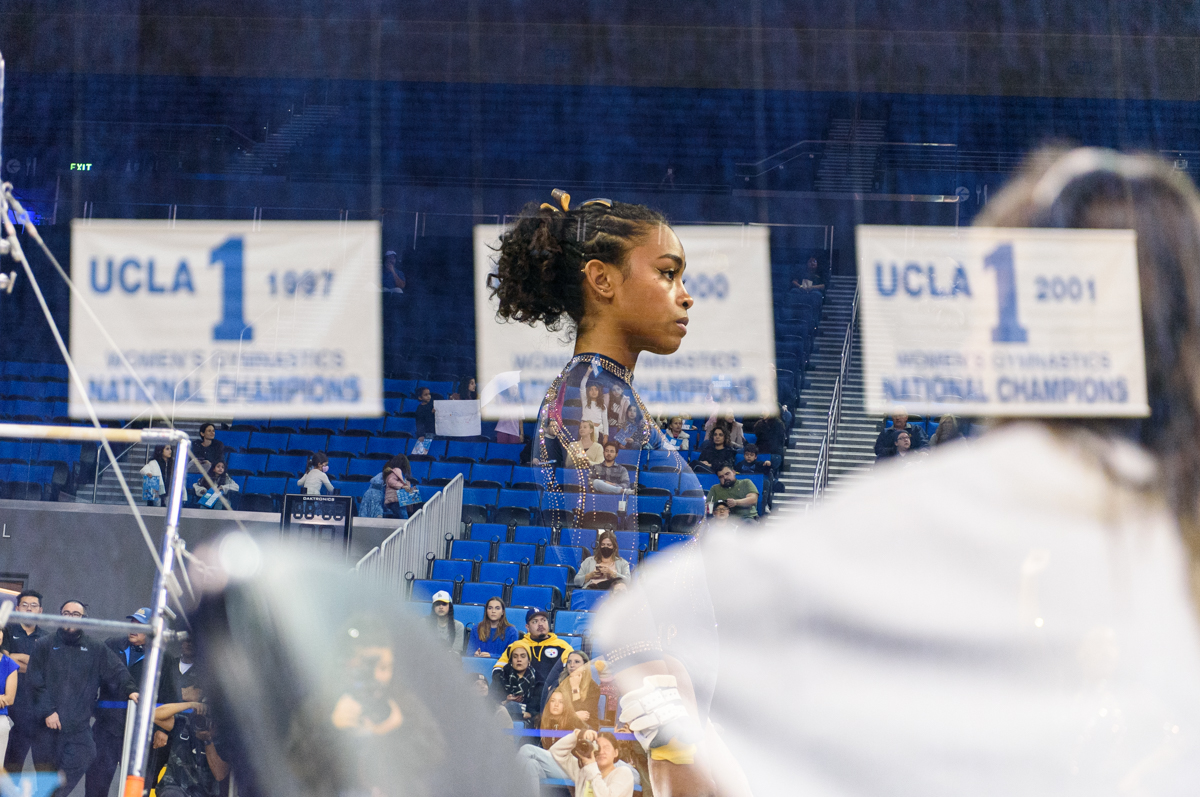 (Jack Stenzel/Daily Bruin staff)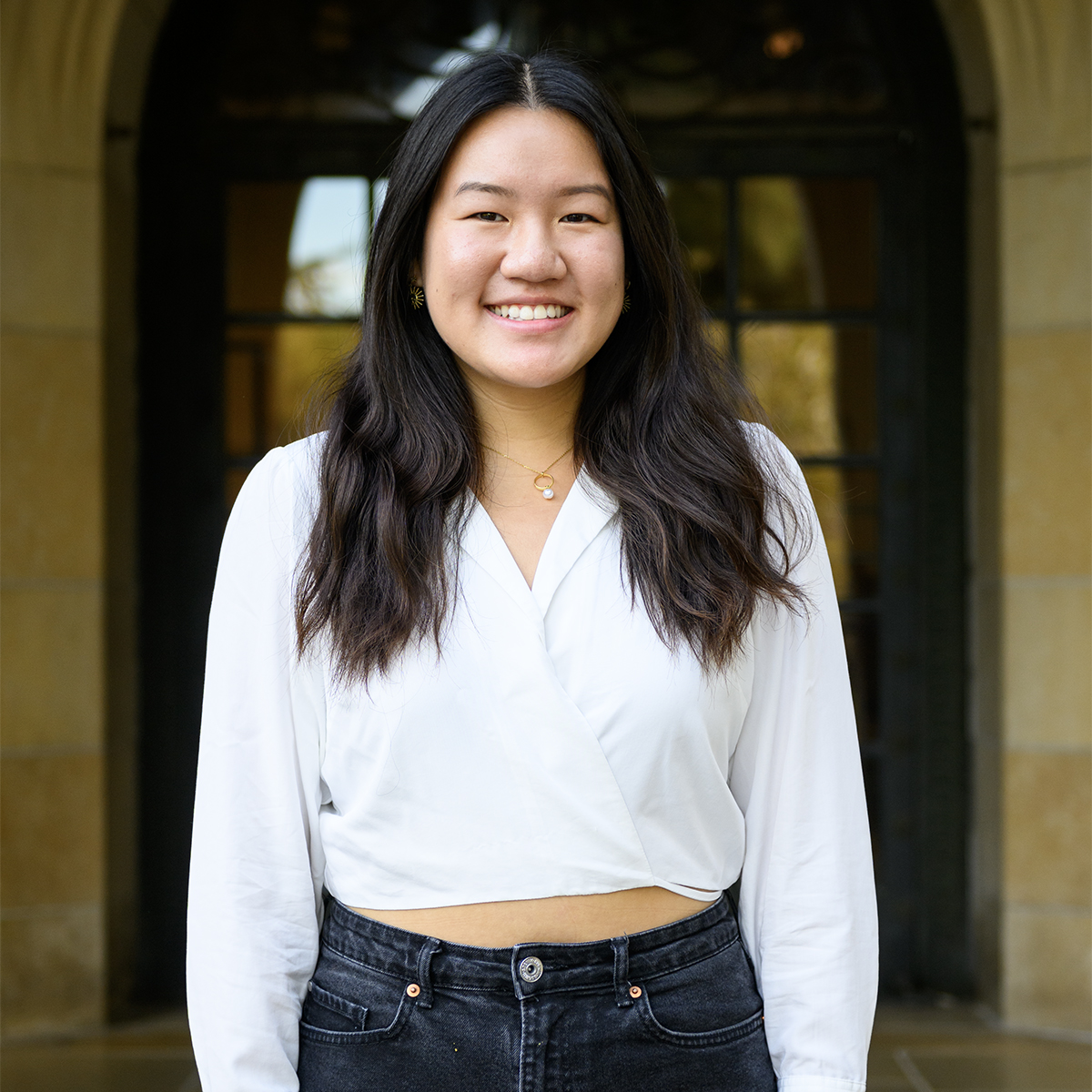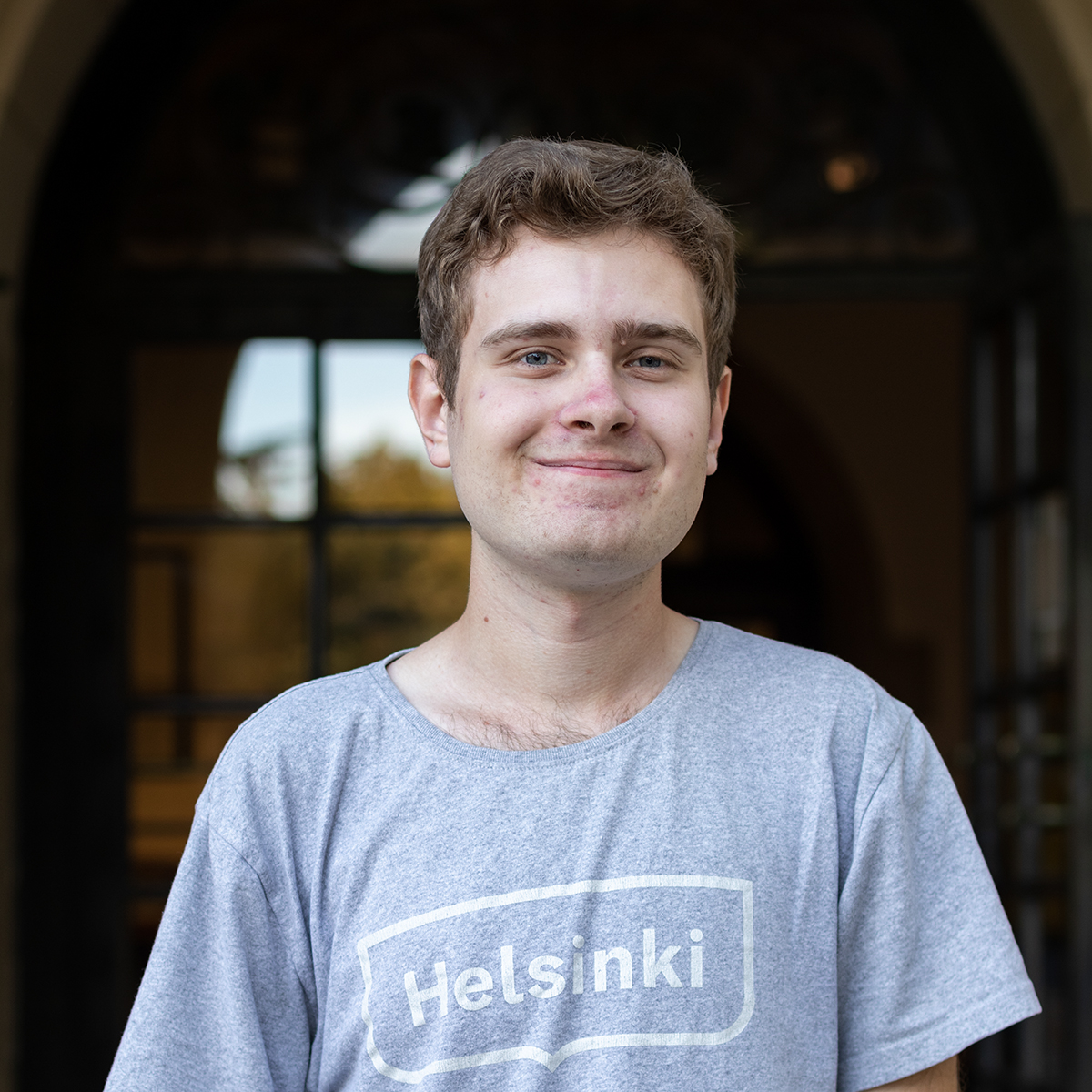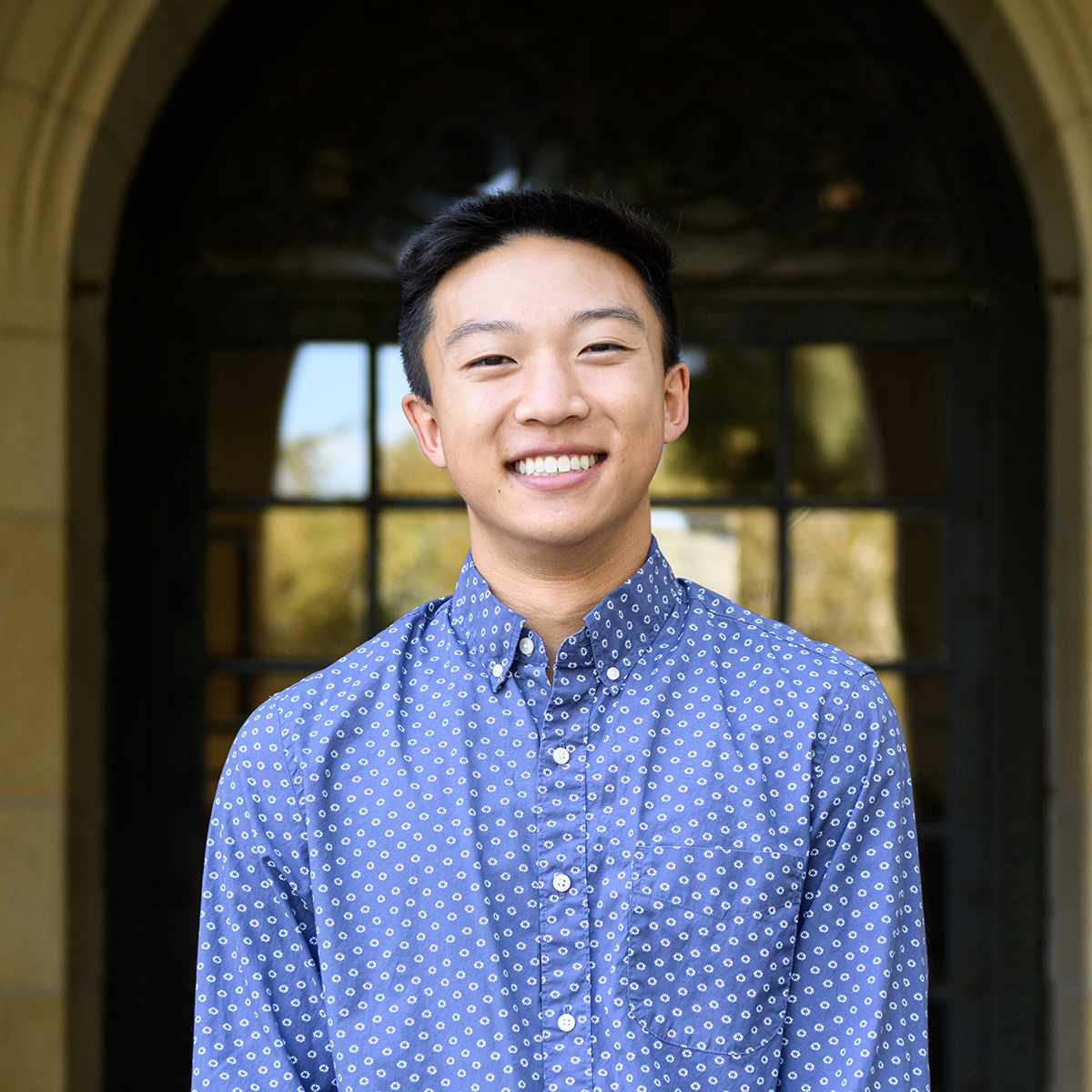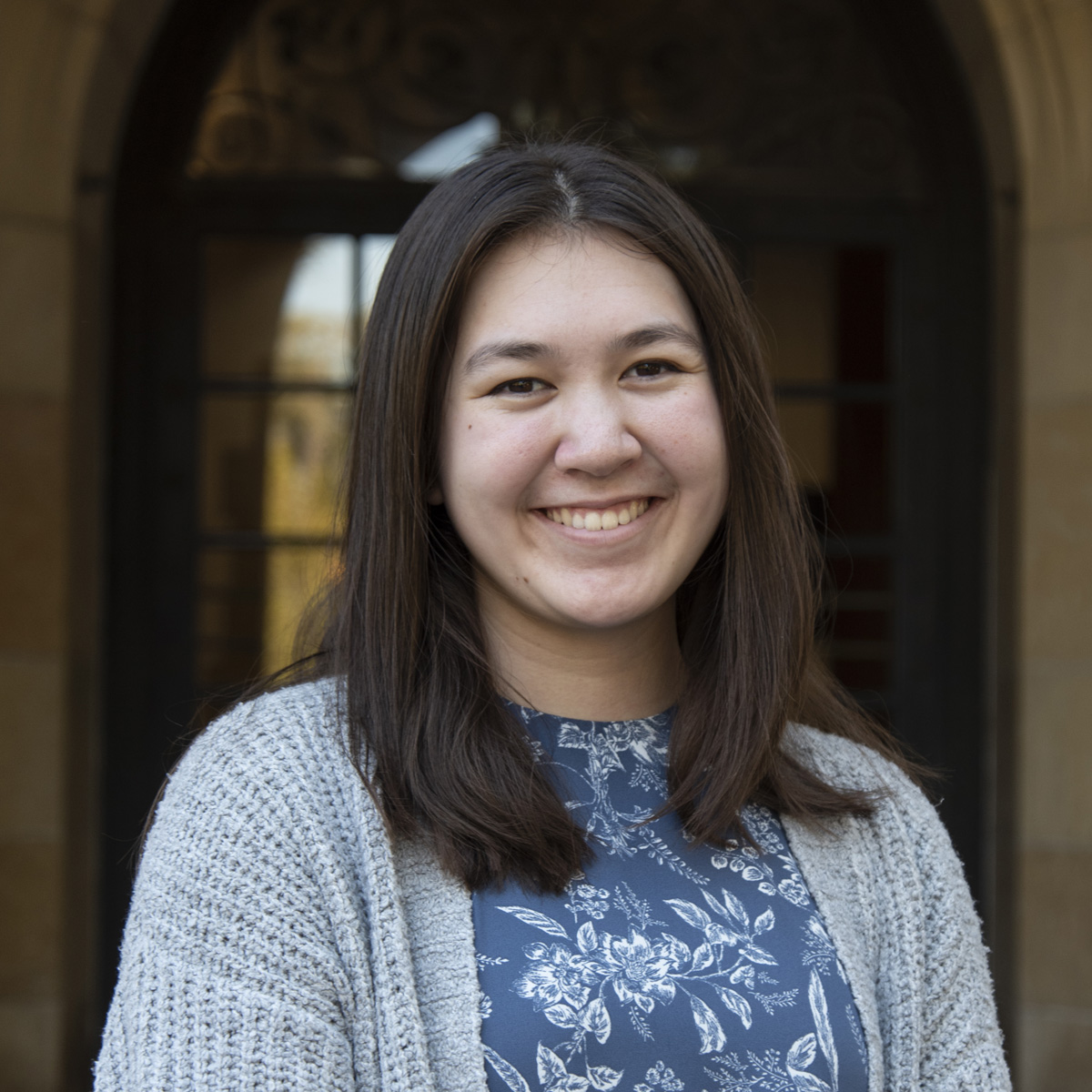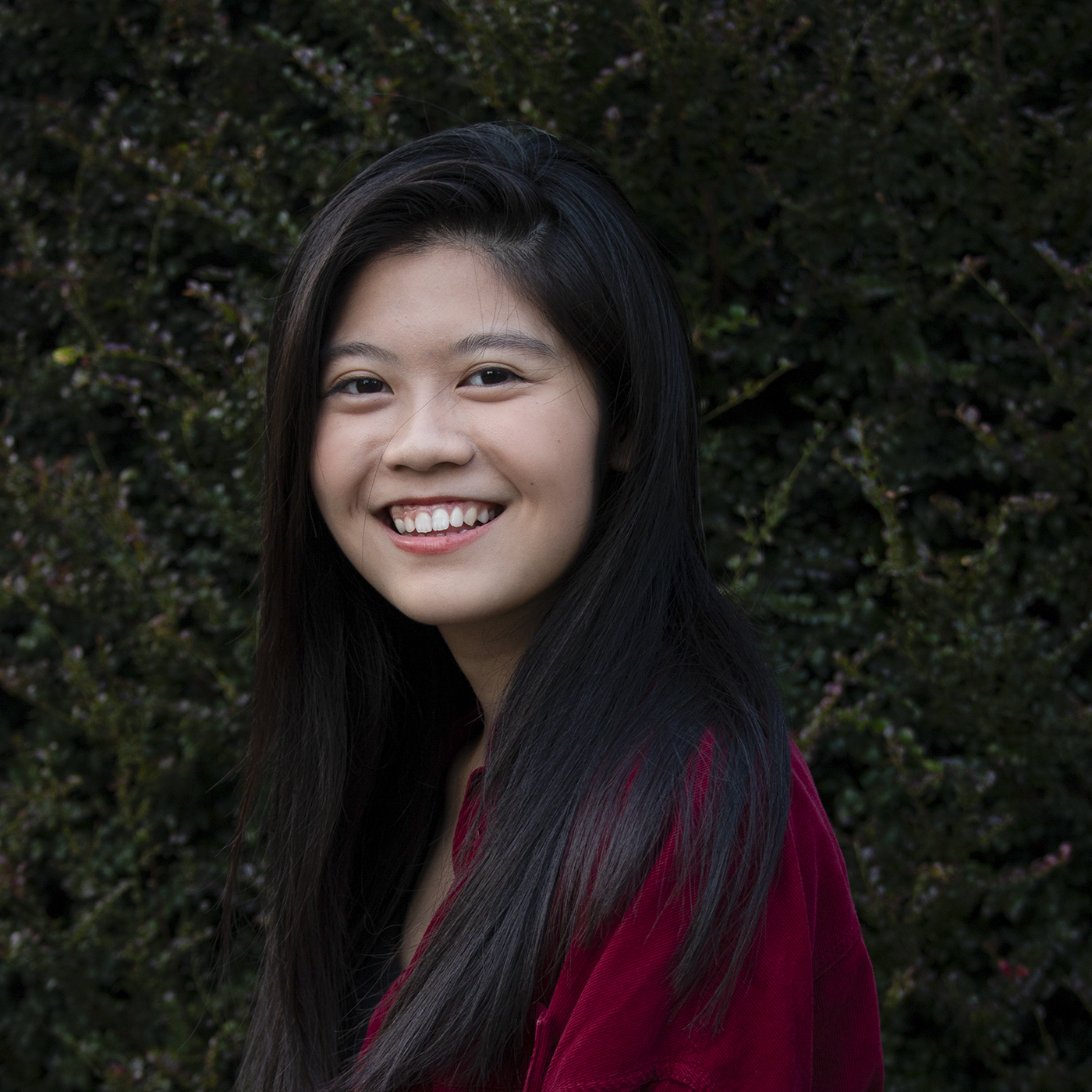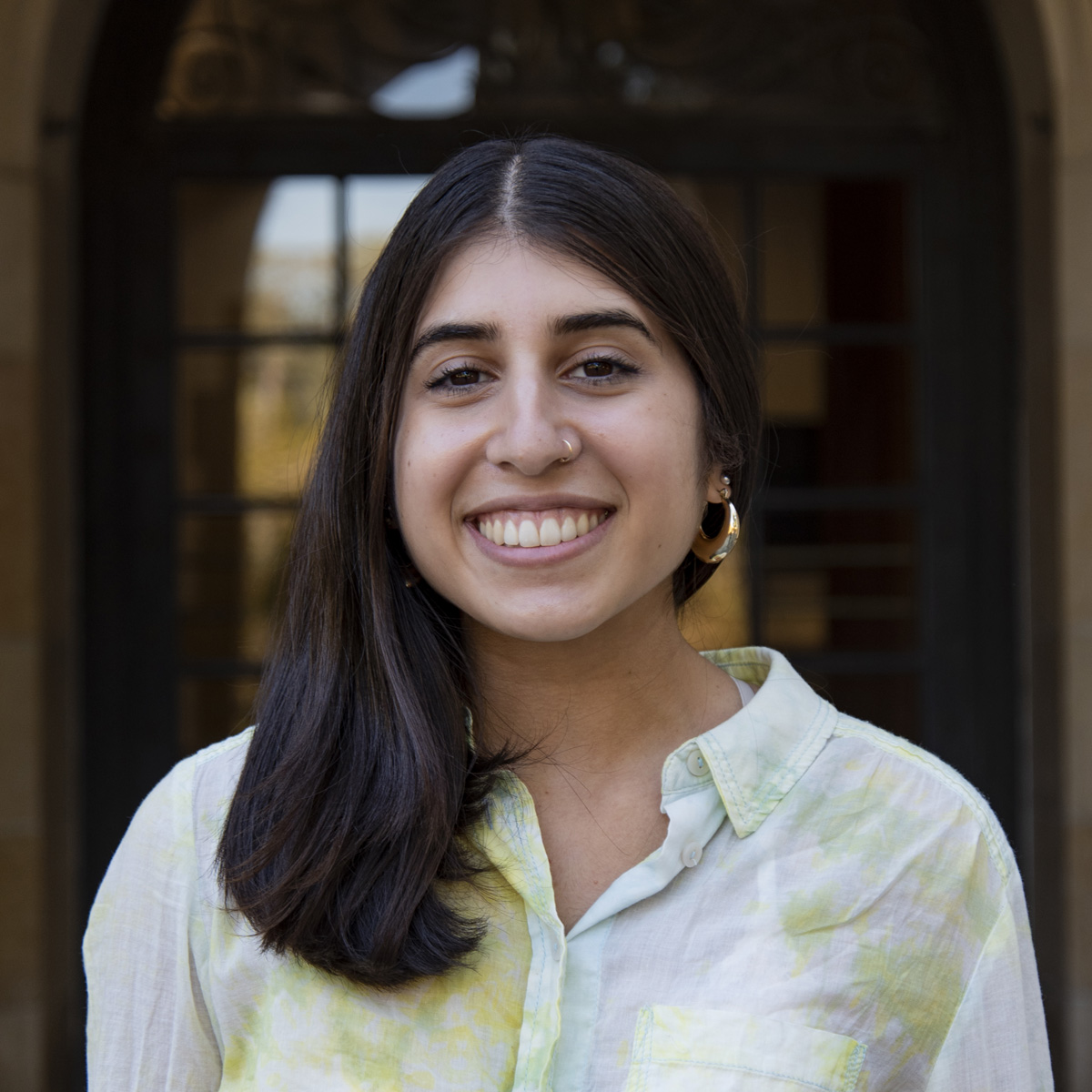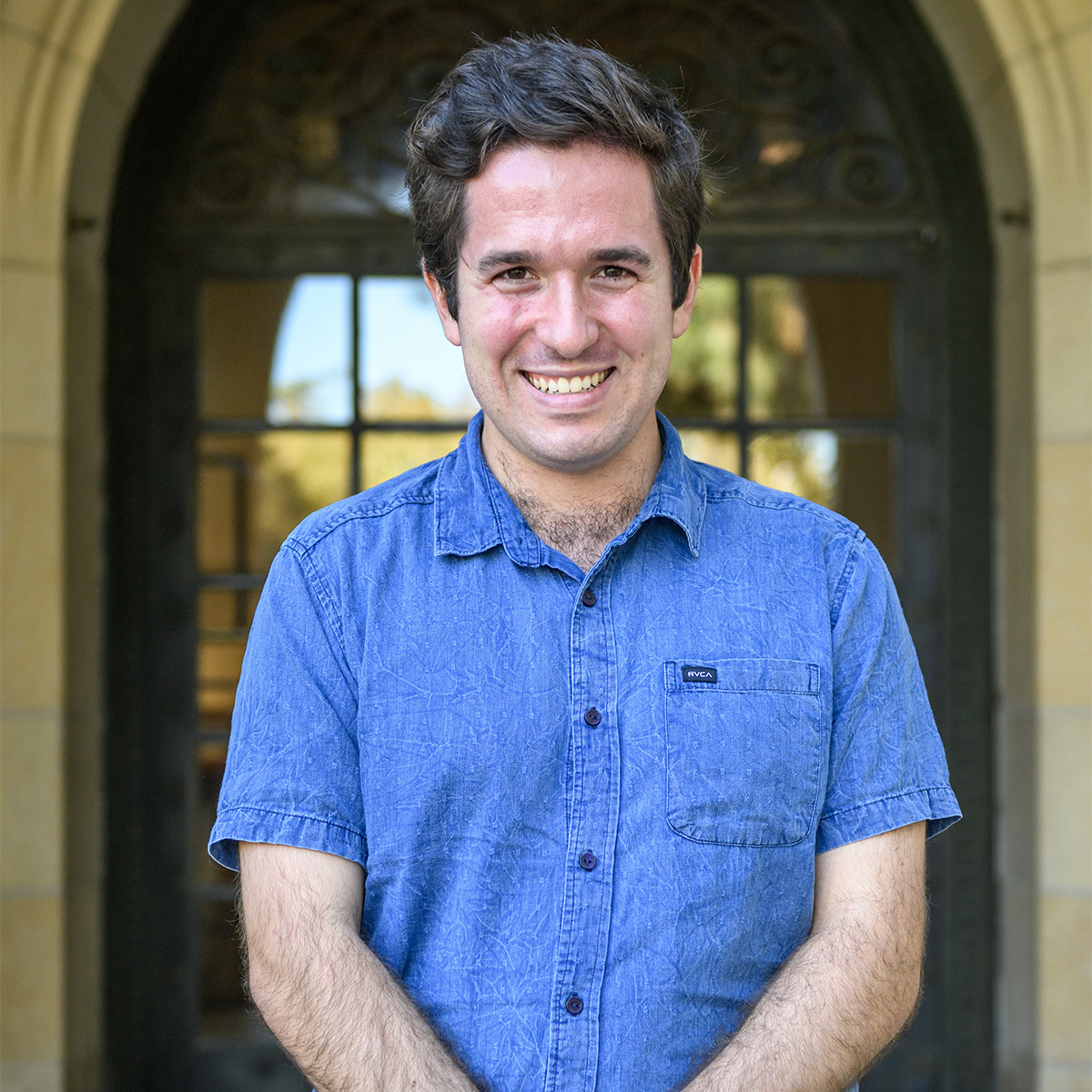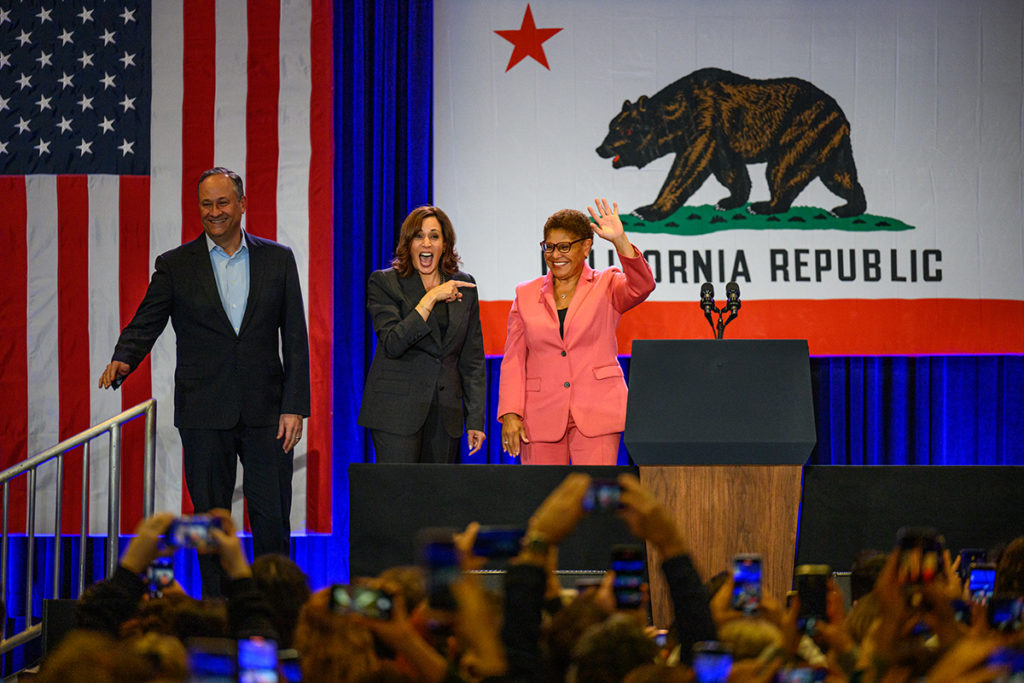 A few weeks before I took this photo of Vice President Kamala Harris, the UCLA community heard that President Joe Biden was coming to Westwood to deliver a speech about the Metro expansion project. I skipped class that day and drove frantically around with Daily Bruin senior staffers Bryan Palmero, Jon Christon and Justin Jung in an unsuccessful attempt to photograph the president. Later in the quarter, the vice president's visit to UCLA was my chance to redeem myself. Naturally, I skipped class again for the opportunity, and this time all of the stars aligned. This will always be one of my most memorable photoshoots, and I am eternally grateful to have had the opportunity.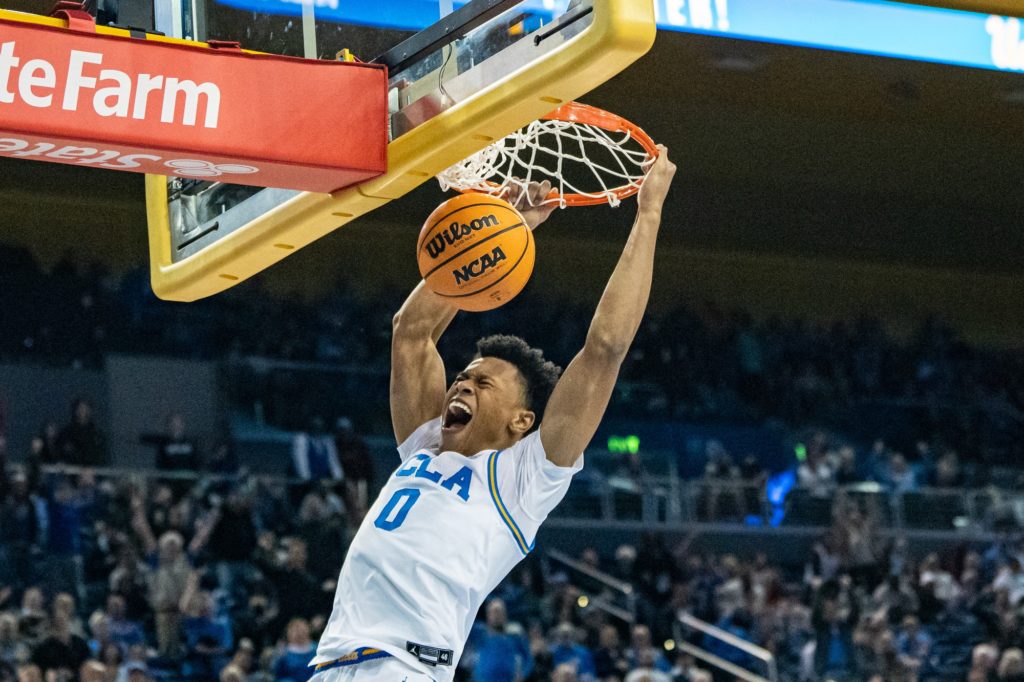 Being able to cover men's basketball was a surreal experience. I still remember the exact moment in which this photo took place. In the previous play, the Bruins had just scored and I was looking at the photos I had just taken. Suddenly, I heard the crowd cheering and looked up to see that then junior guard Jaylen Clark, pictured dunking, had gotten a steal with a clear path to the basket. I had just enough time to capture the moment. I didn't understand how important this photo was to me, but I now realize this memory will stay with me forever.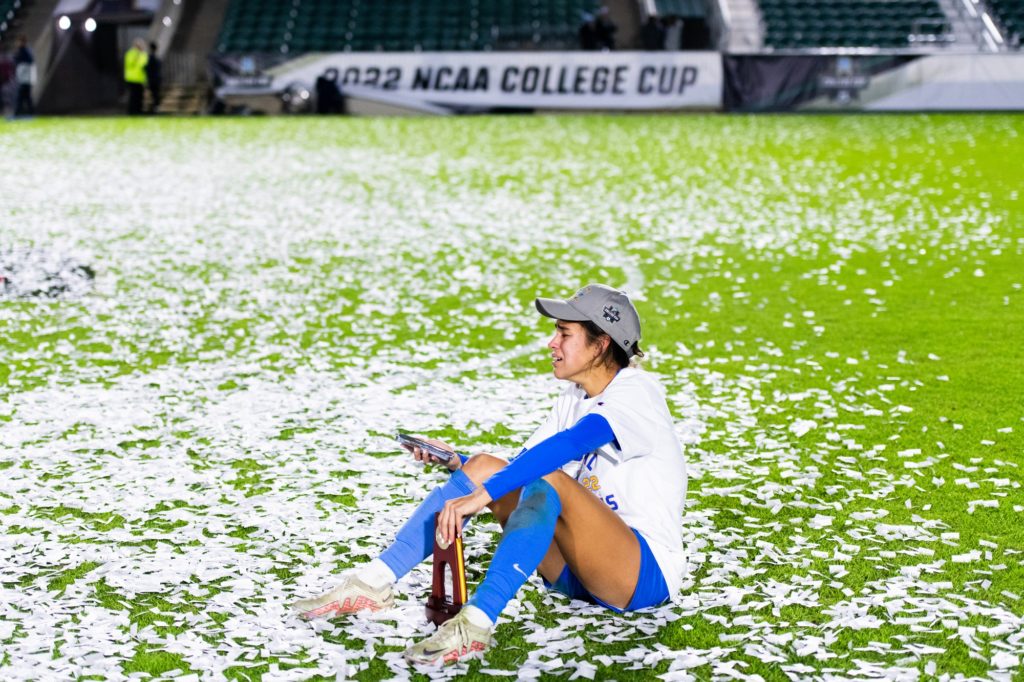 Happy tears. Tight hugs. A sky full of confetti.
Half an hour before this moment, the Bruins trailed 2-0 behind North Carolina, a 21-time NCAA championship winner, whose fans packed the WakeMed Soccer Park arena.
Then-graduate student midfielder Maricarmen Reyes, pictured, would fire her game-winning goal with minutes left in overtime.
Players made snow angels in confetti, took selfies and hoisted trophies. The immense joy in the air kept me lingering on the field trying to relish and capture every emotional frame.
While I should have rushed back to upload breaking photos, I noticed Reyes sitting away from the circle, breaking the news to someone on her phone. And looking back on it, I am glad I stayed.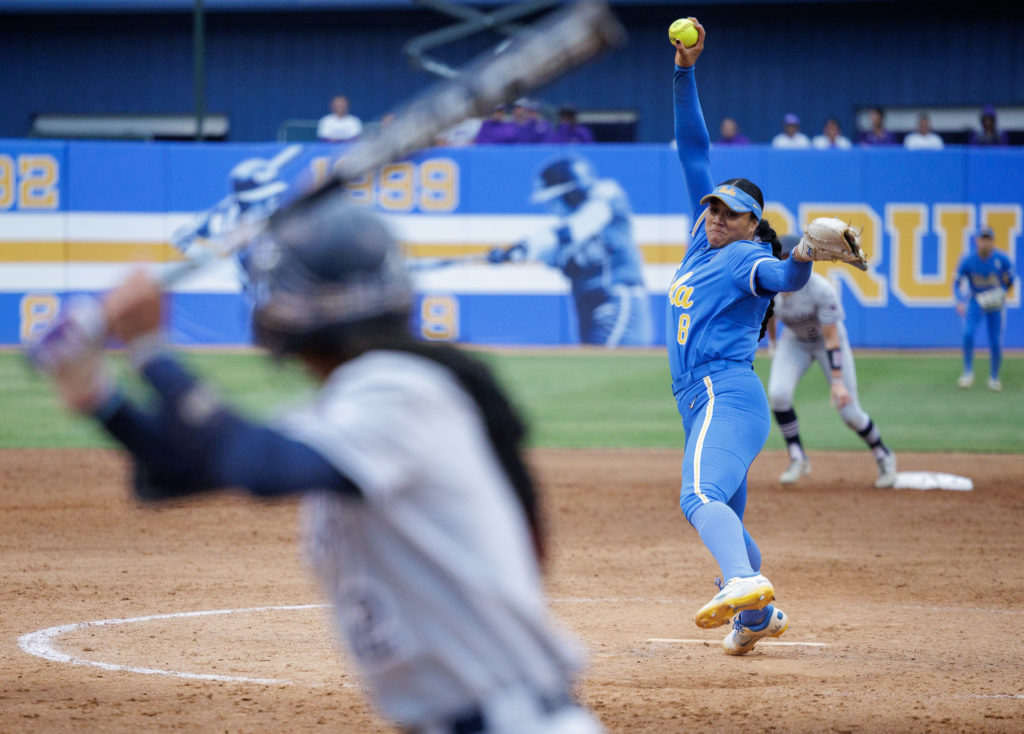 My first solo assignment for the Daily Bruin was a softball game, so it was only fitting that my last sports game was also softball.
Specifically, this was a NCAA regionals elimination game – the final game for many of the players on the team. Redshirt senior Megan Faraimo is one of UCLA's most storied pitchers, and this was her last collegiate pitch, relieving in the seventh inning of the Bruins' third consecutive loss.
While I'm grateful for the places I got to go with Daily Bruin Photo – Philadelphia, Tucson, Vegas and the Rose Bowl, it felt right to go back to the beginning. My career at The Bruin started and ended at Easton Stadium, and like all good things, it has come to an end.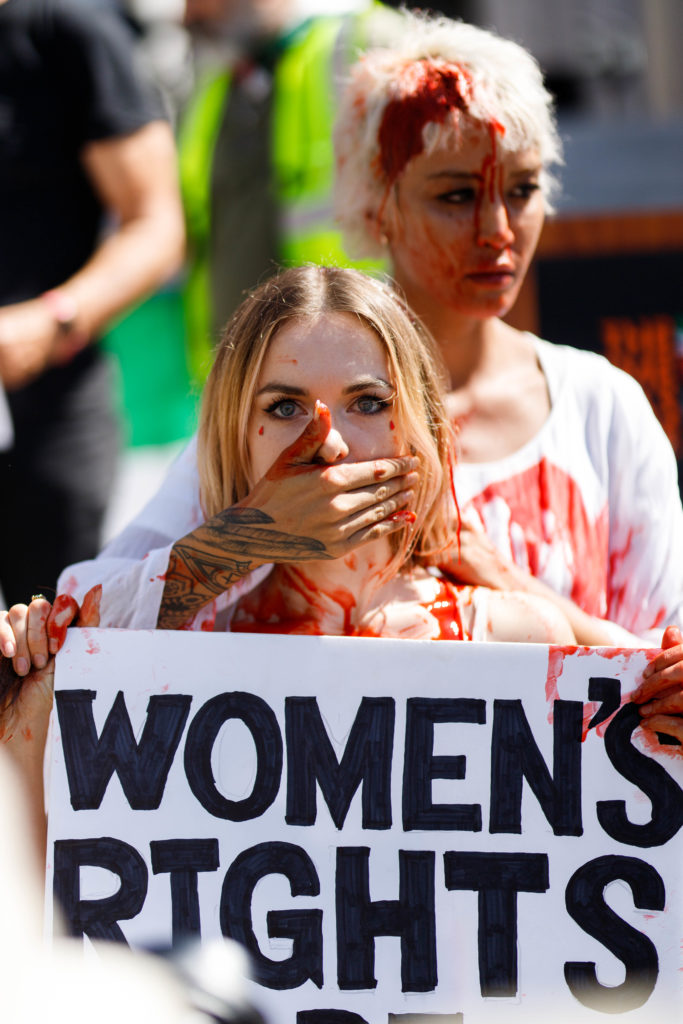 Last October, I was in downtown Los Angeles to cover the Freedom Rally for Iran, and after a two-hour march, protesters gathered in front of city hall for a hair cutting demonstration. There was a barricaded space for press photographers, but I was denied entry since I did not have my press pass. In order to photograph activists Yadviga Krasovskaya (front) and Samy Rose Moshiri (back) as they cut their hair and poured fake blood, I had to physically jostle and elbow my way through the crowd. It was a day wrapped in chaos.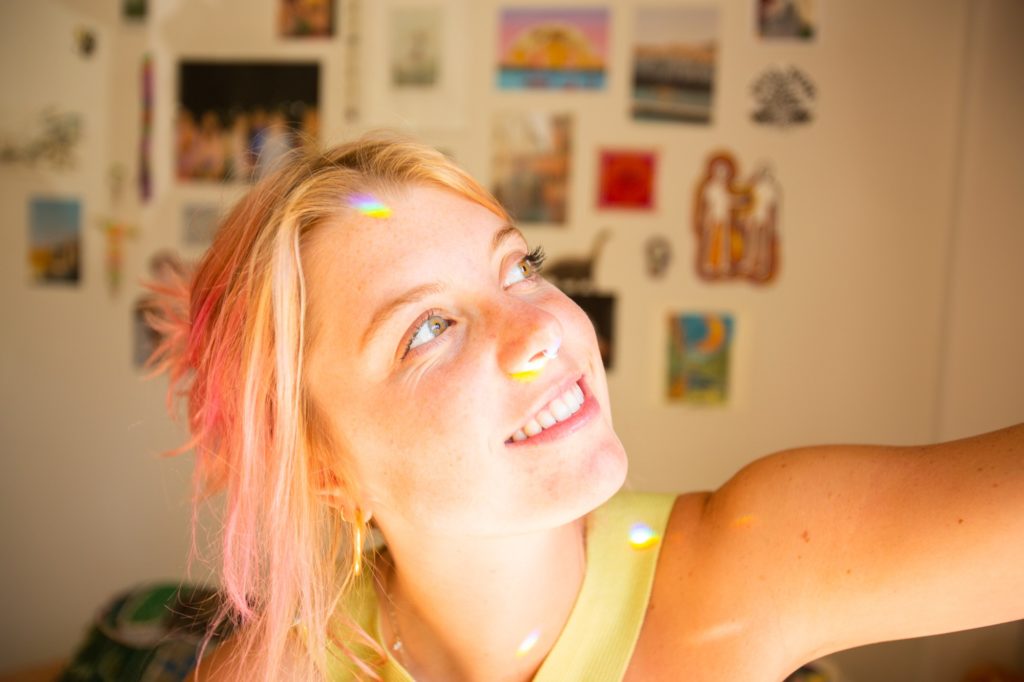 I came into the Daily Bruin as a portrait photographer. So, when I got the opportunity to do one-on-one portraits with a musician, I jumped at the chance. This assignment with singer/songwriter Sophia Bacino reminded me why I fell in love with photography. From crafting a Pinterest board of inspiration to meeting at 3:35 p.m. on the dot to get the perfect lighting, photographing Sophia was creative, collaborative and truly joyful.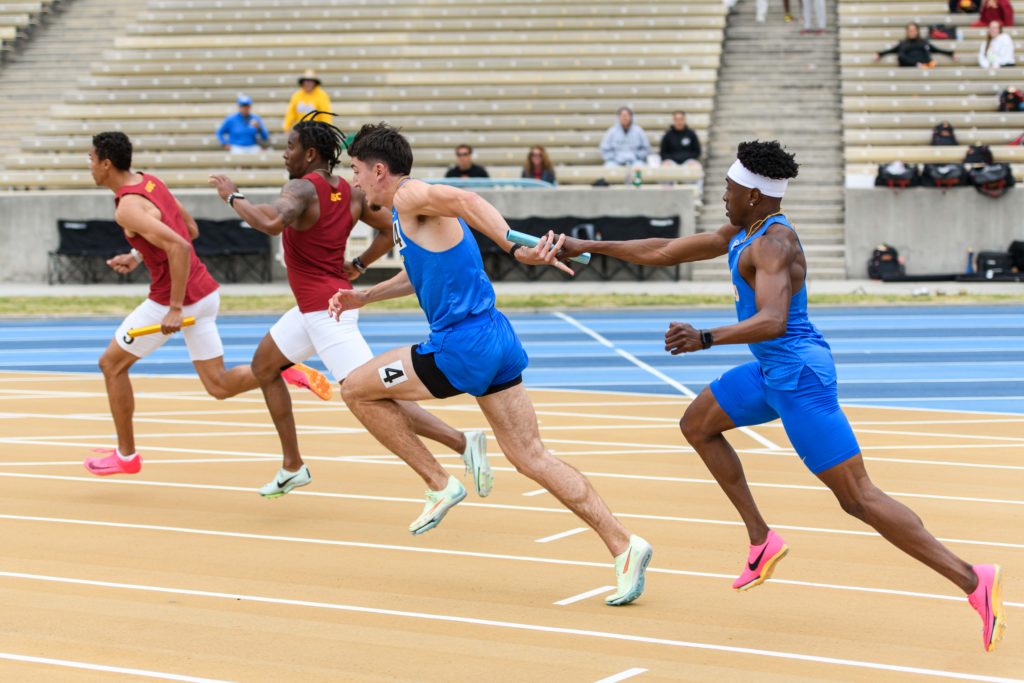 Ferris Bueller said, "Life moves pretty fast. If you don't stop and look around once in a while, you could miss it."
But when it comes to sports photography, if you do stop and look around once in a while, odds are you miss the shot. The challenge comes from making sure I am aiming at the right spot at the right time with the right settings. Oftentimes it can be difficult, and many times it does not work out. But sometimes you catch those fleeting moments, and this shot of senior sprinter Ismail Turner handing off the baton to junior sprinter Antonie Nortje for the final leg of the men's 4×100 meter relay in the UCLA vs. USC dual meet is just that.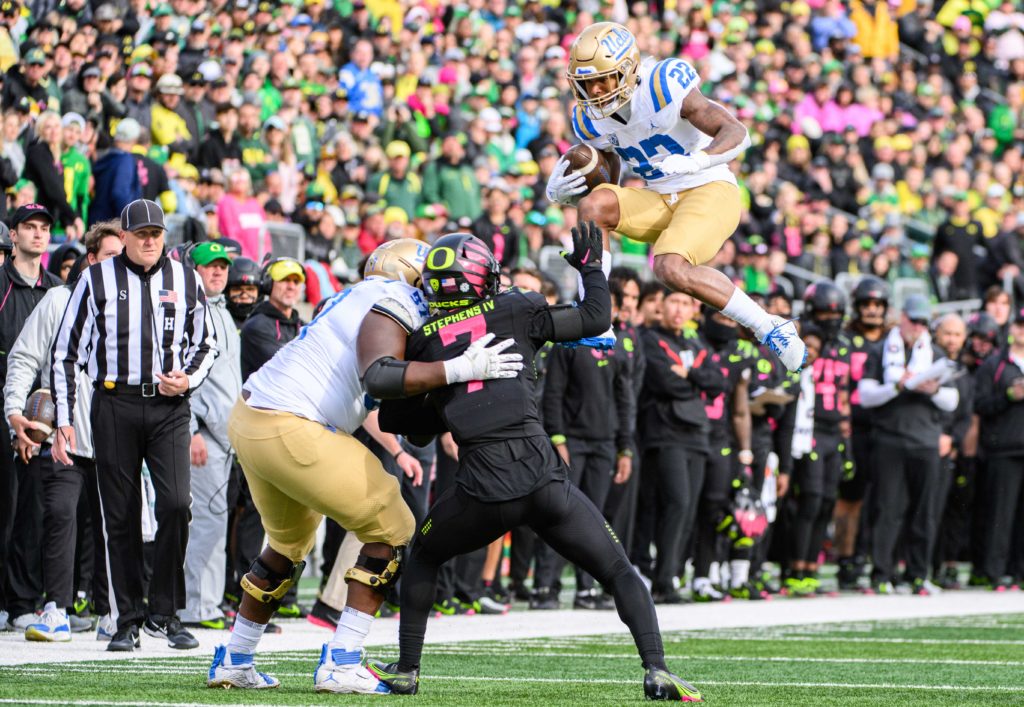 This day was a whirlwind. We were up at 5:30 a.m. for ESPN's College GameDay, faced pouring rain in the second quarter and worked out of a concrete tunnel from our phone hotspots. But in spite of the loss, in spite of all the challenges, this wet, cold, crazy day at Autzen Stadium – filled to the brim with nearly 60,000 fans – was an absolute pleasure to soak in.
2021-2022 Sports editor Jon Christon put it best when previewing the exciting implications of a UCLA victory over Oregon – and a potential 11-1 season – with 2022-2023 Sports editor Sam Settleman.
"That'd be absolutely electric, Sam," Christon said.
And oh, how electric it was.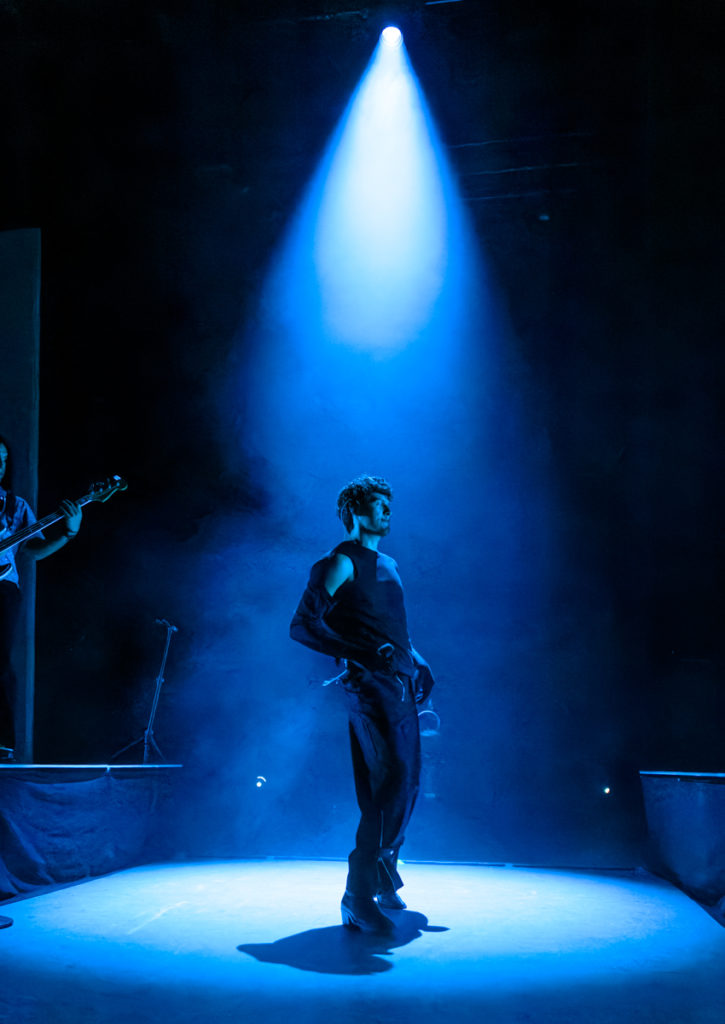 Omar Apollo, pictured, was the first concert I ever shot for The Bruin. The experience involved driving managing editor Olivia Simons' car on a whim and being fed dumplings by Daily Bruin senior staffer Vivian Xu as I weaved through the 405 Freeway to reach the Greek Theatre on time. This photo encompasses all the emotions and memories of my first year of editorship. As my first year comes to an end, I now look ahead to my second year of editorship and all the new memories waiting for me on the other side of my viewfinder.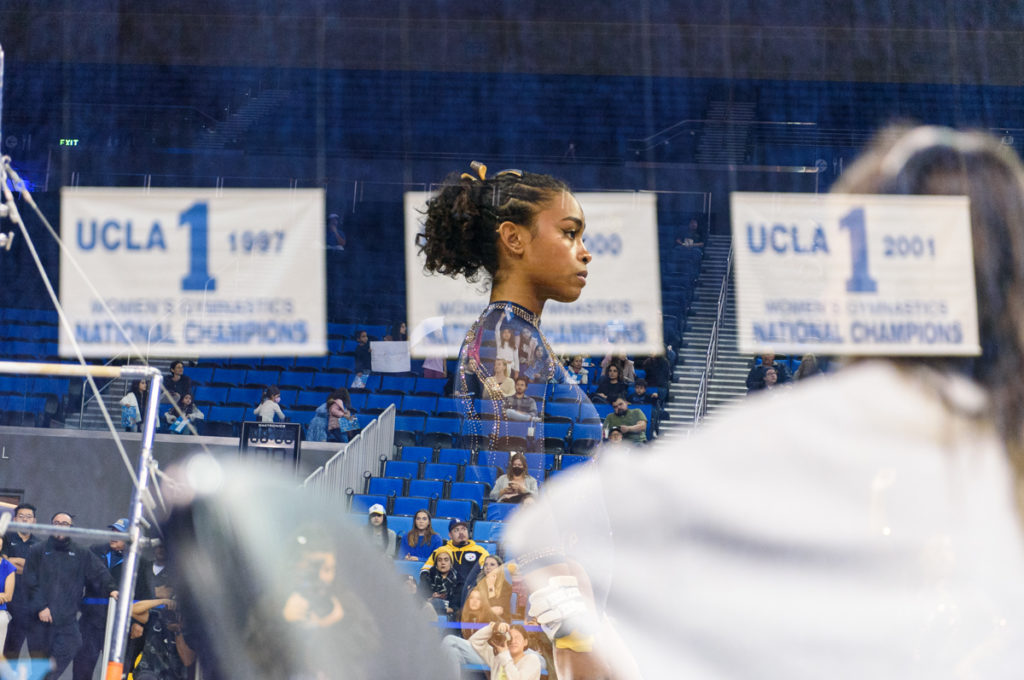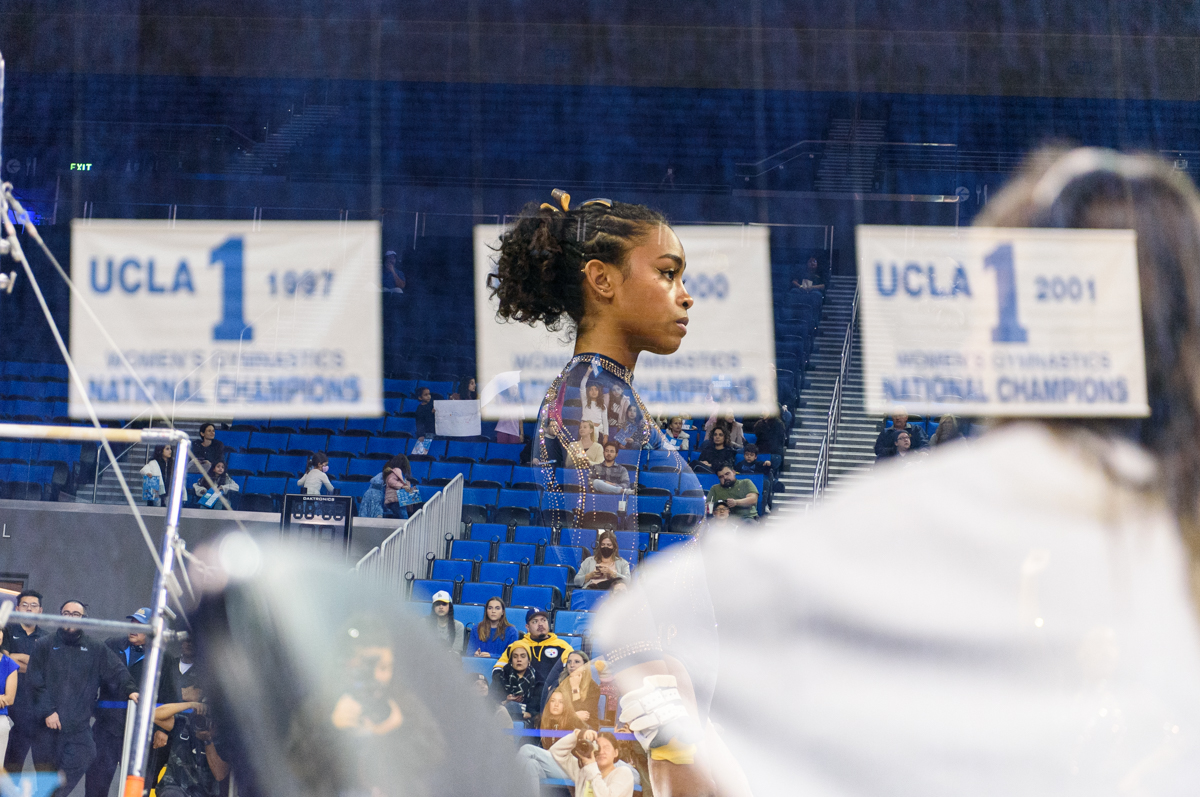 Sports photos can get repetitive, so I was just toying around with my camera trying to make something look interesting. I stumbled upon the double exposure setting within the camera settings menu, which is basically a two-for-one discount price for photos. One exposure is of freshman gymnast Selena Harris, right before her routine. The second is of the UCLA gymnastics national championship banners in Pauley Pavilion. The most epic part of the picture was undoubtedly a sneaky feature from my editor Megan Cai at the very bottom middle.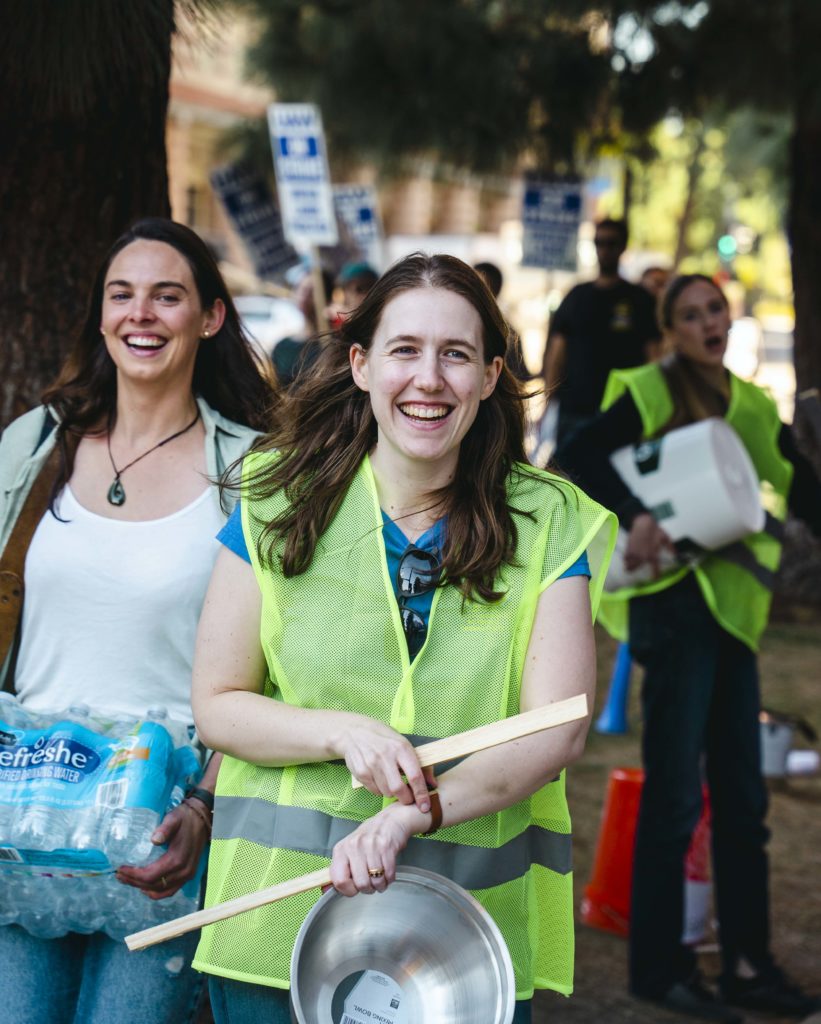 I captured this photograph of biochemistry postdoctoral student Elsie Jacobson (right) and her friend Emily Sutton (left) during the UC academic employee strike last November. The strike was my second photo assignment and my first in the news category after joining the Daily Bruin in the fall. At first, it felt daunting to approach random individuals for interviews and photographs. But over the course of a year, my time and experience at The Bruin has cultivated a passion for documenting social events.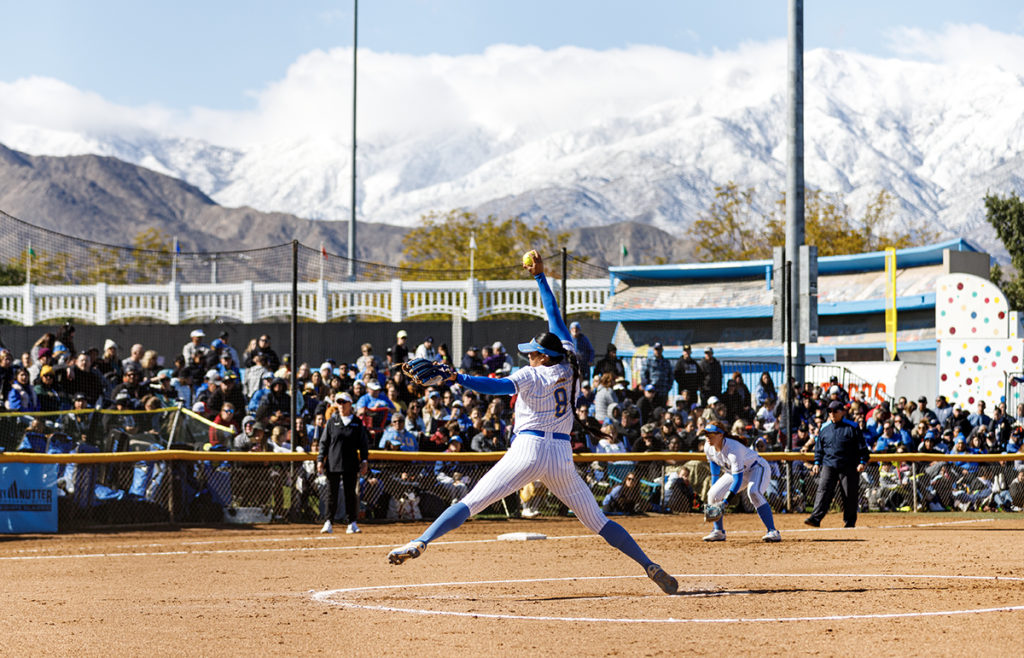 Although I've enjoyed contributing to Photo's sports coverage over the years, I never thought I'd have the opportunity to travel to cover a sport because my contributions have been so sporadic. But it's amazing what having a car can do for you in college. This photo was taken in Cathedral City during UCLA softball's top-two matchup with Oklahoma and captures two surprising moments: our startling 14-0 loss, and an unusual weather phenomenon that created the beautiful snow-capped peaks in the background. As much of a roller coaster as it was, I'm so glad I was able to document it.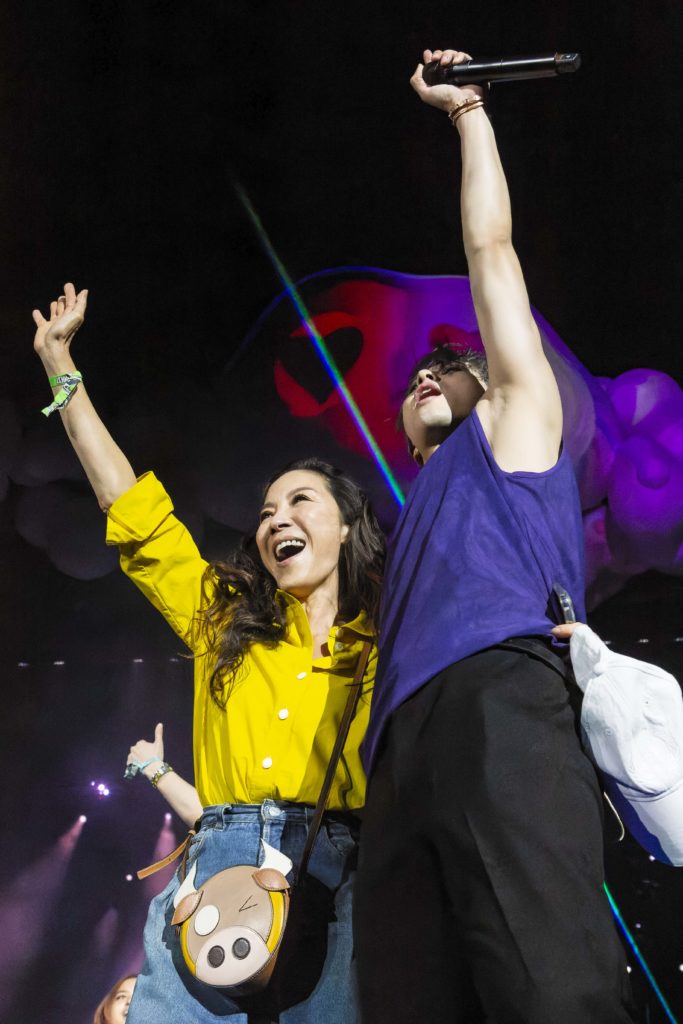 When I first joined the Daily Bruin, I had only one goal: photograph a concert. Little did I know the first concert assignment I would get would be Head in the Clouds, a two-day festival in the heat of summer that had a lineup filled with Asian artists I admired. It was exhausting and intimidating, but ultimately, exhilarating. Once I reached the finale, I thought my first concert assignment couldn't get any better – then 'Everything Everywhere All at Once' actress Michelle Yeoh walked on stage. Jaws dropped and tears were shed. That was a moment I will never forget.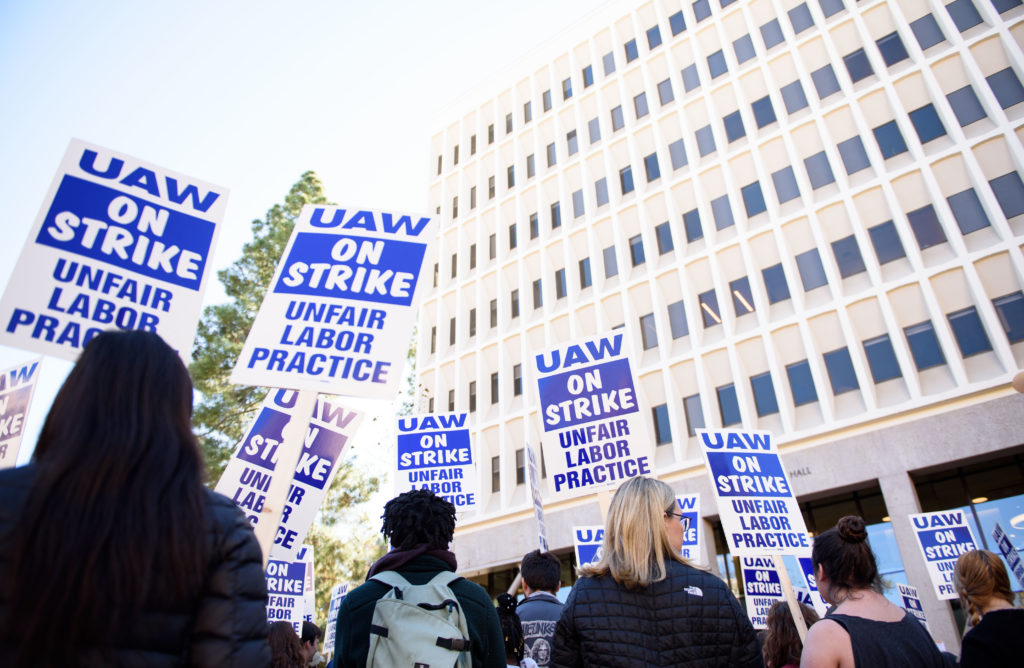 When I covered the UC academic employee strike in November, I was still very new to the Daily Bruin. That was my first news coverage and only my third ever assignment. So when I saw my photo sprawled across the front page of the next print issue, I was so excited. I felt proud and eager to continue improving my photography. Flash forward to the spring, when I submitted this photo as part of my application to become an assistant Photo editor. This photo has seen me through my entire Daily Bruin experience thus far; it's a source of familiarity and comfort to me.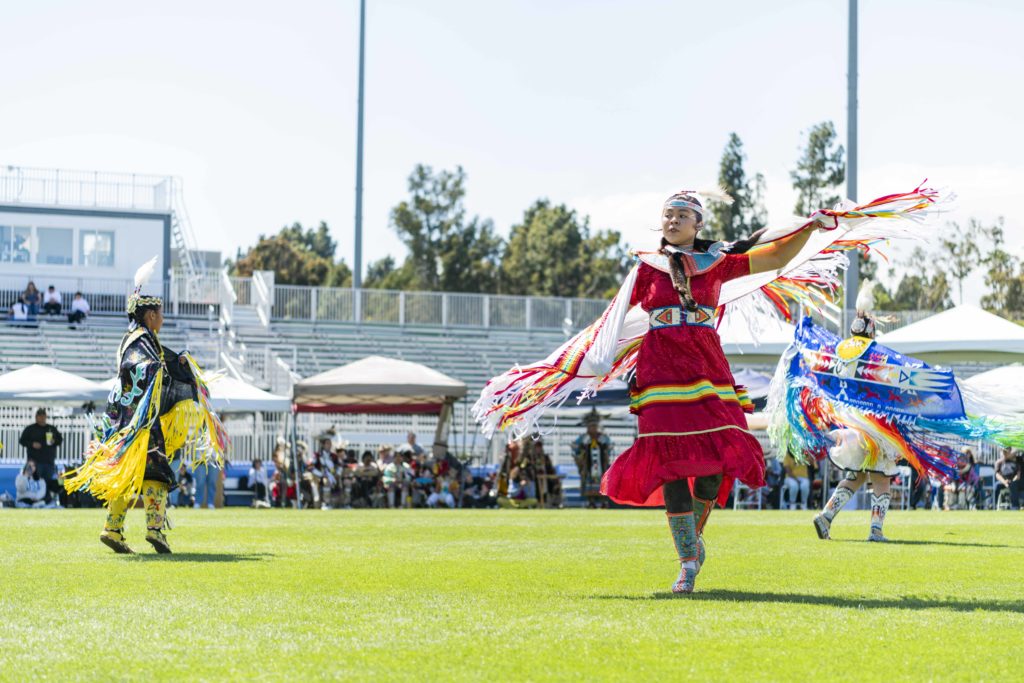 These dancers, dressed in elaborate and vividly colored shawls, are competing at the 38th Annual UCLA Pow Wow. I was the only staffer there to cover this event. I felt an enormous responsibility to put together what would become my first solo gallery and the only piece of coverage the Bruin has given to this storied event in more than five years. I will deeply cherish the experience of attending my first powwow. I only hope that this brief moment frozen in time could do even a little justice to all the artistry, dedication and history on display.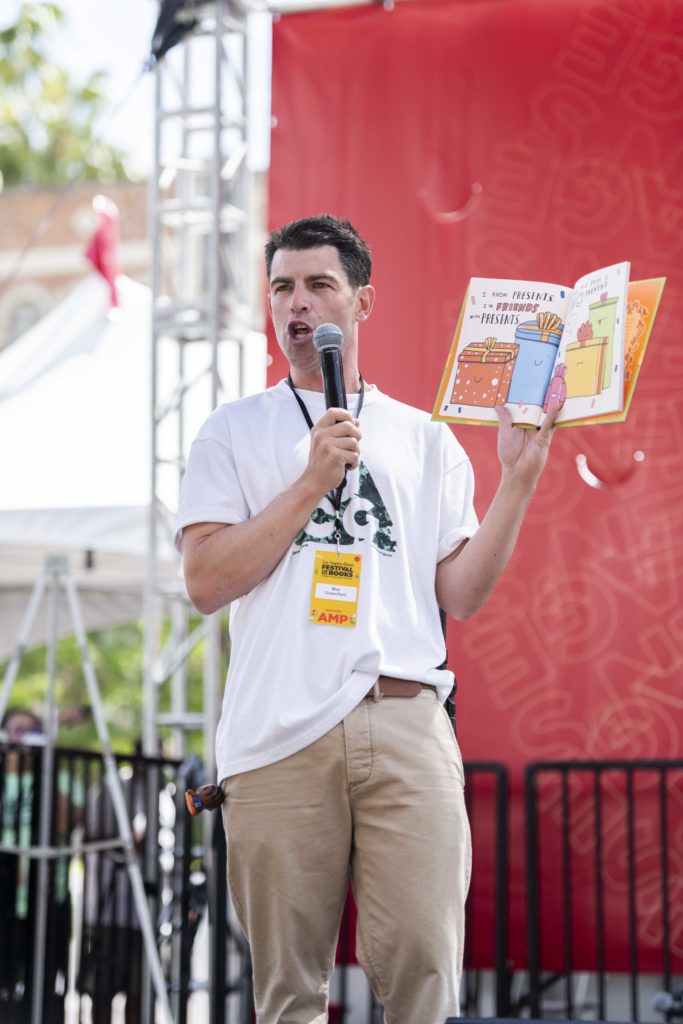 As a lifelong reader, I leapt at the chance to photograph the Los Angeles Times Festival of Books. My younger self would have been elated to know that I photographed my childhood icons – Leigh Bardugo of "Shadow and Bone," "Artemis Fowl" author Eoin Colfer and even Matthew Perry from "Friends."
The most exciting part was being in the front row of a narration by Max Greenfield, who plays Schmidt in "New Girl" – one of my go-to shows. I never would have thought that my favorite shot of the day would come from a picture book narration.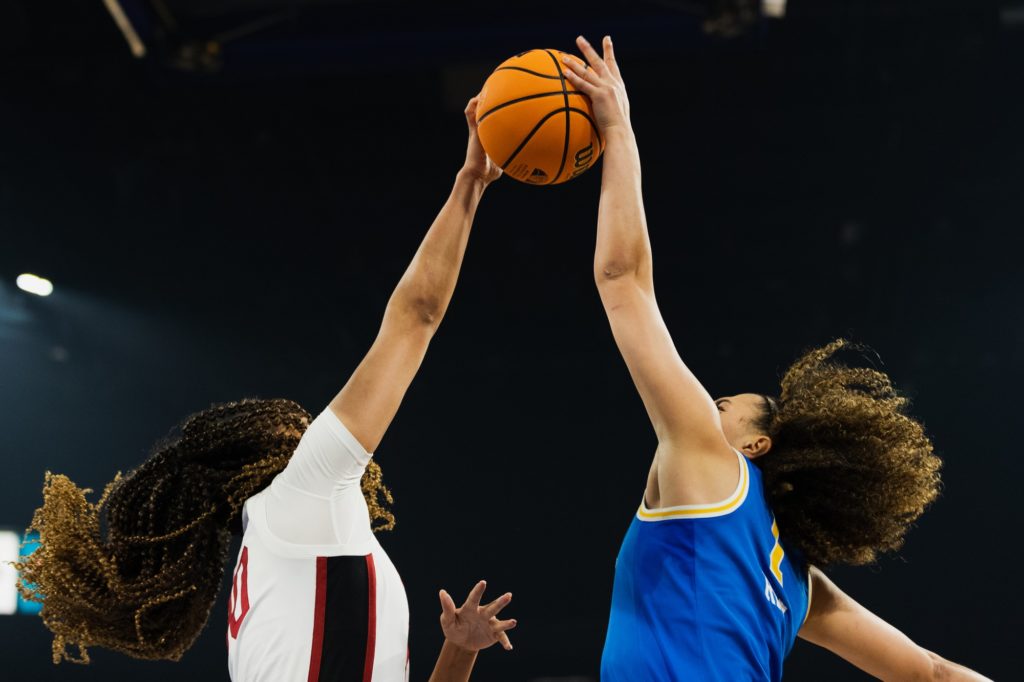 Freshman guard Kiki Rice and Stanford guard Haley Jones challenge for the ball in the Pac-12 tournament semifinal. Despite trailing most of the game, the Bruins staged a 16-point comeback in the last quarter against the No.1 seed, advancing to the championship game. Although UCLA ultimately lost the championship, the experience of covering the tournament was unforgettable. It gave me the opportunity to work alongside renowned journalists, all while fostering new friendships along the way.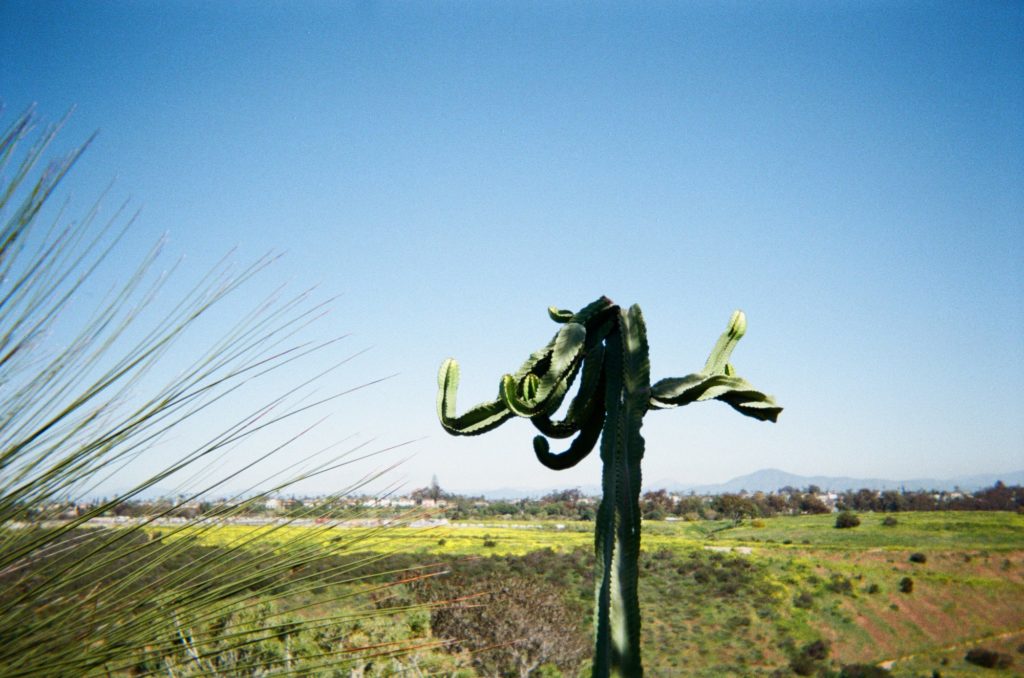 I took this film photo while exploring Balboa Park's cactus garden in San Diego. I love using photography to capture the beautiful moments that become core memories, and I was happy to share this one in the disposable stories gallery. This was my first Daily Bruin gallery, and I was so excited to collaborate with my team. I have a special place in my heart for nature photography, so I am passionate about this photo.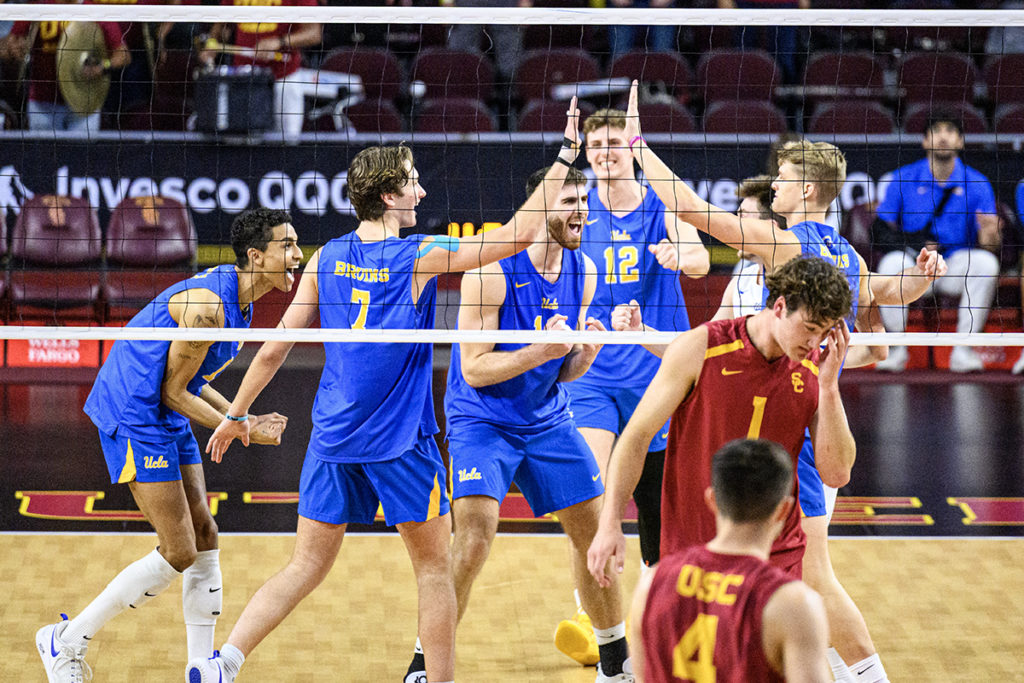 I learned that in sports, the best shots often come from the celebration rather than the actual plays. This photo was taken during the game against our crosstown rival USC. The Bruins swept the Trojans 3-0 to complete their doubleheader against USC for the 2nd straight year. It showcases the excitement of the Bruins as they taste victory and recognize their teammates' contribution to that point. At the same time, we are able to witness the bitterness of the Trojans who lost the point. The contrast of emotions that takes place after every point is what makes men's volleyball my favorite sport to photograph.