Community advocates discuss plans, hopes for Disability Cultural Center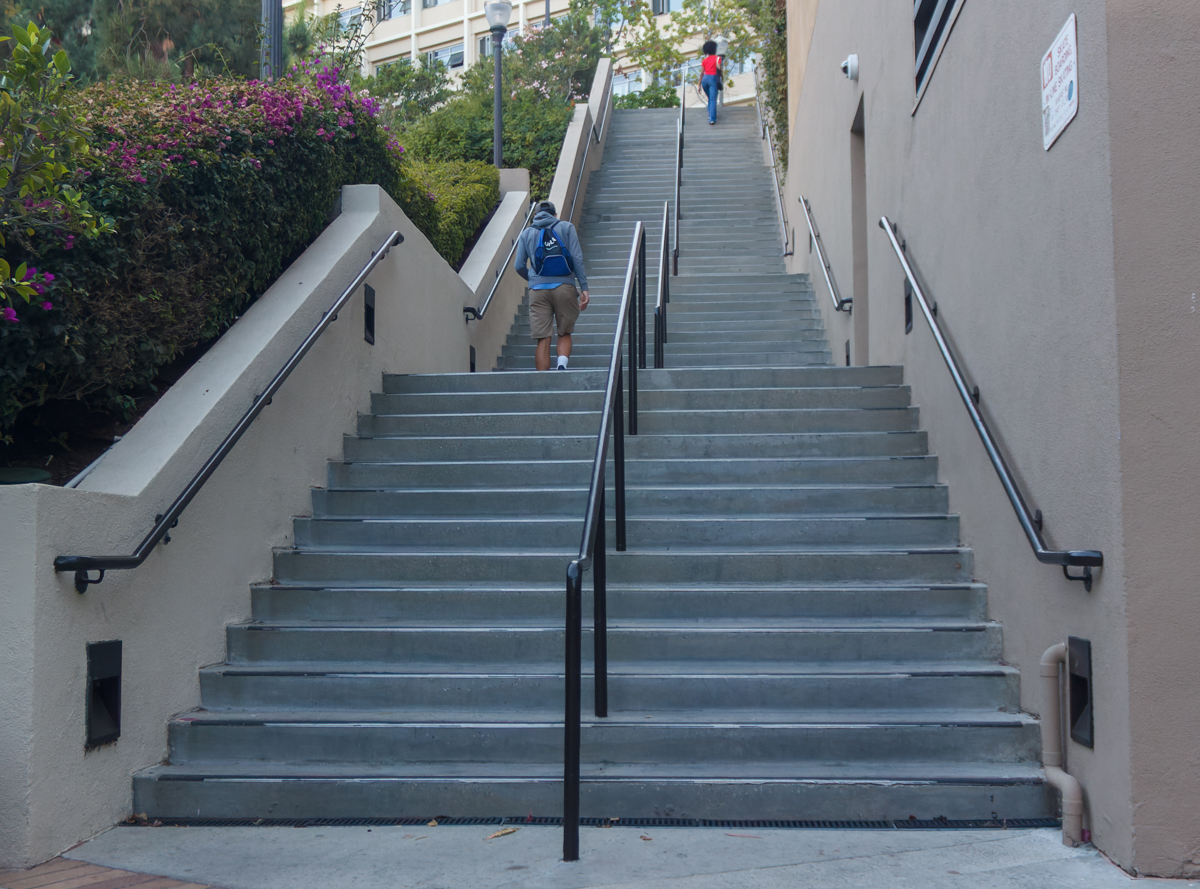 The "death stairs" on the Hill are pictured. The newly created Disability Cultural Center may be located on the Hill, which many disabled students said is inaccessible, until it can find a permanent location. (Joseph Jimenez/Photo editor)
Advocates for the UCLA disabled community are working to establish a Disability Cultural Center that will offer a space for disabled empowerment, provide academic and career resources for disabled students, and celebrate disabled culture and history.
The center was announced during the May 2 meeting of the Undergraduate Students Association Council. It will be named in honor of Lily Shaw, the 2019-2020 USAC facilities commissioner and co-founder of the Disabled Student Union who died in 2020. Shaw spearheaded the initiative during her time in office, said Evan Curran, the incoming USAC facilities commissioner and a second-year public affairs student.
UCLA Student Affairs staff, including representatives from the Center for Accessible Education, began working with students from USAC and the Disabled Student Union in mid-2020 to establish a DCC, a spokesperson for UCLA Student Affairs said in an emailed statement.
The center currently has $59,000 in allocations, Curran said, with $30,000 from the USAC surplus and $29,000 in donations from a GoFundMe campaign initiated after Shaw's death.
The center will hopefully finalize a temporary location before the end of this year, said Phoebe Chiu, the 2022-2023 USAC facilities commissioner and a fourth-year economics and psychology student.
Curran said the center would ideally be located in Ackerman Union or Kerckhoff Hall, but because of a lack of available, accessible spaces on campus, it might be located in a less accessible space, such as the Hill, until a permanent location is determined. He added that the DCC, as well as accessibility in general, will continue to be a top priority for the facilities commission in the next academic year. Curran said that by the end of his term, he would like to have the funds and the space to move the center to a permanent location.
"We (USAC) are not the only organization or the only group that's looking for space right now," Curran said. "Part of it (establishing the center) is trying to allocate and meeting with those organizations as well as seeing which spaces … make sense for each organization."
Christopher Ikonomou, a DSU leader and fourth-year communication student, said he hopes other organizations will keep in mind that potential spaces for the DCC are limited because of accessibility concerns, with many available spaces on campus located either on the Hill or on the upper floors of buildings with no elevator access.
Ikonomou said disabled students often have difficulty navigating campus, obtaining academic accommodations from professors and confronting ableist attitudes.
"I would generally say it (UCLA) is not a super welcoming environment for disabled students," Ikonomou said.
The DCC will provide a space for disabled members of the UCLA community to build connections and solidarity, said third-year sociology student Eliana Sisman, a 2022-2023 USAC general representative and member of the DSU. She said that she believes a peer mentoring program would also be valuable, as it would assist disabled students in navigating college life and provide a community. The DCC will also ideally provide students with scholarships, resources on how to navigate campus with mobility constraints, a medical care directory and staff educated in disability studies, Ikonomou added.
Sisman said she hopes that the DCC will serve as a humanizing and uplifting space for disabled students to build community. She added that having a space where disabled students can feel proud, respected and understood will be empowering.
Victoria Marks, the chair of the disability studies minor and a professor in the UCLA Department of World Arts and Cultures/Dance, said she hopes the center will help disabled students feel less isolated.
"People are marginalized and stigmatized because of their corporeal diversity," Marks said. "Isolation comes from these marginalizations, and creating a gathering space will support connection and also end social isolation."
Chiu said USAC has been working with other resource centers that serve marginalized populations on campus – such as the Transfer Student Center and the LGBTQ Campus Resource Center – to determine how to best serve the disabled community. Her office is also currently soliciting feedback from disabled students as to what resources they would like to see at the center, Chiu added.
Ikonomou said he is optimistic that the Lily Shaw Disability Cultural Center will improve the overall well-being of UCLA's disabled community.
"It's an opportunity for a community to feel solidarity within itself in a place that's not very kind to them," he said. "We need to have that space if we're going to say we're caring for disabled students."