Bruins Built This: Bruin Tank Startup Pitch Competition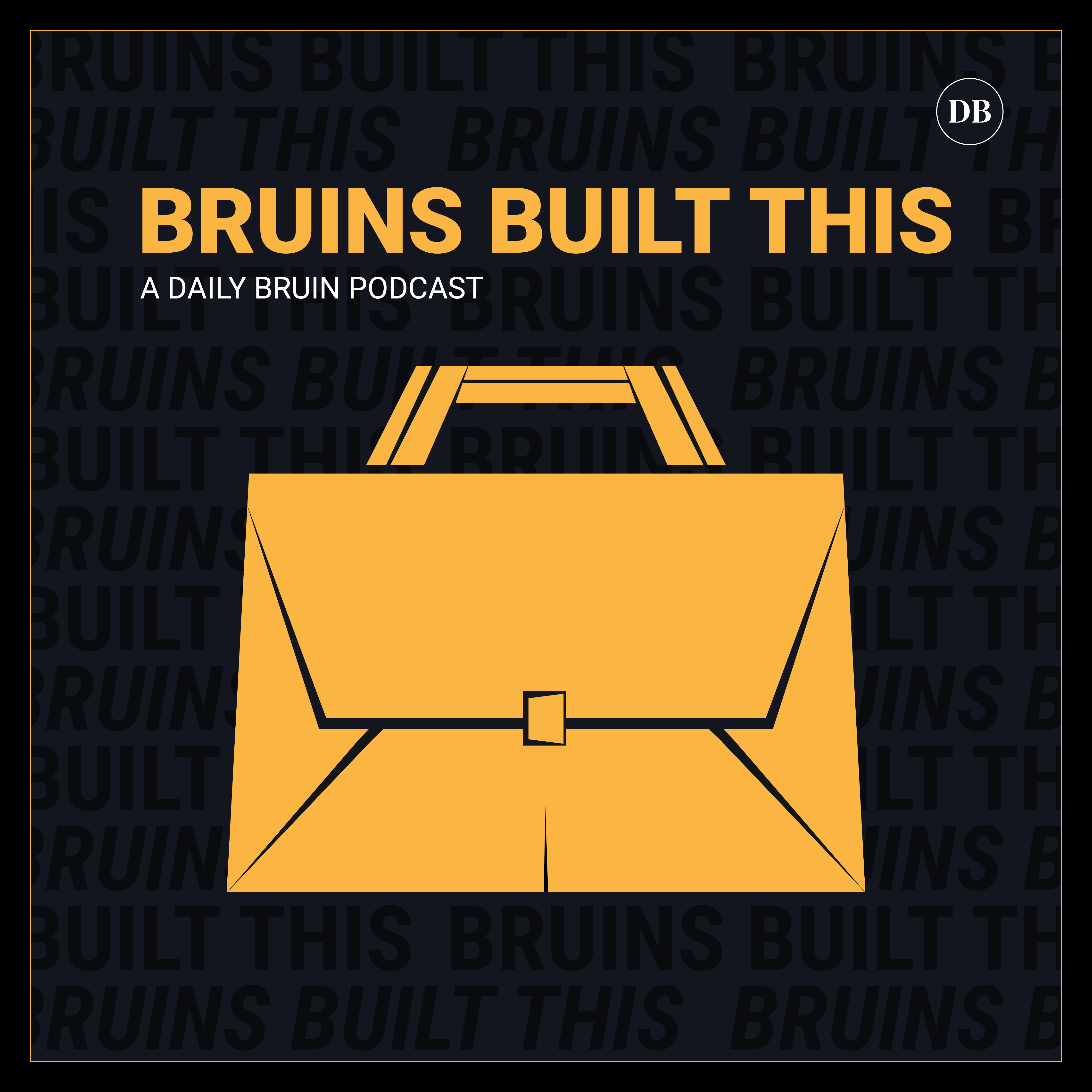 In this special episode of "Bruins Built This," instead of sitting down with a single UCLA student or alumni entrepreneur, Podcasts contributor Jack Garland discusses the importance of the business pitch with judges, contestants and attendees at the Bruin Tank Startup Pitch Competition.
https://open.spotify.com/episode/4cgKIkdO1iPtquyxqjn9BH?si=77yYCnP5RkanRc68xTpb0Q
Jack Garland: Hello, and welcome to Bruins Built This. We are a Daily Bruin podcast, and we interview UCLA student and alumni entrepreneurs. My name is Jack Garland, and today we're doing a special episode. So, instead of interviewing a founder, I'm going to take you inside of a very special event that happened recently at UCLA. And that is the Bruin tank startup pitch competition.
It was a pitch competition inspired by the TV show "Shark Tank." So on "Shark Tank," five celebrity judges hear pitches from entrepreneurs, and then can invest their money into the companies. So this event was a little different, but it was just as exciting, and it happened right here at UCLA.
I attended the competition with Daily Bruin Podcast editor Kyle Kotanchek, and we interviewed a bunch of different people at the event. We interviewed investors, we interviewed entrepreneurs, industry experts, and we asked them all a bunch of questions, all centered around one central theme: what makes a good pitch. So today on Bruins Built This, we're going to discuss that very important aspect of starting a company – the pitch.
Bruin Tank was hosted by the UCLA Sigma Theta Pi entrepreneurship fraternity and the Bruin Entrepreneurs Club, and the organizers selected 11 finalists to pitch their ideas at the event. And they pitched their ideas in front of a panel of some very impressive judges. These judges were venture capitalists, professors, and there were even some representatives from student investment funds at UCLA. All of the pitches were followed by a five-minute question and answer session with the judges.
Through our conversations, we learned about ways to prepare and present a successful pitch. We learned about what investors are looking for and what they're not looking for in pitches. And we learned about the booming entrepreneurship community at UCLA. Everyone knows that the pitch is a very important skill to master as an entrepreneur. One of the judges at Bruin Tank was Adam Draper, who's a two-time entrepreneur and who actually founded his first company while he was still a student at UCLA. And he's agreed to come onto the podcast for a full length interview, where we can learn more about his journey as an entrepreneur. So at Bruin Tank, we asked Adam about the pitch.
Adam Draper: Everyone is pitching every day when they talk to human beings. I think the pitch is often an undervalued piece of actually building an entire business. Because every day, you have to pitch your business – every single day, you have to say the one-liner, you have to say why you're doing it and why you're different. We talked to contestant Jason Vego, who was at Bruin Tank with his startup Bevz, which is a company that provides technology data and other support to small mom and pop convenience stores. He's currently a student at UCLA Anderson, and his pitch actually won third place at the competition. He offered some advice for people who are thinking about starting a business. He said to try to talk to about 100 industry experts before you launch your company, so that you can get an idea of the industry and what the needs are of that industry. He also spoke with us about the two main settings in which entrepreneurs have to deliver a formal rehearsed pitch.
Jason Vego: So it's usually one of two ways – something like today, which is a pitch competition timed in front of judges, things like that. Then there are more one-on-one.
JG: Jason has a lot of experience pitching, so we asked him what he's learned over the course of his many pitches.
JV: My best tips are keeping things really simple and clean – visuals that do not have words and are very easy to follow – and keeping things as high-level in these sort of pitches and going for Q-and-A for the details. Highlighting big numbers, as always, if you can do that.
JG: We talked to another contestant named Kevin White, who's also in the UCLA Anderson School of Business. His company is called Spottyr, and it helps independent trainers manage their business. He spoke with us about pitch preparation.
Kevin White: In the process of preparing for this, I realized that you need to have multiple pitches for the different timeframes. So whether it's a five-minute pitch or 15 or 20. So if you can already have, you know, three or four different versions of your pitch ready to go, it doesn't make it such a heavy lift when you're preparing for each pitch competition.
JG: A third contestant, and another student at UCLA Anderson, was Debbie Marone. She shared with us the different things that she's learned while pitching her business. She co-founded a company called Atop, which is a marketplace that connects solar panel developers with owners of large commercial property. Her pitch won second place at Bruin Tank. She had some recommendations for founders.
Debbie Meron: We want to connect emotionally with people and get them to relate in some way shape or form to what it is that you're selling.
JG: She then shared with us a list of things that founders have to know before they pitch their company.
DM: You know the market, there's clearly a huge opportunity here, and that you know who the competition is, and how you're going to differentiate yourself from everybody out there. But most importantly, that you understand the customer so well, and that you are uniquely suited to solve their problems.
JG: And for those moments right before the pitch, Debbie had some advice for founders.
DM: Take a huge deep breath and give yourself a little psych-up talk. Sometimes it helps me to pretend like someone's arguing with me that we shouldn't, that this business shouldn't exist. And then I have to sit there and like, "And this is why" and I get really excited about it.
JG: One of the student judges at Bruin Tank was Gavin Pola, who has a lot of experience pitching his own businesses, so I asked him what he's learned while pitching in these high-intensity situations.
GP: I think that you've learned that everyone's human.
JG: Gavin also has experienced hearing pitches as the founder and general partner at Griffin ventures. And they invest in early stage blockchain startups, so I asked what he's looking for when he's hearing somebody pitch.
GP: If a pitch can answer my concerns before I have to ask them, that's always a great sign, because then they're always, like, one step ahead of me. Because if someone's been working with them for a long time, they should already be able to know all of the pitfalls before I've even said them.
JG: While I was in the audience listening to pitches, I happened to sit next to Karin Kalia, a venture capitalist with extensive experience coaching startups. As we listened to pitches, I asked her what advice she would offer to the entrepreneurs at the event, or what advice would she give to any entrepreneur looking to improve their pitch.
Karin Kalia: The most important thing for somebody to know before they ever get on a stage is who they're pitching to and what they care about. The key is to be memorable and to be really, really engaging with the audience. If somebody's not a natural speaker, it's a skill they have to work on.
JG: I also asked Karin what entrepreneurs should not do while they're pitching their company, and she said to pitch your company to investors like it's an opportunity – and don't just ask for money.
KK: If you call it an "ask," you're putting yourself as a founder at a lower level.
JG: And when it comes to the question and answer session?
KK: Only answer the question that they ask you. Don't go into things that make you look weak.
JG: We also asked Adam with Boost VC what you should not do when pitching, and he shared with us what turns him off immediately when he hears it.
AD: When they say that they're in stealth mode, I suddenly just think they're not confident enough in what they are building, because the entire world has transitioned. I mean, we invested in a company that is open-source building – like, they are building in the open, telling everyone what they're doing, showing milestones and hitting them. If you aren't doing that, you're doing it wrong because you're not pushing yourself hard enough. And then you get too nervous to launch. So I just don't think stealth mode is the way to build a business anymore.
Other than that, it's just, like, I don't like when people are on script the entire time, even though it's a pitch. So like in a pitch setting, like this versus a pitch setting, I try to keep people on their toes when I'm in a meeting one-on-one with someone. And I just want to get to know them, and it's hard for me to get to know someone if they're going to keep their walls up the whole time.
JG: He also explained the main things that he's looking for in a pitch.
AD: Good energy, high authenticity and then just proving that you're committed to the project. And that's basically when I'm talking to someone, I'm trying to figure out whether they're genuinely curious about what they are building, or if they're doing it because, you know, they thought it'd be cool or like something more simple and basic.
JG: Kevin Liu was another judge that we spoke with. He's an investment manager at Decent Capital, and he shared with us the three main things that he's looking for in a company.
Kevin Liu: My top three things that I'm looking for are first, energy. I mean, if you're not passionate about whatever you're building, and then obviously it's a pass for me. Second, defensibility or barrier – I mean, what are some core things that you guys are building that others can't really copy from you or have things that you're building 10 times better than others, right? To make you stand out. And the third thing is at the end of the day, team matters, right? I think it's the people behind these technologies. So those are the three things I'm looking for.
JG: Angelina Lue was another student judge like Gavin, and she was there representing her funds, Crescent Moon and Rough Drafts. Angelina hears a few pitches every week, and so we asked her the most important thing that she's listening for when she hears pitches.
Angelina Lue: The first thing I look for is the energy.
JG: A theme throughout all of our interviews was definitely the importance of energy while pitching. Angelina was proud to be part of Bruin Tank, and she spoke with us about the startup environment generally at UCLA.
AL: UCLA has awesome, awesome engineers, builders, founders, like thought leaders, lots of different sorts of backgrounds. Because there are students from the bay, there's students from LA, students from all over the United States, all over the world. The one thing that's really awesome about UCLA is everyone here works really, really hard and wants to become excellent. And so you never know, your co-founder might be sitting next to you in class the next day, or you might have already met your co-founder, or maybe your co-founder's your roommate.
JG: Angelina is only in her second year at UCLA, but she's already been able to find a very supportive community of both entrepreneurs and investors. And she also had some closing advice for students who are considering starting a business.
AL: Definitely consider starting a startup and just do it. Like, what do you have to lose? We're 18 or 19, or 20 or 21. We have our whole lives to live. You have like 60 years, plus, hopefully more than that, right? And so the best time, I think, to start is now if you're considering starting a company.
JG: Debbie with Atop also spoke highly of the UCLA entrepreneurship community. She was very impressed by the number of judges that attended Bruin Tank.
DM: It was really incredible to see the showing of support from the VC community for the UCLA entrepreneurial space.
JG: Bruin Tank was a really exciting and interesting event. And Kyle and I learned a lot about how to prepare for a pitch and how to deliver a pitch, and just why a pitch is so important to every business. We hope that some of this information can be useful to you. My biggest takeaway: bring the energy.
Thank you for listening to this special episode of Bruins Built This. Also a very special thanks to all the voices that you heard today on the podcast. So thank you to Adam Draper, Jason Vega, Kevin White, Debbie Meron, Gavin Pola, Karin Kalia, Kevin Lui and Angelina Lue. Bruins Built This is brought to you by The Daily Bruin, UCLA's student newspaper. You can listen to this show and others by The Daily Bruin on Spotify, Apple Podcasts and SoundCloud, and a transcript of this show is available at dailybruin.com. I'm Jack Garland. Thanks again, and we will see you next time.