Bruin 101: Talking with TAs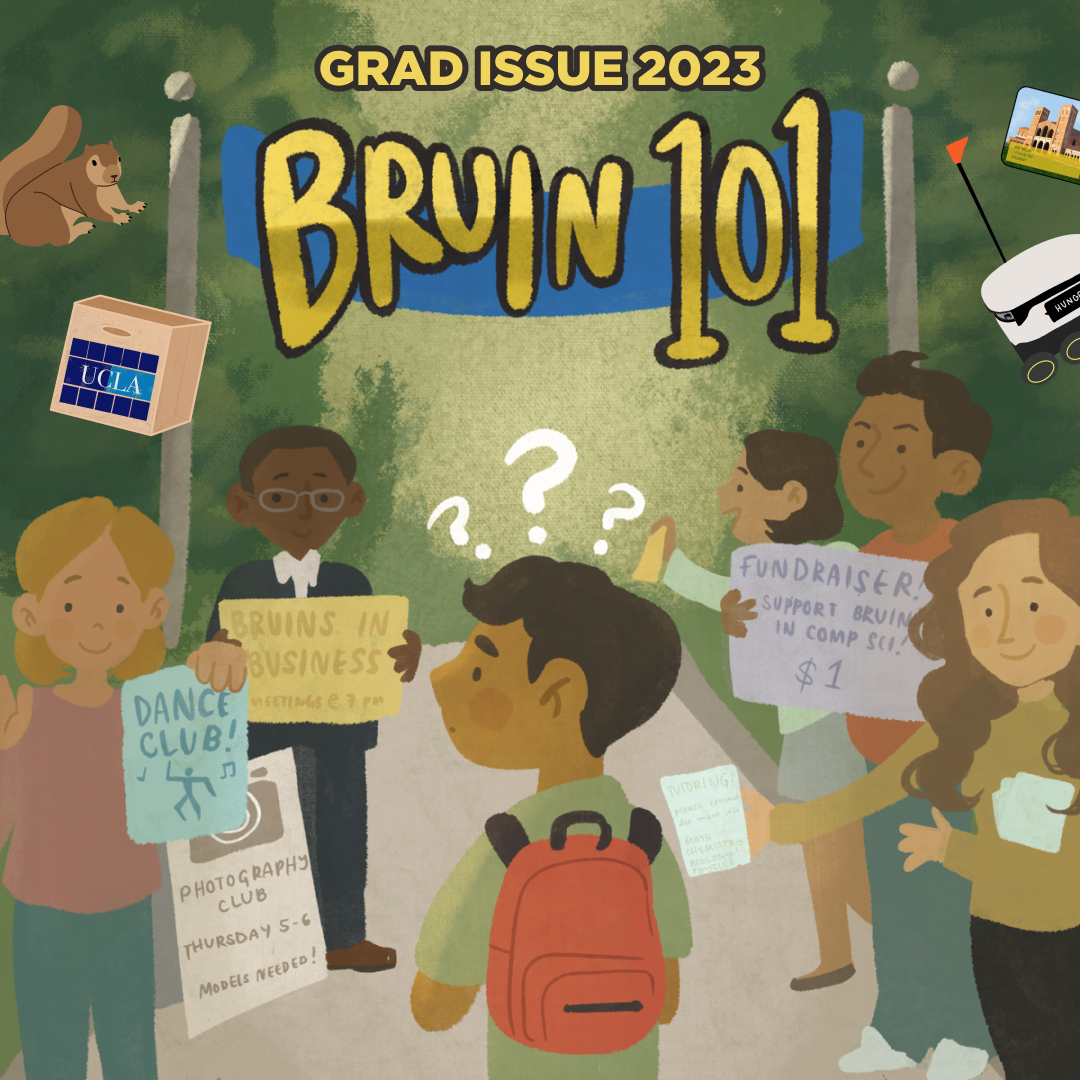 Katelyn Dang/Daily Bruin senior staff. Helen Quach/Design director
Ever thought about attending graduate school or becoming a teaching assistant? In this Grad Issue edition of "Bruin 101," Podcasts contributors Sam Scott and Fonda Hu discuss the prospects of graduate school and life as a TA with four UCLA teaching assistants.
Sam Scott: Hello and welcome to Bruin 101, a Daily Bruin podcast that is made by Bruins for Bruins. In this series, we help students and prospective students learn about and adapt to UCLA by providing insight into the school, sharing helpful tips and discussing concerns. My name is Sam.
Fonda Hu: And this is Fonda and today we're talking with four UCLA TAs, also known as teaching assistants, about grad school, life as a TA and more. Grad school and other postgraduate degrees are an integral part of being a TA, as it offers the employment opportunity of being a teaching assistant to those who are enrolled in graduate programs at the school. To begin, we talked with Fielding School of Public Health graduate, Angelie Patek, about the first steps when you're thinking about pursuing grad school. When considering graduate school, you want to make sure you pick the best program for you. But this can oftentimes feel like a daunting task, especially when there are so many programs offered both nationally and internationally.
Angelie Patek: You don't know what you want to do, and you're not sure what you want to go to grad school for. I think that's totally fine. The coolest thing to do is reach out to people who are in grad school for different things or the thing that you're interested in and just talk to them about their experience. I think when you're looking for programs, just Google-searching the school to see what they're about, reading who the faculty are because at the end of the day, compared to undergrad, grad school is like so much about who is your advisor, who you are working with. It's not always about the school. It's about the people that make up the school, the area that surrounds the school.
Sam Scott: Even after they decide on a program, some people may still fear the grad school environment because of the stigma surrounding the competitiveness of certain higher education opportunities, such as med school. Angelie shared her opinion of the environment.
AP: It was not toxic, and everyone was just so passionate and like no one's trying to bring each other down. Everyone actually wants to help each other.
FH: It was comforting to hear from Angelie that most of these fears about grad school are overstated. We talked to another TA who has also enjoyed his post-grad degree. His name is Kris Park and he is a chemical engineering Ph.D. student and a teaching fellow. He spoke with us about pursuing a doctorate at UCLA.
Kris Park: I was genuinely interested in chemistry in general. And then I was considering between chemistry and chemical engineering. And then also I was recognizing myself more into mathematics. So I heard that chemical engineering is the combination between chemistry and mathematics. So I decided, "Okay, let me go to engineering school to dig more into mathematics."
Sam Scott: The TAs we spoke with taught a variety of courses. Some of these courses you may have taken. Chris teaches molecular biology for engineers, a graduate-level class, while Angelie, Asha, and Supraja have all taught courses in the life science series, which is required for pre-med undergraduates.
FH: During our discussions with the teaching assistants, we learn more about what being a TA actually entails and how certain teaching assistant programs are structured.
Sam Scott: For example, Chris is involved in the Center for the Advancement of Teaching, an organization at UCLA which aims to foster teaching excellence, innovation and inclusivity. The organization does this through activities like teaching improvement workshops, learning communities and strengthening of TA training campuswide. Chris explains the three levels of this program.
KP: If you have just started as a teaching assistant, it's called teaching assistant. And after you have taught three quarters, at your fourth quarter of teaching, you become a teaching associate. And then after six times of teaching. So this is my seventh time, so I just became a teaching fellow. So that's based on your, you know, amount of quarters that you have taught in UCLA. So it's basically it means that you're taught a lot.
FH: Kris clearly enjoys being a TA having taught seven courses. We also spoke with Fielding School of Public Health graduate student Supraja Saravanakumar, who initially became a TA for the extra income. But after teaching her first course, her perspective changed dramatically.
Supraja Saravanakumar: It became so fruitful and like okay, for example, explaining this concept to someone and then you kind of see this light of understanding in their eyes. And you see folks, like when I see all of you nodding your head in class when something makes sense, that gives such a huge sense of satisfaction, like it sounds very little, but it really does give that sense of satisfaction. And at the end of last quarter, especially fall quarter at the end of it, I received a couple of, and this was also during the strike where I kind of didn't get a chance to see all of you too much, but I received all these emails from some of y'all, and a lot of these people were first years. Fall quarter first-years, fresh into college. And they were saying that the space that was provided in the class for them was comfortable. That it was welcoming and they felt okay to ask questions. If anything, they felt motivated to ask questions. I was reading my TA evaluations at the end of the quarter and oh my goodness, I made a whole reflective TikTok out of it.
Sam Scott: Supraja also talked about why she enjoys teaching freshmen in particular.
Supraja Saravanakumar: I feel like you really get to see them in that, you know, like everyone's new to campus and making that tiny little bit of difference and working with those students. I don't know. I get this gratifying feeling of doing LS 7A fall quarter when everyone is new. And, yeah, like maybe being able to provide that or give that hope of okay, you know, what you're gonna see other TAs or other professors or mentors who will be there to guide you throughout your college, giving them that like motivation or help. And fall quarter as freshmen it makes a difference to me. So I might hope to do that again in fall quarter.
Sam Scott: Angelie seems to agree with Supraja's perspective on the TA program, noting that it has taught her to learn how to break down complex topics into things that are easier to understand for the undergraduates she teaches.
FH: However, we learned that being a TA does not come without its fair share of struggles, such as feeling unfamiliar with the content you're teaching or feeling like you haven't mastered certain teaching techniques. Asha Slyker, another Fielding School of Public Health graduate student, talked to us about navigating these struggles largely through receiving help from other faculty members.
Asha Slyker: The faculty who organized the course have all of the materials ready for the TAs. They've organized weekly TA meetings for us to thoroughly understand each week's material before presenting on it. So even if there are some misunderstandings, or if we don't have that prior experience with the material, we still have that weekly TA meeting to discuss concepts with the faculty and with fellow TAs who may have more experience.
Sam Scott: While being a TA can fulfill certain department requirements and provide personal fulfillment, many grad students mainly become a TA to generate income. The opportunity to be a teaching assistant provides UCLA students with financial compensation, such as tuition remission and covered health insurance under UC SHIP. However, in recent years, many of the difficulties of navigating a tight budget have become particularly pronounced in the wake of the emerging cost-of-living crisis. In LA, average TA wages come in at $23,000, which the federal government has determined is an unlivable salary for LA. As housing costs surge, many grad students in particular face a multitude of challenges surrounding rent burden.
FH: For Chris, who lives in housing designated for grad students, his rent totals to $1,400 a month. He is currently on the hunt for an apartment. During his search, he has learned a rule of thumb to help manage his budget, which he shared with us.
KP: I was looking at the Hollywood area and the Sawtelle area, but what they always say about rental contract conditions is that your income, your gross income, has to be at least three times the rent, you know what I'm saying? So if I want to live in a studio like in Sawtelle, at least like $1,500, that's the minimum. So my gross income per month has to be $4,500, which is not eligible.
Sam Scott: Chris's recent promotion to his teaching fellow came with a raise. But even that wasn't enough to get him to his target income based on his rent.
FH: Asha also discussed her difficulties with living on a TA salary and told us how she sustains herself amid LA's rising prices.
AS: Fortunately, I live in rent-controlled housing, so not graduate student housing. The fee remissions from being a TA, but also again, family support, some savings…
Sam Scott: Supraja also mentioned how LA's high cost of living was a huge pain point after she moved to Westwood.
Supraja Saravanakumar: Moving here has been such a difference compared to where I was living before. So let's see. One thing I would say is rent. I paid half the rent when I was living there as compared to here, even though currently the space is smaller and the parking is also worse but still paying a higher rent. And second thing I would say is maybe car insurance because just because I moved here, my car insurance automatically jumped up around $300.
FH: And simply living near UCLA can oftentimes amplify the cost of basic needs in a variety of unexpected ways.
Supraja Saravanakumar: I used to go to Walmart a lot back there because it's cheaper than other stores. And although it's very close to where I used to live, and right now from where I'm living, the closest Walmart is 25 minutes away by car. Yeah, that's a distance.
Sam Scott: Supraja faces additional challenges given that as an international student, her TA wages are entirely remitted to her tuition. Instead, she saves money by limiting the amount of times she dines out to once a week, specifically on Friday evening.
Supraja Saravanakumar: Thinking about meal prepping, when you're living on your own, that will be a huge money saver. Second thing I would say is, yes, meal prepping. But at the same time set one of the days of the week aside, I like Friday because Friday means the end of the week. And every Friday, I would come home at night after work and I would always go grab food and either eat outside or bring it home and eat it. So I always look forward to that because it was a celebration of the week being over.
FH: To cope with the increased financial burden, the TAs have adopted a variety of solutions to help them balance their budget. Angelie has taken up another part time job as a tutor to add another source of income. She also suggests taking a break before starting grad school to boost finances by working full time and living at home, if possible.
Sam Scott: The TAs acknowledged that these cost-saving measures are not enough if the wages they make as a TA remain unfairly low. The rising frustration of TAs who did not earn enough to offset their daily expenses reached its breaking point during the academic workers strike in November of 2022, the largest in history. Asha faced a dilemma when deciding whether or not to participate in the strike given her circumstances. But she ultimately joined the picket line after reflecting on its impact on the livelihood of her fellow grad students.
AS: Thinking about the mothers that I saw at the picket line carrying their babies during the picket. Everyone has different circumstances. Some people don't have another job, and this is the way they make a living and they can't compromise that. So there are definitely so many perspectives to consider.
FH: Although UC academic workers received roughly a 50% pay increase after rounds of negotiations, according to Cal Matters, many of the needs are still unaddressed, which signifies that financial stressors will continue to be a large issue in years to come. It's also important to note that the financial struggles of TAs vary widely across departments, in particular stipends for TAs in humanities disciplines have remained notoriously lower than their fellow coworkers in STEM fields. Thus, if you're deciding whether to pursue grad school, it's equally important to consider both your academic interests and current financial situation before deciding to submit that application. But regardless of your post-grad plans, hopefully these budgeting tips can help you stay in the green.
Sam Scott: As both graduate students who have been in school for many years, and teaching assistants who regularly interact with undergraduates and have witnessed what makes a student successful in a course, the four TAs we interviewed had plenty of good advice to share. When talking with Angelie, she discussed the importance of being present and advocating for oneself throughout undergrad.
AP: Being present in class takes you such a long way. I think that it's so hard to come out of a pandemic when we were fully in school through Zoom. And so everyone is like so reliant on their laptops. And I do it too. So I know. But like having your laptop open, it's very distracting. You can switch between tabs. It's so easy to get unfocused. And so really being engaged in the activities that you're doing when your teacher, or professor or TA says to have a discussion. Making sure you're actually having the discussion. When you have a midterm or a final or even a quiz or a homework set, I think making sure you really understand why you got an answer wrong, even if the test is over, goes such a long way.
FH: Asha shared similar advice, emphasizing that students should not be afraid to reach out to faculty through email and other professionals in the field they want to pursue through a platform like LinkedIn. By utilizing these resources, students are able to get a better understanding of a certain program, job or field.
AS: Piece of advice No. 1 is to reach out if you're interested in a specific graduate program, a specific area of research, a specific department, reach out early. It never hurts to cold-email a professor or a grad student or someone who you know in that field. Go to office hours, even if you don't have questions. Just show up. See if other students have questions. And then ask those questions about what the faculty members are interested in researching. Use LinkedIn. LinkedIn is an asset. It's such an asset and I wish I would have used it more when I was younger. I've really used it the past year looking for jobs. But just messaging someone on LinkedIn or connecting with them at first and then messaging them. I think on LinkedIn there's a setting where folks can say whether they're open to coffee chats or open to informational interviews.
Sam Scott: She also gave advice regarding the job search for undergraduate students nearing graduation or those who have recently graduated.
AS: Never underestimate yourself either. Because I think something that I have always told myself is, "Oh, I can't apply for that job, I don't have this specific skill set with the job description." You never know. Even if it's a job that doesn't align with what your background is, if you can, somehow in your cover letter, or even just in your interview after you've initially applied, if you can tie what you've acquired from your program to what the company's objectives are, in some way.
FH: Finally, it is worth noting that searching for a job or pursuing more school after completing one's undergrad does not come without its fair share of rejection, which Angelie sheds light on how to cope with.
AP: I think that regardless of how many setbacks you might have, if you don't get the job that you thought you wanted, if you don't get into the school you thought you wanted to go to, it really doesn't matter. Like there are people in so many different fields who have such unique ways of getting into those fields. And I really do think that if you want something and you keep working on it, at some point it will happen.
Sam Scott: Ultimately, being employed as a TA as a graduate student at UCLA is only one stage in the lives of our four interviewees. Completing their graduate degree is simply a stepping stone which will help them pursue their long-term career goals.
FH: Angelie and Supraja both intend to apply for medical school after obtaining their masters of public health. Supraja wants to build a medical clinic for the unhoused as a physician, and Angelie plans on becoming an infectious disease doctor working directly with patients.
Sam Scott: And while Asha initially wanted to pursue physician's assistant school, her experience in the public health department has motivated her to pursue a data analytics career in the county epidemiology department or dive into health care consulting.
FH: Finally, Kris shared his post-Ph.D. program aspirations of eventually becoming a professor, where he can continue practicing his love for teaching.
Sam Scott: Regardless of one's academic and career aspirations, it appears from our interviews that becoming a TA offers one the opportunity to obtain both academic and personal fulfillment as one continues to navigate different walks of life. For current undergrads listening to the episode, if you want to learn more about the grad student experience, don't be afraid to ask a TA in one of your own classes. They're always open to talk and eager to help.
FH: Bruin 101 is brought to you by the Daily Bruin, UCLA's student newspaper. You can listen to the show and others by the Daily Bruin on Spotify, Apple Podcasts and SoundCloud, and a transcript for the show is available at dailybruin.com. Thank you everyone, and see you next time.