The Quad: Bruins discuss navigating FOMO amid rise of social media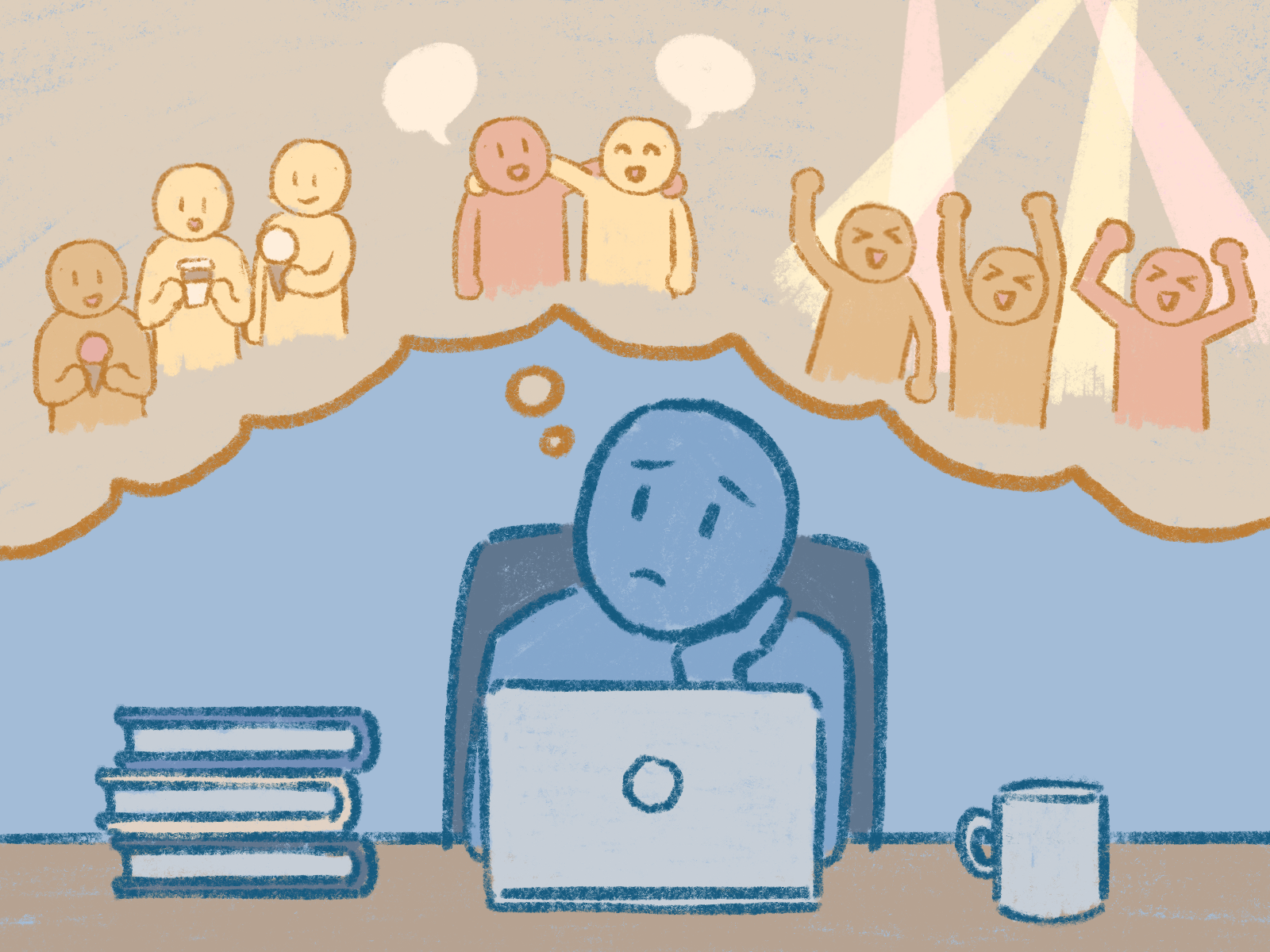 (Isabella Lee/Daily Bruin)
Many of us have likely felt the discomfort that something better was happening in places where we were not present. Maybe we chose to stay in on a Friday night but can't stop thinking about the party our friends are at. Or maybe we decided to study biology, but can't help but wonder if any other majors could have been more fulfilling.
The fear of missing out, or FOMO, is a feeling of apprehension that others might be having rewarding experiences where one is absent, according to a recent study by Science Direct.
Fourth-year psychology and sociology student Maxfield Gormley said in his experience, FOMO occurs because of his human need to be social.
"Talking about Maslow's hierarchy of needs, people have general needs – they need to eat and they need to sleep – but then they also have social needs," Gormley said. "Part of that social motivation is being with other people, but it's also feeling a sense of change to … congruency between yourself and the world."
According to Forbes, Harvard Business School alumnus Patrick McGinnis coined the term FOMO in 2003. According to McGinnis, the phenomenon has become even more prevalent in the last decade with the incorporation of technology into our daily lives.
Communication professor PJ Lamberson said that since we are connected to so many people on social media in particular, there are more opportunities to discover what people are doing.
"Without social media, you can have a face-to-face conversation with someone and they can say, 'Oh, I went to the beach over the weekend,'" Lamberson said. "But with social media, whether it's Instagram, Facebook, Twitter, whatever it is, you can go on there and in a matter of seconds, you can scroll through the posts of hundreds of people."
Lamberson added that we often follow people on social media who post more exciting content, but these posts are not always indicative of what is happening in their real lives.
"It's not like you're just getting a random slice of these 400 people's lives – you're getting only the posts of their life that are already more likely to make you feel like you're missing out," Lamberson said.
Experiences of FOMO may be challenging for students trying to balance their school and social lives.
Fourth-year cognitive science student Sajaa Ahmad said it can be difficult to find a middle ground between the extremes of constant stress and fun.
However, Ahmad added that she has learned to prioritize different things depending on the situation, and she said it is helpful to weigh their pros and cons.
"I just learned to prioritize the most valued parts of my grade instead of stressing every little thing, and then also just trying to have fun, too," Ahmad said.
FOMO may cause social comparisons among students and pressure to improve academic performance. So, higher levels of FOMO are correlated with academic misconduct and greater use of social media in class, according to a study by Plos One.
Therefore, Lamberson said it may be helpful for Bruins to be mindful of the negative effects of FOMO.
Gormley said because of his psychology education, he is able to recognize that he has opportunities to be social without failing to complete his work.
"If I can feel like I can get enough social things in my week, in addition to getting out all my scholastic things, it doesn't necessarily matter which opportunities I'm missing," Gormley said.
While social media can exacerbate feelings of FOMO, a study by Baylor University, showed that social media can be used to combat FOMO if individuals use it intentionally to create social interaction.
Lamberson said replacing passive scrolling with authentic in-person or online interactions can be beneficial to Bruins trying to cope with FOMO.
He added that social media can benefit people who may struggle with social anxiety or to find friends with the same interests in real life.
"It's not that social media gets off as bad if you are using it in a more interactive and communicative and authentic way as opposed to just scrolling and seeing what everybody else is doing," Lamberson said.
Ahmad said it is also important to recognize that there will always be more social events and experiences in the future. Thus, Bruins can try to remain present in the moment.
"I can't imagine someone never getting FOMO, but (you) probably can work on it by just being more grateful of the experiences you do have and also prioritizing knowing that most things aren't once-in-a-lifetime opportunities," Ahmad said.