Improper e-scooter usage prompts increase in tickets, fines for students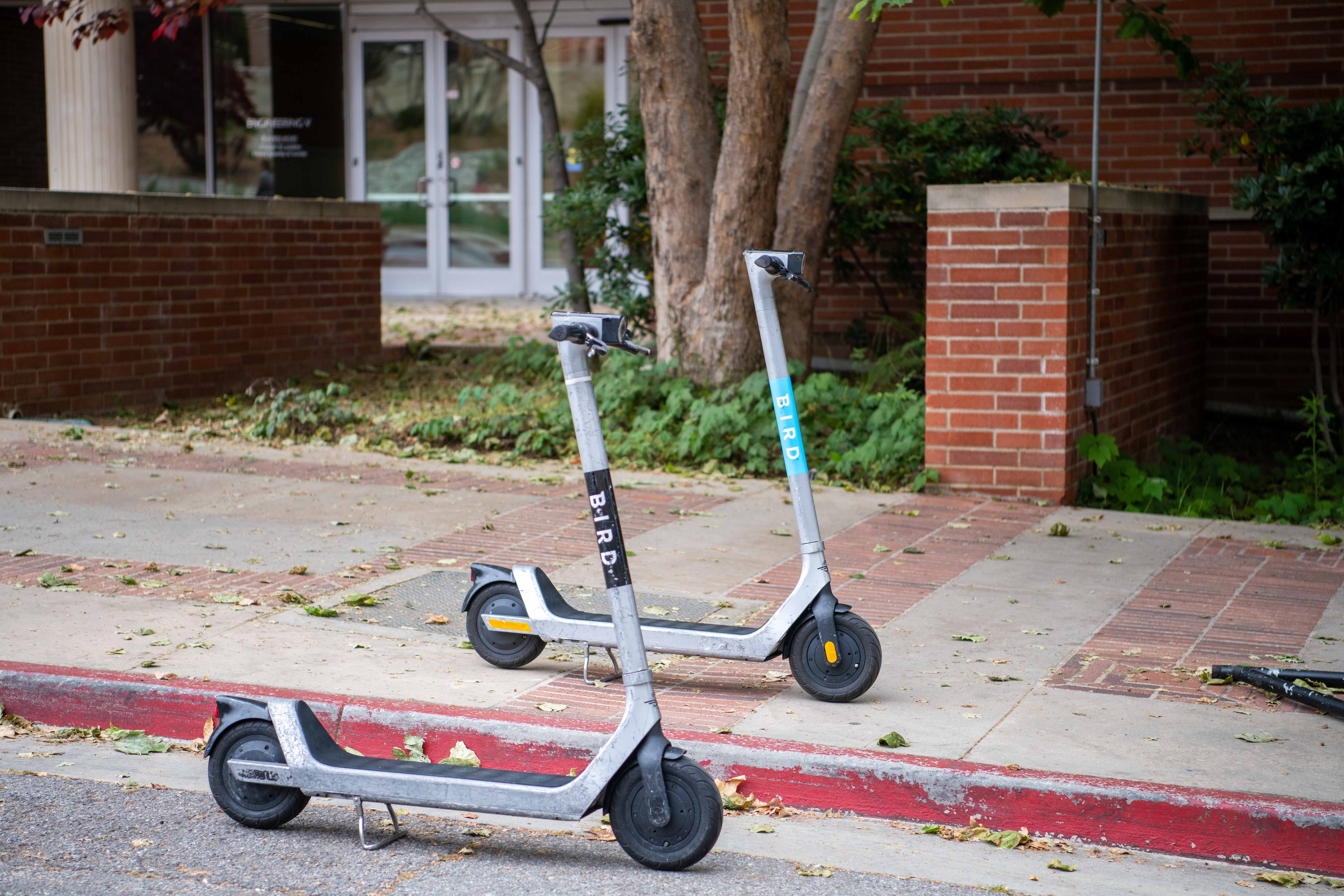 Two Bird electric scooters are pictured. UCPD has been ticketing electric scooter riders for violating safety rules and traffic laws. (Amelie Ionescu/Daily Bruin senior staff)
Students expressed concern over recent fluctuating spikes in the number of tickets handed out for improper electric scooter usage on campus.
UCLA signed a contract in 2019 with Bird Rides Inc., a company that allows riders to rent electric scooters through a mobile app. The contract requires that Bird provide electric scooters for students to commute to classes, according to UCLA Transportation's website.
Penalties vary for breaking the rules for electric scooters, UCPD Officer James Echols said in an emailed statement. Echols added that, in general, people who violate electric scooter laws receive a fine proportional to the level of the violation and have the potential to receive a point from the Department of Motor Vehicles on their record, which can affect their driving privileges.
Over 300,000 campus trips were made on Bird and other motorized scooters in 2022, according to the UCLA State of the Commute Report. The report said that there has also been an increase in private ownership of electric scooters among students.
Emily Haddad, a first-year anthropology student, said the affordability and travel-time efficiency of electric scooters is why they are often used among students, but added that she recognizes the dangers associated with improper riding as well.
With the popularity of electric scooters on campus, there has also been a rise in ticketing for traffic and safety violations.
The UCLA Transportation website outlines several rules regarding electric scooters, some of which include mandating possession of a valid driver's license, avoiding riding alongside other motorized vehicles and parking without blocking pedestrian sidewalks. The regulations, in line with California Vehicle Code Section 21235, also prohibit users from using pedestrian walkways, riding with multiple passengers and riding without a helmet as a minor.
Haddad said she and a friend received a ticket along with a $200 fine from the Santa Monica Police Department for riding an electric scooter together at the same time. She said because the rule about multiple riders was not posted on the Bird app, she was not aware that she was breaking a rule.
"We look at the rules that are printed on the scooter and it doesn't say that anywhere, … so we open the app and it doesn't say it anywhere on the app either, which is frustrating," she said.
Echols said in the statement that the rate of scooter-related citations has fluctuated recently, with sudden spikes in the number of traffic violations. He added that although an exact reason for these patterns is unknown, a rise in scooter tickets could be the result of new riders being unfamiliar with laws regarding riding.
A spokesperson from UCLA Transportation said in an emailed statement that riders should adhere to California Vehicle Code Section 21221, which requires that electric scooters follow the same traffic laws as motor vehicles. Haddad said she also noticed that a lot of riders are not abiding by the rules of the road.
"I know you have to behave like a car, which I see a lot of people not doing," she said. "People, I feel like, are always running stop signs and (doing) stuff which you're not supposed to do."
In October, UCPD incentivized legal compliance by rewarding riders who dismounted their electric scooters in the posted dismount zones on campus with a free meal voucher.
Dismount zones on campus include spaces on Bruin Walk and the walkway between the Student Activities Center and Ackerman Student Union. Riders who fail to dismount their scooters within these marked areas can be subject to citation fines starting at $202, according to UCLA Transportation.
Users of Bird scooters at UCLA can also receive a $0.25 discount on their ride if they park their electric scooters in designated parking spots on campus, according to UCLA Transportation's website.
Haddad said she understands that tickets are handed out in order to encourage safer, law-abiding behavior, and she will not be riding a scooter with multiple passengers in the future.
But Haddad added that she felt warnings would suffice in place of citations because they add excessive expenses for students.
"I feel like warnings do play some kind of role in it," she said. "Especially when it's college students, they don't have a lot of money."
Echols said in the statement that UCPD's main priority is a safe campus and not ticketing students.
He added that students are encouraged to adhere to the rules on UCLA Transportation's website and the California Vehicle Codes regarding electric scooters if they want to avoid being ticketed.
Haddad said the high number of scooter-related tickets given out needs to be addressed, and rules need to be more direct and available for riders.
"I think it really needs to be evaluated," she said. "The rules need to be made clear for everyone."