UCLA track and field trusts training will shine through at NCAA championships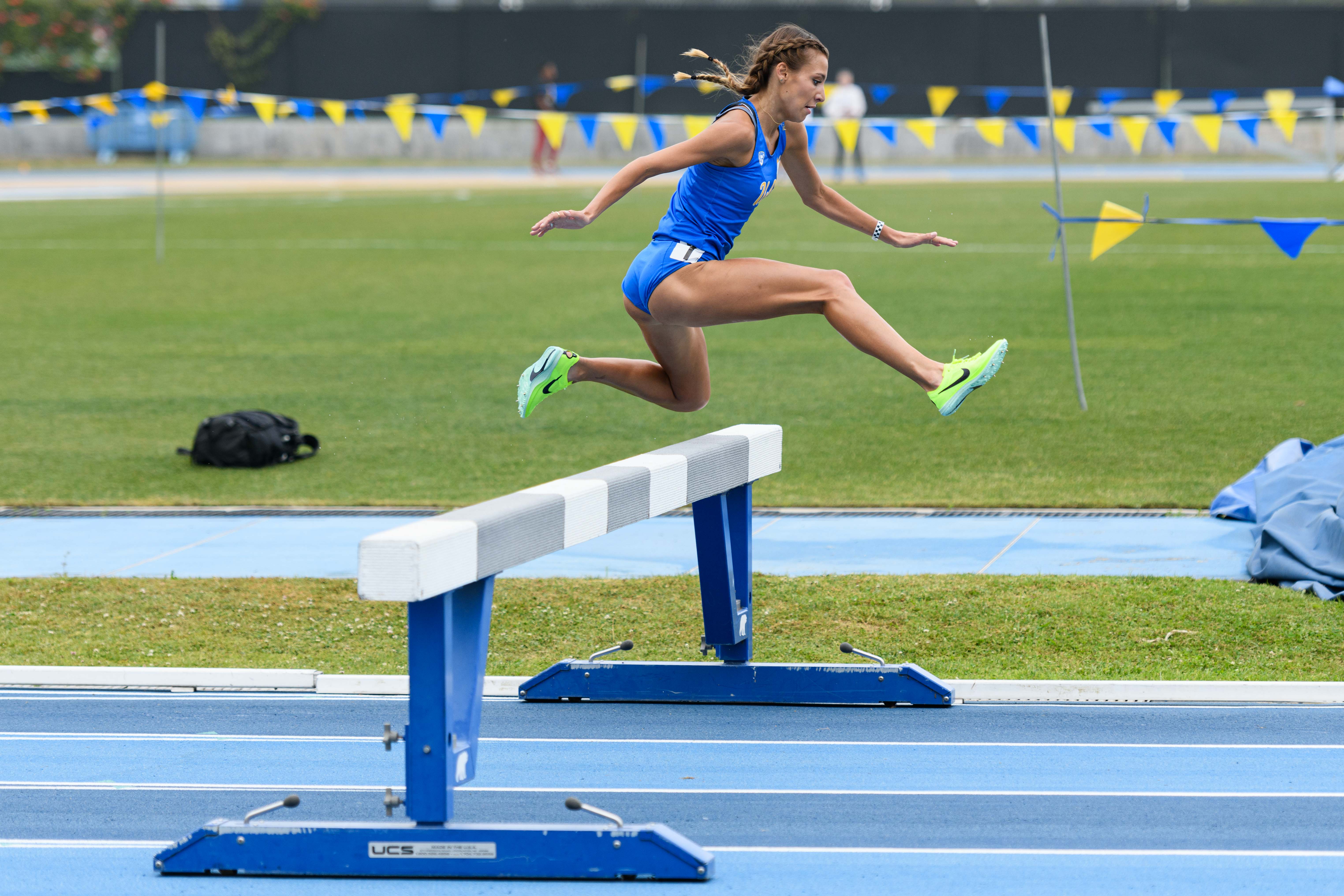 Senior distance runner Emma Tavella hurdles in competition. Tavella qualified at the NCAA Championships in the 3000-meter steeplechase. (Ilan Berdy/Daily Bruin)
In the ultimate test of the season, the Bruins will be suiting up for the 2023 NCAA Outdoor Track and Field Championships this week in Austin, Texas.
Redshirt senior jumper Jalyn Jackson summed up his sentiments in one sentence.
"You've got to go out as hard as you can and leave it all out there," Jackson said.
At the West Preliminary Rounds last week, UCLA track and field earned entries for 17 athletes to compete on the national stage starting Wednesday.
The NCAA championships are known for having high-caliber participants, but competition does not deter the Bruins.
"It's exciting to compete at such an iconic place," said senior distance runner Emma Tavella. "It motivates me to experience it and knowing I deserve to be there."
Tavella is among eight other female athletes who made the cut. She marked a personal best by 15 seconds in the 3000-meter steeplechase to qualify for the race. Tavella had already occupied the top slot on UCLA's list of the top 10 times in the race, but with her time of 9:52.68 from Saturday's quarterfinals, she became the first Bruin to break the 10-minute barrier.
Sophomore distance runner Mia Barnett improved on her time in the women's 1500m quarterfinals to follow up her first-round result. The sophomore automatically qualified for her event after setting a personal best in her second straight race on Saturday with a time of 4:08.44.
The women's 4x400m relay team also qualified with a time of 3:32.09 in the quarterfinals of the event. The squad consisting of sophomore sprinters Aly Conyers and Makenzy Pierre-Webster, junior sprinter Kate Jendrezak and freshman sprinter Naomi Johnson will be representing the Bruins in Texas later this week.
Sophomore discus thrower Lyvante Su'emai, who also qualified last year, placed a higher mark than she did in her freshman year with a discus throw that put her in eighth. During last year's prelims, she placed 14th overall with a mark of 54.14 meters.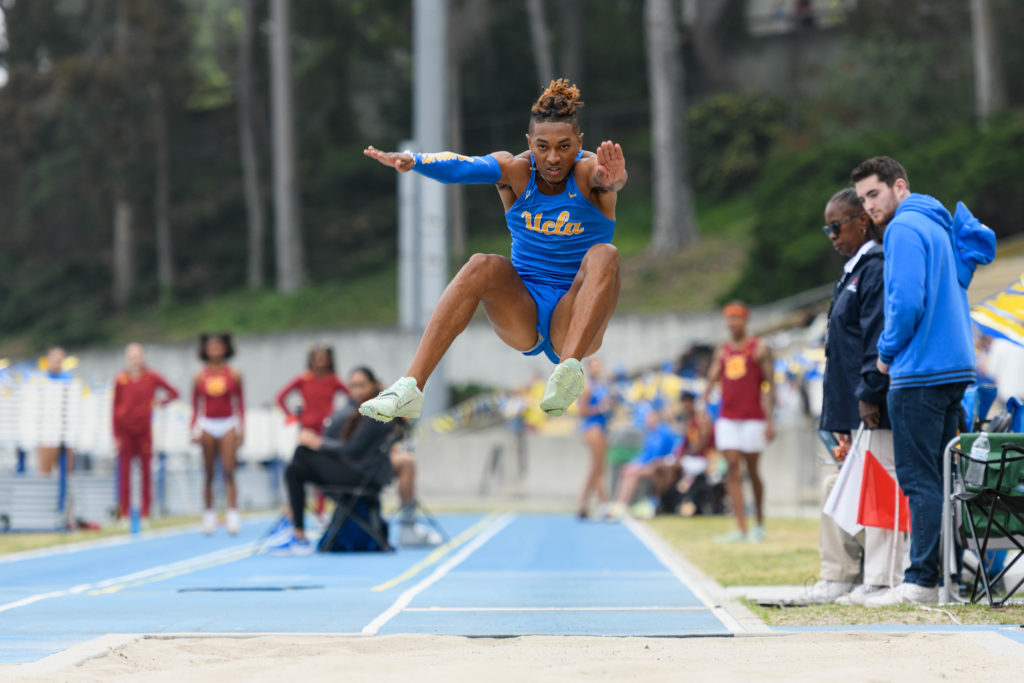 After two heats at the West Prelims men's triple jump, Jackson held the top rank with a leap of 15.68 meters. The jumper earned a trip to Texas when his leap placed him in the top 12 at the event's conclusion. Jackson, who was nursing a minor injury, praised his preparation.
"I'm trusting my training and everything we have done before that meet and making sure we get to the meet healthy and to be where I needed to be," Jackson said.
Also on the men's side, senior sprinter Myles Misener-Daley qualified for more than one event, representing UCLA in the men's 400m race, 4x100m relay team and 4x400m relay team.
The Bruins placed 41st overall the last time they were at the NCAA championships, but with promising marks thus far, they hope for a great end to their season.
Despite the pressure of the national competition, Tavella and Jackson both said they were focused on one thing.
"All I can control is to do my best," Tavella said.