From unknown to national champion: Chronicling Fangran Tian's meteoric rise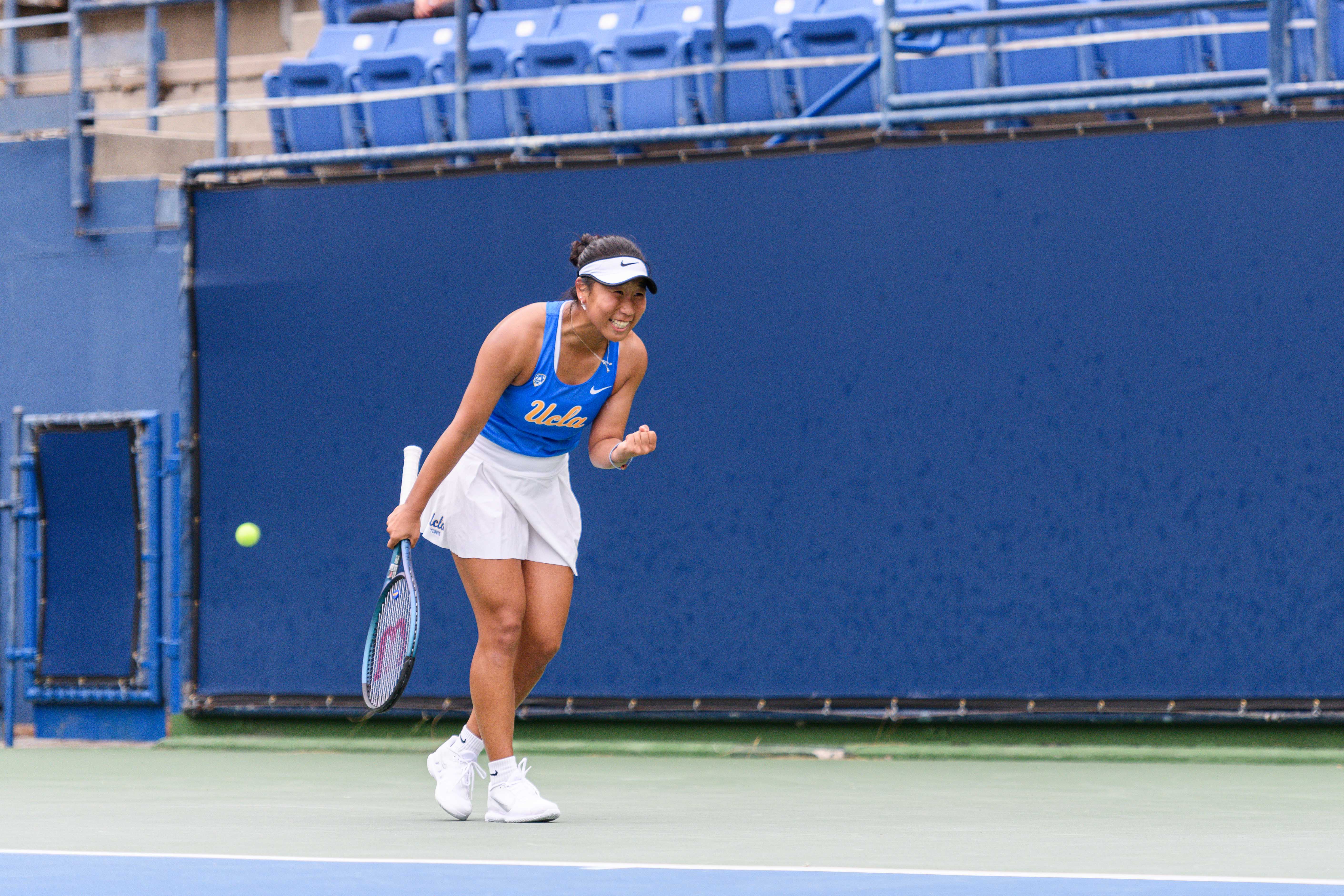 Fangran Tian pumps her fist after winning a point. The freshman for UCLA women's tennis became the first Bruin to claim the NCAA women's singles title in nearly three decades. (Nicolas Greamo/Daily Bruin senior staff)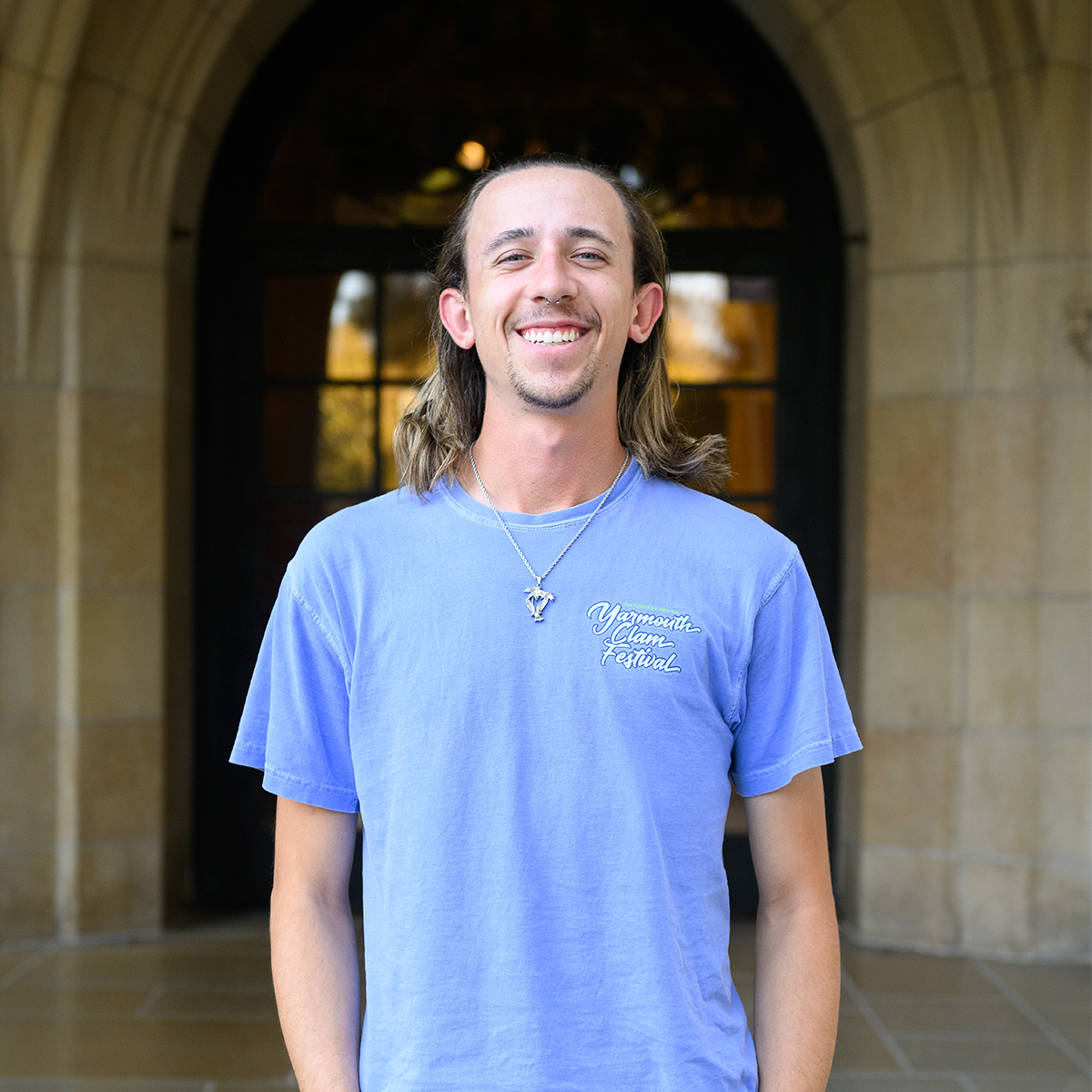 This post was updated June 4 at 10:20 p.m.
Freshman Fangran Tian of UCLA women's tennis claimed the NCAA singles title at the USTA National Campus in Orlando, Florida, on Saturday, becoming only the second Bruin ever to lift the trophy. Take one final look back with Daily Bruin Sports' 2023 women's tennis beat on the story of Tian's historic first season in Westwood.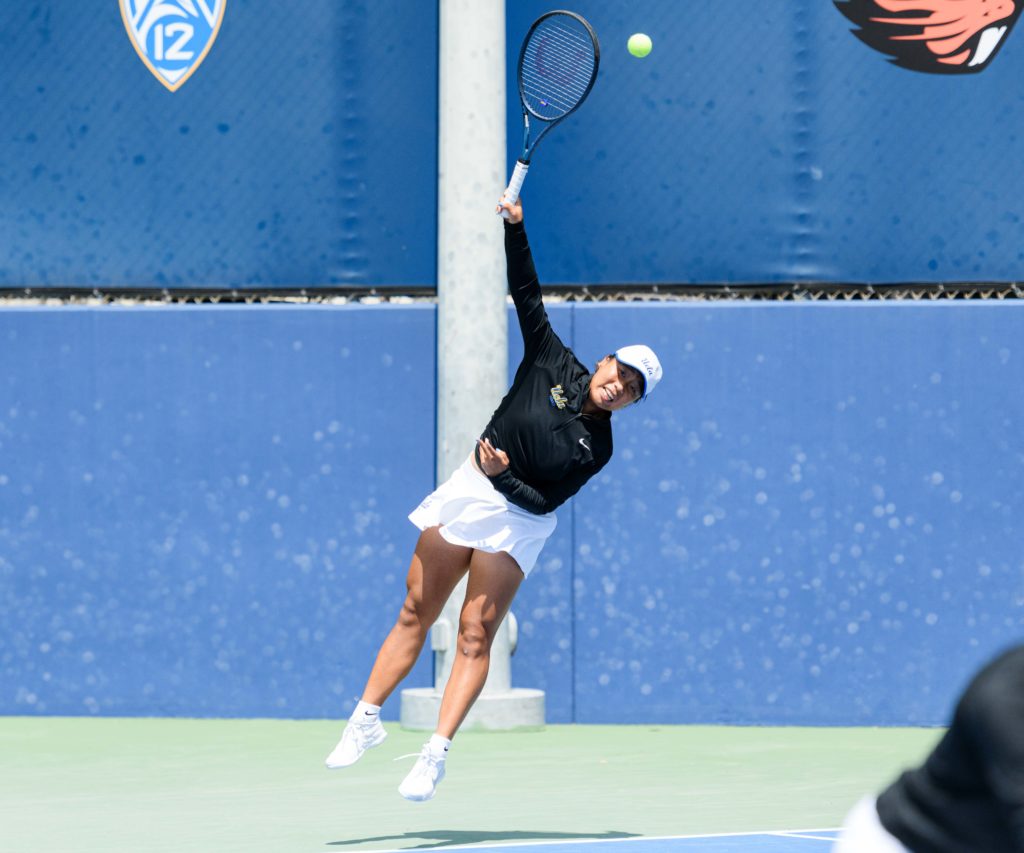 A Scintillating Start
Elise Oliver
Daily Bruin contributor
Undaunted by frequently-ranked opponents, Tian embraced the challenge of starting in the No. 1 spot.
Noteworthy on its own, the feat is even more impressive considering it was accomplished during her freshman season.
And this gamble paid off. Tian's early matches not only showcased her talent but also provided her with a foundation for future success.
Her first experience of dual-match play in her team's nonconference match against Loyola Marymount was solid, where she delivered a bagel in her first set and secured a 7-6 (7-3) victory in the second.
Though the team's 7-0 win did not translate into a winning streak because of subsequent losses at ITA Kickoff Weekend, Tian remained a constant throughout the team's early struggles. In a narrow defeat against then-No. 24 Iowa State, Tian swiftly defeated then-No. 57 Thasaporn Naklo with a 6-1, 6-2 score.
While her match went unfinished in the team's consolation loss against Florida International, Tian had a promising start, winning the first set 7-5 and holding the lead in the second set at the time of stoppage. And in the match against Rice, just before the Bruins' Pac-12 opener, she maintained her impressive streak, securing another 6-2, 6-1 win.
Tian's dominance endured throughout the team's fluctuating start to the regular season. With an undefeated singles record in season play, she gained valuable experience from early matches, including her encounter against Naklo – a matchup that would prove consequential for the Bruins on the national stage.
From the beginning, Tian's performance was exceptional, and she continued to improve with every match. She had zero collegiate experience when she started in the No. 1 spot, but quickly proved herself deserving of the position.
And in the months that followed, she would leave no doubt that she's a force to be reckoned with.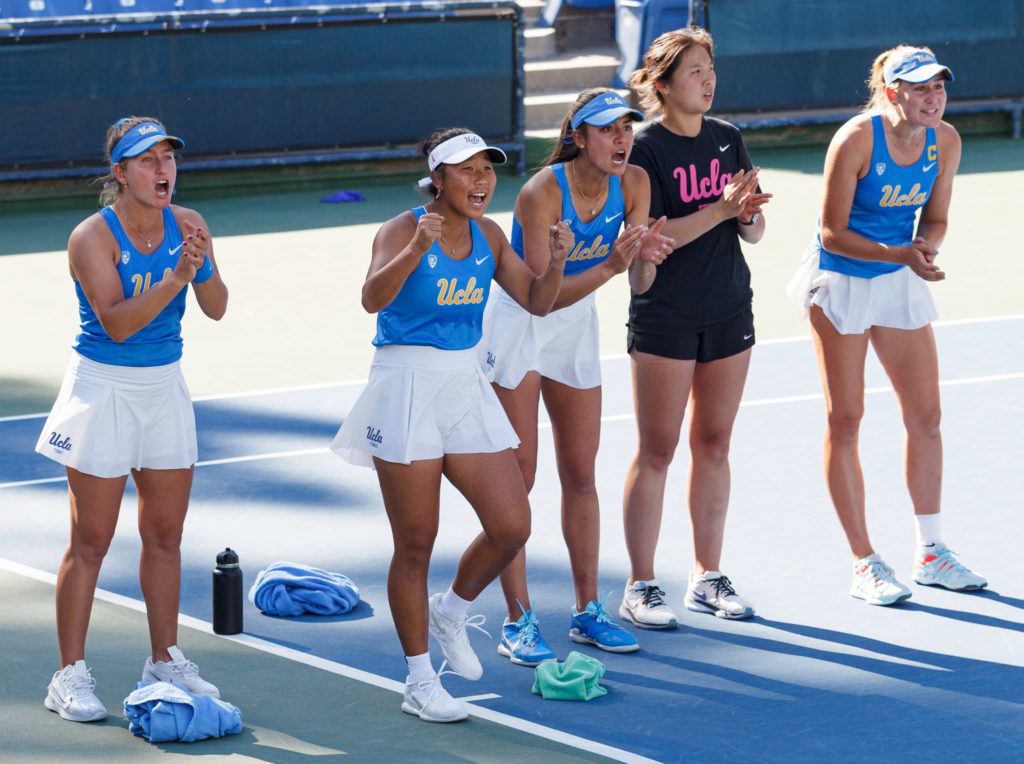 Brilliance against the Buckeyes
Natalie Glawe
Daily Bruin contributor
Despite being outdone in doubles by Ohio State's Irina Cantos Siemers, Tian secured a crucial win against her in singles play.
And moments later, that very fact put senior Sasha Vagramov in position to clinch what – at the time – was the Bruins' biggest triumph in over two years.
Both Tian's confidence and resilience were evident in the matchup from the get-go. Despite facing a tough opponent in then-No. 20 Cantos Siemers, Tian fought tenaciously and secured the crucial victory.
After initially dominating the first set of singles play with a 4-0 lead, Tian fended off a comeback from Cantos Siemers, narrowly winning the set 6-4. Cantos Siemers took the second set 6-3, but Tian drew on her grit, ultimately claiming the final frame 6-1.
Her victory leveled the match at three points apiece, setting the stage for Vagramov to put it away for the Bruins. Tian's hunger for victory propelled her to push beyond expectations and secure the win.
She showcased grit and masterful play despite her inexperience – a key effort toward UCLA's outcome.
Tian's contributions highlighted her evident impact as a Bruin newcomer and her ability to surmount challenging play. Her knack for defeating top-ranked opponents, including her previous victories over USC freshman Maddy Sieg, showcases her capacity to compete at a high level with mental toughness.
And as she stormed the court that Sunday, onlooking fans likely shared a feeling that Tian is poised to make quite the impact in the years to come.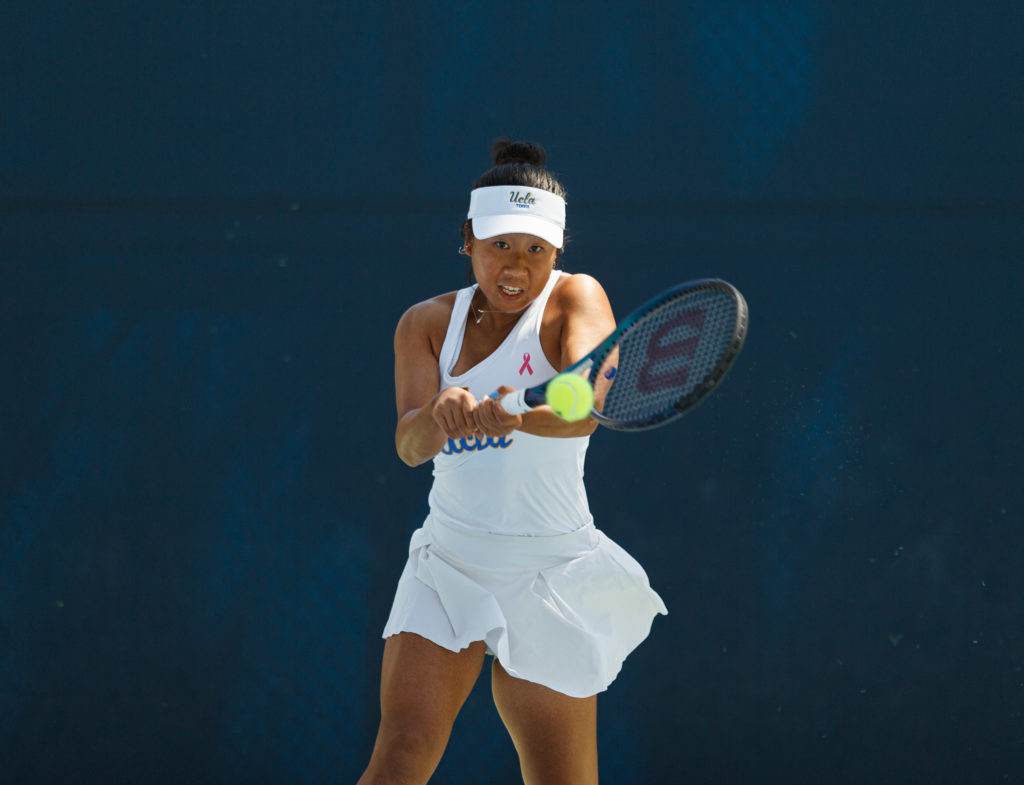 'SC Surrender
Pooja Kantemneni
Daily Bruin contributor
Rivalries don't faze Tian.
She faced Sieg in singles on three occasions this year and defeated her every time – dominating her at home, away and at a neutral site. Despite being the underdog in all their face-offs, Tian forced straight-set surrenders every time.
The Trojan thwarting began March 16 at USC, when then-No. 63 Tian won via retirement against then-No. 4 Sieg, who left the match early because of injury. However, Tian was well on her way to victory before the injury, having won the first set 6-3 and leading the second 1-0.
To prove the top-10 triumph wasn't an injury-perpetrated fluke, Tian conquered Sieg again in the Bruin's last match of the regular season. The then-No.17 ranked freshman dominated then-No. 8 Sieg, handing her a 6-4, 6-3 loss.
Until that point, Sieg had not officially lost a match in the regular season. But after Tian's victory, only one Los Angeles freshman took home an undefeated season.
Tian's freshman parallel might have thought she'd seen her last Bruin beatdown for the year, but with Sieg's misfortune, she would face Tian one last time.
Tian would go on to crush Sieg's tournament dreams, knocking her out in the semifinals of the NCAA individual championships and thus ending her season. Sieg ended her freshman campaign with a 32-3 overall singles record, with all three of her losses coming against her crosstown rival.
Unlike Sieg, Tian went undefeated the entire regular season and in the NCAA individual tournament, claiming her throne as the best women's collegiate tennis player in LA.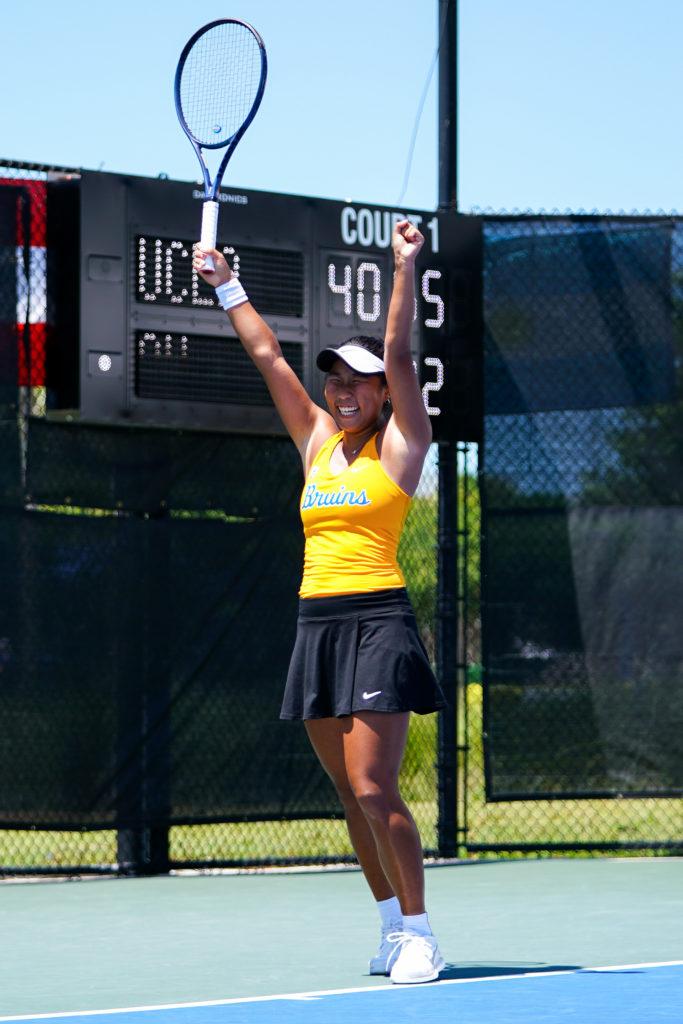 Six Days in May
Jack Nelson
Assistant Sports editor
If Tian truly wanted to etch herself into program lore, she would have to accomplish college tennis's most daunting feat – six wins in six days, all against the top players in the country.
She had already defeated seven top-100 players by the time the NCAA singles tournament rolled around, demonstrating she could dictate high-caliber matches and outlast her foe if need be.
The concern was that she may have been gassed at the close of dual-match play, dropping all of her final four singles sets of the NCAA team tournament. The weight of winning finally appeared to burden her.
But instead of allowing halted momentum to kill her title hopes, Tian made an indisputable case for why she was no ordinary player and why this was no ordinary season.
Her title trek started against the very player who, just over a week prior, dealt her the only bagel of her entire season – Iowa State's Naklo. Tian got her revenge in straight-set fashion, surpassing what coach Stella Sampras Webster and associate coach Rance Brown both called her toughest mental test of the tournament.
In the rounds of 32 and 16, Tian picked up serious steam, defeating Virginia's Natasha Subhash and Stanford's Alexandra Yepifanova without dropping a set in either.
The top eight seeds in the field were all wiped out by the quarterfinals. No. 9-16 seed Tian was left tied for the highest-remaining seed, and just like that, the feat demanded of her was no longer so daunting.
Tian ended the Cinderella run of Michigan's Kari Miller, then rolled by No. 9-16 seed Sieg, surrendering her second-lowest game total of the tournament to the Trojan who was supposed to be her toughest test.
And so Layne Sleeth of Oklahoma posed the final hurdle between Tian and the trophy. The former's defensive fortitude crumbled against the latter's consistently aggressive shotmaking, leaving Tian with the honor of sounding the ultimate victory cry.
Six days, six wins – a feat to complete one of the greatest individual seasons in program history.