Editorial: Students without legal status deserve firm action from UC on equal employment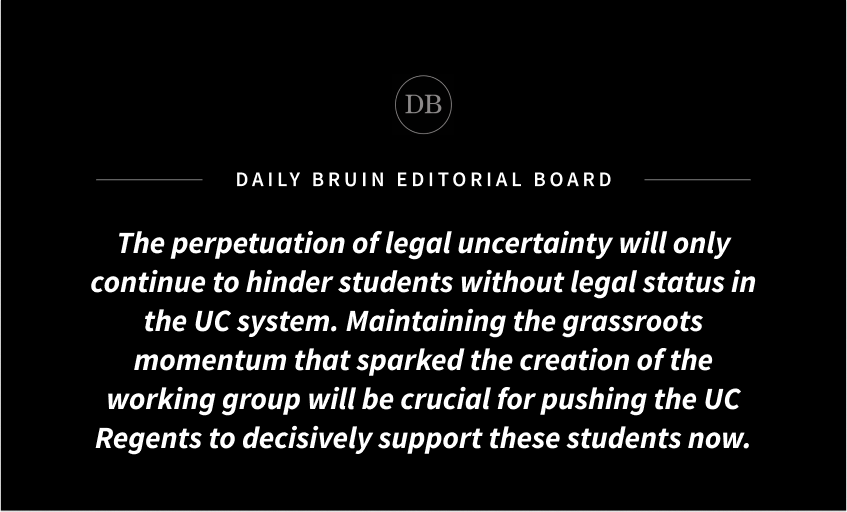 By
Daily Bruin Staff
May 31, 2023 9:18 p.m.
Fair access to employment for students without legal status within the UC system may be closer than ever before.
But the fight is not over yet. Students without legal status will have to continue waiting for a more substantive policy change from the UC Board of Regents.
On May 18, the UC Regents announced their plans to establish a working group by the end of the year that will be tasked with figuring out the legal logistics that come with granting access to employment for students without legal status.
This decision followed Opportunity for All, the UC-wide campaign calling for equal access to employment and resources for students without legal status, demonstrating outside the UC Regents meeting at the Meyer and Renee Luskin Conference Center and demanded that their voices be heard.
Although this may seem like a victory to be celebrated, it brings new uncertainty on what exactly the UC administration intends to decide in the fall.
This sense of uncertainty comes from the magnitude of legal limbo that students without legal status have and continue to grapple with regardless of their efforts to be seen and heard. The creation of a working group in response to the demands of students reflects the institution's continued efforts to postpone a solid ruling on the issue of equal access to employment for students without legal status.
The issue of employment for students without legal status at UC has been a long-standing issue that currently impacts around 4,000 students.
For many students, especially those from marginalized communities, on-campus jobs are not just a way to make extra money, but a vital part of paying for tuition. In denying these students employment, it is far more difficult for them to attend college and leads to higher student debt burdens.
This is particularly harmful for students without legal status, who cannot qualify for federal student aid or loans and must instead find other means to finance their education.
On multiple occasions, students and faculty have called upon the UC to guarantee access to employment regardless of legal status across its nine campuses.
The perpetuation of legal uncertainty will only continue to hinder students without legal status in the UC system.
Maintaining the grassroots momentum that sparked the creation of the working group will be crucial for pushing the UC Regents to decisively support these students now.
It's also puzzling that the UC administration hesitates to make a decision on implementation despite the existence of legal frameworks that support the move for equal employment opportunities for students without legal status.
Researchers from the UCLA Center for Immigration Law and Policy, for instance, have determined that the 1986 Immigration Reform and Control Act, a federal law that prohibits the employment of immigrants without legal status, does not apply to the UC system.
The Editorial Board believes that the administration must wholeheartedly commit to ensuring students without legal status have the equal right to access employment opportunities within the UC system to create a more equitable and inclusive academic environment.
Hope is not merely enough for the administration to do the right thing.
It's persistent pressure on the administration that will create change.