Smile Hotdog serves smiles, Korean street food to students on the Hill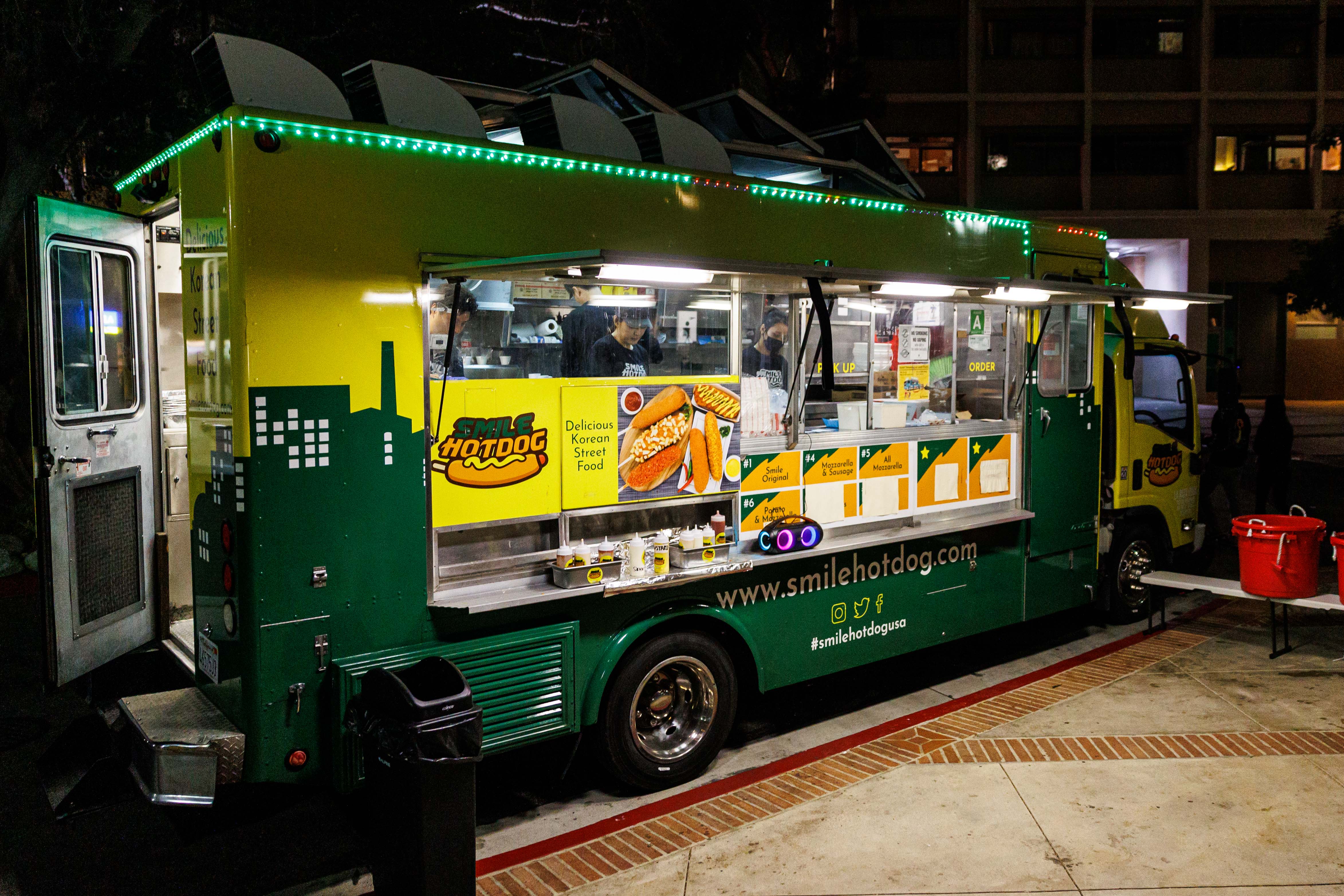 The Smile Hotdog food truck is pictured. The truck was founded by Peter Woo, who was inspired by a Korean street food recipe. (Megan Cai/Assistant Photo editor)
Over 40 years ago, Peter Woo stood eating street food on a Korean avenue. Today, he delivers those same hot dogs to UCLA students outside Sproul Court.
Smile Hotdog was founded in 2019 as a restaurant in a downtown Los Angeles shopping mall with a staff consisting largely of family members but expanded its services through a food truck. The food truck, which has operated at UCLA since October, serves Korean-style hot dogs to students living on the Hill.
Woo, Smile Hotdog's founder, said the inspiration for his business' main vision came from visits to Korea as a child. While there, he came across a local recipe for rice-battered hot dogs that he wanted to bring back to the United States.
"I had to get these corn dogs … to somebody who could actually taste it and have the same experience that I had," Woo said.
He added that he bought the recipe from a previous company and opened a restaurant in Little Tokyo Market Place in downtown LA in 2019. However, the onset of the COVID-19 pandemic made it difficult for him to import ingredients, forcing Woo and his staff to create new recipes.
"I wasn't able to bring in the rice flour, the batters from Korea," he said. "We had to develop everything from scratch here in-house, so that was a huge challenge."
Now, the yellow food truck shows up almost every week with a variety of both well-established and newly invented options, such as a hot dog made of mozzarella, sausage and potatoes.
The ingredient shortage also inspired new recipes, said Jacob Woo, a son and employee of Peter Woo. He said he developed a recipe for a Hot Cheetos dog that is now featured at the business' downtown location.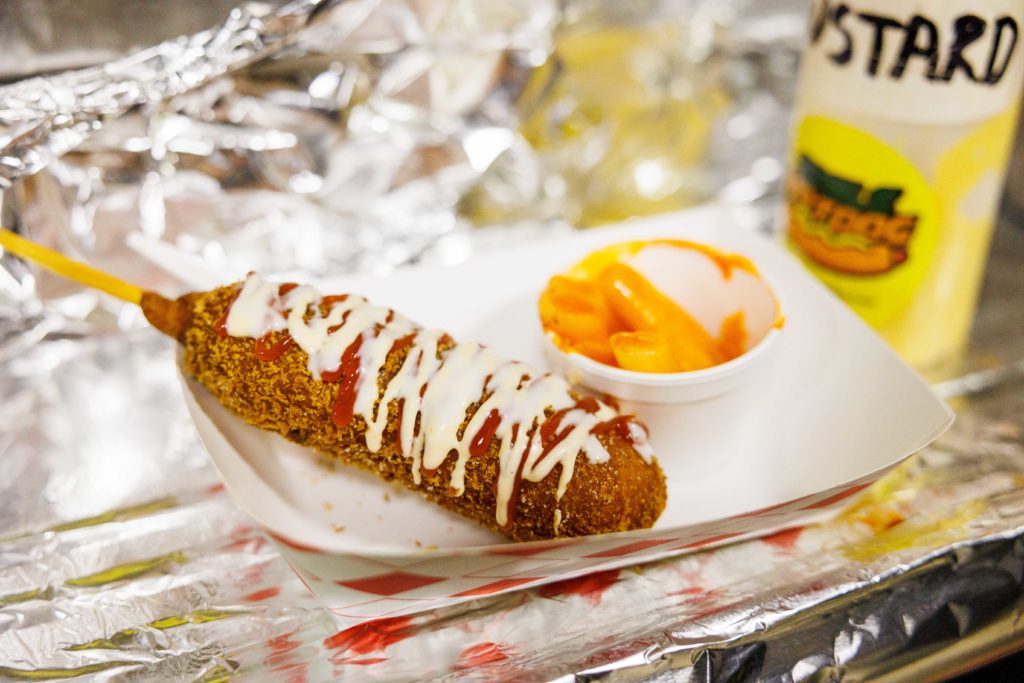 Peter Woo also said the pandemic was a significant reason why Smile Hotdog decided to open a food truck in addition to its existing restaurant. A lack of walk-in customers at the shopping mall led Woo and his staff to look for other avenues for acquiring customers.
A UCLA dining staff member invited Peter Woo's business to the university after spotting the food truck in downtown LA, he said. Since coming to UCLA, Peter Woo said one of his favorite memories has been serving food and connecting with Korean students on campus.
"It's good to see Korean students here at UCLA because we serve rice cake … and a lot of the Korean students know it from their childhood," he said.
Chris Chae, a third-year psychobiology student hailing from Korea, said the food truck reminds him of street food in Korea. Though the food truck's setting cannot perfectly match the atmosphere, he said he finds comfort in the truck's consistency.
"It's one of my more favorite food trucks," he said. "I think they've been really consistent with their food, which makes it really easy to rely on them."
Donna Zeng, a first-year civil engineering student, said she thinks food trucks like Smile Hotdog provide additional variety to on-campus cuisine, even if the portion sizes are smaller than she would prefer.
"After COVID, there's just been a huge downgrade of UCLA dining, especially with the Asian foods," she said. "There's so many other kinds of foods that I wish they offered, but they didn't – or they do and it's not done well."
Gemma Elenes, a third-year sociology student, said she enjoys getting food from Smile Hotdog after returning from stressful exams or classes. She added that while there is often a misconception that food trucks provide food of a lower quality, she feels Smile Hotdog is able to meet the standard expected of physical dining locations.
Elenes also said one of her favorite parts of the company is the friendly service they provide for their customers.
While Jacob Woo said he originally found the business' name cheesy, he found over time that serving food alongside his father has brought him joy. He added that seeing the excitement of students is one of his favorite parts of working for the company.
"It's kind of cool because over time I got to develop friendships with students who are coming on a more regular basis," he said. "I was a student too – there's so much excitement when you see a new food truck or you get to try different food outside of what the school menu is offering."