UCLA Bike Week Luncheon unites bike enthusiasts to promote cycling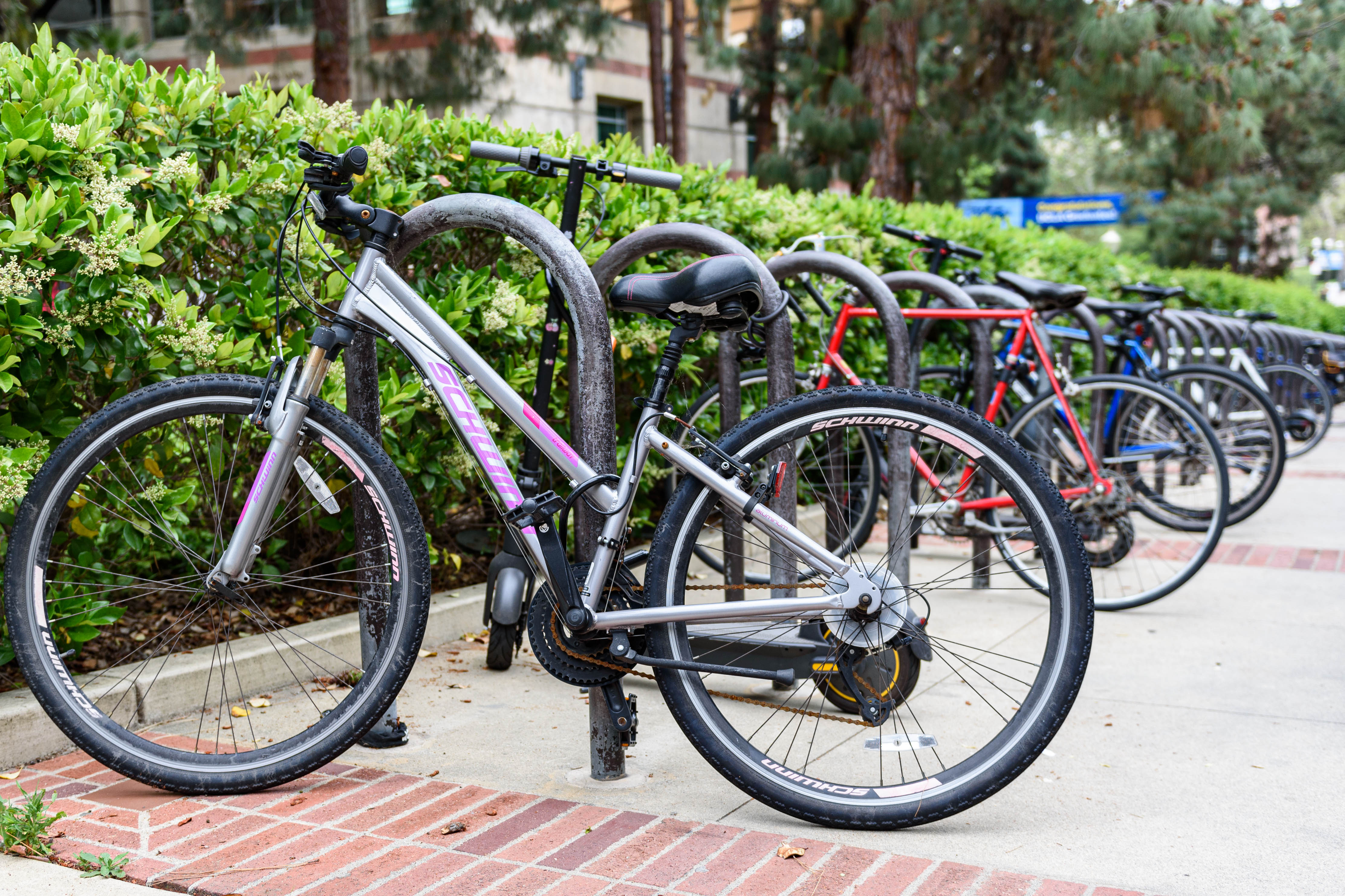 UCLA Transportation held its annual Bike Week Luncheon on May 18. Attendees gathered at Wilson Plaza for bike safety information and free repairs. (Dylan Du/Daily Bruin senior staff)
Around 200 people attended UCLA Transportation's annual Bike Week Luncheon on May 18, bringing biking enthusiasts across the UCLA community together for free bike repairs, information on bike safety and giveaways.
The event was the final celebration of UCLA Bike Week, which coincided with National Bike Month, an annual May campaign by the League of American Bicyclists that emphasizes the benefits of biking and encourages more people to give it a try, according to the league's website. During the event – held at Wilson Plaza – attendees could spin a wheel to win bike-related prizes, learn about bike safety within the community, and enjoy a free taco bar, snow cone truck and coffee cart.
UCLA Transportation also held two free bike repair service events earlier in the month and hosted two pit stops offering bike-related merchandise and complimentary refreshments to bikers.
"Our goal with Bike Week is to increase overall awareness about the bike program at UCLA," said UCLA Transportation in an emailed statement. "It … encourages Bruins to bike as a sustainable, affordable, and healthy transportation option."
Attendees also had the opportunity to fill out surveys regarding their biking experiences in Los Angeles County as a part of the LA County Public Works project to update the Bicycle Master Plan. Veronica De Santos, an LA County Public Works representative at the event, said the plan has not been updated since 2012, adding that data gathered from the surveys will be used to improve bike riding paths.
"We want to make sure they are safe and for bike riding to be equitable, safe, and for all," said De Santos, who is also an incoming transportation graduate student.
During the luncheon, Velofix, a mobile bike shop, offered free bike tune ups for attendees. Eric Smith, Velofix's head mechanic, said he hopes there is continued support for biking infrastructure and bike lanes to make biking less dangerous. He said he recommends more people try out biking in LA, regardless of their skill level.
"If more people are biking, we have more voices to advocate for accessibility and infrastructure for transportation (and) alternative means of transportations," Smith said.
Dawn Ly, a nurse at UCLA Health who attended the luncheon, said the bike tune up was her favorite part of the event. She said she bikes about six to seven miles to work in Santa Monica every day.
"I love riding," she said. "I just have so much energy before I come to work, and after work, I just enjoy the view and riding home and keeping healthy and happy."
Ly added that she has been encouraging her coworkers to bike to work with her to share her positive experience.
Shaun Howard, a fourth-year civil engineering student who was also at the event, said he has been trying to get more into biking after bringing a bike to school. He said he has enjoyed biking for recreation, including biking to local coffee shops.
As he is interested in civil engineering and transportation, events such as the luncheon are also a good opportunity for him to learn more about things going on in the community, he said. He added that they are a chance for students to advocate for better bike infrastructure at UCLA.
Adam Millard-Ball, acting director of the UCLA Institute for Transportation Studies, said adding dedicated spaces and infrastructure for bicyclists will be important in reducing safety issues and encouraging more people to bike. He added that the danger of biking on unprotected streets is the most significant barrier preventing students from biking to campus.
Millard-Ball said that although Bike Week draws attention to bicyclists, it doesn't address that streets are dangerous to bike on. He added that improving and changing biking safety will require a community effort.
"The university in itself, as an institution, has a lot of collective weight," he said. "Using that influence and weight to say, 'Hey, the status quo is not working for people. It's not working for sustainability. It's not working for people's health – and let's change some things.'"