Editorial: Corporations must support LGBTQ+ community by standing up to conservative backlash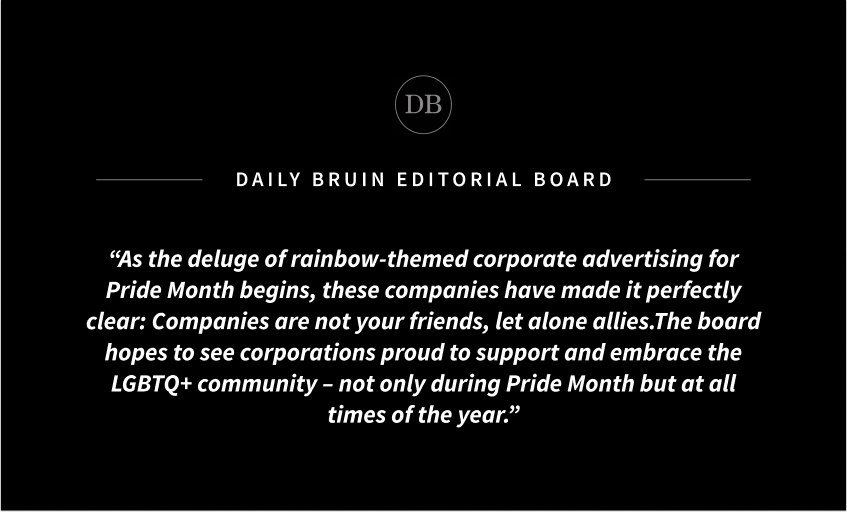 This post was updated May 29 at 8:38 p.m.
Editor's note: Editorials do not represent the Daily Bruin as a whole. The board encourages readers to respond to our editorials at dailybruin.com/submit.
In Los Angeles and across the nation, corporations often advocate for pride merely as a symbolic gesture.
On May 17, the Los Angeles Dodgers retracted an invitation to the Sisters of Perpetual Indulgence to attend their LGBTQ+ Pride Night after facing backlash from conservative Catholic organizations.
The professional baseball team decided against honoring the Sisters of Perpetual Indulgence – a nonprofit group of queer and transgender nuns that dress in drag to address issues of gender, sexuality and morality – with the Community Hero Award they were originally set to receive.
In response to mounting pressure from various pride groups – and following rival baseball team LA Angels' invitation to the Sisters of Perpetual Indulgence to attend the team's own Pride Night – the Dodgers released a statement offering an apology and extended another invitation to the Sisters of Perpetual Indulgence.
The Sisters of Perpetual Indulgence will rightfully take their place at the Dodgers Stadium on June 16's Pride Night now that the Dodgers have seemingly reaffirmed their commitment to supporting the LGBTQ+ community.
But the alarming lack of conscience in removing the Sisters of Perpetual Indulgence from the lineup of an event founded in the spirit of diversity and inclusion cannot be justified so easily.
For decades, heteronormative practices have perpetuated discrimination and prejudice experienced by members of the LGBTQ+ community – but as efforts increase to dismantle this inequality, performative corporations and industries only set the movement back.
Many are unwilling to truly stand with those who wish to celebrate pride and only do so in their own self-interest or to appear politically correct.
And when the fallout becomes too much, they do not stand by their actions.
This is not the first time in recent months that a company has tried to appear progressive with LGBTQ+ branding only to immediately back out in the face of backlash.
This week, Target announced it would be removing some of its Pride Month clothing over threats made to store employees.
"We are making adjustments to our plans, including removing items that have been at the center of the most significant confrontational behavior," a Target spokesperson said in a statement.
In April, Anheuser-Busch, owner of the Bud Light beer brand, became the subject of controversy over its handling of an advertisement campaign featuring trans influencer Dylan Mulvaney.
A single Instagram post, in which Mulvaney received a Bud Light can with her face on it and promoted a March Madness contest sponsored by the beer conglomerate, sparked intense conservative backlash.
The ridiculous spectacle of transphobes buying cases of Bud Light to destroy on the internet in a performative manner seemed like a particularly odd and ineffective way to conduct a boycott.
However, the conservative backlash also had a much darker side, with Mulvaney becoming the subject of widespread harassment and threats.
In response, the company essentially retreated with its tail between its legs, with CEO Brendan Whitworth releasing a vague statement claiming, "We never intended to be part of a discussion that divides people."
The company's unwillingness to stand publicly with Mulvaney and its subsequent decision to put two of the marketing executives in charge of the campaign on leave has sparked more backlash and boycotts from LGTBQ+ organizations.
The Human Rights Campaign, for instance, has suspended its Corporate Equality Index score for Anheuser-Busch and demanded a response within 90 days from the brewer.
In the interim, Bud Light sales have declined substantially week after week, and the company's stock price has cratered, at least in part because of boycotts initiated by both conservatives and LGBTQ+ supporters.
In all of these cases, major corporations essentially caved to threats from reactionaries and bigots, refusing to do even the bare minimum to follow through on the allegedly progressive values they claim to hold.
By giving in so quickly to coercion and threats, however, these companies show how flimsy their professed support for the LGBTQ+ community is, especially if it threatens their bottom line. More grave, however, is that acceding to these threats will not placate bigots.
It will only embolden them.
Each corporation that capitulates to the so-called anti-woke mob encourages more intolerance, more threats and, ultimately, more violence.
As the deluge of rainbow-themed corporate advertising for Pride Month begins, these companies have made it perfectly clear: Companies are not your friends, let alone allies.
The board hopes to see corporations proud to support and embrace the LGBTQ+ community – not only during Pride Month but at all times of the year.