UCLA Transportation announces upcoming increases in quarterly parking fees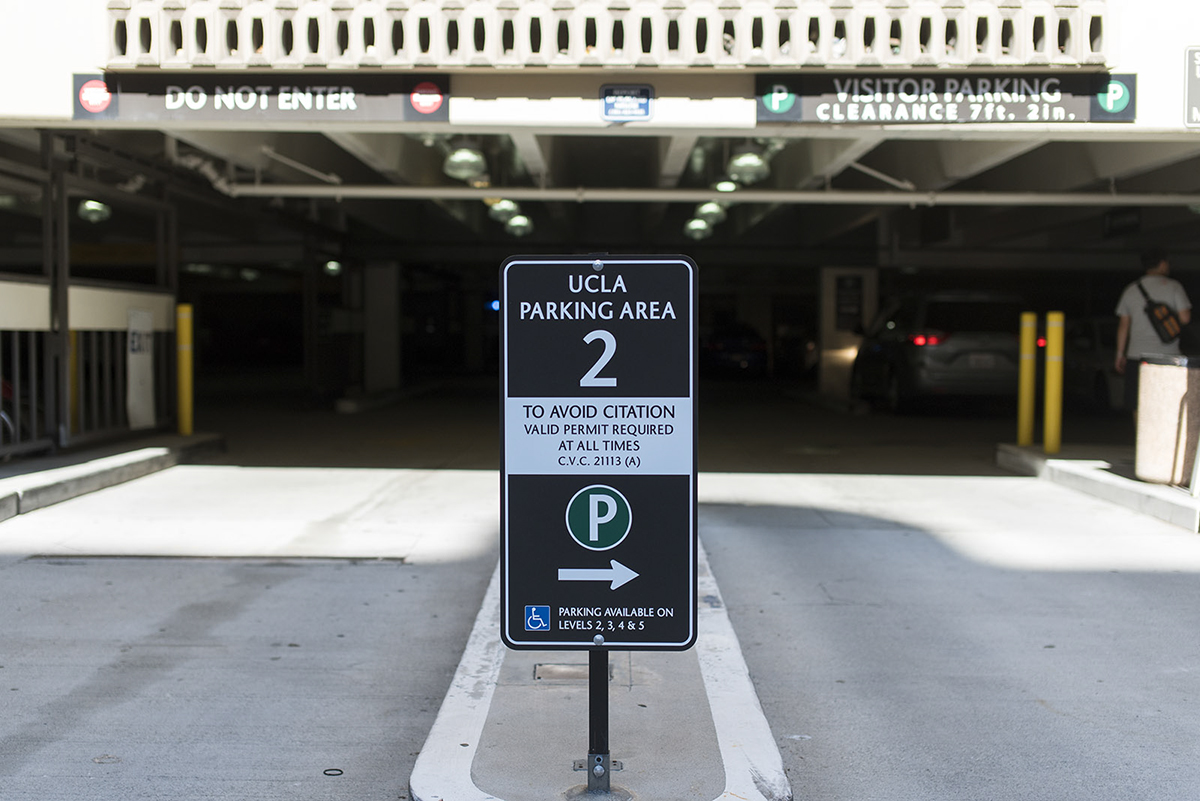 A UCLA parking sign is pictured. UCLA Transportation announced upcoming fee increases for campus parking permits. (Daily Bruin file photo)
Correction: The original version of this article incorrectly stated that the cost of parking permits will increase by 3.2% each quarter over the next two academic years. In fact, it will increase by 3.2% each year over the next two academic years.
This post was updated May 27 at 10:54 p.m.
UCLA Transportation announced an increase for quarterly parking permit fees at the Undergraduate Students Association Council meeting May 9.
The cost of parking permits will increase by 3.2% each year over the next two academic years, with the first increase slated for July, UCLA Transportation said in a written statement. The upcoming fee increases will be up to $20 for individual parking passes and $3 for four-person carpool passes, with similar changes in 2024.
In a presentation delivered to USAC, UCLA Transportation cited declining visitor parking revenues as the reason for the fee increase. The majority of UCLA Transportation revenue comes from visitor parking and quarterly parking passes, according to the presentation. The UCLA Transportation statement added that even with the upcoming fee increases, it will use millions of dollars in reserve funds to fund maintenance, parking operations and transportation subsidies.
The financial impact of a fee increase could affect commuter students' ability to park on campus, said Phoebe Chiu, the 2022-2023 USAC Facilities commissioner.
"It is definitely something that's worried me," said Chiu, a fourth-year economics and psychology student. "There isn't really a program in UCLA Transportation that is very well formulated and strategic in terms of providing subsidies for students that need this kind of parking passes."
Chiu said she is also worried the fee increase will contribute to financial hardship for lower-income UCLA staff, many of whom commute from outside the west Los Angeles area.
Brian Acevedo, a fourth-year physiological science student who has commuted to UCLA since his freshman year, said he was frustrated about the increase in parking costs.
"Part of the reason we choose to commute as commuter students is for financial reasons," Acevedo said. "The money that we're saving is becoming less and less."
He added that commuters who find it less expensive to park off campus in Westwood may feel obligated to budget extra time into their already long commutes to walk to campus.
Emma Crawford, a first-year music education student who also commutes to UCLA, said that while she will still be able to afford the quarterly fee, it will cut into her income from her tutoring job.
"I might as well not be getting paid anything because parking is way more expensive than what I'm getting paid," said Crawford. "If they make it more expensive, even just by $10 or $15, it's just not ideal."
However, Chiu also said the fee increases may encourage some commuters to consider cheaper, more sustainable transportation options.
Chiu added she hopes the recent passing of the Universal Access Transit Pass referendum will make commuting by public transport more affordable for students affected by the parking pass fee increase.
"It's very inconvenient for commuter students," Chiu said. "But environmentally speaking, it's beneficial that some trips might get swapped towards (public) transit."
[Related: Bruins oust USAC president, pass transit referendum in 2023 election]
UCLA Transportation said it intentionally mitigates the cost of carpool passes, which cost hundreds of dollars less than individual passes, to incentivize students to use environmentally friendly transportation options.
However, Acevedo said while he understands the benefits of public transportation and carpooling, they are not viable options for every commuter student.
"If you're living in west LA, … it's not that difficult to hop on public transportation and get to campus," he said. "I can't reliably get to campus from where I live in the south LA harbor area."
Acevedo added that he would prefer UCLA Transportation consider charging extra for parking at special events, such as men's and women's basketball games, to mitigate the scale of parking pass fee increases for students and staff.
Chiu said commuter students struggling to pay for transportation expenses can reach out to the USAC Financial Supports commission for resources. She added that she hopes incoming 2023-2024 USAC President Naomi Hammonds, who is a commuter student, will prioritize initiatives serving commuters.
UCLA Transportation said it has consulted the Transportation Services Advisory Board and student government about the fee increase. It added that there is a 30-day consultation period for individuals who currently hold parking passes to submit comments and feedback.
However, Acevedo said he was frustrated that students had not been more extensively consulted before the fee increase was implemented.
"You shouldn't have to pay additional fees to park at a university you're already paying to attend," he said. "These changes shouldn't be happening without the input from the students who they would be affecting."