UCLA softball 2023 player grades: Pitchers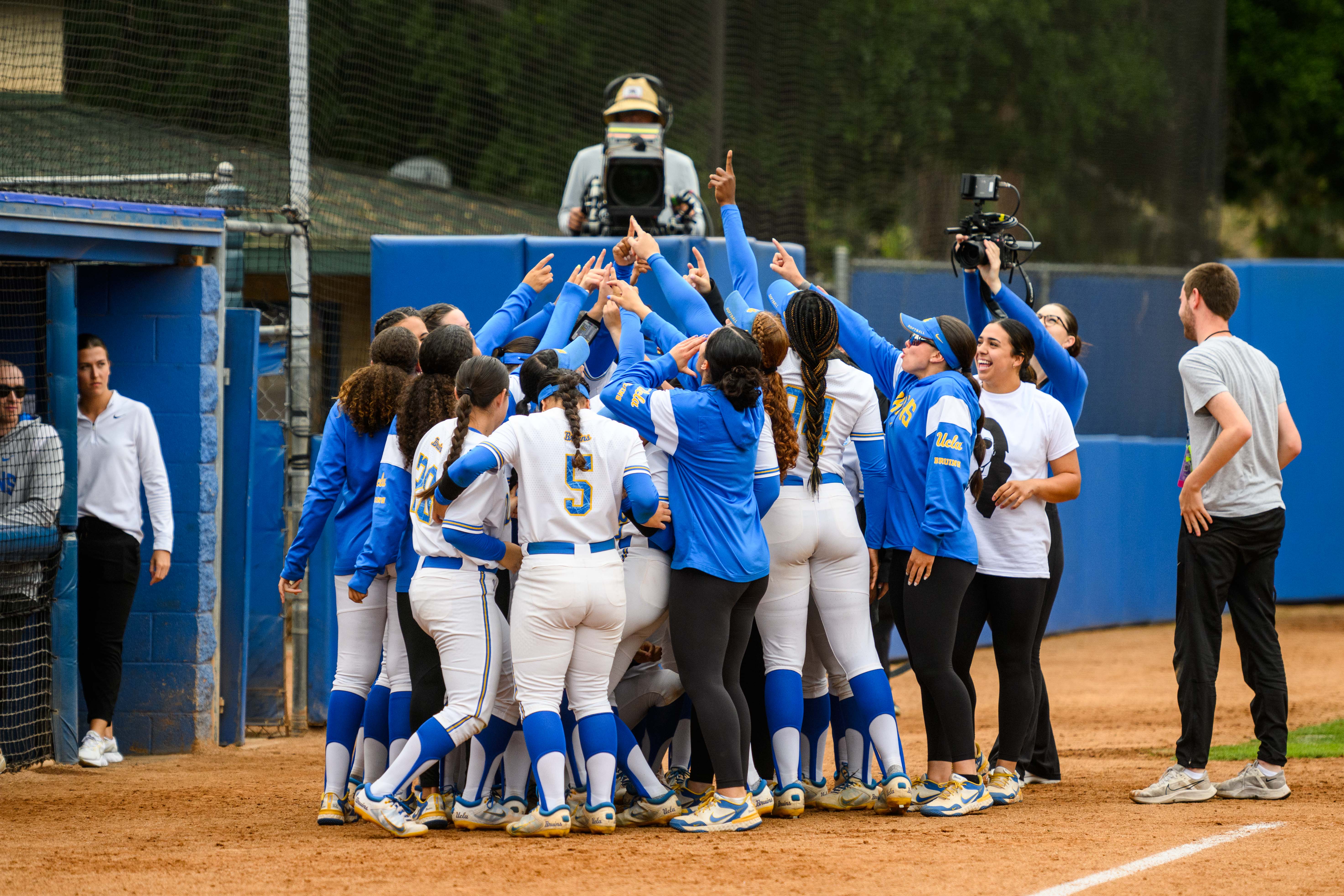 Members of UCLA softball huddle for a pregame cheer. The Bruins' pitching staff was one of the top units in the nation this season, finishing No. 9 in ERA, No. 3 in strikeout-to-walk ratio and No. 6 in shutouts. (Kaiya Pomeroy-Tso/Daily Bruin senior staff)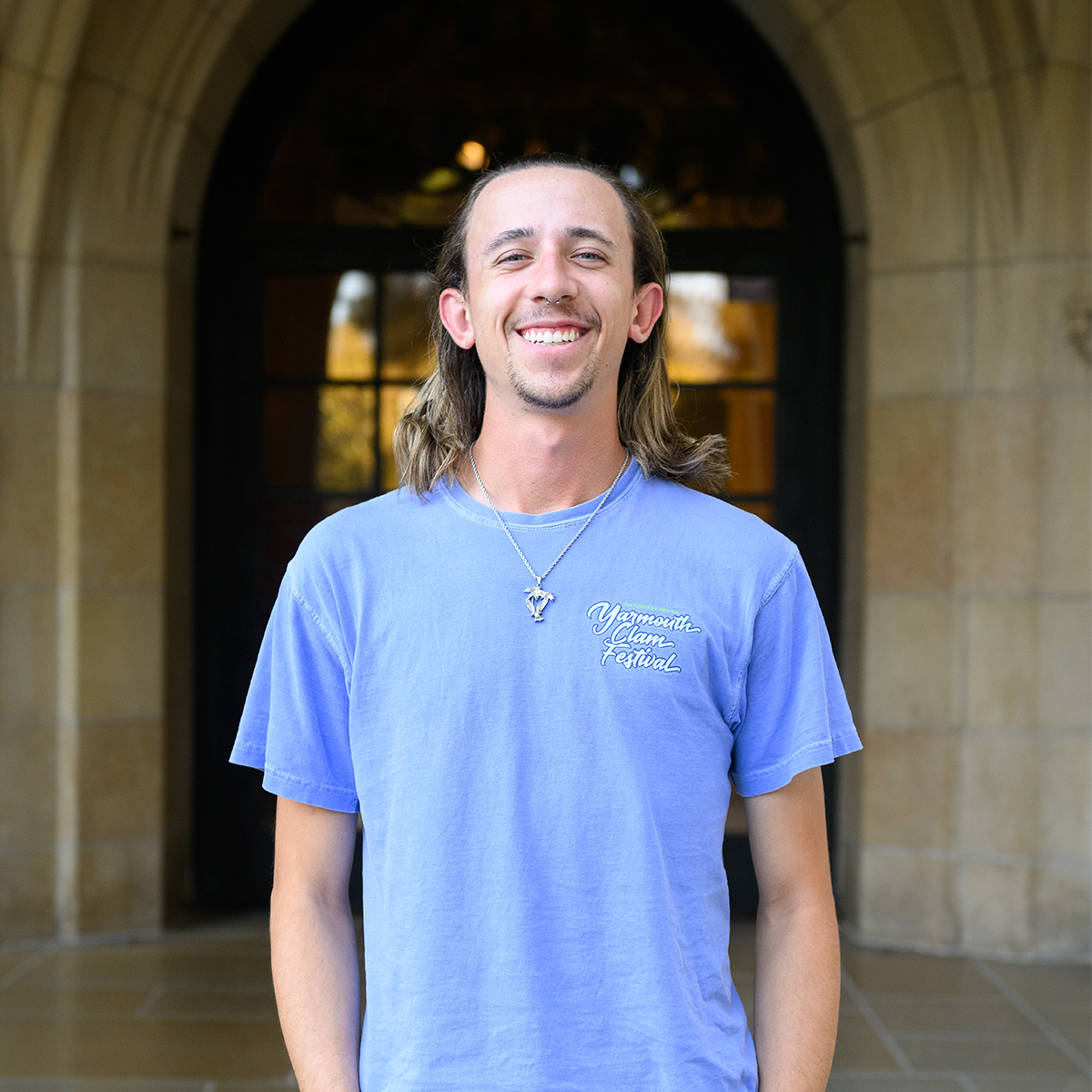 This post was updated May 25 at 10:10 p.m.
In the first of a four-part series, Daily Bruin Sports' 2023 softball beat assembles a report card for UCLA's pitchers, grading each on their performance this season. As the No. 9 unit in the country, the quartet of hurlers finished No. 2 in the Pac-12 in ERA (1.69), No. 1 in opposing batting average (.189) and No. 1 in strikeouts (416). Take a look at which pitchers aced their way through class, which of them passed and if any will be bringing a failing grade back to unhappy parents.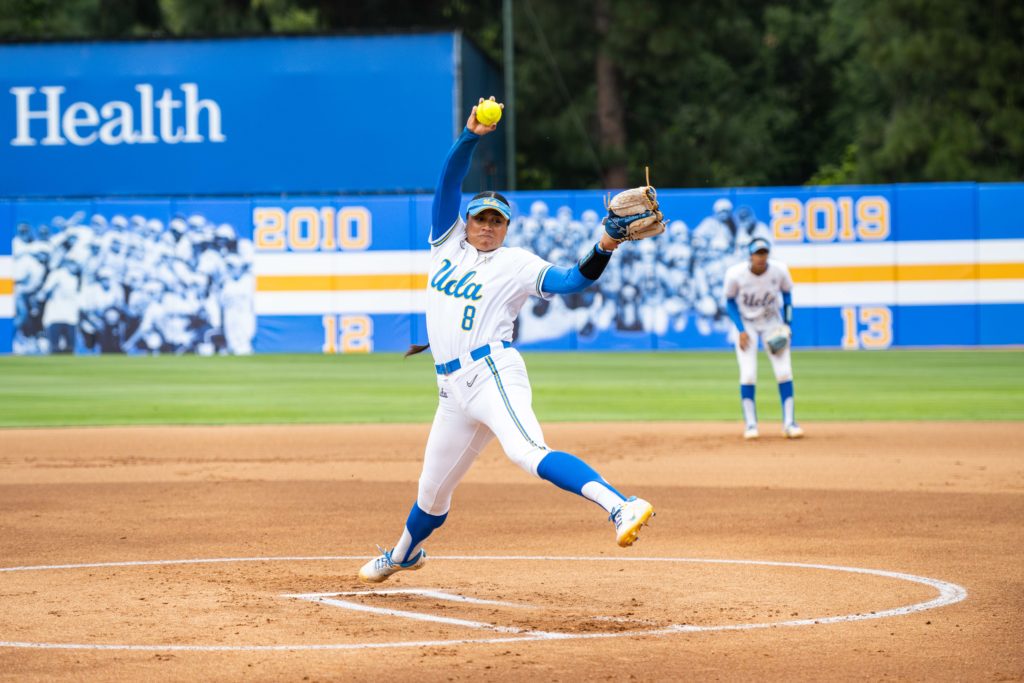 Megan Faraimo
Season stats: 1.42 ERA, .84 WHIP, 232 SO, .171 B/AVG, 29-3 W-L
Jack Nelson
Assistant Sports editor
If there's a no-brainer pick for top marks, it's the best pitcher on the best team in the conference.
And that's precisely what redshirt senior Megan Faraimo was this season.
In a dominant regular season that earned her a second consecutive Pac-12 Pitcher of the Year award, Faraimo only reasserted her standing as one of the most commanding forces in program history, closing her Bruin career at No. 3 all-time in strikeouts at UCLA.
The eventual top-10 finalist for USA Softball Collegiate Player of the Year flexed her punchout proclivity from the get go, striking out 51 batters across her first 28 innings pitched. In a highlight outing against then-No. 3 Florida, Faraimo entered cruise control, turning in a nine-strikeout no-hitter – one of two she would tally on her farewell tour.
Faraimo was at her finest when the Bruins hit the heart of their conference schedule. She strung together 35.2 consecutive scoreless innings from March 25 to April 16, lowering her ERA from 1.40 to 1.02, while her team embarked on what would become a 25-game winning streak.
And in the toughest test UCLA faced in Pac-12 play, Faraimo outdueled the opposition with a 15-strikeout, complete-game shutout of then-No. 6 Stanford.
There's only one thing stopping her from earning true valedictorian status – her postseason performance. Faraimo surrendered three or more earned runs in each of her three starts across the Pac-12 and NCAA tournaments, a first such streak for her in 2023.
Twice in that trio of contests she matched or exceeded her season high in hits allowed. Paired with a rather poorly timed drought at the plate, those shortcomings proved costly.
The Bruins' fate was perhaps least cathartic for Faraimo – their ace, their leader, their legend. Well before the first pitch of the season, there was no question whose team this was.
Faraimo left little doubt about that.
Grade: A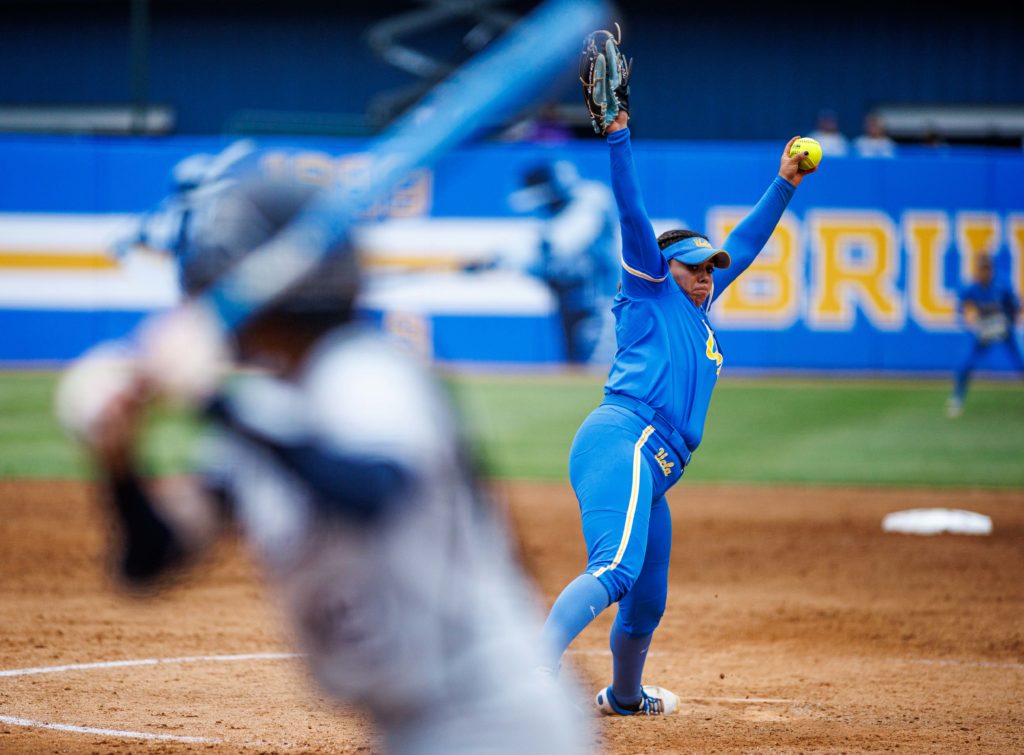 Brooke Yanez
Season stats: 1.99 ERA, .90 WHIP, 115 SO, .175 B/AVG, 16-3 W-L

Nicole Augusta
Daily Bruin contributor
After a season-ending injury in 2022, Brooke Yanez entered her sixth year at a new school with a new team and in a new role.
But the former Oregon ace stepped up despite the adjustments when it counted throughout the season, especially when Faraimo stepped out.
Across her 126.2 innings pitched, Yanez achieved a 1.99 ERA, averaging 4.2 innings per game through 30 appearances in the circle. She earned only three losses – the same as Faraimo – compared to 16 wins, with three more starts than her redshirt senior counterpart.
Despite the comparisons to Faraimo, it was when Yanez's game was unique to her that coach Kelly Inouye-Perez expressed the highest praise. In line with the "Be You" script embroidered on the pitcher's glove, consistency was key to her performance, especially after undergoing rehab in preparation for her third transfer.
While not boasting the statistics or playing time of UCLA's ace, Yanez proved to be reliable in the circle when the Bruins needed her most. She may have been credited with the losses that ended both UCLA's 25-game-winning streak and postseason run, but Yanez arguably performed at her best under the pressure of these matchups.
In the contests against Utah and Grand Canyon, she relieved Faraimo and allowed fewer runs and walks than the starter to close out each game. What would become her final collegiate outing saw Yanez achieve her season-high strikeout count against Liberty, punching out nine batters in relief.
Ultimately, while Yanez did not match the prowess of her more entrenched counterpart, she did not let the Bruins down when it counted.
Grade: A-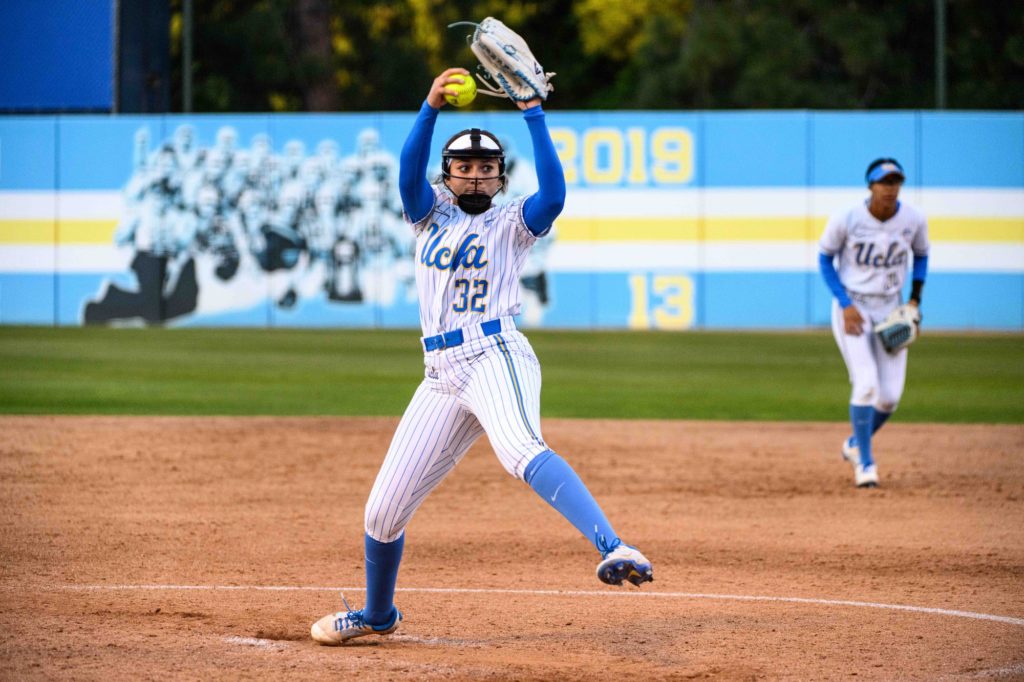 Taylor Tinsley
Season stats: 1.47 ERA, 1.08 WHIP, 48 SO, .230 B/AVG, 6-1 W-L

Nick Darrow
Sports reporter
Coming into her college career as the No. 1 pitcher in the class of 2022, Taylor Tinsley had a lot of expectations to live up to.
And in her first start as a Bruin, she was nearly perfect. Other than a catcher's interference with just two outs remaining, Tinsley didn't allow a single base runner en route to UCLA's 8-0 win over CSU Bakersfield. Throughout the next few starts of nonconference play, it was more of the same, with a four-inning, one-run performance against Iowa and a complete-game shutout against Texas A&M.
However, Tinsley was hittable, giving up five earned runs in 2.2 innings pitched in a matchup against then-No. 2 Oklahoma on Feb. 26. Even though she may have come into the game with an already large 8-0 deficit, the Sooners' lineup still got to her, and showed that the freshman still needed time to adapt to college softball.
As conference play approached, Tinsley slotted into the rotation as the No. 3 starter, meaning it would be hard to find time sitting behind Faraimo and Yanez.
Pitching in six conference games, Tinsley posted a 1-1 record, only giving up two runs while being on a relatively short leash. Throughout her starts, she never recorded more than four innings in a Pac-12 contest and never appeared in the NCAA tournament.
Even though she may have had one or two hiccups, Tinsley proved she can compete in a nationally recognized rotation, and she has a lot to build off of next year when her playing time will increase.
Grade: A-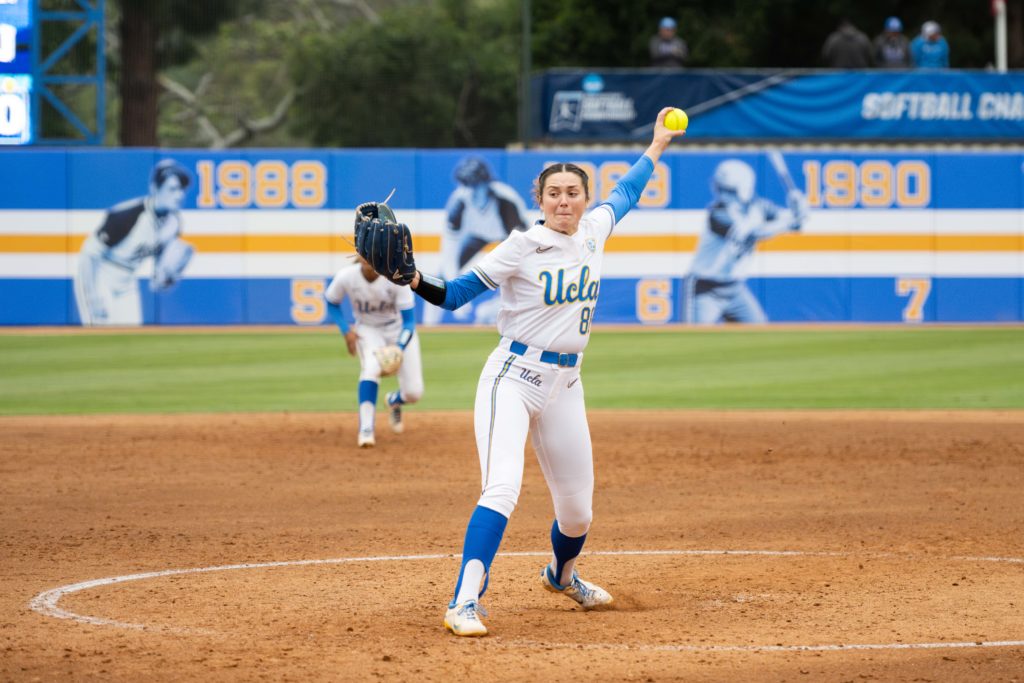 Lauren Shaw
Season stats: 2.49 ERA, 1.26 WHIP, 21 SO, .265 B/AVG, 1-0 W-L

Matthew Royer
Daily Bruin senior staff
Lauren Shaw was the worst pitcher on this Bruins team – which is a funny thing to say, given she would be the best option in the circle for many college softball programs.

The graduate student in her second year at UCLA found her place in the Bruins' rotation, primarily as an option out of the bullpen. Out of her 17 appearances this season, Shaw spent 16 of them in relief for the other three pitchers on the roster.
However, when used, she was efficient.
Over 25.1 innings, Shaw held an ERA of 2.49, which, if she were her own team, would place third in the Pac-12 behind her teammates and Stanford.
I would even posit that she was better than the statistics would show – Shaw only conceded nine earned runs all season, but four of those came against Oklahoma in the Sooners' run-rule thrashing of the Bruins. During that contest, not only did Shaw give up four earned runs but so did Faraimo, with Tinsley relieving the two veterans and allowing the remaining six.
Removing the one poor outing from Shaw and UCLA's record, her ERA would sit at 1.41, firmly alongside the top pitchers in the NCAA.
While there was probably good reason for her scaled-down usage this season, Shaw was still important for the Bruins in the postseason. Inouye-Perez called on her to relieve Faraimo in the NCAA Los Angeles Regional, pitching 1.2 scoreless innings against Grand Canyon.
In the grand scheme of things, Shaw may not be remembered as an important player for UCLA this season, but she was much better than her numbers and usage suggest.
Grade: B