UCLA baseball Pac-12 tournament predictions 2023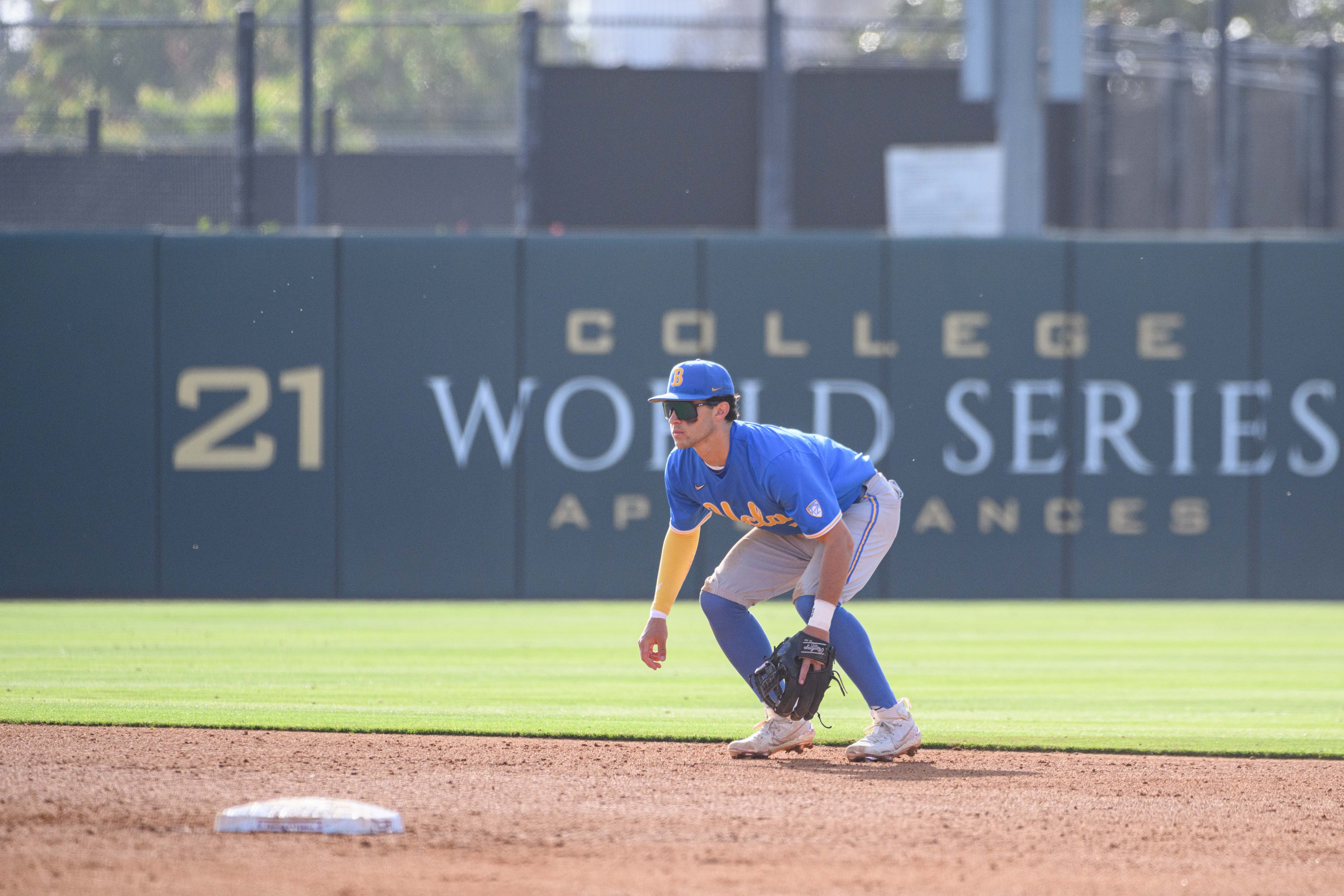 Sophomore infielder Duce Gourson leans over in a ready position behind second base while on defense. (Felicia Keller/Daily Bruin)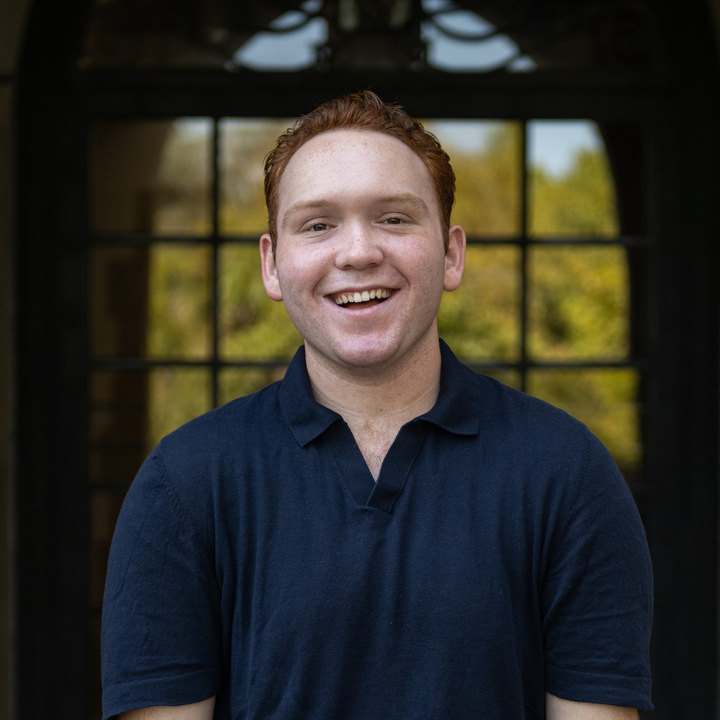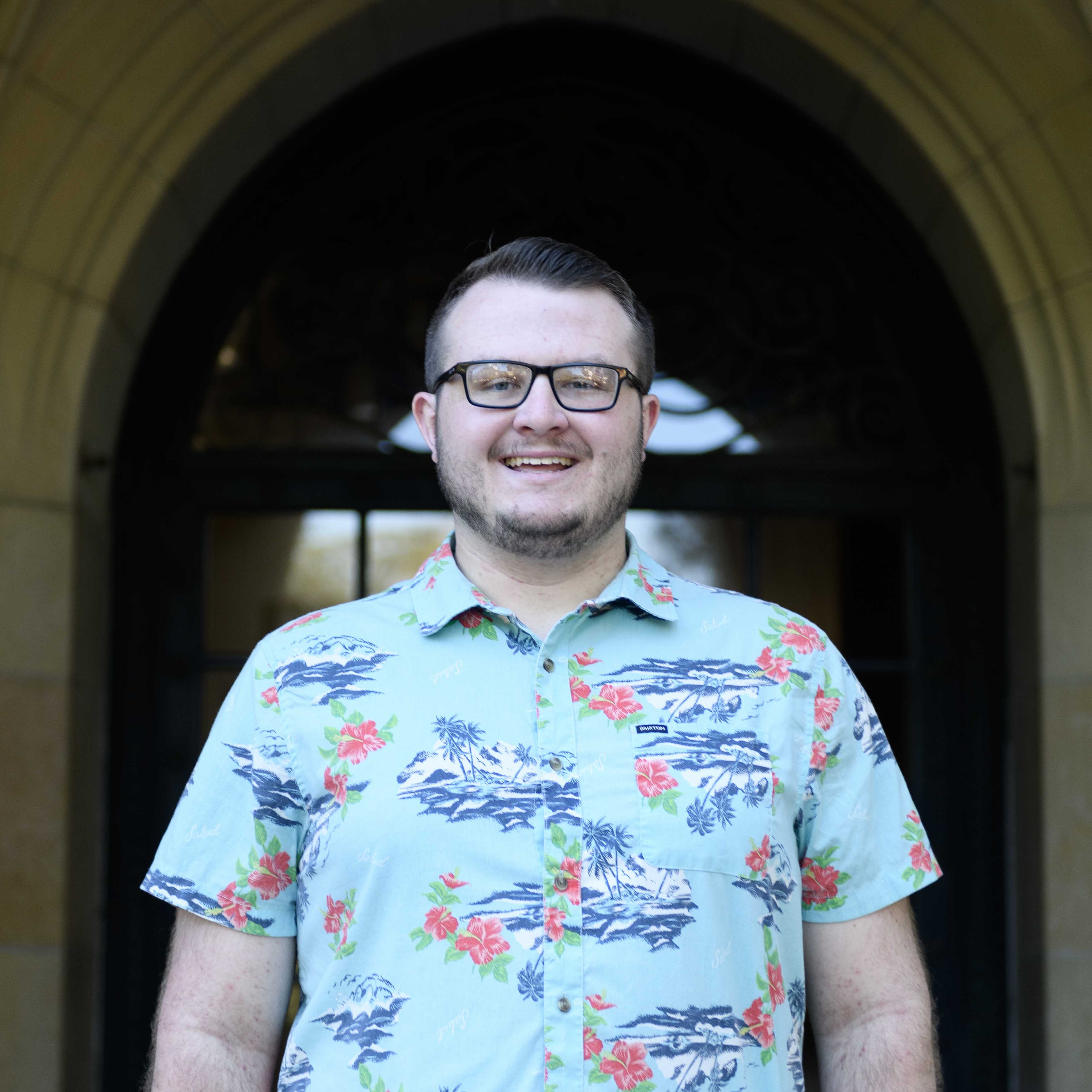 No. 7 seed UCLA baseball (27-23-1, 12-16-1 Pac-12) finished its regular season below .500 in conference play for the first time since 2016 and now sits on the bubble of an NCAA tournament berth. But first, the Bruins will play in the second annual Pac-12 tournament, with an automatic bid given to the champion. With games set to start Tuesday, Daily Bruin Sports' baseball beat predicts whether UCLA has what it takes to go all the way.
Anthony Aroyan
Daily Bruin reporter
Prediction: Miss semifinals
UCLA baseball's season had enough ups and downs to make Wall Street traders blush.
Following a season that saw the team ascend to No. 7 nationally in late March to being out of the top 25 entirely, the Bruins will have the chance to find a Hollywood ending at the Pac-12 tournament.
One could not even begin to write about UCLA's season without addressing the injury bug which seemed to bite every man on the roster at some point throughout the campaign. With injuries to both the pitching and hitting corps, freshmen such as outfielder Jarrod Hocking and right-handers Michael Barnett and Cody Delvecchio have needed to play bigger roles in their debut seasons.
Despite some impressive performances from the newcomers, UCLA has struggled to win games decisively. While the talent is there, efficiency and consistency across a series have flown out the window.
UCLA's first two opponents for the Pac-12 tournament, No. 4 seed USC and No. 3 seed Washington, have already proven to be tough matchups. Despite close games against both teams, the Bruins finished with a combined 3-4 record against their pool play matchups, including an 11-10 loss to the Huskies in the series finale.
In both series, the story was much like that of the year as a whole, with UCLA winning the first game of the series but dropping the rest.
Ava Abrishamchian
Daily Bruin contributor
Prediction: Semifinals loss
The Bruins have had a rough season.
In the last home game I covered, there was a play in which junior third baseman Kyle Karros slipped on third base, fell into the umpire and broke his sunglasses all in one go.
That's what this season feels like.
This isn't to say the Bruins lack talent. Early season games against Vanderbilt and Oregon showed they can play at an elite level. However, the team hit a midseason slump that it's been fighting tooth and nail to get out of but has failed at each turn.
Two times this season, the Bruins had a five game losing streak, including being swept by No. 9 seed California and Washington State. Some may say bumps in the road are bound to happen in a season of this length. But these losses signified a larger problem.
The Bruins struggle because when the pressure is on, it goes to their heads. Injuries plagued the Bruins' season, from sophomore right-hander Alonzo Tredwell to sophomore shortstop Cody Schrier, the roster saw a tumultuous season. Without a healthy roster, UCLA has had to rely on fresh faces to bring home the win. For them, the pressure will be on, and if this season is any indication, they may fall flat on their faces.
There is something to be said about their heart and faith in each other. "Pass the baton" is one of their mottos. These fresh faces have learned from the wisdom of those before them.
Each player tries their best to step up to the plate and maintain momentum. In their last regular season game, the freshmen carried the pitching squad through a close game. While they ultimately fell to the Sun Devils, it was indicative of the team's growth.
Who they were at the beginning of the season is not who they are now. However, who they are now might not be enough to bring home a championship.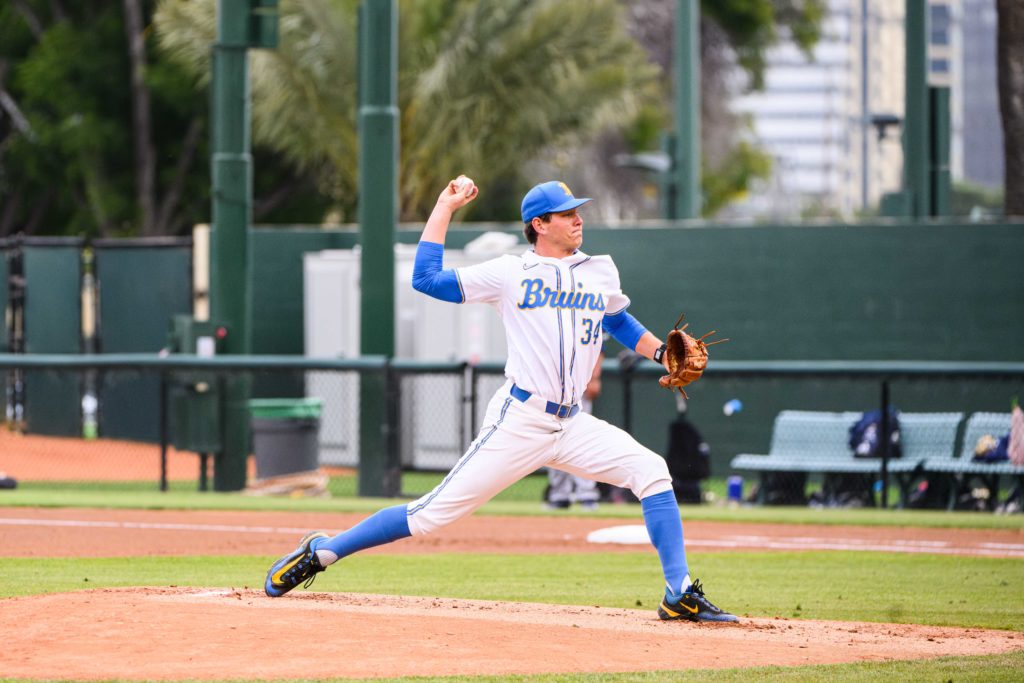 Benjamin Royer
Daily Bruin staff
Prediction: Semifinals loss
Roller coasters and Bruin baseball have never matched up more than in 2023.
UCLA's early-season upward ascent – a 16-3 record after defeating Washington on March 24 – showcased the thrills of success.
However, its stomach-dropping descent – losing 20 games in the remaining 32 affairs, mixed with injuries to impact players – placed the Bruins in position to miss the NCAA tournament altogether for the first time since 2016.
Who's to say there isn't one more twist in this rollercoaster?
Washington and USC both took two out of three games against UCLA during conference play. The Bruins fell in one-run losses to the Huskies and Trojans, two runs away from flipping their record – and possibly their postseason fate – on its head.
Last year's Pac-12 tournament was less than ideal for UCLA. Injuries and little rest forced coach John Savage to trust his freshman pitching crop in a playoff atmosphere. This year's edition will be no different.
Against Arizona State on Saturday, Savage trusted in freshman left-hander Chris Grothues to pitch in big moments – a newcomer with zero collegiate experience until he stepped foot on the mound in Phoenix.
The 19-year coach had to do the same in the postseason with then-freshman right-handers Nate Leibold and James Hepp.
Albeit a different format – shifting to pool play compared to last season's double-elimination configuration – UCLA can rise above USC and Washington and advance to the semifinal round with trust in its youth.
But that is where the journey will end for the Bruins.
When UCLA's bus rolls back into the Jackie Robinson Stadium parking lot and the players get off the season's wild ride, 2023 will be all but a blemish in the record books.
Shane Smith
Daily Bruin reporter
Prediction: Miss semifinals
More than a month into the season, the Bruins were ranked as high as No. 7. Savage told me he thought they were one of the best teams in the country after the first 20 games.
Things haven't gone as planned since.
UCLA's 16-4 start truly feels like a lifetime ago. The injury bug certainly bit the roster hard, but it's fair to say this team isn't playing the same quality of baseball that it was to begin the season.
Pitching has long been the bread and butter of a Savage-led Bruins team, but even the arms have faltered down the stretch. Three-quarters of the way through the season, UCLA had allowed nine runs or more just five times. Savage's staff matched that number in the month of May alone, inflating the team ERA to 4.49 to become the first UCLA team with an ERA over four since 2016. Do they have enough healthy arms to even sustain a long tournament run?
They better hope so, because it likely won't be the offense that will save the day. The Bruins finished the regular season dead last in the Pac-12 in runs scored, slugging, extra-base hits and total bases, and they were bottom three in hits, on-base percentage and stolen bases, all the while striking out more than any other Pac-12 team. That does not scream "resume of a conference tournament champion."
UCLA has enough high-end talent to take an early game, but this just doesn't look like the Bruins' year.
Joseph Crosby
Assistant Sports editor
Prediction: Miss semifinals
To say the wheels have fallen off the Bruins' bus would be an understatement.
It's more like the wheels exploded, then the engine fell out, and somewhere along the way, the bus also lost its roof.
The injuries never stopped piling on for UCLA from start to finish, with sophomore left-hander and projected Sunday starter Ethan Flanagan missing time at the beginning of the year and junior right-hander Jake Brooks missing his final start of the regular season.
Brooks will likely be back for the Pac-12 tournament, according to Savage, but with just two games to reach the semifinals, it will be a tall order for this team to win both, and their low seed will likely prevent them from advancing if they go 1-1.
Volatility has been the name of the game lately, as the team has struggled to consistently keep its opponents from scoring while also failing to find a way to push runs of its own across the plate.
Brooks and senior right-hander Kelly Austin are likely to get the starting nods against No. 4 seed USC and No. 3 seed Washington State, but both pitchers have given up four or more earned runs in each of their last three starts.
If UCLA can combine timely hitting with solid pitching, the roadmap to make the semifinals is there. But when the Bruins pull up to Scottsdale Stadium in their semi-functional bus, they're going to have a hard time driving to the finish line.