Longtime UCLA sports broadcaster Chris Roberts dies at 74 years old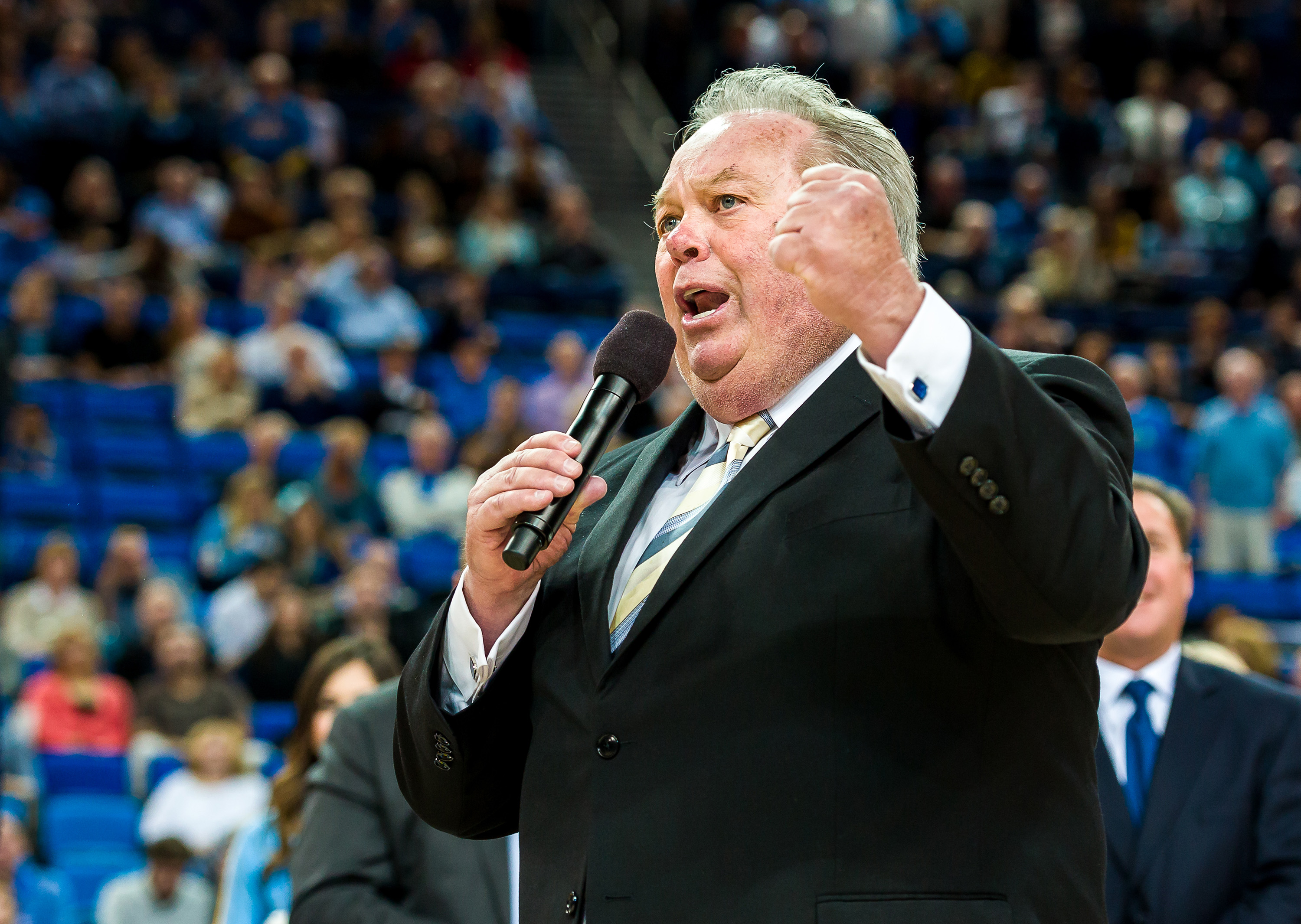 Chris Roberts, a longtime broadcaster for UCLA basketball and football teams, died May 12. (Courtesy of Scott Chandler/UCLA Athletics)
Chris Roberts was born to be a broadcaster, according to his longtime radio partner and mentee Matt Stevens.
"They enjoyed listening to Chris because it was Chris," Stevens said. "He simplified everything, and that's a true talent"
Roberts, born Robert LaPeer, was UCLA football's and men's basketball's radio broadcaster for 23 years. He died May 12 at his home in Glendora from complications from Parkinson's disease, after having had a recent stroke. He was 74 years old.
Following stints at radio stations and local colleges across the Greater Los Angeles area, he took a role in 1982 as the broadcaster for Long Beach State athletics. Ten years later, Roberts became the play-by-play broadcaster for UCLA after a tumultuous period of five broadcasters in as many years for the Bruins, according to the LA Times. He remained the voice of the Bruins until 2015, calling the 1994-1995 UCLA men's basketball national championship and equaling Fred Hessler's record for the longest-tenured broadcaster in UCLA history.
Roberts grew up in the San Gabriel Valley listening to broadcasters such as Vin Scully and Chris Schenkel, the latter of which inspired his radio name. He was also a three-sport athlete at Baldwin Park High School and played collegiate baseball at Cal Poly Pomona.
As a child, Roberts would hide a transistor radio under his pillow to listen to Scully call Dodgers games, said his son David LaPeer. Later in his career, Roberts would receive the same honors as Scully, becoming a member of the Southern California Sports Broadcasters Hall of Fame in 2012.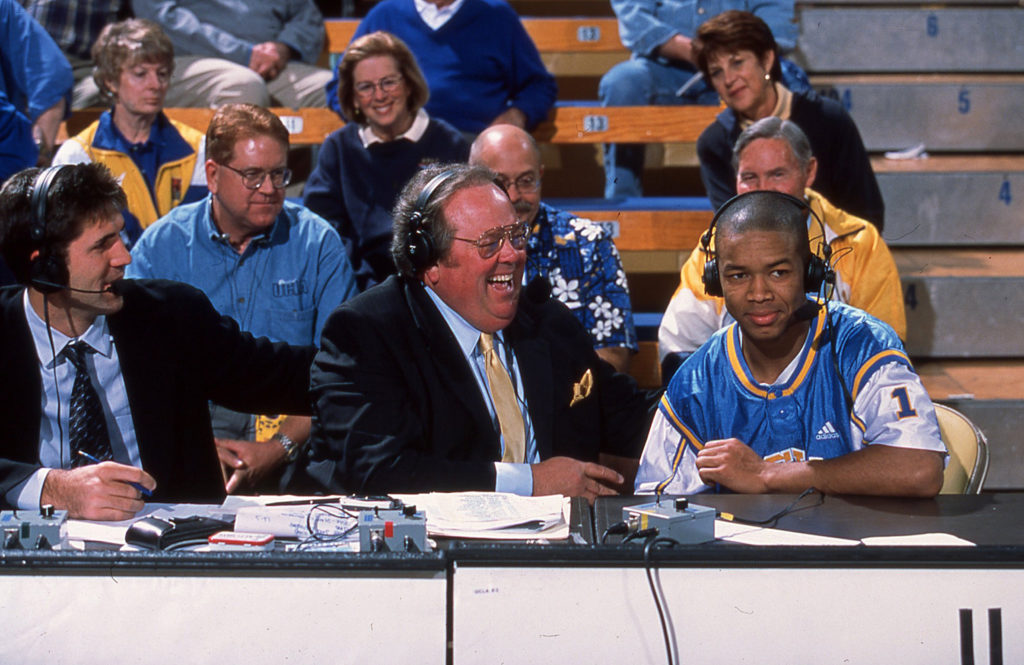 As his body grew weary of years of playing sports, LaPeer said Roberts turned to broadcasting as his new career, maintaining his passion for the subject by calling games for high school and collegiate sports in San Bernardino and Riverside counties and had aimed to eventually work in Los Angeles.
"If you wanted to work in a major city, … you had to go to the outskirts of that city and work your way in," LaPeer said.
In his time as the Bruins' broadcaster, the men's basketball team made 19 trips to the NCAA Tournament, and the football team played in 16 bowl games – including two appearances in the Rose Bowl Game.
One of those appearances in 1994 saw quarterback Wayne Cook take the field for the Bruins. Less than a decade later, Roberts asked Cook – whom he notoriously nicknamed "Wayne O" – to become his sideline reporter for football games.
Cook – who still calls UCLA football games with Stevens and current play-by-play broadcaster Josh Lewin – said he would not be the commentator he is today if it were not for Roberts' guidance and mentorship. Cook said he remembers how Roberts would send him videos of their broadcasts with notes on what he thought Cook could work on for future games. Now a high school history teacher, he said he still uses the life lessons Roberts taught him with his students.
Stevens and Tracy Murray, Roberts' basketball broadcast partner, said Roberts was always looking for ways to help his broadcast partners improve. Whether it was through teaching them how to work on their cadence and enunciation or helping them find their moments to shine during broadcasts, Cook said he credits Roberts for their successes today.
"All three of us have grown so much," Cook said. "We were all good at talking. But we weren't necessarily pro broadcasters yet. He turned us all into pro broadcasters, and I'm telling you, man, he was a great, great coach."
Cook added that he felt since Roberts took a gamble on the triad in the past, he was honored to carry his legacy into the future.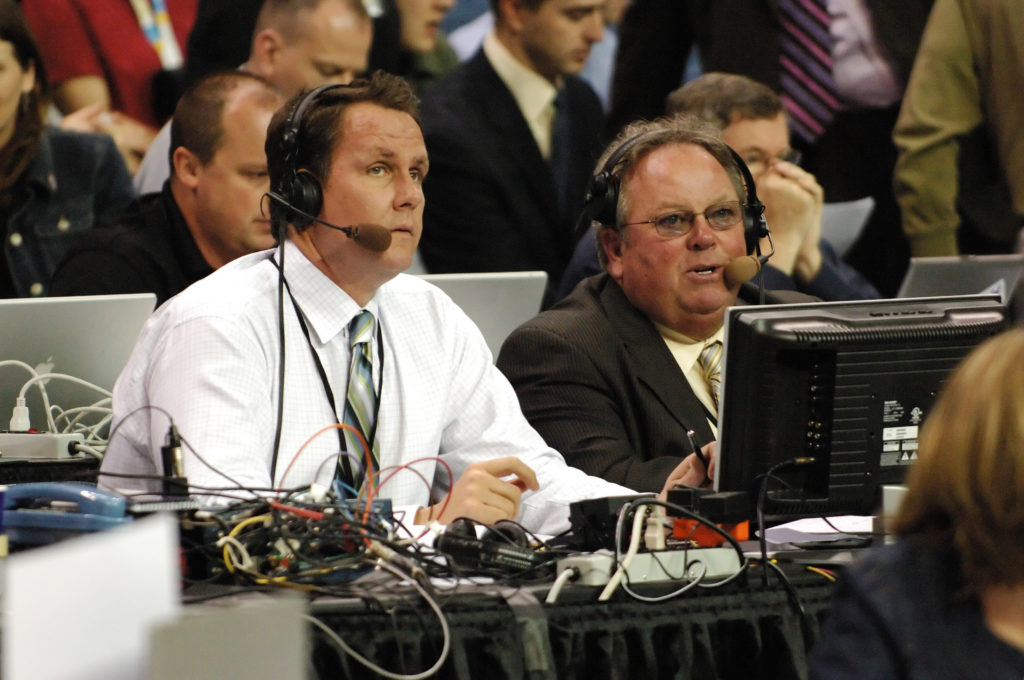 Lewin, who succeeded Roberts in 2016 per his request, echoed Cook's sentiments.
"I feel like I'm the caretaker of all he put together," Lewin said. "We were all kind of charged with living up to the standard of excellence that he set, and hopefully, we can honor him in doing so."
Murray, who joined Roberts on basketball broadcasts beginning in 2008, said he had known Roberts since 1985 when he moved to Glendora in the San Gabriel Valley, where Roberts also moonlighted as the junior varsity baseball coach.
Roberts – just as he did with Cook – encouraged the former Bruins' star to become his partner, according to Murray, who played basketball for the Bruins from 1990-1992. He said the seven years working and learning alongside Roberts heavily impacted his career and personal life. He added that he will miss Roberts' friendship.
"He's not just a mentor. He's not just a friend. You know, (he's) my golf partner, my broadcast partner," Murray said. "I mean, I'm missing a lot of guys with him being gone."
Murray added that he thought Roberts was one of the best commentators to ever call a sporting event. He said the longtime broadcaster was beloved by both the fans and his coworkers, and that people would often come up to him during their broadcasts just to meet him.
"Somebody that lasts that long at a place like UCLA, you know that he's loved," Murray said. "He was like the mayor around there."