UCLA's Bruin Scholars work to provide health care to underserved communities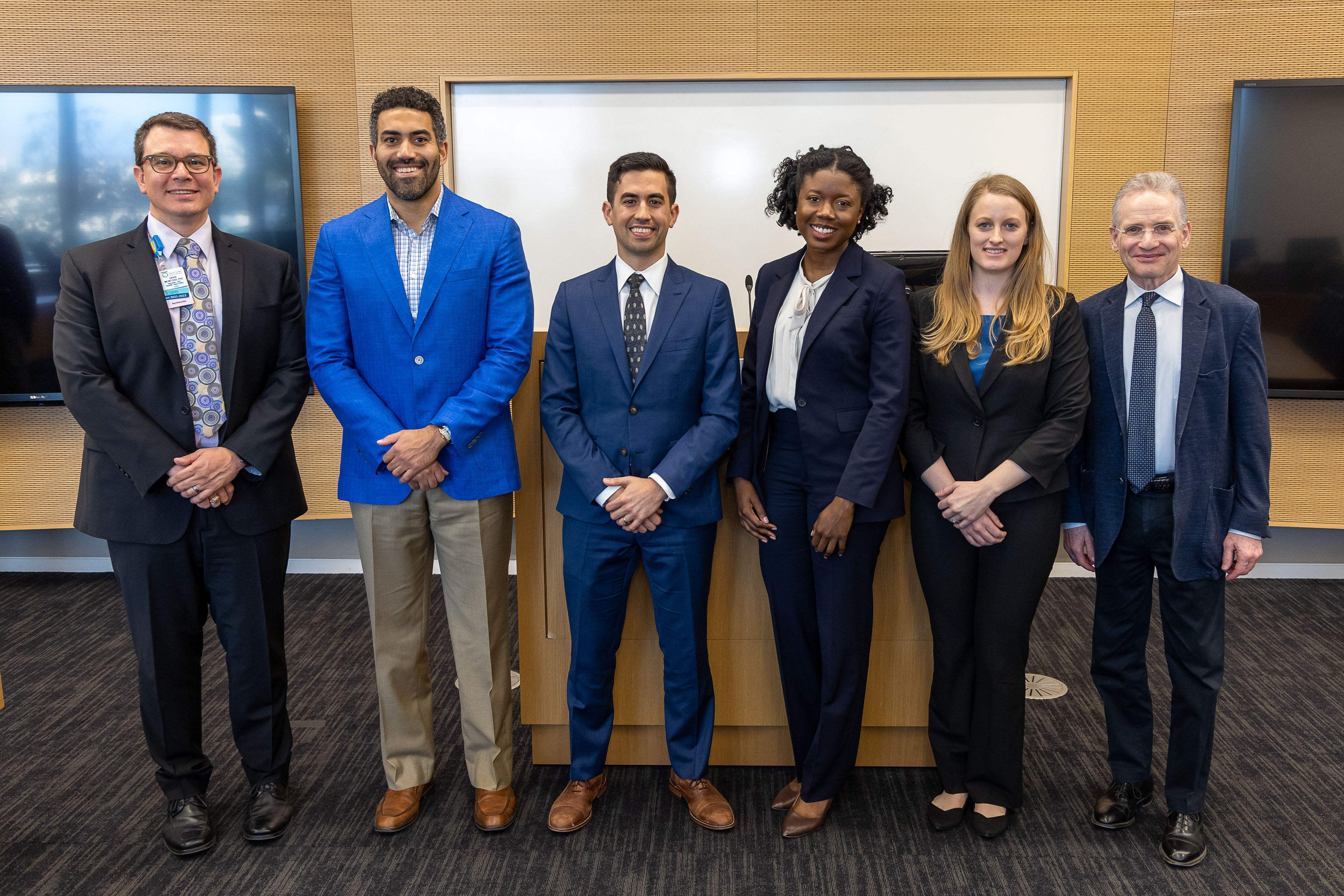 Members of the David Geffen School of Medicine's inaugural class of Bruin Scholars are pictured. The Bruin Scholars program recruits current medical residents and fellows at UCLA and provides them with funding and mentorship, allowing them to develop projects that address equity, diversity and inclusion in healthcare. (Courtesy of Reed Hutchinson)
The David Geffen School of Medicine's inaugural class of Bruin Scholars has started working on projects to advance diversity, equity and inclusion in health care.
Dr. Juan Andino, one of the program's scholars, said the program recruits and retains UCLA medical trainees from underrepresented backgrounds or those who have demonstrated a commitment to justice, diversity, equity and inclusion. Scholars are nominated by their program director, the department chair and a mentor, said Melanie Bonilla, the program coordinator for the school's Office of Justice, Diversity, Equity and Inclusion. UCLA will support the scholars as they develop projects that address disparities in health care access, Andino said.
Bonilla said a major goal of the program is to provide medical support to people from underserved communities in Los Angeles. For example, Andino said he splits his clinical hours between UCLA Health and the Martin Luther King, Jr. Community Hospital, which is located in Willowbrook, a historically underserved area of LA.
Each scholar receives an annual $100,000 for two years to fund conferences, community work and research, according to the School of Medicine.
Dr. Shenise Gilyard, a fellow in vascular and interventional radiology at the medical center and another of the program's scholars, said she has been investigating methods to manage acute pain from sickle cell anemia, a disease that she notes primarily affects people of African or African American descent. Gilyard added that there is less funding for sickle cell research than for research in cystic fibrosis – a disease that most commonly affects white people, according to the National Heart, Lung and Blood Institute.
The program's funds will help her gather data to hopefully receive bigger grants for the project in the future, she said.
"The monetary support will go a long way in program building and doing some of the preliminary research that is necessary to apply for bigger grants," Gilyard said. "That'll allow me to have some research staff and then also support the actual clinical work that will then help get things rolling."
Gilyard said she is also working on a community-based clinical project to improve comprehensive care for vascular disease at the Martin Luther King, Jr. Community Hospital. Having a center for this specialized treatment would allow for more equipment to identify and treat vascular diseases early, Gilyard added.
Other scholars, such as Andino, have also been developing projects to address inequities in health care access.
Andino, a male reproductive medicine and surgery fellow at the medical center, said he will be working on a project to expand the use of telehealth options because it can be more accessible for patients. He added that it can help more people get the check-ups and prescriptions they need without the burdens of transportation and parking fees.
Andino said another of his projects will look at differences in access to health care between those who live in west and south LA, the latter of which he said was traditionally thought of as a health care desert – a region with insufficient medical practitioners or facilities.
"It's just been hard to find people, particularly fellowship-trained doctors, in that area," he said. "And so by me existing in these two systems, we hope to design a project that helps look at access to care."
The program, which recruited trainees from a variety of specialties, also fosters collaboration between departments as the scholars have been working together to understand what resources are available to them, he said.
Bonilla said the school is looking forward to expanding the program and including more scholars in the future, as well as getting more people from the LA community involved in the scholars' projects.
For now, Gilyard said she looks forward to collaborating with other specialists who are excited about her work.
"I'm already in the process of setting up my clinic," she said. "Just being part of this program has helped me build a community (of practitioners) … and I'm going to need a community to support the work that I'll be doing in the future."