Editorial: Striking Hollywood writers deserve proper compensation for creative visions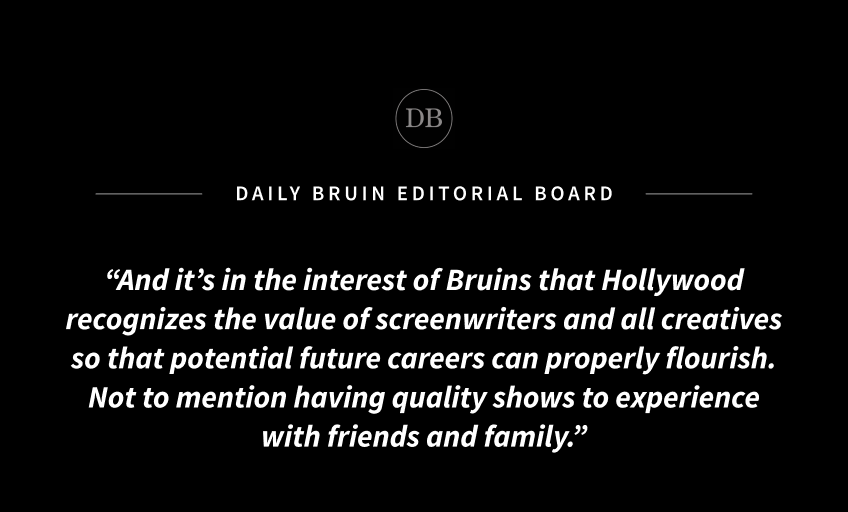 This post was updated May 19 at 9:11 a.m.
Editor's note: Editorials do not represent the views of the Daily Bruin as a whole. The Board encourages readers to respond to our editorials at dailybruin.com/submit.
Hollywood might be a major industry, but its ideas don't come from machines.
The stories we watch come from the creative minds of screenwriters. And their wages haven't kept pace with neither inflation nor the advent of the streaming industry.
More than 20,000 movie and TV writers represented by the Writers Guild of America are on strike and will not rest until their complaints are met with a fair response.
Contract negotiations between the WGA and the Alliance of Motion Picture and Television Producers began March 20. A contract between these two parties is renegotiated every three years, and there have been five contract negotiations since the last writers strike from 2007 to 2008.
On April 3, the WGA established online voting to see if its members were interested in going on strike if negotiations didn't end up with an agreement both parties were happy with. After voting closed April 17, an overwhelming consensus of 97.85% of WGA voters elected to strike if there was no deal.
The previous contract between the WGA and AMPTP ended on May 1. With the parties failing to reach an agreement, the screenwriters began their strike at 12:01 a.m. on May 2.
The economic fallout is sure to hit Hollywood hard and cause ripple effects that could lead to more than an estimated $2.1 billion in losses, surpassing the losses from the last strike. Taking into account that the issues being negotiated this time around are more intricate and complex, the strike could last even longer than three months. That could end up costing the local economy more than $3 billion, a number based on estimates from the 2007 strike and then adjusted for inflation.
Some of the first impacts of the strike have been felt by late-night talk shows and writers' rooms for streaming shows like "Cobra Kai" and "Yellowjackets."
The last time screenwriters went on strike, "The Office," "Scrubs" and other network shows were forced to abruptly end their seasons early. An absolutely terrible second season of "Friday Night Lights" came to be during that time.
The strike illustrates challenges with changes in the streaming industry. The last strike ended when Blockbuster was still in business, and the original iPhone was the latest generation. Most people either rented movies or saw them in theaters in 2008. And either way, screenwriters received residual payments on sales when a film or show succeeded.
Today, with streaming services obscuring viewership data, the creatives making TV and movies possible receive no additional rewards for exceptional, popular work.
Meanwhile, screenwriters' wages have devalued with the lack of increase in salary in combination with years of inflation, an adjusted 14% decrease for movie screenwriters and a 23% decrease over the last decade for TV writer-producers. On top of that, shorter streaming season production times and mini-room organization tactics reduce working days for WGA screenwriters.
Because of the added threat of artificial intelligence programs churning out repetitive but almost decent scripts one day soon, it is essential to protect the creative humans whose original ideas captivate, challenge and delight us.
With Hollywood in our backyard, this issue strikes close to home.
UCLA is consistently ranked as one of the top film and entertainment programs in the world. It prepares its students to be future leaders in the entertainment field. And it's in the interest of Bruins that Hollywood recognizes the value of screenwriters and all creatives so that potential future careers can properly flourish. Not to mention having quality shows to experience with friends and family.
The longer the AMPTP waits to make necessary changes to compensation and the more streaming services obscure their numbers, the more we will all pay the price.
If it takes box office delays and abundant reruns for screenwriters to get their due, then so be it. Hollywood, don't expect your audiences to support greed. We know writers matter. Show us you know that too.