UCLA softball NCAA tournament predictions 2023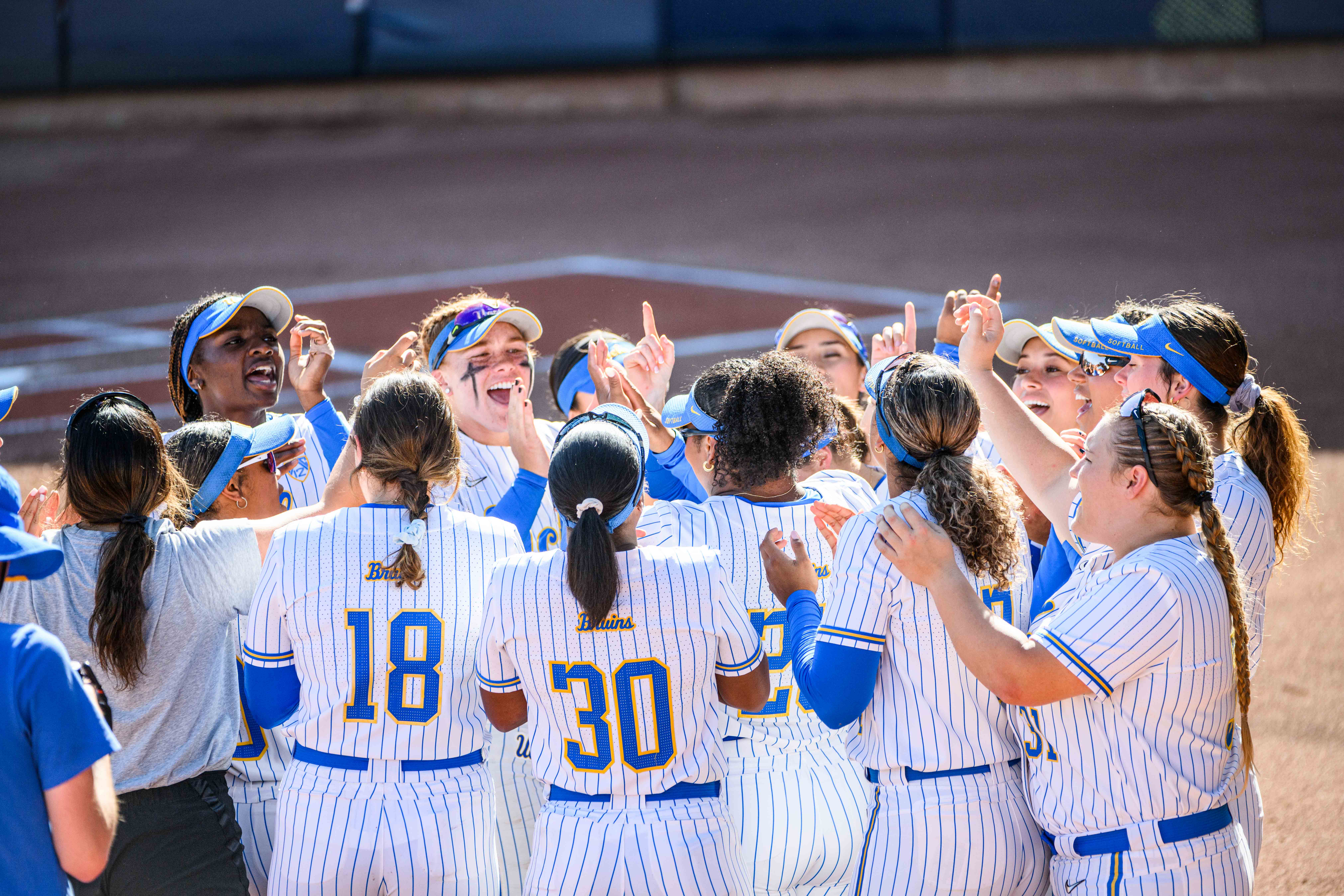 Members of UCLA softball participate in a pregame cheer. The Bruins enter the NCAA tournament with their third No. 2 overall seed in the past four brackets. (Nicolas Greamo/Daily Bruin senior staff)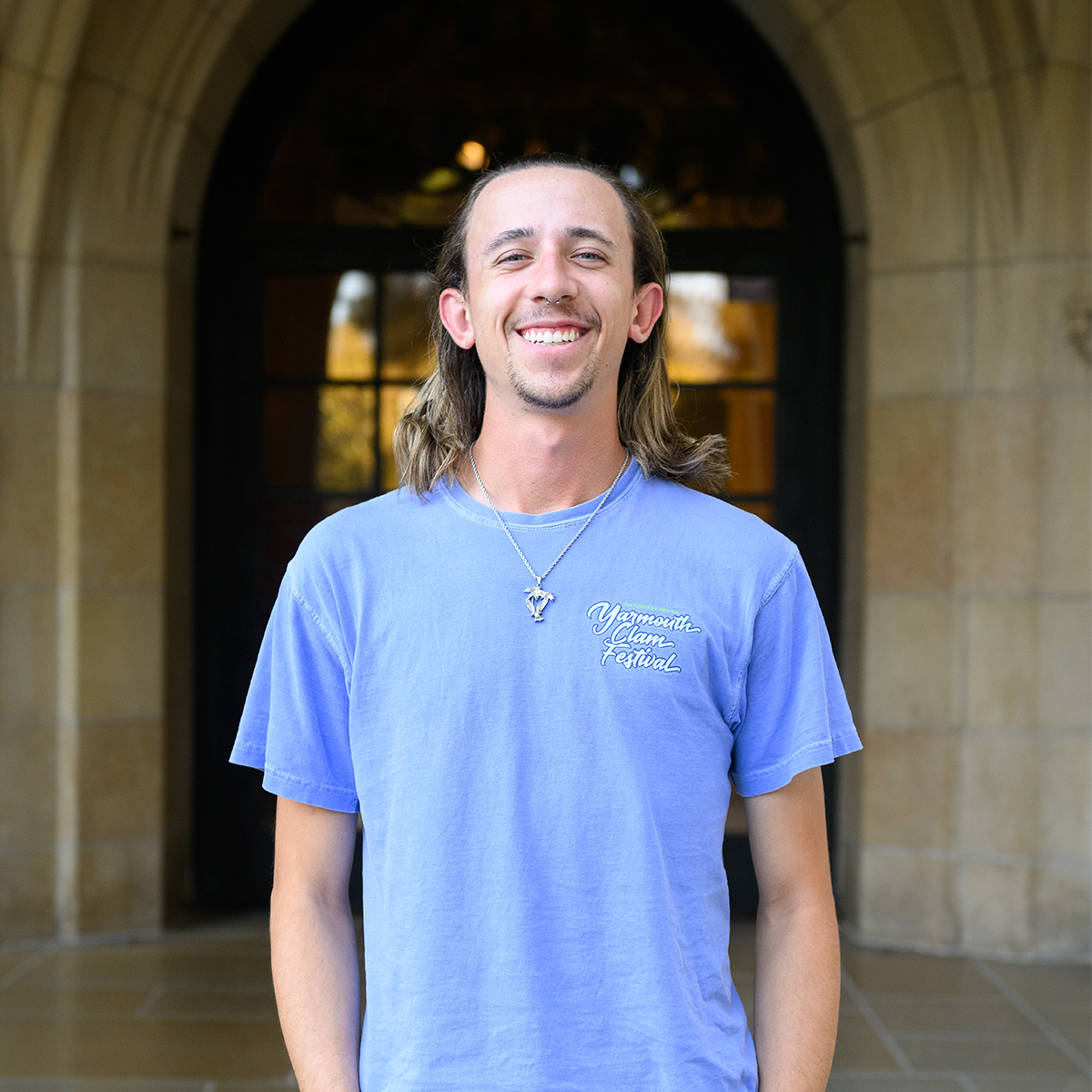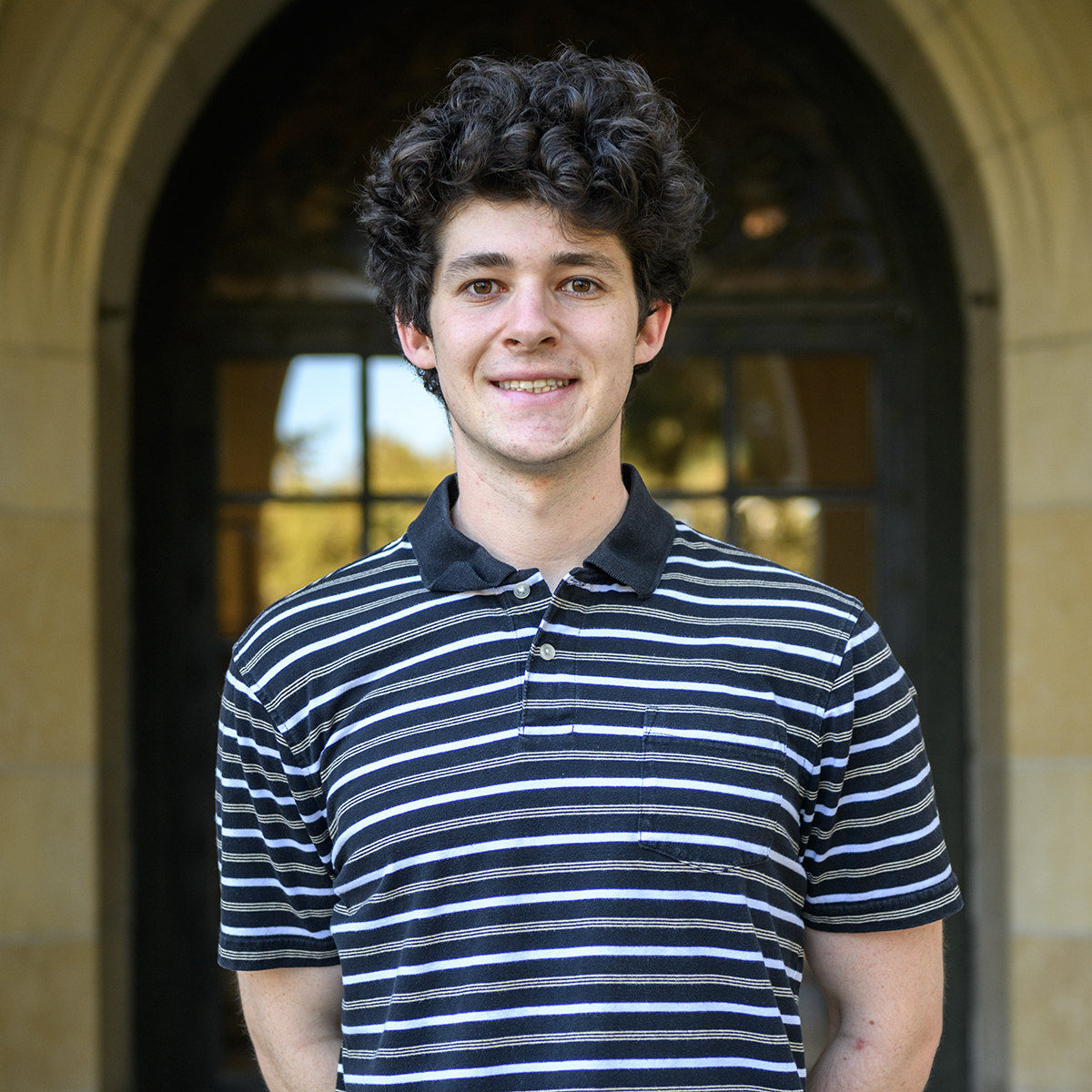 This post was updated May 18 at 11:00 p.m.
No. 2 seed UCLA softball (52-5, 21-3 Pac-12) will commence its run at a 13th national title Friday in its opening game of the NCAA regionals against Grand Canyon (46-11, 17-7 WAC), with Liberty (38-20, 19-5 ASUN) and San Diego State (35-15, 16-6 Mountain West) also comprising the Los Angeles Regional. Take a look at what the 2023 softball beat thinks of the Bruins' chances in the NCAA tournament.
Jack Nelson
Assistant Sports editor
Prediction: Loss to Oklahoma in WCWS finals
"I am inevitable."
That quote has passed into legend, as moviegoers associate it with Thanos, the greatest villain in the Marvel Cinematic Universe.
It's a statement that Oklahoma softball could adopt. And it also conveys why the Bruins, despite possessing their finest squad since 2019, ultimately have little hope of raising their first NCAA championship trophy since then.
The single-elimination environment of the Pac-12 tournament revealed a flaw in a near-perfect team. Utah – who UCLA swept on the road two weeks prior – pitched around redshirt junior utility and Pac-12 Player of the Year Maya Brady. They also quickly solved both aces in redshirt senior Megan Faraimo and sixth-year Brooke Yanez. Though the struggles by Faraimo and Yanez were a bit anomalous, Utah proved the Bruins' offense loses a dimension when Brady is taken out of the equation.
Still, I don't see that flaw manifesting early in the NCAA tournament. The Bruins won all eight of their conference series this season and have yet to lose consecutive contests. They respond to losses better than arguably any team in the country.
UCLA should have little trouble making it out of its NCAA regional, even if Liberty and San Diego State played competitive games in Westwood this season. And in a potential super regional battle with Utah, a taste for revenge bodes well for the home team.
But the Bruins could gain as much steam as possible going into the Women's College World Series, and it still wouldn't matter with the Sooners in the opposite dugout. Nobody is beating the back-to-back national champions and winners of 43 straight.
Cinema buffs will be quick to remind me of the context of Thanos' quote. After uttering those words, he went to snap his fingers and found that his gauntlet was empty – Iron Man had snatched the infinity stones and proceeded to snap the mighty titan out of existence.
UCLA has its own Iron Man in Brady, as well as a crop of heroes to back her up. But even that won't be enough in the endgame.
Nicole Augusta
Daily Bruin contributor
Prediction: Loss to Oklahoma in WCWS finals
A broken winning streak, a loss to a previously swept team and a trophy slipped out of reach, all in one day.
Even if I had known beforehand that would define the end of UCLA's Pac-12 tournament run, this prediction would've been exactly the same.
Despite their defeat at a tournament that, by most accounts, the Bruins should have won, short-term memory will protect them from a loss of momentum. Overcoming a snapped winning streak is something that this team is more than capable of. Champions have been made from far less awards than UCLA already boasts.
While I see UCLA flying through regionals, the potential ensuing competition against Utah brings pause. The drive for vengeance, though, will likely power the Bruins through.
In fact, the recent loss may have led to the greatest learning opportunity. Considering the Bruins' greatest assets were rendered largely ineffective in the Pac-12 title game, a rematch will no doubt see a more prominent showing in the circle as well as from Brady – especially as UCLA finds perhaps its greatest strength in its ability to adjust.
The Bruins have no shortage of skill, and their unity and support for one another under pressure has been critical in getting them this far. But at the end of the day, though the road to Oklahoma City will be long, the loss to the Sooners will be short.
Leading the nation in batting average and ERA and possessing the longest winning streak in the country, the Sooners are virtually indestructible. The Bruins will give the NCAA tournament their all, but not even that will be enough to overcome the statistical prowess and WCWS experience of a bonafide powerhouse.
Sam Lieberman
Sports reporter
Prediction: National champions
UCLA is the winningest program in college softball history.
The Bruins have the most NCAA tournament appearances at 38. They have won the most national championships at 12 and are the only team to have won a title in every decade of the sport's existence. Being the best is in their DNA.
The Bruins are the No. 2 overall seed and have a favorable path to the WCWS, hosting both regionals and super regionals.
The LA Regional includes Liberty and San Diego State, both of whom UCLA defeated in the regular season. Should the blue and gold advance, it will likely square off against Utah or Baylor.
UCLA swept Utah in Salt Lake City earlier this year, but lost to it in the Pac-12 championship game. Baylor enters the tournament at 39-16, with its biggest victory handing No. 1 seed Oklahoma its only defeat of the season.
Once the Bruins reach their eighth consecutive WCWS, their elite pitching and hitting will carry them to the top.
UCLA is one of two teams to rank in the top 15 nationally in batting average and team ERA. The Bruins can win games with their speed, defense, pitching and home run hitting. Also, never count out this team, as they've consistently come from behind in the later innings to win numerous ballgames.
Not to mention, UCLA is battle tested. The Bruins went 7-2 against opponents currently residing in the top 10 and 16-4 against all ranked competition. This team can handle any challenge.
Most importantly, UCLA has star power. Faraimo and Brady will bring national championship No. 13 to Westwood.
Nick Darrow
Sports reporter
Prediction: Loss to Oklahoma in WCWS finals
On a path filled with familiar foes, the Bruins will handle their business and meet expectations, but ultimately fall to the goliath of college softball.
Their run starts as a regional host for the eighth straight year, where they will open against Grand Canyon, the same team they first faced off with in last year's regional. UCLA will also host two teams that it beat by one run during the regular season, San Diego State and Liberty.
If UCLA is able to get out of the regional round, it will most likely host No. 15 seed Utah. Despite the latest loss, the Bruins outscored the Utes 24-4 in a regular-season sweep, and should be able to come out on top in another three-game series.
After making it to Oklahoma City for the eighth straight season, this is where the fun will begin. No. 3 seed Florida State, No. 7 seed Washington, No. 5 seed Alabama and No. 9 seed Stanford are all teams that UCLA could play, along with unfamiliar opponents like No. 13 seed Texas and No. 6 seed Oklahoma State that could prove big tests. But with something to prove, this Bruin team will overcome those obstacles to reach the finals.
However, with all that being said, the Bruins' historic season will be no match for an even more historic one.
Leading the country in batting average, ERA, fielding percentage, scoring, on-base percentage, shutouts and winning percentage, Oklahoma will be too much for UCLA, eliminating it for a third season in a row.
Matthew Royer
Daily Bruin senior staff
Prediction: Loss to Oklahoma in WCWS finals
Let's get one thing straight – the Bruins will have no problem cruising to the WCWS.
With one of, if not the, best pitching staffs in all of college softball alongside a lineup led by the Pac-12 batting champion in Brady, 12-time national champion UCLA will accomplish what it does best in the postseason – win at home.
However, if history serves this team correctly, the chickens will come home to roost, sending the Bruins back to Westwood with the Sooners hoisting the trophy for a third straight season.
In February, Faraimo took the circle in Cathedral City, California leading then-No. 1 UCLA against then-No. 2 Oklahoma in what should have been the battle of the titans. What transpired was anything but.
Instead of a pitching duel or a home run derby between the two squads, the contest ended as a run-rule thrashing by the Sooners.
Since that moment, UCLA has played second fiddle to Oklahoma and not just in the national rankings. The Sooners boast the top earned run average and batting average in the country and now stand four short of the NCAA record for consecutive wins.
It's just that simple. While UCLA will coast through its regional against Grand Canyon, San Diego State and Liberty – as well as a potential super regional against Utah or Baylor – momentum will come to a halt in the national championship. The crimson and cream will wash away the hopes of the blue and gold in Oklahoma City, just as it did the past two seasons.