UCLA track and field wraps Pac-12 championships to kick off postseason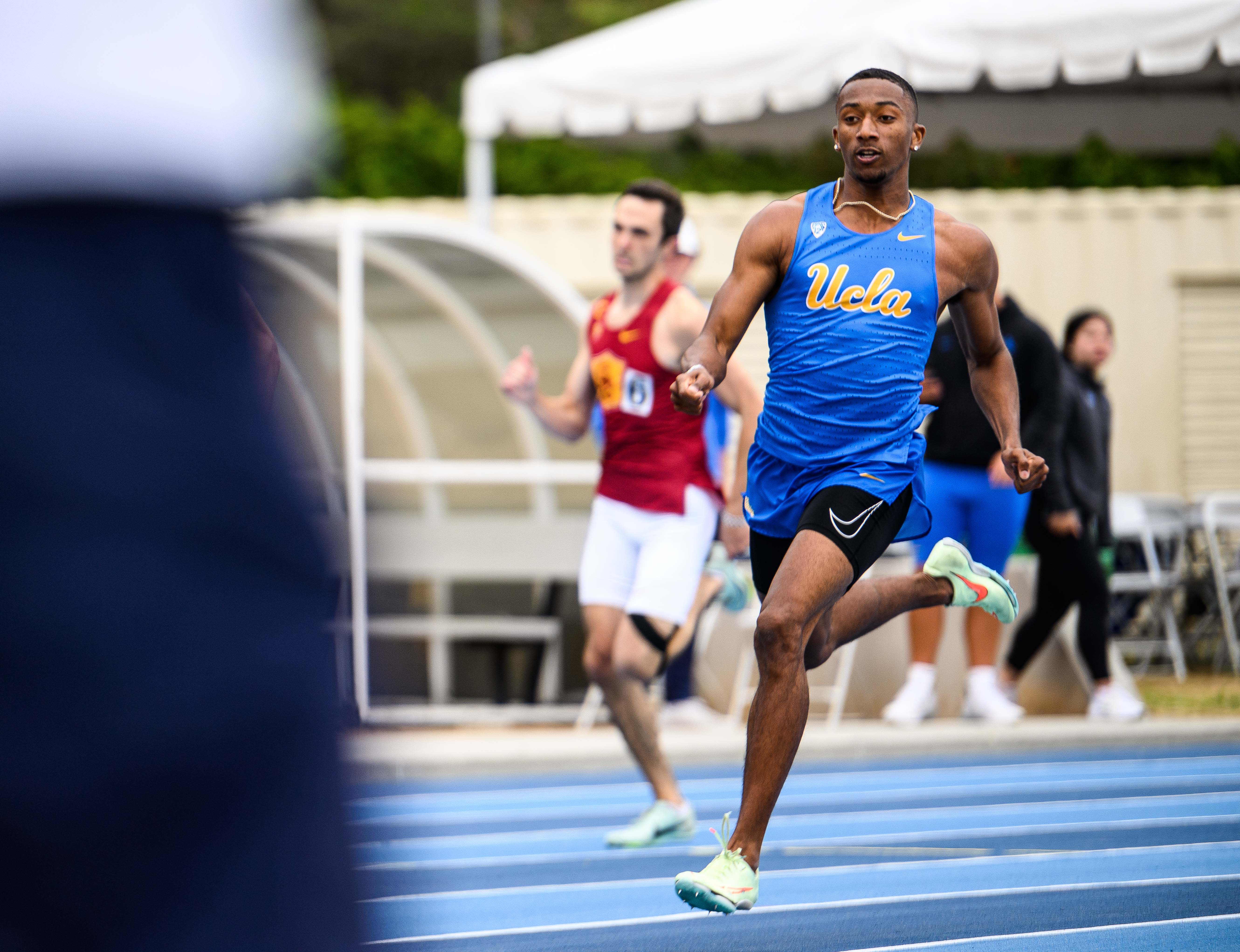 Senior sprinter Cameron Reynolds outpaces USC. Reynolds competed in the 4×400-meter relay at the Pac-12 championships. (Jack Stenzel/Daily Bruin staff)
The age-old adage that history repeats itself rang true for the Bruins.
UCLA track and field competed in the Pac-12 championships Friday through Sunday in Walnut, California, where the men's squad ranked eighth overall and the women's team notched a fifth-place finish.
Those placements nearly mirrored the Bruins' results in the 2021 Pac-12 championships, when the men finished eighth overall and the women sixth.
Although the finishes are nearly identical to those from two years ago, they do not reflect a few notable top-three performances, including record-breaking marks this time around.
The women's squad had some top scorers in their respective categories, with the women's javelin and hammer throw front and center. Graduate student Mayyi Mahama climbed her way up the Pac-12 podiums with a personal record of 68.38m, earning her third place and ascending to second place in UCLA's all-time records.
Stability and mentality were the key tools for achieving that mark, Mahama said.
"I knew what I could do in a better mindset, and that's what happened yesterday," Mahama said. "Recently, we have been working on being more stable and getting across slower in the first turn. The focus on my stability and mental state is what gave me the mark today."
Graduate student Federica Botter also established herself in the championship. Botter earned first place in the women's javelin with a mark of 57.81m. The Italian shattered her previous school record of 53.52m, which she achieved in April's Texas Relays.
Botter said she believed in her potential and worked hard to reach those marks.
"My coach and I know that I can throw far," Botter said. "I knew that I was not satisfied, so I tried working on that with my coach in Italy and (assistant throwing coach Sean) Denard."
To cap it off on the women's side, UCLA finished second in the 4×400-meter relay. The squad, comprising sophomores Makenzy Pierre-Webster and Aly Conyers, freshman Naomi Johnson and junior Kate Jendrezak, pulled off the second-place finish after. Johnson surpassed Stanford's anchor in the final 100 meters to finish at 3:33.66.
As for the men's side of the competition, freshman Hunter O'Brien walked away from the competition with a new pole vault personal record, collecting a point in the process. On Sunday, O'Brien made a 5.07m (16-07.50) clearance.
The men's final event was the 4×400-meter relay, where the team came up just short. Graduate student Willington Wright, seniors Myles Misener-Daley and Cameron Reynolds and junior Antonie Nortje finished in second.
Reynolds said that, with senior sprinter Ismail Turner injured and not participating in the championships, there was no need to worry about who would fill his spot.
"It's always next man up," Reynolds said. "We love to have Ish out here, but we also have a deep team, so we were good."
Some Bruins viewed the rigor and competition of the Pac-12 championships as a precursor to the upcoming NCAA West Preliminary Rounds.
"Today's mark showed me that I can put on a performance when it's important," Mahama said. "It just proves that I can run with the big dogs."