Opinion: UCLA needs to standardize alternate examination policies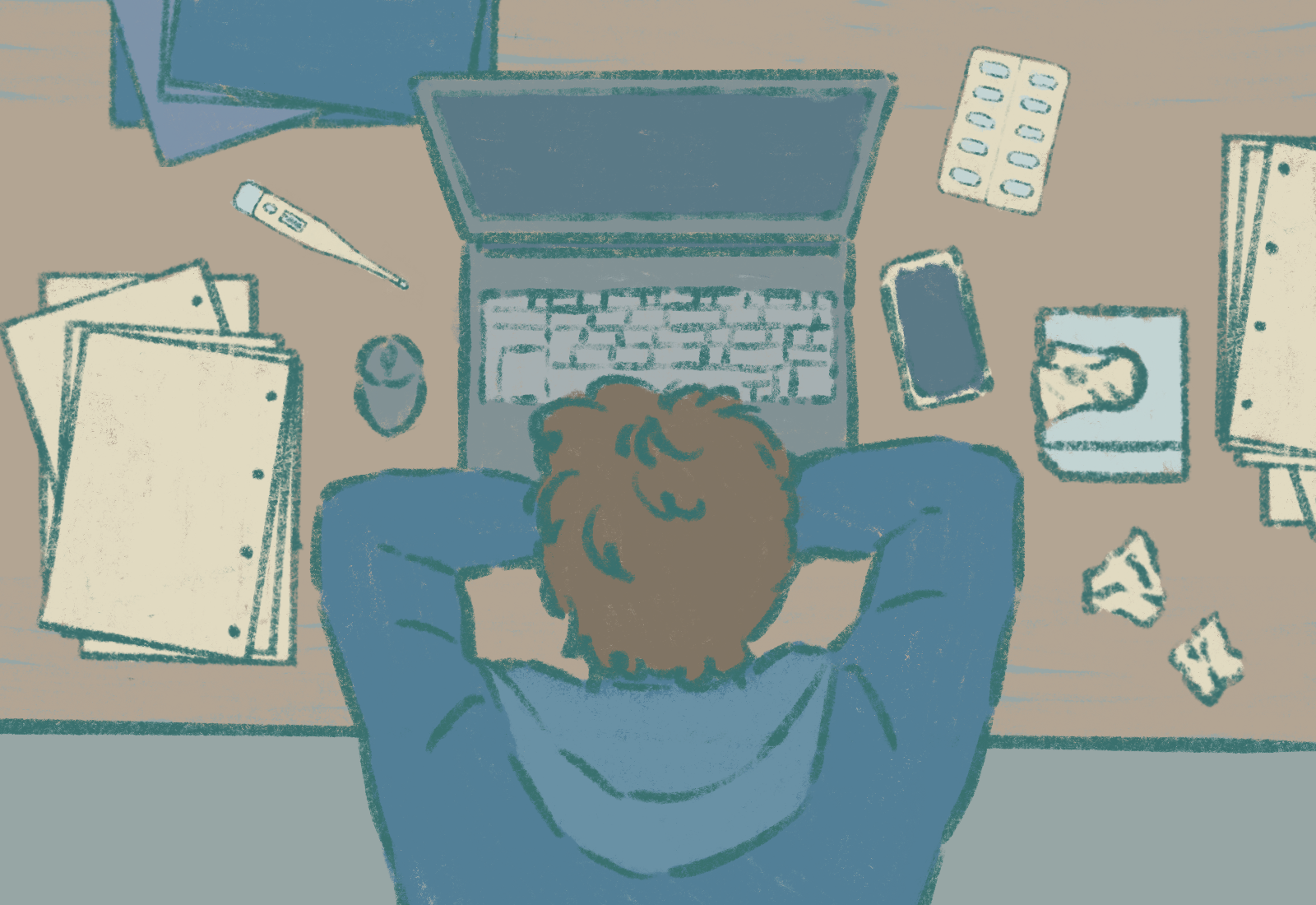 (Isabella Lee/Illustrations director)
This post was updated May 16 at 9:18 p.m.
It is the morning of a student's final exam during winter quarter, and unfortunately, they wake up with a 104-degree fever. One thought is burning through their mind: How on earth am I going to take my final exam today?
With their head pounding, stomach churning and anxiety rising, they scour the internet looking for what UCLA's policies are in terms of getting an academic exemption. However, they are disappointed to find practically nothing.
According to the alternate examination policies page on the UCLA Registrar's Office website, "Accommodation for alternate examination dates are worked out directly and on an individual basis between the student and the faculty member involved."
This policy fails to provide students with reassurance, details or any concrete form of guidance to validate the academic exemption they may be seeking.
Instead, it recommends students email their professor, who may receive upward of 100 emails every day, especially as an exam date approaches. When professors are busy or simply unresponsive, a lack of communication leaves students unprotected by policies in the case of an emergency and places an unnecessary burden of worry on their minds.
Talia Tizabi, a first-year human biology and society student, said she was unable to attend class or prepare for final exams because of a family matter, to which the professor responded that the only options available were to either receive an incomplete grade in the course or take the final exam despite the incredibly challenging circumstances.
Given that she had already completed eight weeks of course material and the midterm exam thus far, she said she decided to take the final exam, ultimately dropping her grade an entire letter and lowering her GPA.
The current academic exemption system portrays a complete lack of standardization. When a student's ability to receive an academic exemption is left entirely up to professors on a case-by-case basis, the equitability of UCLA's grading policy is called into question.
"It should not be up to the discretion of a professor," Tizabi said. "There should definitely be somewhere to go that has all of the policies because going back and forth with a professor over email is just not a transparent and clear way to go about finding a resolution."
If two different students are both experiencing a nearly identical family emergency, as per UCLA's policy, one student could be required to take the final exam, while the other could be exempt from all coursework for the remainder of the quarter.
That is not what equity is defined as.
Precious Ivy Molina, a fourth-year geography student, also expressed her frustration with the lack of support the current academic exemption system has provided her.
Molina found herself in a situation where she was injured and also received a false diagnosis for a cancerous tumor.
"I automatically just ended up failing the class," Molina said. "I did a majority of the classwork, and he still was like, 'No, if you're not going to turn in all the assignments, then the ones that you did turn in don't really count.'"
Having to navigate mental and physical health issues, parental responsibilities, and financial barriers placed Molina in a challenging position as a full-time student.
UCLA spokesperson Bill Kisliuk said in an emailed statement that because instructors are at the heart of the academic enterprise here at UCLA, they ultimately have the greatest understanding of academic requirements in individual courses.
Nonetheless, students should not have to be fully dependent on the goodwill of some professors. There are hundreds of professors at UCLA, all of whom may respond differently to various personal circumstances.
This only reinforces the lack of standardization, equity and transparency in the prevailing system.
"Not all of us are coming from the same places, and not all of us have the same capacity and privileges," Molina added. "True equity is meeting people where they're at and really taking their capacity and resources into consideration as well."
From financial and food insecurity and family issues to health complications, the failure of UCLA as an institution to recognize life's many struggles is ignorant and ill-considered.
UCLA must take careful consideration to ensure an effective set of standard rules is implemented.
For instance, the university should specify exactly how to obtain a doctor's note from the Arthur Ashe Student Health and Wellness Center and Counseling and Psychological Services on its website – two resources that provide students with an efficient and accessible means to obtain a verifiable piece of documentation in the case of a physical or mental health emergency.
Furthermore, the type of academic exemption and clear guidelines for specific circumstances should be clearly stated on the alternate examination policies page of the UCLA Registrar's Office website.
"I do think there needs to be some website or phone number, or maybe an application process where you can submit proof … and have it be overlooked by a committee," Tizabi said.
As someone who has been that struggling student with a 104-degree fever during winter quarter finals week, I had to drag myself out of bed, drink some tea and force myself into the right headspace to take a math final.
Students should not feel compelled to guess what the fate of their grade will be in a course because of circumstances outside their control.
It's time that UCLA places its students' health first and exams second.
During these difficult and unexpected times, UCLA should be working with students, not against them, and that begins with revising its academic exemption policy.