UCLA rowing heads to Pac-12 championships with NCAA tournament berth on the line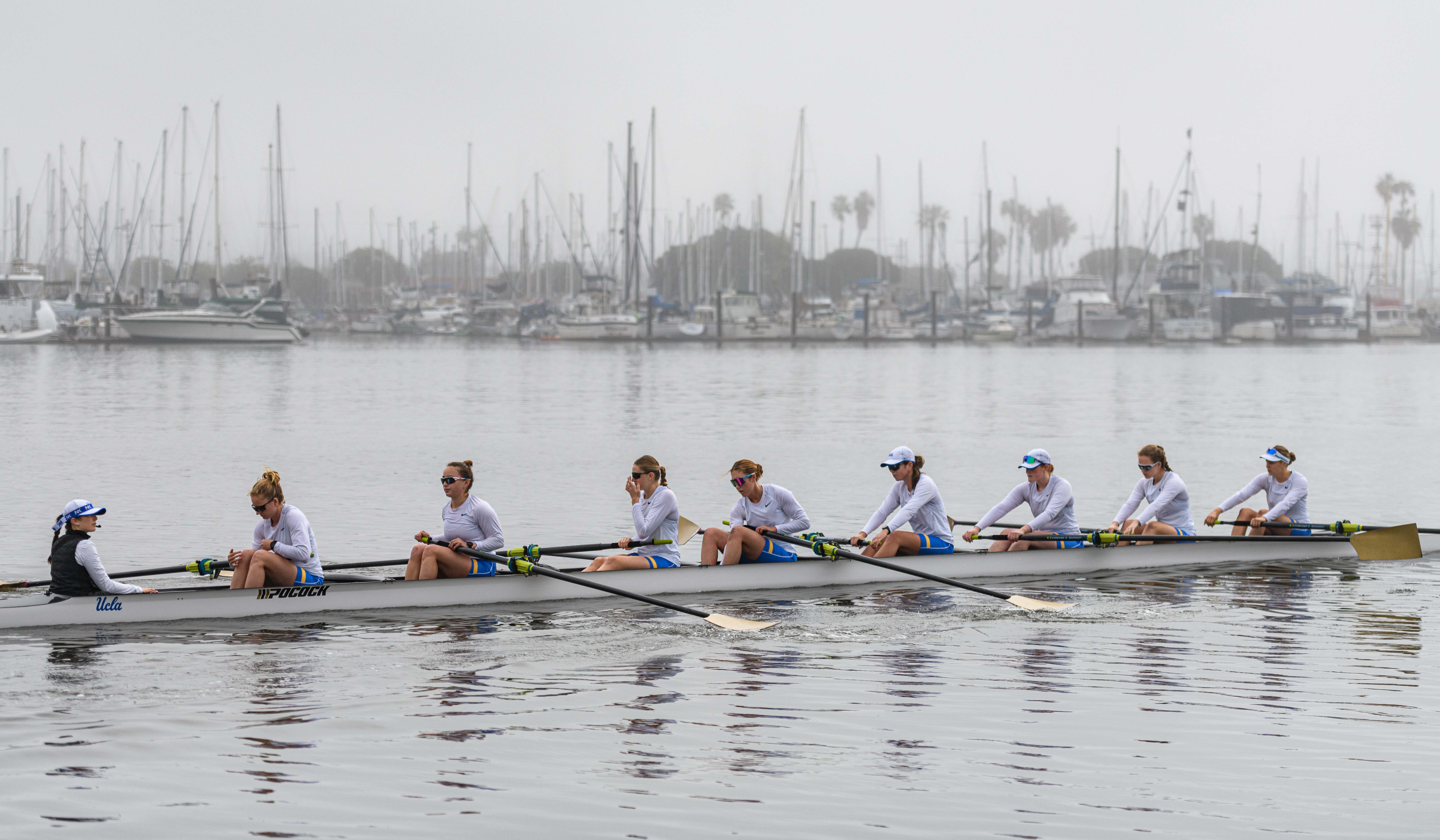 Members of the UCLA rowing team paddle through the water. In order to extend their season, the Bruins likely need to do well at the Pac-12 Championships on May 14. (Myka Fromm/Daily Bruin)
After multiple top-three finishes in the Dexter Lake Invitational, the Bruins will head towards the postseason with a polished mindset.
"It's going to be important for us to keep the mentality that we have for this race and just go right off the start," said senior port Ellen Ulitsky.
After a two-week break, UCLA rowing (1-1) will return to Dexter Lake in Lowell to compete in the Pac-12 championships on May 14. The Bruins' return to the Oregon waters could either lead to a qualification into the NCAA championships or the end of their season.
Coach Previn Chandraratna said the team's driving point has changed.
"As we hit the end of the season, the shift turns toward racing ability as opposed to merely just fitness and technique," Chandraratna said.
The Bruins haven't had a top-three finish at the Pac-12 championships since earning third place in 2012, which marked a program best since 1991.
Last year, the Bruins took home sixth after securing fourth in 2019.
Looking forward to 2023, after her boat secured a third-place finish at the San Diego Crew Classic, freshman starboard Rachel Katz said the novice eight crew is hoping to show improvements in conference postseason action.
"We wanted to really show what our novice boat can do, and then be able to improve on that as we approach the novice event at Pac-12 and make sure that we're representing UCLA really well throughout the race," Katz said.
The novice eight boat finished third in the 2019 Pac-12 championships, with the second varsity eight securing fourth.
As the season draws to a close, the upcoming championships could potentially mean goodbye to several seniors' time donning the blue and gold.
"(It'll) potentially be the last time wearing UCLA on my chest," Ulitsky said.
Her first appearance in the Pac-12 championships was in 2021, where her boat landed fourth. Ulitsky also competed at the World Rowing Championships the following year.
Ulitsky's crew member and fellow senior port Olivia Caesar said the team knows what's at stake.
"We know what we have to do to put ourselves in the best condition to qualify for the NCAA (championships)," Caesar said. "And I think we're all really excited to get the opportunity to do that."
Caesar also participated in the 2021 rendition of the conference championships and was awarded Pac-12 Team honors for two consecutive seasons.
The Bruins need to either win the conference championships or receive an at-large bid in order to compete in the NCAA tournament on May 26.