NCAA exit for UCLA women's golf marks coach Carrie Forsyth's retirement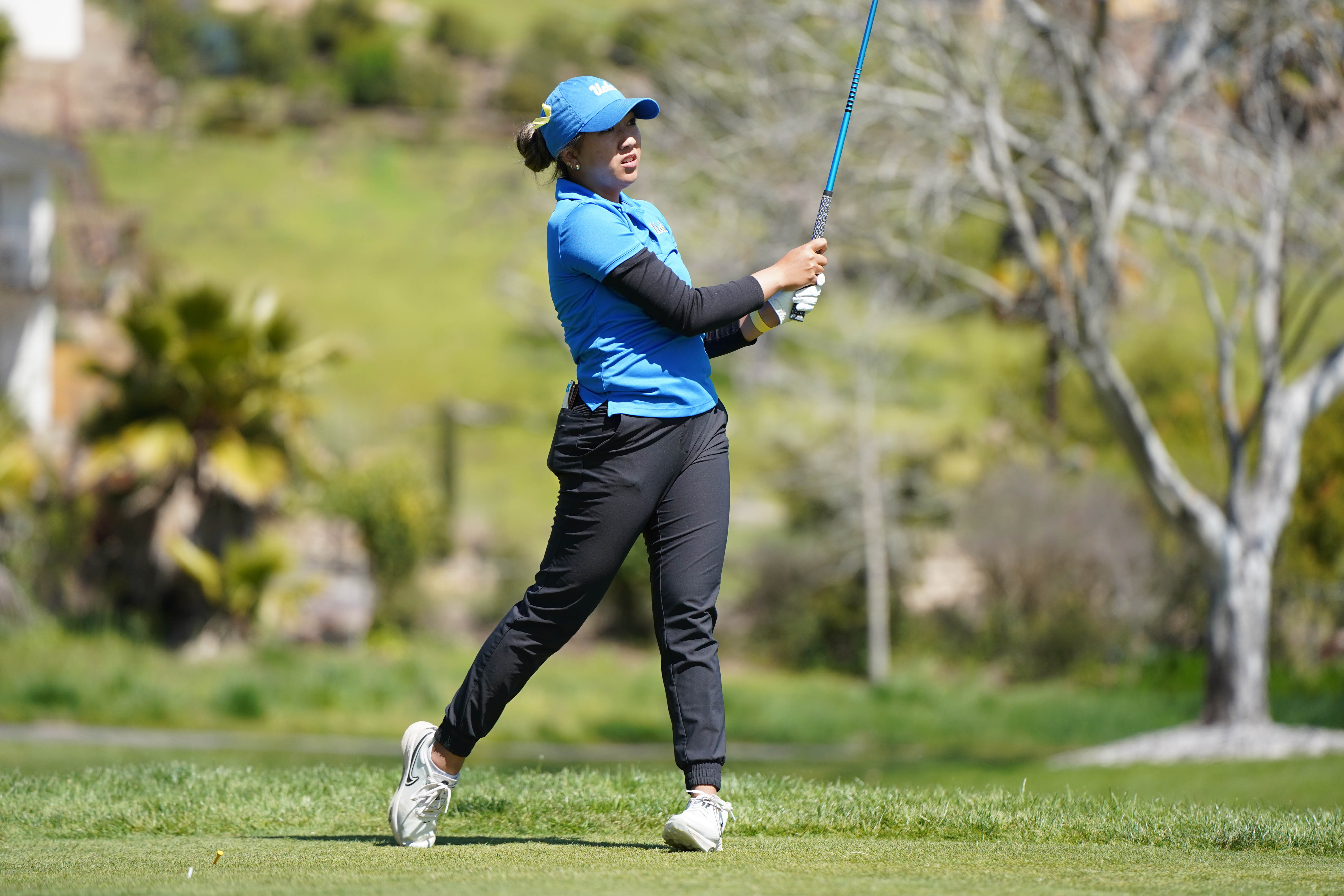 Sophomore Zoe Antoinette Campos watches the ball after a swing. Campos finished second individually at the NCAA Regional in San Antonio. (Courtesy of Alicia Um Holmes/UCLA Athletics)
WOMEN'S GOLF
NCAA Regional
Eighth place (+36, 900)
This post was updated May 14 at 9:05 p.m.
In coach Carrie Forsyth's final season, the Bruins had their earliest NCAA exit since 2017.
Forsyth announced her retirement before UCLA women's golf headed to San Antonio to compete in the NCAA regionals Monday to Wednesday. The Bruins placed eighth overall – three places short from advancing to the NCAA championship and the first time they failed to advance in six years. The team carded a 36-over 900 – 11 strokes behind fifth-place New Mexico.
Forsyth said it was a disappointing finish, but she is still proud of the team's resilience.
"This was a tough season for us," Forsyth said. "We lost a player mid-year. We had our top player turn pro at the end of last season that we weren't able to replace. But they just battled. I am proud of them for their efforts."
Although UCLA will not move on, its trip to TPC San Antonio was highlighted by a second-place individual finish by Zoe Antoinette Campos. The sophomore carded a 4-under 212 across three rounds of play. Despite the podium finish, Campos will not be moving on as an individual, as only the top finisher not on a qualifying team from each regional continues onto the NCAA championships.
Campos said her short game was the key factor to her success.
"I saved a lot of my shots especially because I wasn't really in position a lot of the time," Campos said. "Some things could've gone better, but I am still proud of the way I played."
During the first round, sophomore Caroline Canales birdied four times, leading her to record a score of 1-under 71. She ultimately finished in a tie for 16th place with an overall score of 5-over 221, making her the Bruins' second-best finisher.
Canales said even with her best score coming from the first round, she was happy with a par-5 during round three in which she was able to recover from a poorly hit wedge shot.
"I managed to hit a high, kind of flop shot that had some spin, so it stopped near the hole," Canales said. "I was able to save par. It gave me some good momentum going forward into the rest of the back nine."
The Bruins also saw a lineup change between rounds two and three. Senior Annabel Wilson rounded out UCLA's lineup for the first two days, but senior Emilie Paltrinieri stepped into her position for the final round after an injury took Wilson out of commission.
Wilson carded a 15-over 159 over the course of her two days of play, while Paltrinieri slotted in with a 4-over 76 during her lone round.
According to Forsyth, Wilson had injured her left knee and right toe before the team headed to regionals, which led to her not being able to play the final round.
"We were trying to see if she could play through it, but she was struggling," Forsyth said. "It got to the point where it seemed like a good move to give her a rest, especially if we were to make it onto the finals. We wanted her to be at least able to play and be in good shape."
UCLA's season has come to a close, which means NCAA regionals was Forsyth's final tournament as a coach.
Canales – who has played two seasons under Forsyth – said the coach has left an impact not only on her, but the program as a whole.
"She is a role model that I look up to, in terms of her leadership and her coaching abilities," Canales said. "She created a positive space for us to look forward to going to everyday."
Baker is currently a Sports contributor on the swim & dive beat.
Baker is currently a Sports contributor on the swim & dive beat.