UCLA researchers develop app to translate space data into sound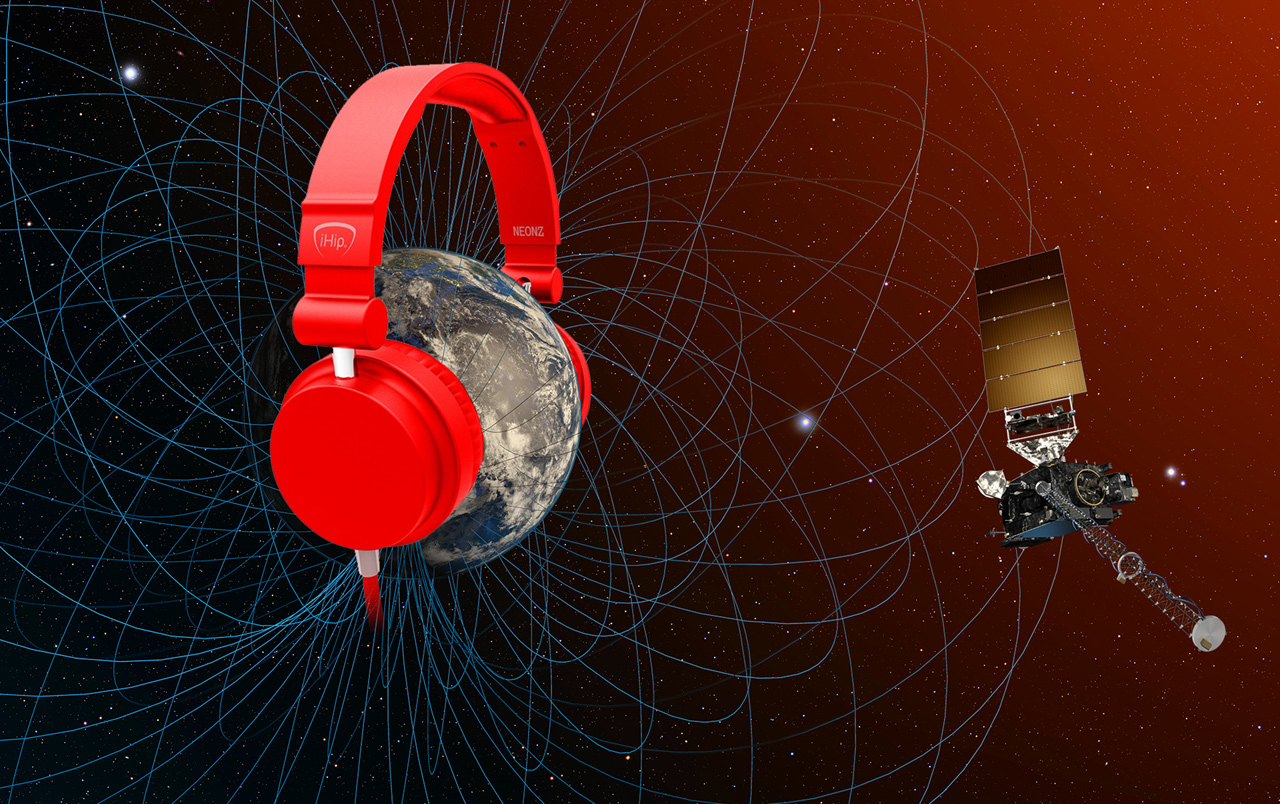 An earth with headphones and a satellite is pictured. UCLA researchers created an app where space data has been converted to audiovisual data. (Courtesy of Martin Archer)
This post was updated May 11 at 11:55 p.m.
UCLA researchers collaborated with NASA and the Space Science Institute to develop a web app that translates data from space into audible sound.
The app, called Heliophysics Audified: Resonances in Plasmas, allows the public to listen to and identify patterns in satellite data to help researchers improve space weather forecasting. Emmanuel Masongsong, a co-investigator for the project, said space weather is the interaction between the sun and Earth's magnetic fields. Satellites record vibrations in Earth's magnetic field that result from incoming sun particles, which can then be translated into sound, Masongsong said.
The app launched in late April and is now available online. Masongsong said it has reached over 40 countries and almost 1,000 users.
Masongsong said the project was inspired by a study performed by space physicist Martin Archer in 2018. In Archer's study, a group of high schoolers were able to identify patterns in satellite data when wave frequencies were sped up to an audible level, and researchers were able to link the auditory patterns to the recovery periods of geomagnetic – or solar – storms.
Masongsong, who is also an earth, planetary and space sciences program manager, said solar activity threatens space infrastructure such as weather satellites, GPS systems and power systems on Earth's surface.
"We don't want to give people the impression that this is a disaster looming on the horizon," said Michael Hartinger, principal investigator for the HARP project. "But we want people to understand what kinds of phenomena can occur, and what we're working on to try to predict and mitigate any effects from this phenomena (solar activity)."
Hartinger, an assistant researcher of earth, planetary and space sciences at UCLA and a research scientist at the SSI, said the project team includes science education experts from across the SSI. The team received funding from NASA's citizen science program and has spent two and a half years developing HARP, Masongsong said.
HARP utilizes 16 years of stored satellite data, Masongsong said. Upon opening the web app and registering, citizen scientists can see the location of the THEMIS satellite at the point the data was recorded, a visual representation of the sound waves and a spectrogram plot that details magnetic field data. Users can stop and play the sounds, then record areas of interest by drawing a rectangle around an area in the spectrogram and inputting comments. Rising or falling tones, rather than static sound, are areas of interest.
"The human brain via the ears and the eyes are still the best tool that we have," Masongsong said.
Hartinger said the group's main goal is to spark interest in the community about space science and raise awareness about the space climate. Space weather is also important to understand for further space exploration, Masongsong added.
"It's really, really important that we know that space is not empty because there's particles, and there's magnetic fields, and there's radiation. And there's different conditions that can actually be harmful to astronauts," Masongsong said.
Some scientists have said they want to extend HARP satellite data to other fields. Alessandra Pacini, a researcher at the Cooperative Institute for Research in Environmental Sciences and HARP investigator, said she would like to incorporate space sounds into art and music projects.
"I just think (it) would be a great opportunity for us to feel unified by the sound from space," Pacini said. "(Music is) very special for carrying this cultural background that is peculiar to your region."
She said she hopes to create a global database with the magnetic wave sounds characterized through HARP for artists to download and mix with other sounds. Both space and music inspire her because they can connect people from various backgrounds, she added.
Masongsong said computers and algorithms, unlike humans, do not effectively identify patterns in the satellite data.
"We don't really know exactly what we're looking for, … (but) there's data in there that could actually be really important," Masongsong said. "Involving the public gives more points of view, more different perspectives."