UCLA women's golf looks toward final NCAA regional with Carrie Forsyth at the helm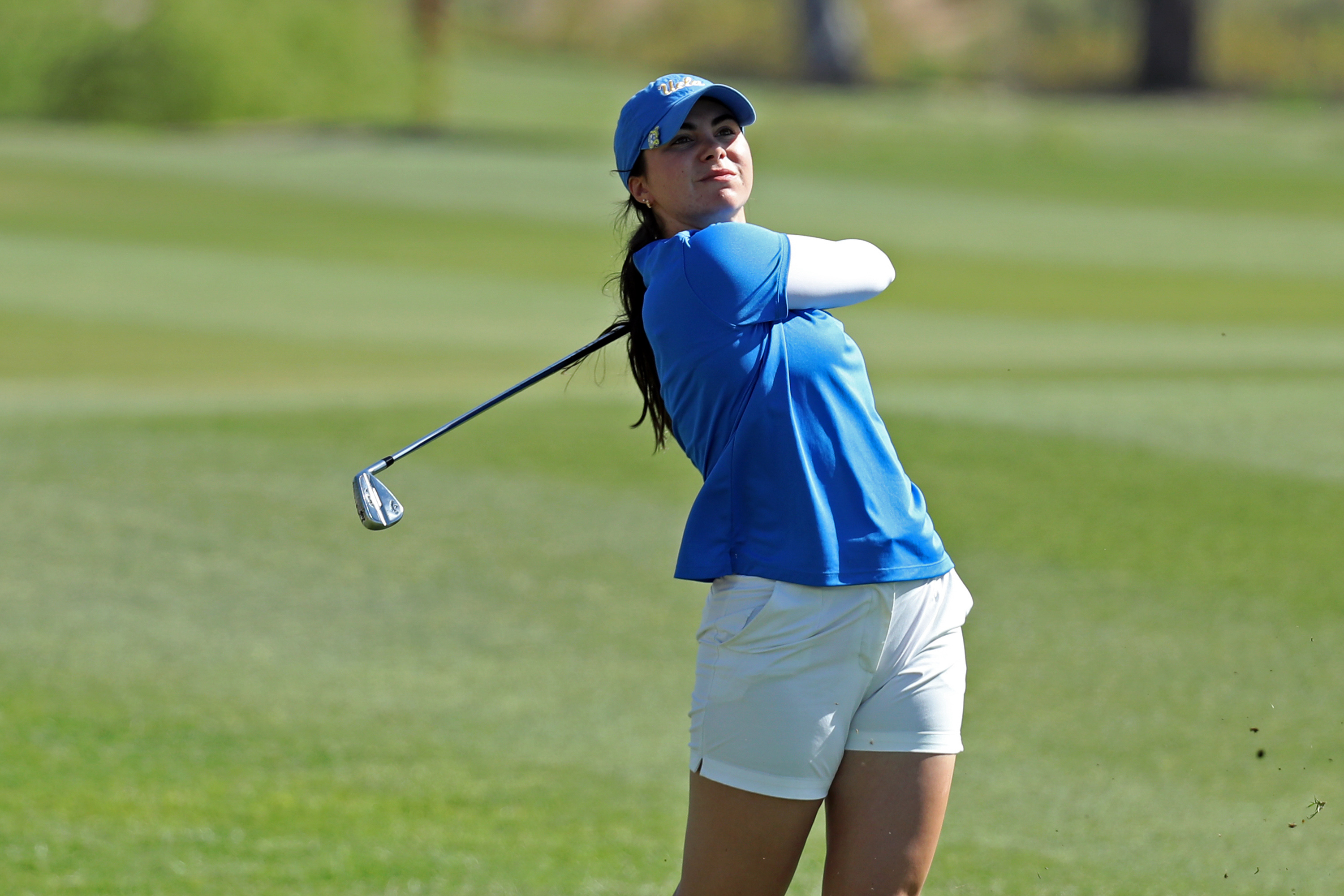 Redshirt sophomore Alessia Nobilio watches the ball soar after a hit on the fairway. (Courtesy of Zachary BonDurant)
WOMEN'S GOLF
NCAA Regionals
Monday to Wednesday
San Antonio
Coach Carrie Forsyth is looking forward to the postseason despite her recent retirement announcement.
"I'm excited about our opportunities that are ahead of us," Forsyth said. "I am a little bit nostalgic as well."
UCLA women's golf is headed to Texas to compete in the NCAA San Antonio Regional at the TPC San Antonio from Monday through Wednesday. UCLA is the sixth seed in the regional, with No. 5 Texas A&M, No. 8 Auburn, No. 24 Pepperdine, No. 22 Oklahoma State and No. 18 Southern Methodist seeded ahead of them, respectively. The Bruins must place in the top five to advance from the regional round.
On April 24, the 24-year coach announced she would be retiring from the head coach position after this season came to a close.
During Forsyth's years at the helm, the Bruins have advanced from the regional round 20 times. There were only two years when the Bruins failed to advance past regionals – once in 2000 and once in 2017.
Sophomore Caroline Canales said Forsyth's retirement was a surprise to many of the golfers, but they aren't going to focus on it heading into regionals.
"Obviously, the goal is to play well and advance to nationals," Canales said. "I think we all have an awareness about (her retirement), but it's definitely not what we are going to be thinking about on the first tee. It can add to whatever expectations we already have, and that's not beneficial."
This year's lineup will only have two returning players from last year's starting five – Canales and redshirt sophomore Alessia Nobilio.
Canales has been dealing with a shoulder injury for much of the spring season but said her physical therapy has been helping, which gives her a boost of confidence heading into regionals.
"It feels way better," Canales said. "I haven't needed pain medication for a few weeks now, so it's heading in the right direction. We are really happy with the progress that has been made."
Sophomore Zoe Antoinette Campos and seniors Annabel Wilson and Yuki Yoshihara will round out the lineup. While Campos is making her NCAA tournament debut, Wilson and Yoshihara will be playing in their final regional.
Forsyth said all of the seniors are amazing because of their resilience in navigating the pandemic during their careers.
"These are the girls that went through COVID and everything, like all of our seniors have, but it's a pretty special group," Forsyth said. "It's a very emotional time, but we are just trying to get ready and enjoy these moments."
Forsyth said she's feeling a lot of emotions heading into her last regional.
As the Bruins prepare to tee off for a chance to advance and win their fourth NCAA championship, Forsyth said the team will rely on their motto.
"Take it in, have gratitude for the opportunity and give it your all," Forsyth said.
Baker is currently a Sports contributor on the swim & dive beat.
Baker is currently a Sports contributor on the swim & dive beat.