For the first time since 2014, UCLA baseball endures series home sweep from Cal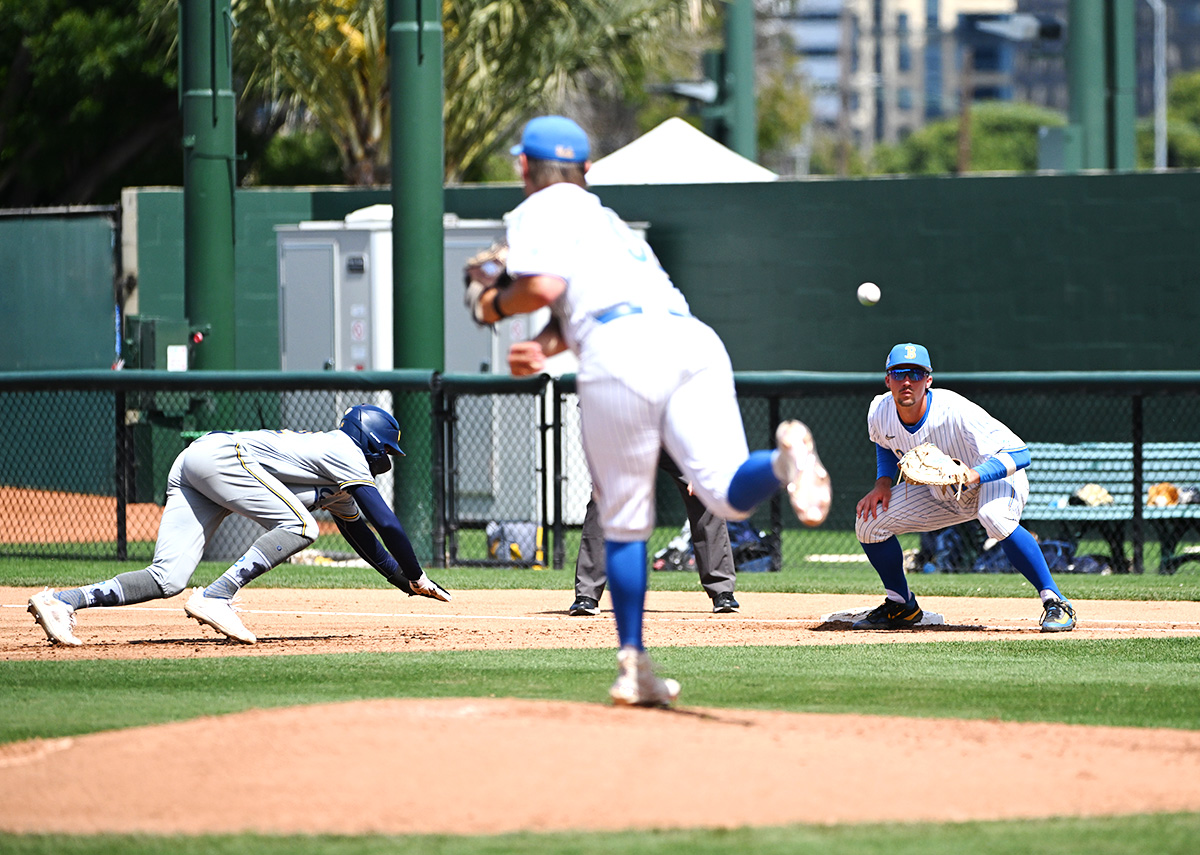 Sophomore first baseman Jack Holman receives a pickoff attempt. Holman hit a go-ahead home run during Sunday's contest, but the Bruins later lost the lead and fell to the Golden Bears. (Shane Yu/Daily Bruin)
A series loss loomed over Jackie Robinson Stadium early Sunday afternoon as the Bruins struggled to find the win column.
"We're behind the eight ball," said coach John Savage. "We're behind a lot of teams. We know that."
UCLA baseball (24-19-1, 10-12-1 Pac-12) came up short 9-8 against California (21-23, 9-15) on Sunday, enduring a home sweep during a Pac-12 series for the first time since 2014. Even with a one-run lead in the fifth inning, the Bruins played a constant cycle of catchup from the start.
While the Bruins did not underestimate the Golden Bears, Savage said they couldn't stop the long ball.
"I thought we did good offensively," Savage said. "We just couldn't keep them in the ballpark. That was the story the other weekend."
After Cal took a two-run lead in the first frame, UCLA returned the favor after a single through the right side, courtesy of sophomore first baseman Jack Holman, sent senior catcher Darius Perry home.
The fourth provided the Bruins with another run to inch closer to the Golden Bears' lead. However, it wasn't until the bottom of the fifth when the Bruins picked up some momentum of their own.
With two runners on base, Holman connected on a pitch for a fifth-inning home run. The frame brought in a familiar face, with left-hander and former Bruin Daniel Colwell on the mound for the Golden Bears. With sophomore infielder Duce Gourson and Perry scoring on the three-run blast, the Bruins gained their first lead of the game.
It could've been the turning point, according to senior outfielder/left-hander Josh Hahn.
"It was huge," said Hahn. "We (had) a lot of momentum backing up the next player of ours, dugout was high energy and we wanted to take them to the next thing and throughout the game."
However, the Bruins' lead was short lived when the Golden Bears returned to the plate to produce three runs of their own in the sixth. UCLA tacked on one more in the eighth, but it wasn't until the bottom of the ninth that UCLA nearly made a comeback.
Junior infielder Daylen Reyes stepped up to the plate with the bases loaded and two outs and delivered a single up the middle, sending both Holman and freshman outfielder Jarrod Hocking home to make it a one-run game. However, a Perry strikeout ended the contest with the Bruins one run away from tying the game.
Sophomore left-hander Ethan Flanagan took the mound to start for UCLA and gave up four runs in five innings.
Redshirt sophomore right-hander Chris Aldrich relieved Flanagan in the sixth but proceeded to allow four runs – including back-to-back homers.
The lackluster pitching performances aren't isolated to one week, but rather reflect the shape of the entire group, Savage said.
"We're just so beat up, (and) we're just using a lot of different guys and piecing them together," Savage said. "It is what it is … so we got to bounce back this week. That's the story of where we're at right now."