'Dawgs': Graduating track and field runners break records, build team unity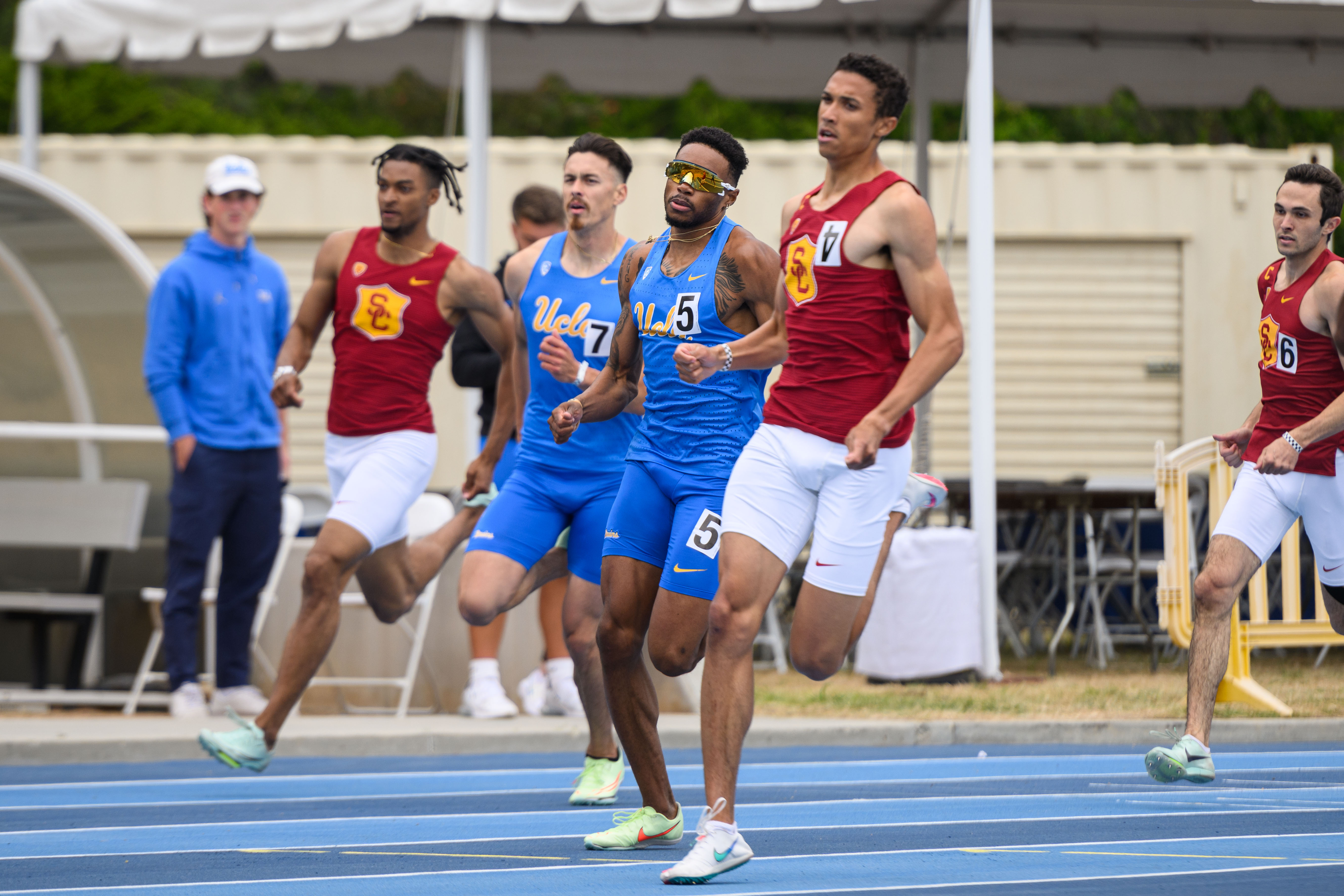 Graduate student sprinter Willington Wright competes in the dual meet against USC. Wright transferred to UCLA from Texas and made an immediate impact on the program. (Jack Stenzel/Daily Bruin staff)
With the season coming to a close, some Bruins are taking the time to reflect on their legacies representing the blue and gold.
UCLA track and field held its Senior Day during a dual meet against USC at Drake Stadium on Sunday, with the many seniors – who have topped leaderboards and broken records this season – receiving recognition in front of friends and family.
According to coach Avery Anderson, the Bruins have the seniors to thank for their success this season.
"They have set the tone for the culture that we have," Anderson said. "Those students came into an already well-developed culture because of the four-year seniors that we had."
The men's relay squad includes senior sprinters Myles Misener-Daley, Ismail Turner and Cameron Reynolds as well as graduate student sprinter Willington Wright.
After this season, Misener-Daley now holds the No. 1 spot in UCLA's record books for the men's 200-meter at 20.68 seconds. Misener-Daley noted the importance of the sport to him, no matter who's watching.
"We take it very seriously," Misener-Daley said. "No matter who's in the stands, no matter who's supporting, we show up."
The senior is among four other sprinters who have challenged UCLA's all-time leaderboards. The men's 4×400-meter relay team also broke the school indoor record with a time of 3:03.48.
The group included Misener-Daley, Turner, Wright and junior Antonie Nortje at the Don Kirby Invitational in February.
While these athletes all train intensely, the environment that the seniors, and Anderson in particular, have created has helped UCLA excel.
"Dawgs," Wright said about his teammates. "It doesn't matter which one of us is not on because we know somebody else is on."
As they embark on their final month in Westwood, Wright and Misener-Daley have learned something but also left something to be remembered. They both want to be known for being team players and constantly supporting their fellow student-athletes.
Wright, a graduate student who spent just one year with UCLA after four seasons at Texas, wanted to pass down some of his expertise to his new team.
"I continued to tell them we could come together to do something great," Wright said. "At first, they were hard-headed, but I think over time everybody was like, 'Let's trust this guy Will.'"
Wright's message was simple. He wanted his team to know that if one person brings enthusiasm, it's more likely the next person does too.
"I think I left a team-player mentality," Wright said.
As Anderson attests, the seniors have consistently set the tone for what UCLA track and field aspires to become.