Q&A: Janelle McDonald reflects on 'whirlwind' of a season with UCLA gymnastics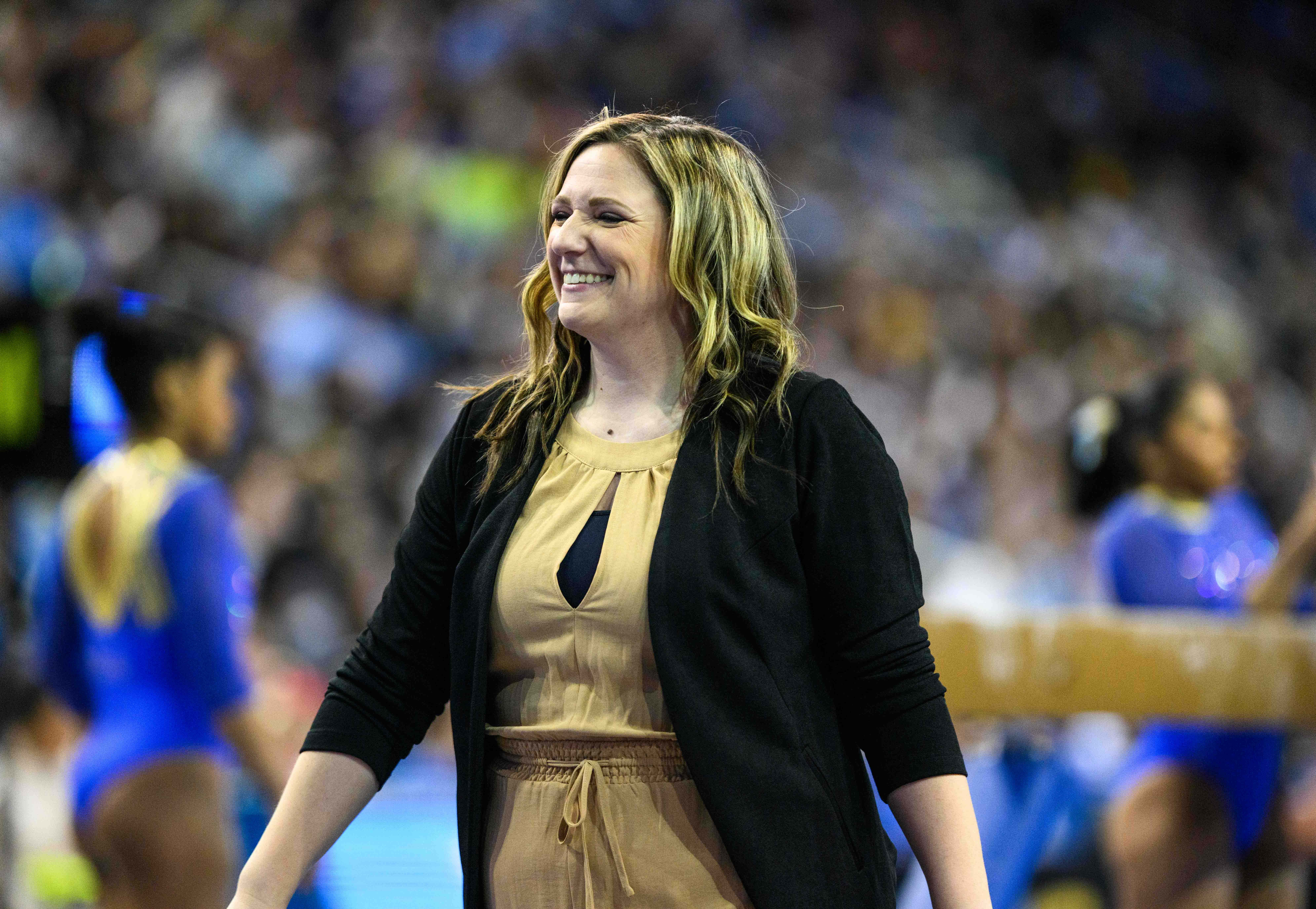 UCLA gymnastics coach Janelle McDonald smiles during a meet. (Joseph Jimenez/Assistant Photo editor)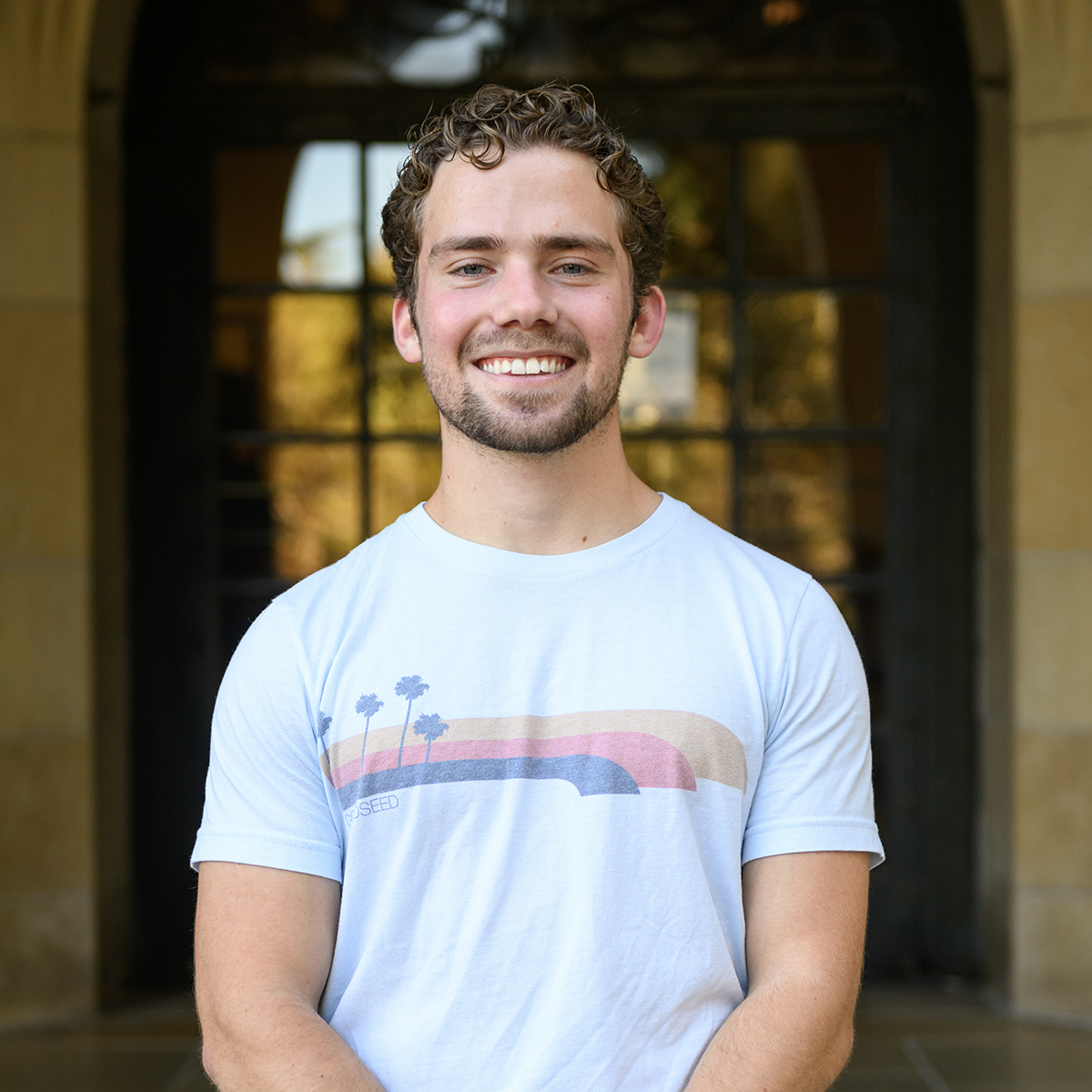 Just over two weeks removed from the end of UCLA gymnastics' season at the semifinals of the NCAA championships, Sports Editor Sam Settleman and staff writer Benjamin Royer sat down with coach Janelle McDonald to discuss her takeaways from year one as the Bruins' head coach, potential upgrades for next season, the transfer portal and more.
This interview has been edited for length and clarity.
Sam Settleman: You're a couple of weeks out from the end of the season now, and you've had some time to reflect. What are your feelings looking back on year one with UCLA?
Janelle McDonald: Yeah, I feel like it's been a whirlwind. It went really fast. And I feel like there's been a lot of growth, both personally and with our team. We just had our team banquet on Saturday, actually, and something that I really touched on was just how proud I am of the growth that we've had as a team this year. Obviously, we had a lot of great gymnastics moments too, but really seeing the team I walked into and comparing that to the team we had on the floor at the national championships, there's just a lot of growth and a lot of progress as far as our team culture and being connected and working towards a common goal together – really becoming a family and seeing them develop that sisterhood that they're going to have with them for the rest of their life. All of those things are the things I'm going to remember most from this first season and the things I'm most proud of.
SS: When you think about the NCAA championships, to have a performance like that in the semifinal and not have a chance to compete on the final day, are there any feelings of not really regret but "That should've been us?"
JM: Yeah, I mean, for sure. We were really proud of what we did that day. I told the team that from start to finish, they were in it together. They were fighting for everything. They had a lot of joy and passion out on the floor, and so I was really proud of the performance we had that day. We stayed and watched the finals. I absolutely think we were a team that could have been out on that floor.
Benjamin Royer: On a similar note, you said the whole team was watching the final from the stands. Was that motivating at all for them to strive to be in that position next season?
JM: Yeah, absolutely. I told them – because I think there was some mixed feelings about wanting to watch it – but I said, "We get to be fans of our sport tonight." And I said, "Try to learn something from it. Watch different teams, watch different interactions, and take something away to help make yourself better moving forward." And so I really feel like our team leaned into that. We ended up having a blast, enjoyed watching the meet. It was a great competition with some really great teams. And absolutely, we've had some good conversations about things we noticed. And I think it solidified things we're doing really well and things that we want to keep dialing in to have even stronger next year.
SS: Pretty much a year ago we were sitting down in this same building right after you got hired, and I asked you what you saw as the biggest challenge in making the transition to head coach. I think you said dealing with everything that comes with the job, like the interviews and photoshoots and all that. Looking back now, what was the most difficult part of being head coach in year one?
JM: Well, it's twofold. One is you're managing a lot of different people. And I think I didn't realize how many people have a hand in your program, and so, being able to make sure everybody's on the same page and also managing the different lives of all of our student-athletes definitely takes a lot more time than I had anticipated. And the other thing was, I had this plan of how I wanted things to go and look like, and I realized really quick that my job is actually to meet my student-athletes where they're at and move forward together in a positive way. And so, I think being adaptable was really important in this first year. In a lot of those ways, I've grown a lot as a coach and just being a leader of this program and it's something I'm really proud of.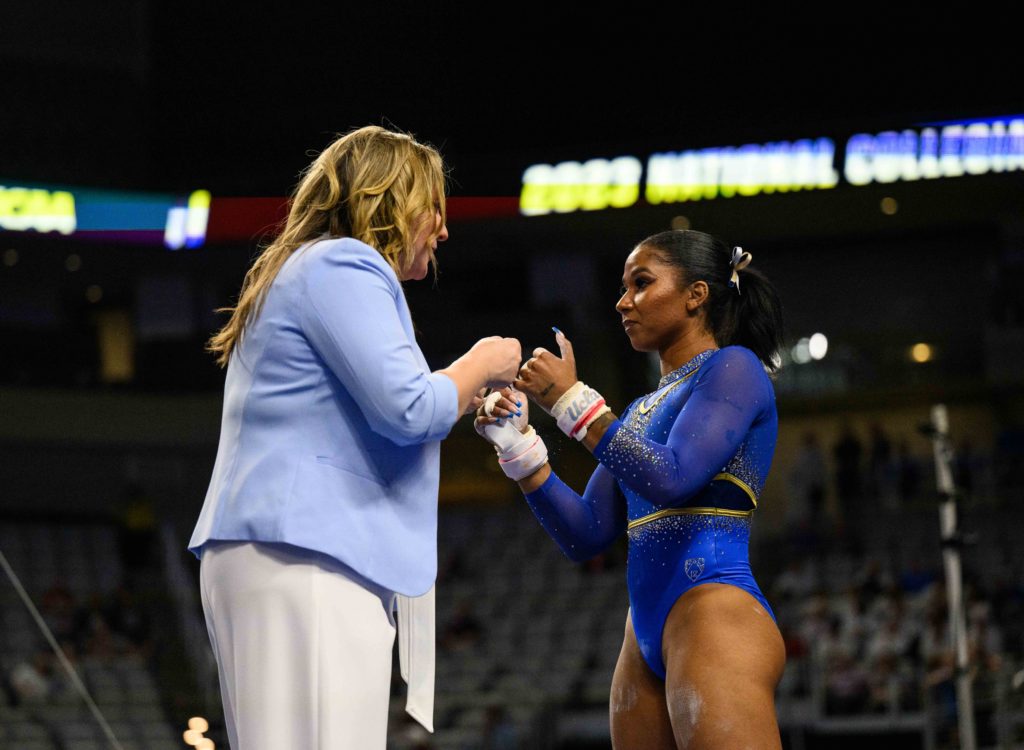 BR: Is there any specific moment you'll look back on from your first season at UCLA that will stick with you for a long time?
JM: Yeah, I think there's a couple moments. One was when we were at podium training of our first competition in Vegas, and we were just coming off a really hard preseason where the team is dealing with a lot of change. And, there were a lot of hard days because of that. We were at podium training for the first competition. I had no idea what the meet was going to look like the next day, I had no idea what the season was going to look like, but I remember looking up at our team, and they were doing some pretty good gymnastics, but they were smiling, they were laughing, they were connecting and enjoying what they were doing. And I thought to myself, "OK, we're on the right track of where we want to be." And then, I think, probably at the national championships, just feeling really proud of how our team was competing but also showing up for each other. And there was a moment where after we were done with the meet and the scoreboard showed that we weren't moving on to day two, I looked in the corral, and I really saw a family supporting each other in that corral. It was something I think will stick with me forever because there are obviously a lot of emotions in that moment.
SS: You've talked a lot about growth from this year, but when you look towards next year, what do you see as the biggest point of growth, whether that be culturewise or more technically?
JM: Yeah, I think it's a mixture of both. You know, I think now we have a year under our belt. We've kind of defined the pillars of our culture, and I really want to tighten up what those look like. I want to have more accountability and that sort of thing moving forward, and I think that's a way that we're going to be able to level up as a team. And then the team's really excited, and they're really hungry right now. We have an eight-hour period right now of required training, but they're coming in to open gym, and they're getting after it. Working hard and trying to up our game. Seeing a lot of good work already on vault especially and then just really letting them have a blast just training new skills and seeing if there are some new combinations and things that we can use for next year.
BR: Speaking of vault, vault took a positive turn late in the season and shined during the NCAA Los Angeles Regional, but it was also statistically your lowest-scored event. What are the next steps to make vault more of a consistent event heading into 2024?
JM: I think part of it is we want to get more 10.0 start values into our lineup. We have a lot of people on our team that in their life have competed difficult vaults that would start from a 10. And so, not necessarily going back to that same vault they did previously, but what that tells me is that they have the capability of learning something harder. And so we're diving into that right now – having some fun over there just working some new drills and stuff to see if we can get more 10.0 start values into our lineup. But I also think our team is really committed to the little things that we can do in the preseason to be able to have it more dialed in when we start competing. The thing is, when you start competing, you're competing every weekend, and there's a big portion of it where we got to really preserve our bodies throughout the week, and so you can't take a ton of hard numbers in the gym once we start competing. So that work really needs to be done in the preseason. And just coming in this year, we weren't really in a place to be dialing in details in the preseason because we had so much culturally and gymnastically to kind of get dialed in and on the same page for. Moving forward, I'm really looking forward to this preseason because I think we're going to be able to dial in some of those details to have it locked in earlier for us next year.
SS: A lot of the top teams now have five to six 10.0 start values on vault. I know (freshman) Ciena Alipio was maybe training a 1.5 (Yurchenko 1.5) at some point and you have Katelyn Rosen coming in as well. Obviously it's early, but who do you think could take that next leap to have a 10.0 start value next year?
JM: Yeah, Chae's (junior Chae Campbell is) looking really good. Actually, already, she's been training an upgraded vault. (Sophomore) Emily Lee has done a vault in her past that has some good potential as well, so those are a couple. Obviously, getting (sophomore) Brooklyn (Moors) in there earlier in the year is going to help and Ciena has competed the 1.5 in her elite career before she came in. Unfortunately, her preseason injury kind of kept her limited to beam this year, but we're excited to see her sophomore glow up next year.
SS: You talked about how much of that upgrade work has to be done in the preseason. Just generally, are there any specific upgrades you're looking to make next year for specific athletes?
JM: A lot of people are just playing with gymnastics right now, and there's a couple of combinations that are looking pretty good. We're really excited (junior) Frida Esparza has been adding skills back into her training every single day, so I'm really excited about her. We've got Brooklyn training back on bars again, things like that. So just a lot of people being able to kind of expand their role, and I think we have a lot of people excited to do that.
BR: Losing (sophomore) Jordan (Chiles) and then potentially Marz (redshirt senior Margzetta Frazier) as well going into next year, that's obviously a lot of scores to lose. But how do you replace that leadership as well?
JM: In our end-of-the-year meetings, we had a lot of talk about leadership, and we have a lot of leaders on our team. We have a lot of people with a lot of experience. And so just really helping them find their voice and choose those little moments to be able to show up as a leader is something that's going to be really important and that I'm excited to see a lot of people grow into their leadership skills.
BR: You get a leader back with (senior) Chloe Lashbrooke. Can you talk a little bit about what it means to get Chloe back for one more year?
JM: Chloe has some unfinished business with gymnastics, just having her injuries and having to come back from that. Her gymnastics is really starting to lock in and get better and better. So we're excited to see what she can do next year out on the competition floor. But more than that, she's just one of the hardest-working, kind-hearted people that you can have around, and she leads by example every single day. And she really is somebody that is a connector of people. Somebody could be looking at something from two different points of view, and she's really good about helping bring people together in that way. And so just that leadership is something that I'm really excited to have on our team next year.
BR: With Jordan and Marz potentially gone, there's a good amount of routines to replace. Could we see Emily or Ciena or anyone else step into an all-around role next year?
JM: Yeah, absolutely. We have a lot of great athletes that can do more than they did this year and I think they're really hungry to do that, absolutely. Emily trained all-around. She kind of made an appearance here and there. And so I think she's definitely somebody that could fit into some of those holes. Ciena only did beam this year, and she's an all-around athlete, so I'm excited to see her grow and be able to start filling those holes too. And then getting people like Frida and (junior) Sara Ulias back into the lineups. Those kinds of things could be really beneficial to help us next year.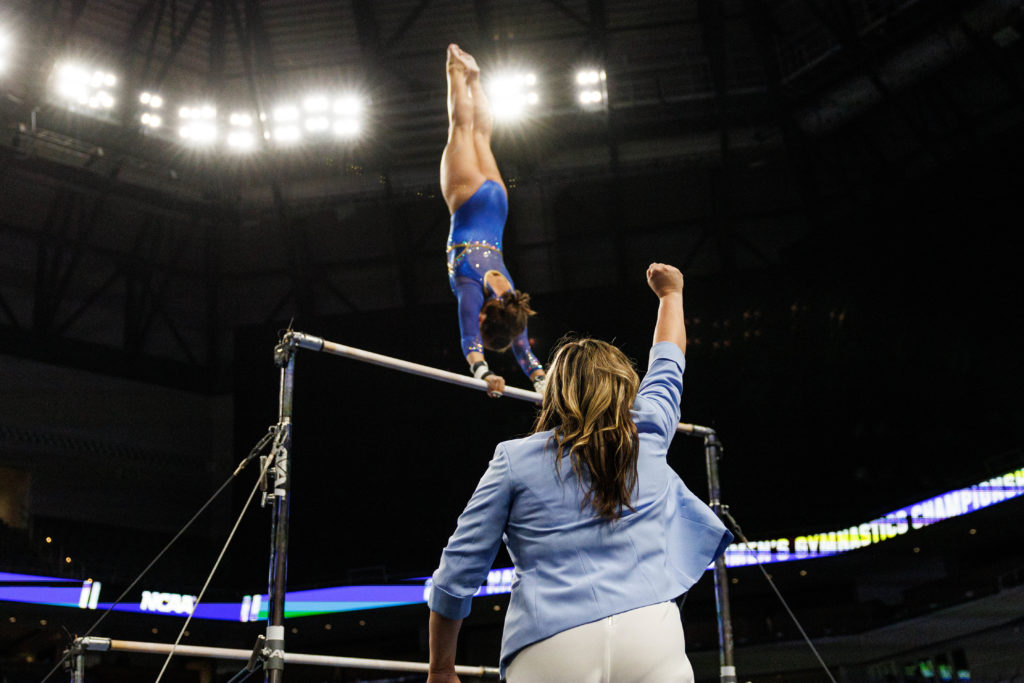 SS: Switching gears a little bit, but I think across collegiate sports the transfer portal has really taken off. I don't want to say gymnastics has been necessarily slow to adjust, but you don't see it as much in gymnastics as you do in football, for instance. What's your view on all of that, and do you anticipate potentially adding a couple transfers this year?
JM: Yeah, we're talking to some. Really, it's about finding if there's people in the portal that are a great fit for our program, both culturally and gymnastically. It's a little bit like a puzzle piece. And so, just really getting to know those athletes to see who might be a good fit is kind of how we're looking at it right now. And, yeah, gymnastics has been a little bit slower, but it's definitely way more active this year than it has been in the past. Hopefully, those athletes find a good home.
BR: You have, I'm sure, a lot of experience recruiting freshmen, but probably a lot less experience recruiting transfers. Does the recruiting approach change at all when recruiting transfers?
JM: It does a little bit because they have a lot of experience already there. They already have the college grind and what that looks like under their belt. I think it's really neat to talk to people that have that experience already because they know what they're looking for already. Whereas when you're recruiting a high schooler, they have this image and this hope of what it's going to be, but they don't know what the day in and day out looks like yet. Whereas a transfer already knows what the day in and day out looks like. And so they have some really good perspectives, and you can really see if it will be the right fit right away because of what they're looking for.
SS: You mentioned it a little bit, but what does training look like as the year winds down and then also over the summer when I know it's more of a voluntary thing?
JM: We're able to do our eight hours of required training right now through the end of the quarter, and then it goes into voluntary until the fall. Right now we're really having a lot of open gym time, just focusing on physical preparation, that kind of stuff. Our athletic performance coach has got things dialed in and is pushing them hard. We're excited to see kind of what we can start building here in this eight-hour period. And then in the summer, some are going to go home for a little bit, some are staying on campus, so it's going to kind of be an in and out situation. A lot of them will be back for session C, but it'll all be voluntary gymnastics training, but at least they'll be around and together. And then we'll get started in September with our required hours again.
SS: One thing you mentioned a couple of weeks ago was that in May, you as coaches in the sport meet to discuss future changes. Can you kind of break down what that looks like and what changes might be discussed going forward to next year?
JM: Not totally sure what we're going to discuss yet. I know there's a lot of proposals that were submitted and things like that, and it's not a rule-change year, so there's not going to be a ton of rules that are that are changed as far as our gymnastics requirements this year. But I'm looking forward to just getting into the room and picking everybody's brains about what we can keep doing to keep making our sport better.
SS: One major talking point, at least among fans of the sport this year, is judging inconsistencies. On the one hand, is that a sentiment that's shared by the coaches as well? And then, on the other hand, if so, how do you kind of approach beginning to solve that?
JM: There's definitely a pull to try to help standardize the expectation across the country from meet to meet. Our judges have a hard job. It's not easy, and they're human beings. And for a lot of them, this is a side hobby they do. They have full-time jobs and all of that, and then they do this on the weekend. So I think it's a challenge, but I also think that it's a great challenge to talk about and to find some answers for because I think everybody wants our sport to be the best it can be. And part of that is making sure that there is a standardized expectation across the country.
Settleman is currently the Sports editor on the football, men's basketball and gymnastics beats. He was previously an assistant editor on the gymnastics, women's soccer, women's golf, men's water polo and women's water polo beats and a contributor on the gymnastics and women's water polo beats.
Settleman is currently the Sports editor on the football, men's basketball and gymnastics beats. He was previously an assistant editor on the gymnastics, women's soccer, women's golf, men's water polo and women's water polo beats and a contributor on the gymnastics and women's water polo beats.