UCLA rowing rakes in top-3 finishes at Dexter Lake Invitational, overcomes USC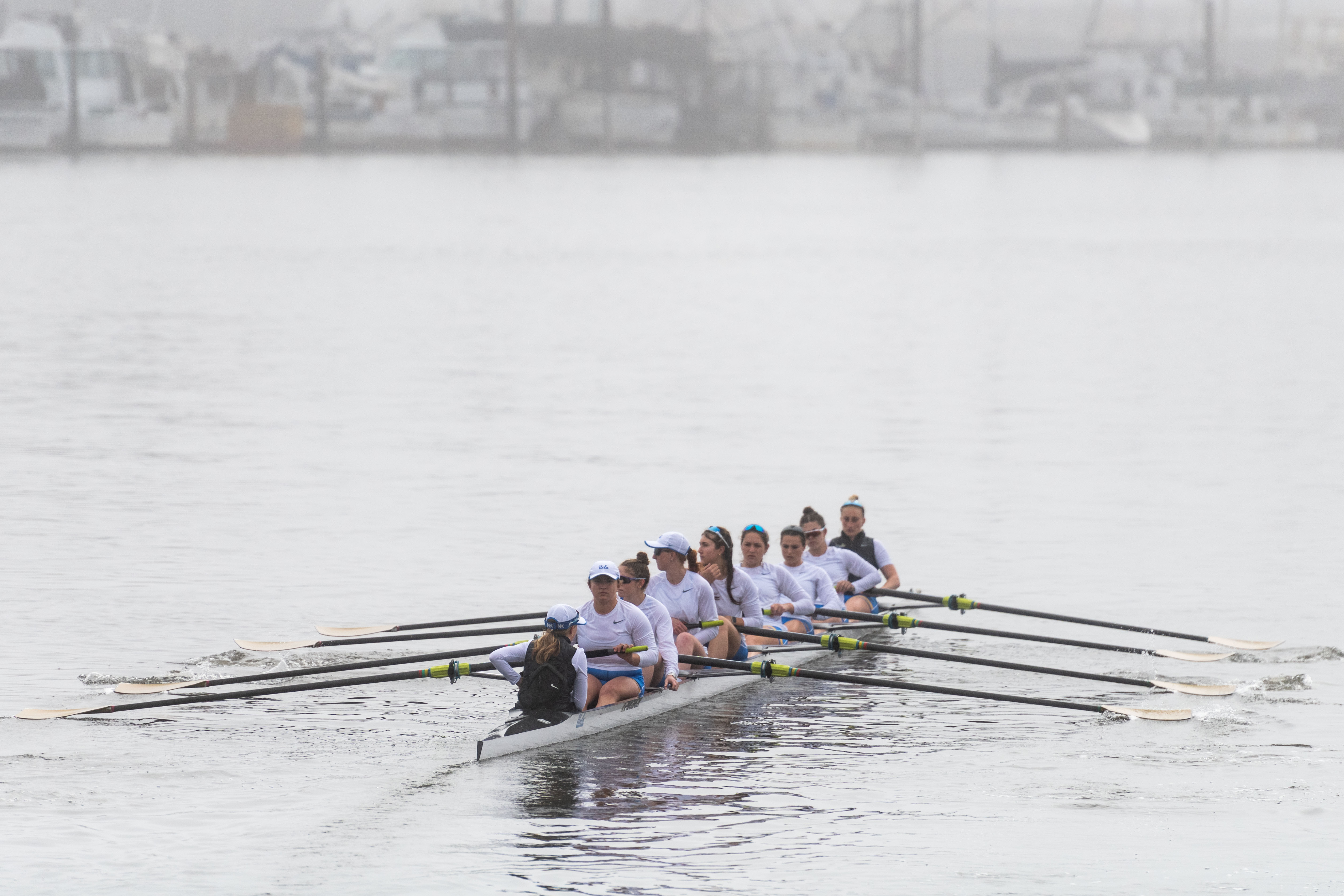 Members of UCLA rowing row. The Bruins completed their final regular season regatta Saturday. (Myka Fromm/Daily Bruin)
The Bruins varsity boats flipped the narrative over the weekend.
UCLA rowing (1-1) earned top-three finishes in all but one race at the Dexter Lake Invitational in Lowell, Oregon, on Saturday. The Bruins were able to surpass the Trojans, the victors between the two in the season's first regatta, in the morning third varsity eight and afternoon varsity eight races.
Senior port Ellen Ulitsky said the team was driven to overcome its crosstown rival.
"I feel like we just had a really good race because of the fire that we had to try to beat USC," Ulitsky said.
Fellow senior port Olivia Caesar shared a similar sentiment and reflected on the team's growth.
"It meant a lot to be able to overturn that result and show that we've made some big improvements through the quarter," Caesar said. "It gives us a huge confidence boost going into Pac-12s."
During the afternoon races, USC's third varsity eight was able to bypass UCLA's boat with a two-second margin, but the Bruins' varsity eight boat finished before the Trojans with twice the difference.
Caesar said the Bruins were able to adjust after not executing the way they would have liked in the varsity eight boat's morning race.
"The first race, we didn't execute the middle of our plan the way we wanted to," Caesar said. "The middle move that we made took us from sitting level with them to a couple seats up, and that was what we needed to be able to match them (USC)."
The performance Saturday comes on the heels of UCLA's first win of the season, a home victory over Loyola Marymount a week ago.
Coach Previn Chandraratna said that showing gave his team the momentum necessary to perform Saturday.
"Last weekend gave (us) the opportunity to clarify our race plan, tactics and even our techniques," Chandraratna said. "That helped us this weekend for sure."
Aside from conquering USC, UCLA was able to beat Oregon State in three races, two of which were the third varsity eight crew.
"Without this team and the culture we've created, none of us would be achieving the things that we have achieved," Caesar said. "That has been fundamental to a lot of the successes that we've all had as a team and individually."
With the season nearing its end, UCLA will move on to the Pac-12 championships May 14.