USAC Academic Affairs commissioner aims to bring transparency to overcrowding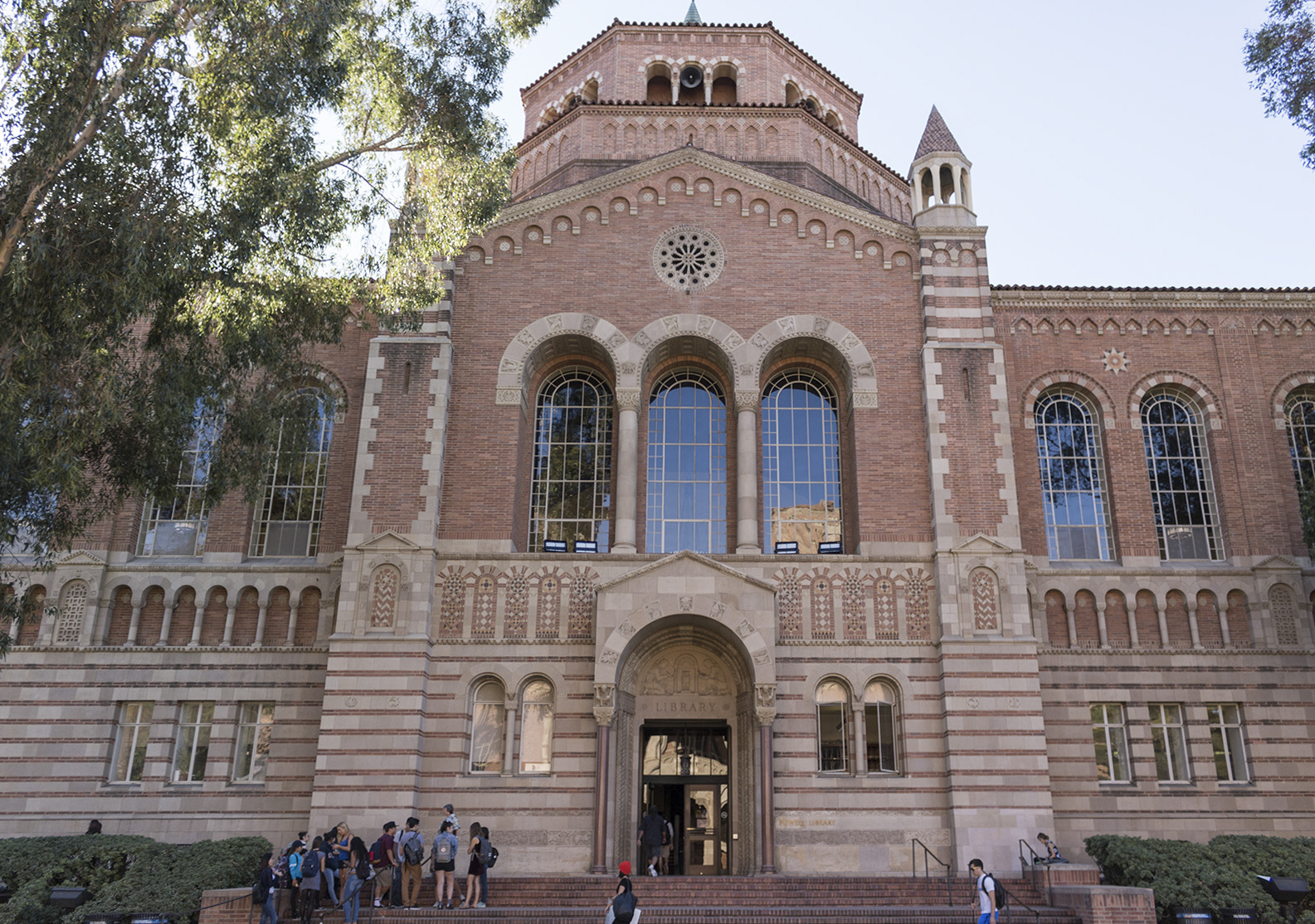 Powell Library is pictured. The Academic Affairs Commission is considering a program that would allow UCLA community members to monitor campus library occupancy levels. (Daily Bruin file photo)
April 30, 2023 10:19 p.m.
The Academic Affairs commissioner presented plans for the expansion of technology to view occupancy in UCLA libraries at the Undergraduate Students Association Council meeting April 4.
The Occuspace initiative utilizes sensors that use Wi-Fi and Bluetooth radio frequency analysis to detect the number of devices in a space, said Nic Halverson, CEO of Occuspace in an emailed statement. The information will then be displayed on a website, a mobile app and screens within the libraries to show which rooms and study areas are busiest at a certain moment, he added.
Halverson created the company after being frustrated by issues of library crowding while a student at UC San Diego, where he graduated from in 2017.
"Occuspace technology provides both real-time and historical foot traffic monitoring data to help administrators manage spaces more effectively and to improve student experiences," Halverson said in an emailed statement. "It's a convenient way for students to see how crowded library spaces are before they go to work or study."
Daniela Cortez, Academic Affairs commissioner, said in her presentation to USAC that 95% of the 200 students she surveyed on campus during the final three weeks of fall quarter were interested in a database showing how crowded libraries were. However, there is currently no timeline for implementing the program across all campus libraries.
The Occuspace collaboration was originally born out of a desire to keep students safe and alert of crowded areas when returning to campus in the aftermath of the pandemic, said Cortez, a third-year education and social transformation and public affairs student.
"Public health should be a very prime concern of any institution that aims to provide an accessible mode of education," she said. "In order to mitigate potential public health crises and to foster an environment that is safe for students that have disabilities or students that may be immunocompromised, … we just wanted to provide that option."
Cortez added she thought other benefits of the Occuspace initiative could include helping administrators manage resources and helping commuter students plan if or when they travel to campus.
It can be very difficult to find space in the libraries, especially during busy times of the day, said Cecilia Radilla, a second-year anthropology student. She added that she currently uses the library about three times a week and would use the Occuspace system to help manage her time better.
Ryan Anderson, a statistics doctoral student, said he doesn't think he would use the system when deciding whether or not to go to the libraries because he personally has not found crowding to be a large problem. However, he also said the system might be useful for tracking study rooms.
"At places like YRL (Charles E. Young Research Library), I think if you search enough, you can find something," he said. "I think certainly more could be done to expand the use of study rooms and the tracking available for that, rather than just to expand the number of them in general."
UCLA Library said in an emailed statement that it continuously reevaluates the spacing of its libraries to reduce crowding. Recently, it said in the statement, this included relocating bookstacks in Powell Library and redesigning other library spaces. It said it has already been testing the use of Occuspace technology in Campus Library Instructional Computing Commons study spaces but has not yet evaluated the results of the test pilot.
Halverson added that the use of sensors in UCLA's libraries will be done similarly to how they are implemented in the dining halls on the Hill.
UCLA Dining said in an emailed statement that its use of Occuspace allows students to select the dining hall they use based on how busy it is, as well as helps Dining plan when staff should take their breaks. UCLA Dining has been using Occuspace and publishes updated crowding information on its sites.
"If the program indicates that a particular dining area is becoming crowded, the dining management team can quickly respond by directing diners to other dining locations that have more space available," UCLA Dining said in the emailed statement. "This helps to ensure that all students have access to the dining services they need, even during peak periods."
Halverson added that the system involves encrypting the address numbers of each user to anonymize data on the sensors, safeguarding privacy. However, he said that the only way for library users to opt out of the system would be to turn off their device's Wi-Fi and Bluetooth capabilities.
"Our sensors are privacy-friendly and do not collect or store any personally identifiable information," he said. "Occuspace goes through regular third party security reviews to ensure our sensors and software infrastructure uses all industry best practices to ensure privacy and security."