Defining moments of the 2023 regular season for UCLA women's tennis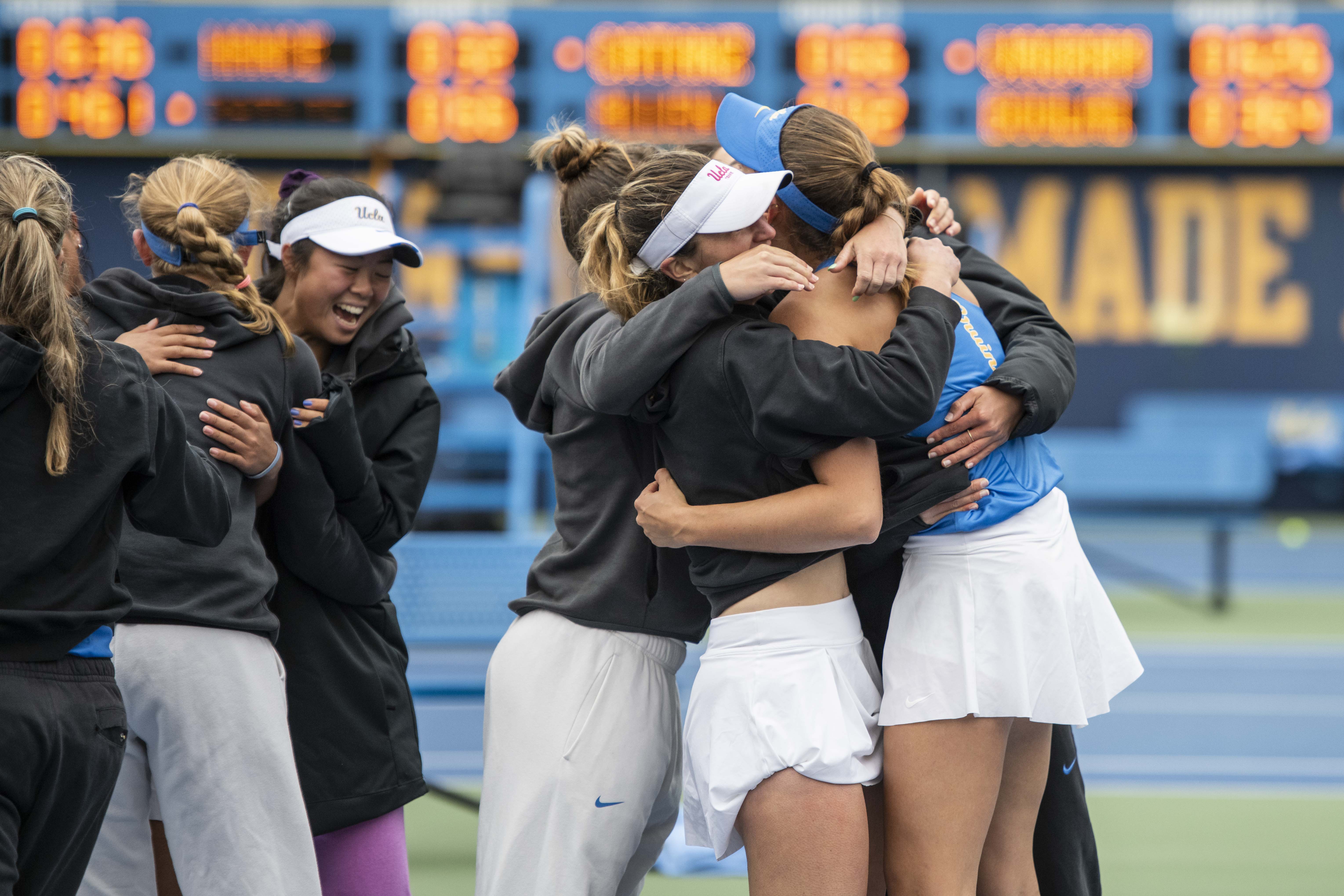 Members of UCLA women's tennis hug senior Sasha Vagramov after a match. The Bruins enter the Pac-12 Championships as the No. 5 seed and are favored for an at-large bid to next month's NCAA tournament. (Nicolas Greamo/Daily Bruin senior staff)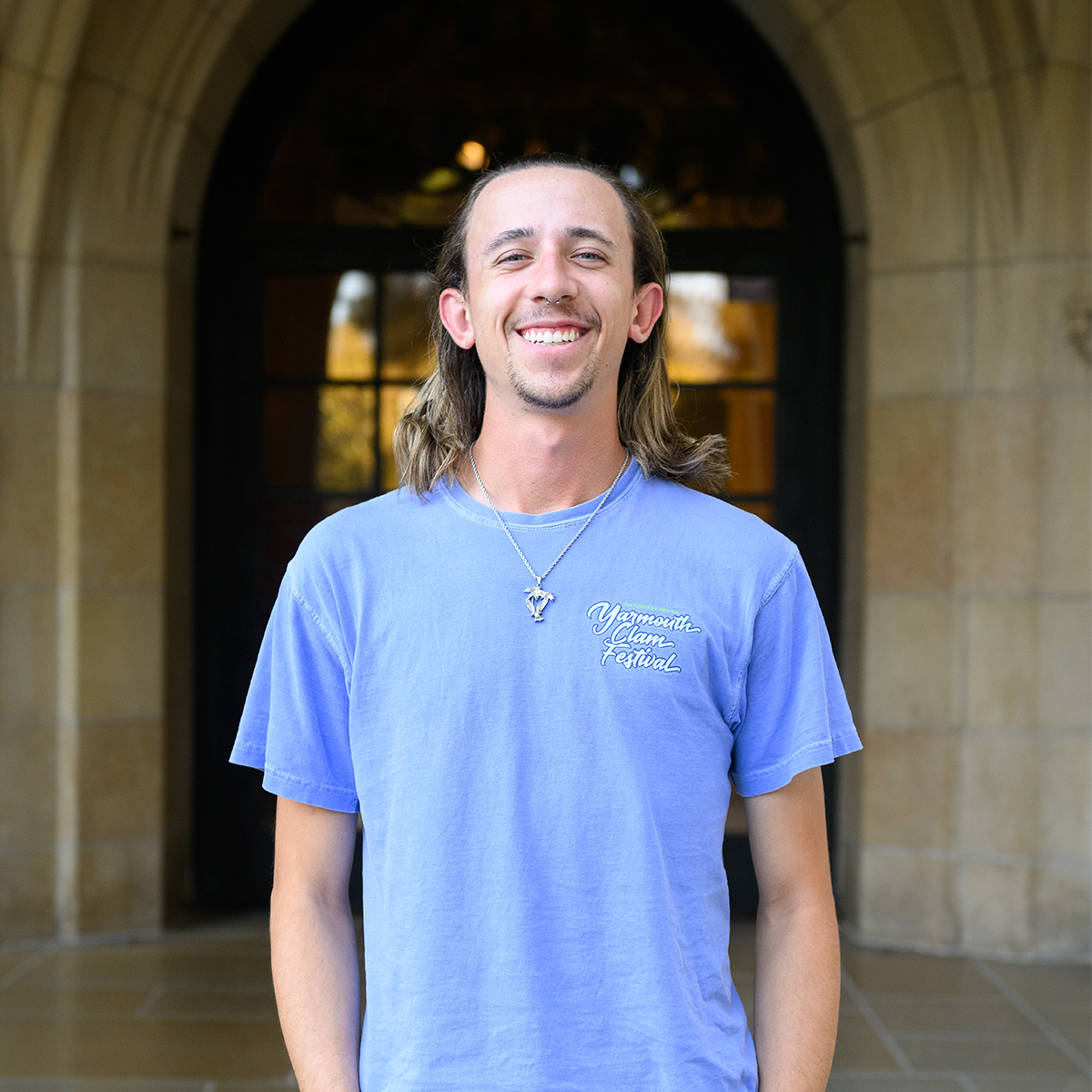 This post was updated April 25 at 9:37 p.m.
Following a regular season soaked with rain, key slumps and big-time upsets to boot, No. 5 seed UCLA women's tennis (13-6, 6-4 Pac-12) opens the postseason against No. 4 seed Washington (16-7, 6-4) in the quarterfinals of the Pac-12 Championships on Thursday at 9 a.m. Ahead of the trip to Ojai, California, the 2023 women's tennis beat – which rode the roller coaster of the Bruins' up-and-down campaign – makes its picks for the defining moments of the regular season.
Calamity in Coral Gables
Jack Nelson
Assistant Sports editor
Now one of the hottest teams in the conference, the Bruins ended the regular season hitting all the right notes.
But well before the symphony of that streak was a much more unnerving tune.
UCLA took to Coral Gables, Florida, for ITA Kickoff Weekend in January, seeking to wash out the bad taste from last season's edition in which Washington stopped the Bruins short of the ITA National Indoor Championships for the first time since 2017.
Then-No. 18 UCLA held a 3-1 lead in its first contest with then-No. 24 Iowa State, owed to strong doubles efforts and clean straight-set singles wins from No. 17 freshman Fangran Tian and sophomore Ava Catanzarite. It was at that point when the Bruins' momentum stopped building, and the Cyclones began to chip away.
First, it was No. 106 sophomore Kimmi Hance being dealt a reverse sweep after winning her first set 6-4. Then, junior Vanessa Ong lost steam after narrowly dropping her first-frame tiebreaker. And after forcing a third set, freshman Anne-Christine Lutkemeyer got her 6-2 showing in the second served right back at her, capping a 4-3 comeback victory for Iowa State.
Three chances had, three chances dropped.
An apparent collapse aged well though, as the Cyclones would ascend to No. 11 by regular season's end. The same can not be said, however, for the team that felled the Bruins a day later.
In its ensuing 4-1 loss to Florida International, UCLA failed to accumulate more than three games in any of the six sets it played across three surrendered singles contests. The Bruins turned in a legitimate head-scratcher against a then-unranked mid-major program that, even now, sits at just No. 38 in the nation.
The pair of losses proved to be rock bottom for the Bruins. The road ahead would be bumpy, but there was a light at the end of that road not yet visible.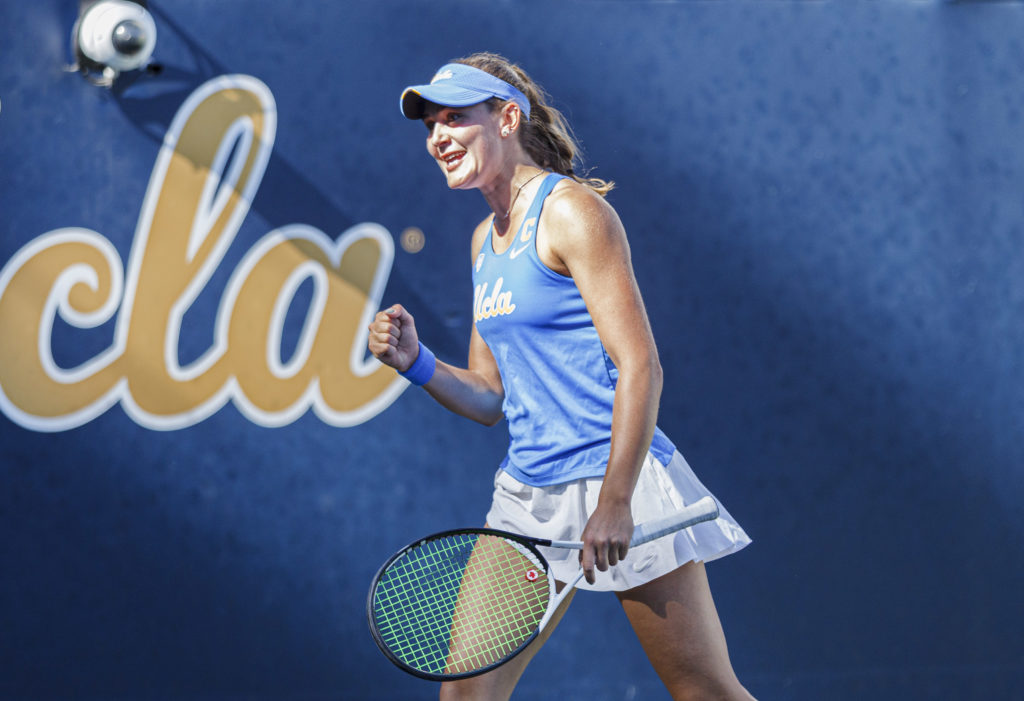 Four No More
Elise Oliver
Daily Bruin contributor
After splitting its matches on a Washington road trip, UCLA was set to face then-No. 4 powerhouse Ohio State.
At that point, the Bruins were in the midst of a mediocre start to the season – just one win above .500 – but coach Stella Sampras Webster's words put it simply:
"Everyone's beatable."
And that they were. The Bruins defied the odds in a 4-3 upset over the Buckeyes, sealed by late wins from Tian – a newcomer – and senior Sasha Vagramov – a veteran.
Tian started her freshman season dominant in dual-singles play, and her efforts remained consistent as she ignited the team's comeback down 3-2 against Ohio State. Her singles match went to three sets, and she was able to prevail, claiming a 6-4, 3-6, 6-1 victory against a top-20 opponent. Meanwhile, Vagramov, who was struggling through her senior season, clinched the win for the blue and gold in a 6-3, 2-6, 6-4 decision.
With a top-five win under their belt – their first since early 2021 – the Bruins turned the tide of their season. While they did not go on to dominate the remainder of conference play, falling short against California, Stanford and Arizona State, UCLA showed it has what it takes to compete with the best.
The Bruins are a capable, albeit young, team. By shocking the Buckeyes, they made it clear that with the right leadership and drive, they can deliver when it is needed most.
Waves Washed Away
Natalie Glawe
Daily Bruin contributor
After conquering Ohio State, UCLA was again put in a position to execute an upset — exactly one month later, no less.
And when it was left in the hands of Tian, the Bruins had the feat in the bag.
The thriller against then-No. 5 Pepperdine ran for a whopping four hours plus and was eventually knotted at three apiece after a comeback victory from Lutkemeyer. Following her fellow freshman's victory, Tian was in position to prove her prowess once again. Despite entering with an impeccable 12-0 record in dual-singles play, the newcomer had only been forced to a third set after losing the second twice before.
Yet the Bruins once again defied their odds by dethroning the Waves to a 4-3 tune.
"She (Tian) fights and competes like the best," Sampras Webster said. "Better than anyone."
After dropping a tight second set, Tian's success in clinching the upset win – with the pressure of a huge team victory weighing on her – established herself on the fast track to becoming a reliable powerhouse for the Bruins.
Even before Tian secured the Bruin victory, her steadfast play in collaboration with Lutkemeyer gave UCLA a key 1-0 early lead. The two conquered Pepperdine's Anna Campana and Nikki Redelijk with a 6-1 beatdown – only further establishing Tian's eminence.
As the season comes to a close, Tian's remaining years at UCLA serve as a beacon of hope for the upcoming seasons.
But for now, the Bruins are not finished. The blue and gold is set in motion, barrelling toward a far more favorable finale than initially thought.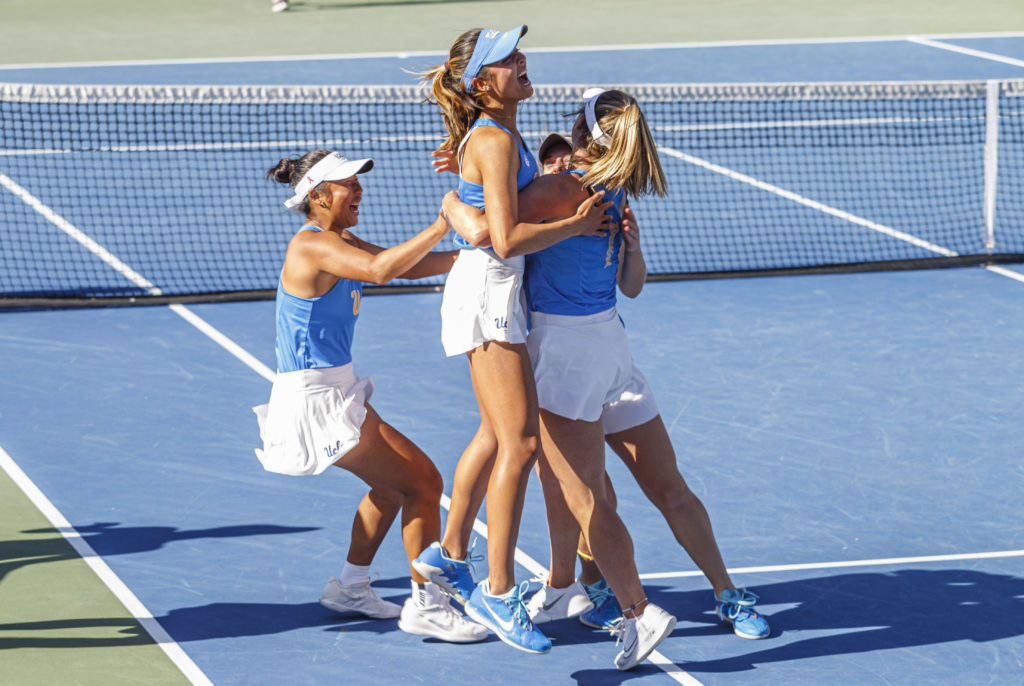 The Crosstown Crown
Pooja Kantemneni
Daily Bruin contributor
Rivalry matches always mean more.
After a tumultuous season, the Bruins had one last stretch to right the ship before the postseason.
Following a fall to Arizona State, the blue and gold would go on to win four matches in a row, starting with its shocker over Pepperdine. UCLA would then storm through Oregon and UC San Diego before clashing with a familiar foe: USC.
The Bruins could either end the season on a confidence-boosting hot streak or enter postseason play dethroned as the top collegiate women's tennis team in Los Angeles.
They chose the first option.
UCLA claimed a 4-3 victory over USC, with the clinching point decided by Hance. The sophomore ended her season on a three-match singles winning streak, a promising sign for the upcoming Pac-12 tournament. She and sophomore Elise Wagle ended their regular season as the No. 6-ranked partnership in the nation, clinching the doubles point against the Trojans.
Tian ended her phenomenal freshman campaign at the LA Tennis Center 15-0 in dual-singles play, knocking off fellow freshman No. 8 Maddy Sieg for a second time. Tian and Lutkemeyer chipped in for the doubles point as well, ending their regular season 9-0 as a tandem.
On Senior Day, it was the underclassmen who delivered. They helped their senior leaders, Vagramov and Caroline Goldberg, end their final home match as winners.
UCLA's season has been one marked by youth, for better or for worse. With this came inexperience and disappointing losses, but it shone a light on how dynamic this team could be for the next few years. The future looks bright.
It's not over yet. The Bruins will look to carry this momentum into the Pac-12 tournament, which they'll enter as winners.